In His Portraits, Cézanne Treated His Sitters Like Fruit
Yet not all sitters suffered a similar fate under Cézanne's notoriously intense gaze. He is admittedly better known for his geometric landscapes, painstakingly observed still lifes, and large groups of bathers, but he also had a track record of undertaking portraits—and actually completing them. Of the nearly 1,000 canvases he painted over his lifetime, 160 were portraits. The exhibition currently at the National Gallery, "Cézanne Portraits," is the first to be devoted to this part of the painter's oeuvre since 1910, when his legendary art dealer, Ambroise Vollard, exhibited 24 of them in his Parisian gallery at 6 rue Laffitte.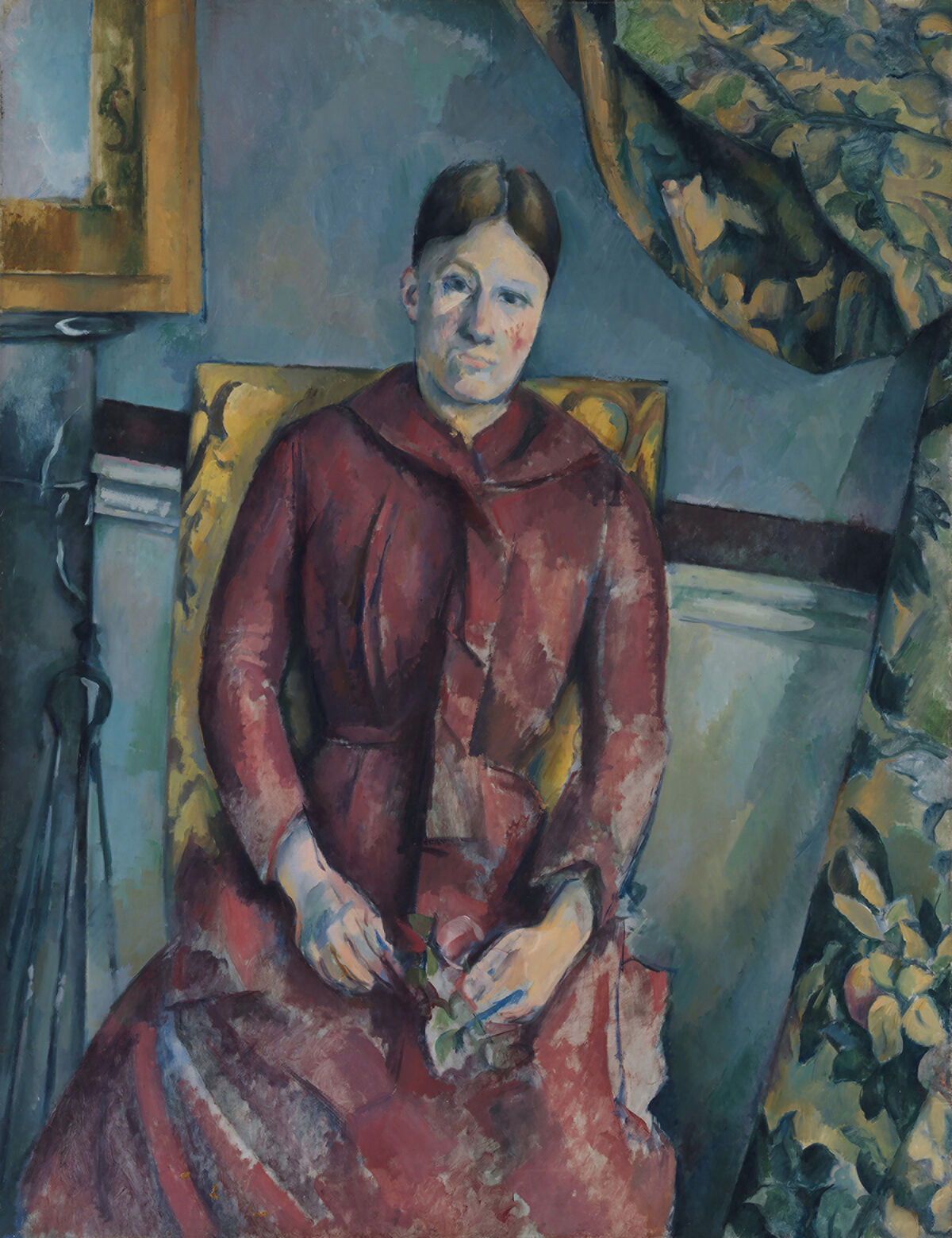 Paul Cézanne, Madame Cézanne in a Red Dress, c. 1888 - 1890. Courtesy of the National Gallery of Art.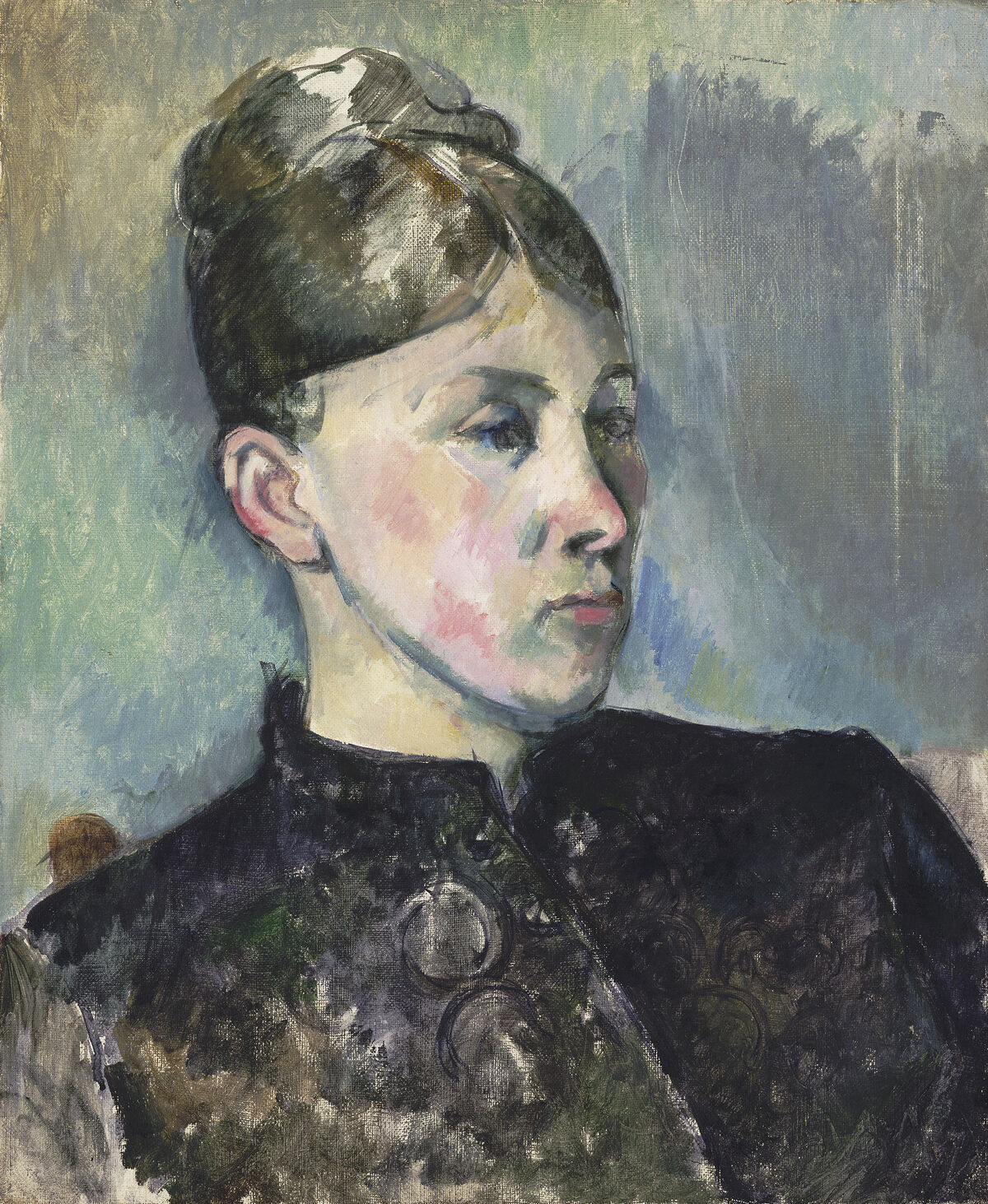 Paul Cézanne, Madame Cézanne, c. 1885. Courtesy of the National Gallery of Art.
Select portraits have been included in Cézanne's retrospectives over the years, but why has it taken over a century for his portraiture to get renewed attention? "The answer, I think, is simple," explains John Elderfield, the exhibition's co-curator and chief curator emeritus of painting and sculpture at the
Museum of Modern Art
. "Cézanne's reputation, as it developed in the early part of the 20th century, was as an artist who paved the way for modernist abstraction," Elderfield says. "And that interpretation meant that far more attention was paid to the style of his paintings than to his subject matter."
This stylistic veneration was bolstered by artists who considered themselves Cézanne's painterly descendants, such as
Cézanne's subjects of choice were close family members and friends, or neighbors around his childhood country home in Aix-en-Provence (where he also famously painted multiple canvases of Mont Sainte-Victoire). He painted his own father at least twice, and made nearly 30 portraits of his wife (the person he painted more than anyone else). Occasionally, Cézanne painted someone from the art world—such as his dealer Vollard, the (sadly indistinct) critic Geffroy, or the collector Victor Chocquet. But Cézanne never accepted a commission for a portrait, and he usually didn't gift them to his sitters upon completion, either.
The artist also completed many self-portraits, which are now prized and scattered in museum collections around the world. "Since he really rarely sold anything, he had these things around him," says Elderfield. "It's a bit like having a scrapbook of your own face over the years."
Cézanne's first attempt at portraiture, sometime between 1862 and 1864, began with a self-portrait—a rare image of the artist with a full head of hair, painted from an 1861 photograph taken of his 22-year-old self. Dark, dramatic, and missing the meticulous application of geometric brushstrokes that later became the artist's signature (sometimes in the absence of a written one), this early work shows the young Cézanne still searching for his personal style and approach to the genre.
The artist's markedly different final self-portrait, painted four decades later in 1900, shows a weathered man crowned by a black beret. Instead of memorializing his unique likeness—sloping nose, sunken eyes, and triangular beard—his features look like they are painted in isolation, built up with one careful square brushstroke after another until a recognizable volume emerges.
"Everything in nature is modeled according to the sphere, the cone and the cylinder," Cézanne famously wrote to his painter friend,
This is part of what makes Cézanne's portraits, in many ways, like his still lifes. Cézanne scrutinized his sitters, trying not to capture their psyches, but other particulars instead: the precise oval shape of his wife's head, for example, or the arc of an eyebrow. His sitters were objects, with no more or less visual value than the apples he arranged on a table in his studio. He was disparaged for this during his lifetime by Parisian critic Charles Morice, who wrote in 1905 that "Cézanne takes no more interest in a human face than in an apple."
But his human sitters weren't exactly like apples, of course. They had the irritating habit of wanting to move while sitting under Cézanne's unnerving gaze for hours on end.
Vollard once recalled that during one of his alleged 115 sessions posing before the artist—for a single portrait—Cézanne growled at the dealer to stay still. "You wretch! You've spoiled the pose!" Vollard recounted him saying. "Do I have to tell you again to sit like an apple? Does an apple move?"
This might help explain Madame Cézanne's customary mask-like expression, as well. "His wife, whom he painted nearly 30 times, looks miserable," Elderfield commiserates. "I mean, if you had to sit for this guy 100 times [for one] portrait—you would feel a little miserable."
Despite their need to speak, itch, and get up every once in a while, people did have at least one advantage over Cézanne's apples: They didn't rot. At times, the artist took so long to render a still life in oil paint that his apples and other materials decayed in front of his easel—causing him to occasionally use artificial fruit or fake flowers.
Though his still lifes of plastic fruit have historically canonized Cézanne as the father of modern art, his lesser-known portraits (usually painted from the original) were a constant in his artistic practice. And they were something he aspired to perfect; according to Vollard, Cézanne once asserted that "the goal of all art is the human face."