The Quirky, Endearing Tradition of "Duck" Architecture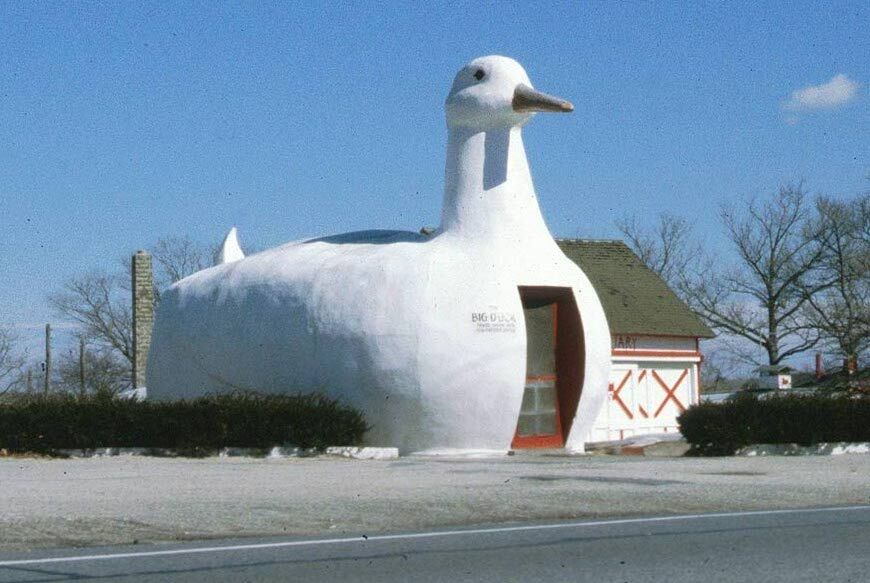 Dave Longaberger wasn't an architect when he conceived one of America's uncanniest structures—a seven-story office building shaped like a giant picnic basket—but nothing could deter him from erecting it. "If they can put a man on the moon," he contended, "they can certainly build a building that's shaped like a basket."
As it turned out, Longaberger was right. In 1997, the headquarters of his eponymous basket company opened its doors, its form mimicking Longaberger Co.'s best-selling Medium Market Basket, right down to its arched handles and shiny, imitation-brass tag.
The Longaberger Co. building is one of many structures worldwide that plainly reveal their function—or a product they hawk—via their design. In Queensland, Australia, you'll find a tropical fruit store in the form of a towering pineapple; in Meitan, China, a tea museum is housed within a 242-foot-tall teapot; and in Bailey, Colorado, a diner specializing in hot dogs takes the form of a mustard- and relish-slathered frankfurter.
Together, these designs have become known as "ducks," a term coined by famed architects
Learning from Las Vegas
, a deeply controversial takedown of sleek, regimented modernist architecture. In it, they argued that the sign- and symbol-laden commercial structures lining roadside, strip-mall, and suburban America were worthy of the same scholarly attention as "high" design. As writer Kurt Kohlstedt has
put it
: "Where other Modernist professionals saw a wasteland of kitsch and pseudo-historical decor, Venturi and Scott Brown found rich layers of meaning in the symbolism applied to otherwise-boring buildings."
The trio centered their analysis on two types of structures: first, the "decorated shed," where an existing building is embellished with an ornament (such as a sign or a sculptural form) pointing to its function; second, the "duck," where the building itself expresses its function—often boldly. "The duck is the special building that is a symbol," the architects explained in Learning from Las Vegas, while "the decorated shed is the conventional shelter, that applies symbols."
Venturi, Scott Brown, and Izenour derived the term "duck" from a plump, Pekin duck–shaped building created in 1931 by Long Island duck farmer Martin Maurer, as a vessel for peddling poultry and eggs. The structure was designed by Broadway set designers and erected by a team of local builders using a wood frame, wire mesh, and concrete coating; Model T tail lights served as the duck's glowing, red eyes.
Notably, Venturi, Scott Brown, and Izenour had seen Big Duck (as the building has come to be known) in architecture critic Peter Blake's ferocious 1964 invective God's Own Junkyard: The Planned Deterioration of America's Landscape. Blake's enemies were the buildings inspired by commerce and novelty that lined America's highways. He included Big Duck as an example of the "the flood of ugliness engulfing America"—another nail in the coffin of good taste and beautiful design.
Alexxa Gotthardt is a contributing writer for Artsy.