The Radiant Paintings of Les Nabis, the Movement Started by Bonnard and Vuillard
The walls of the room flash red and pink like spring camellias, mimosa-yellow, clivia-orange. Tables are laden with inkpots, books, fruit—apples cut in half, their wet insides glistening; piles of fat grapes; bananas as fiercely golden as the sun—and discarded cutlery. A woman speaks to the person in the seat next to her, as she feeds a little dog that lingers under the table. It's an unremarkable image, and yet a common one among the paintings of
Active from around 1889 until 1900, the Nabis (whose name in Hebrew means "The Prophets") were a loose collective of French artists—among them focus on light, Japanese-influenced lines, and striking use of color, the Nabis presented the possibility of what art could be in a world rushing towards the end of one century and the beginning of another. Rejecting the serious political and philosophical agendas of some of their peers and successors, the Nabis were always half-humourous, unwilling to be taken too seriously as a coherent or united force in art. As Nicholas Watkins notes in his essay on the group, they "were not cultural rebels; rather, they were innovators who picked up and developed themes of the moment in often original ways."
This Nabis' lack of a unifying aesthetic goal meant that despite a united interest in bright colors and bold, semi-abstract shapes, there were extensive divisions in subject matter. Ranson, Denis and Sérusier fixated on symbolic scenes heavy with mystical or religious connotations (see Ranson's interlaced Buddha and Christ, Sérusier's sorcerer-filled forests, or Denis's vision of the Garden of Eden), while Bonnard and Vuillard's "intimism" drew from the everyday, forcing us to reconsider the beauty of our household objects and unthinking rituals.
It's tempting to see this as the reason why Bonnard and Vuillard are the subjects of
current
and
forthcoming
solo exhibitions at, respectively,
Tate Modern
and the Holburne Museum; their distillation of our intimate relationship with the mundane still feels fresh to modern audiences. The trappings of a middle-class French lifestyle are close enough in time and sensibility to a modern aesthetic that we are able to relate them to our own lives. Today's audiences lack the appreciation of late-19th-century mysticism necessary to engage with the work of the other Nabis painters; their works today seem like eccentric curiosities.
As well as their formal similarities, Bonnard and Vuillard had a particularly strong personal bond. Outspoken supporters of Albert Dreyfus, a Jewish officer in the French army who was wrongly accused of treason in one of the period's most infamous political scandals, they came to be in direct opposition to Denis and Sérusier, who were on the side of the French army. Despite the Nabis' apolitical beginnings, it was the intensely political nature of the Dreyfus Affair that deepened the divide between the key players.
Only Bonnard and Vuillard remained close, and the two corresponded and visited each other long after the dissolution of the Nabis as a collective. "If I wrote to you every time I think about you, our past, painting, etc. you would have enough letters to fill a library," Vuillard wrote in his last letter to Bonnard before the former's death in 1940. As their careers progressed, the two became even more closely aligned in their depiction of intimate domestic interiors, their knowledge of the quiet magic of the mundane more pronounced.
Much of Bonnard's focus on the everyday involved his wife, Marthe. Marthe often took long baths to alleviate her chronic pain, and Bonnard also found a strange, unknowable beauty in the repeated action. In The Bath (1925), Marthe becomes lavender-streaked, washed blue like French skies, and somehow disembodied, familiar yet strange, wallowing and flat like a fish. These bath paintings are incredibly affectionate, full of the kind of stillness and quiet that exists only in situations of intense intimacy. We aren't spared the details of this closeness in Nude in the Bath (1925)—crumbled clothes sit on the chair, Bonnard's slippers appear at the edge of the frame—to the extent that we feel like voyeurs, not of a sexual act but of something somehow more revealing: a routine carried out between two people over years.
Vuillard, for his part, elevated the everyday rituals of his mother, painting her seated at her vanity table, fixing her hair. There's a striking tenderness in these images. Vuillard once termed his mother his "muse," and even when absent from his paintings, she feels present in the draped fabrics; a seamstress, her eye for color is apparent in his patterns. In one of his most famous paintings, The Flowered Dress (1891), his mother is presented alongside other women, all of them sewing. But while the others are shadowed, their dark clothes fading into the background, Vuillard is able to communicate his love for his mother by anointing her with light. She wears a black dress clustered with white clematis-shaped flowers and tied with an orange belt like a kimono, her body slightly turned away from the viewer.
The detritus of domesticity is something that deeply informed Vuillard's sense of intimism. Many of his paintings center candlesticks and scraps of lace tablecloth, old satchels hanging from hooks in the wall. His subjects are often knickknacks placed on shelves and desks. These overlooked items reveal far more than they initially suggest.
The ritual of eating becomes almost sanctified under Vuillard's gaze. His lithograph The Hearth (1899) focuses only the apparatuses of cooking, pots and pans huddled around the fire. Here, these objects, normally concealed in cupboards, hidden out of sight, are rendered in reds and citrus yellows.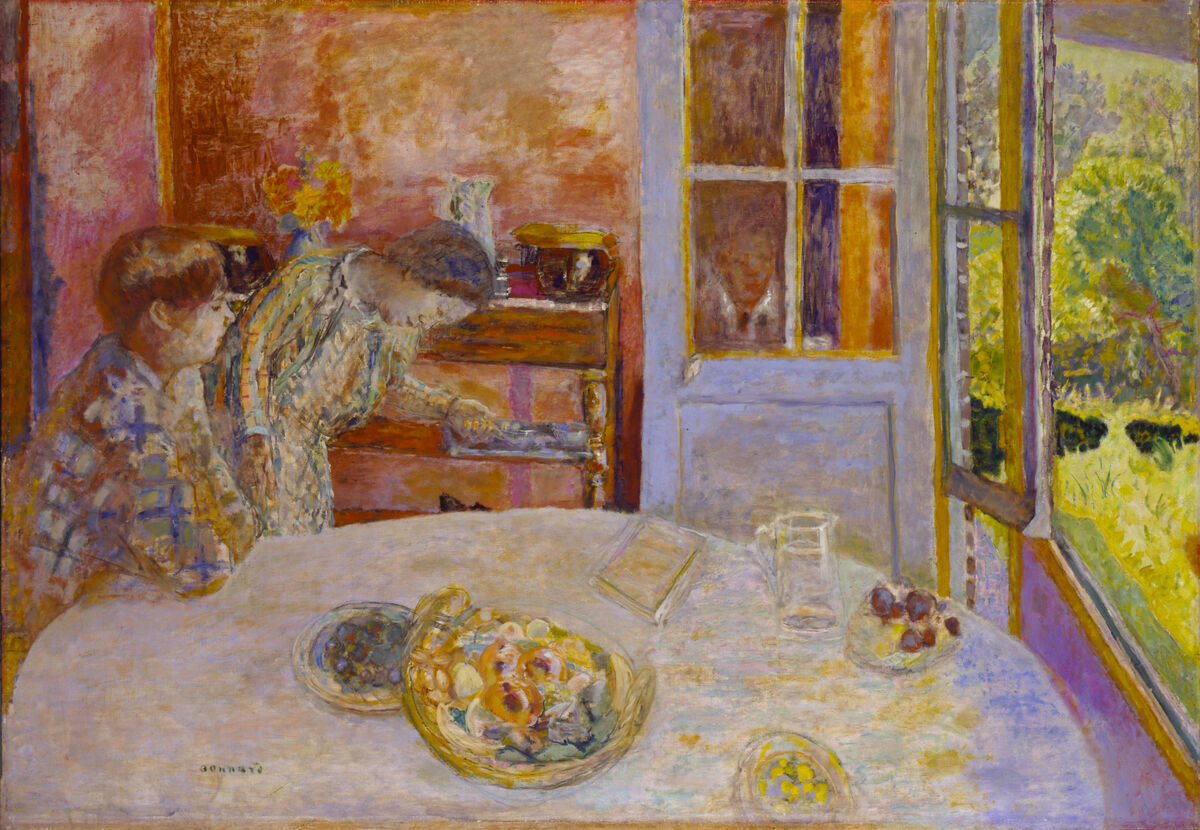 The repetitive beauty in the routine of the preparation and consumption of the meal is also seen in The Family After the Meal (1891). His subjects' faces are turned towards each other in the glow of the lamp, plates still on the table, wine uncorked. They're relaxed, chins resting on hands, seen at their most authentic and most revealing.
This domestic closeness is similarly reflected in Bonnard's dining scenes, informal events that normally consist of family members—or even just Marthe—sat around a modest table. He's acutely aware of the intimacy inherent in the kitchen table—the small rituals we undertake, the way in which we eat when unobserved, the food we cook for our loved ones—and paints them laden with meat and wine and pots of stew, cutlery placed haphazardly on plates of half-eaten food. Sometimes the figures are captured talking and gesticulating, but at others they simply sit, sated and slumped.
It's in these quiet domestic scenes that Bonnard and Vuillard demonstrate the power of intimism—the insight that our everyday rituals, known only to those closest to us, can bring. They force us to consider our possessions and our homes in a different light, transforming them from objects into potent symbols of our intimate lives.
"Pierre Bonnard: The Colour of Memory" is currently at the Tate Modern, London, through May 6, 2019; "Vuillard: The Poetry of the Everyday" will open at the Holburne Museum in Bath on May 24, where it will be on view until September 15, 2019.
Art New York, May 2-5
Contemporary, Modern, Post-War, Pop
Sponsored by Art New York