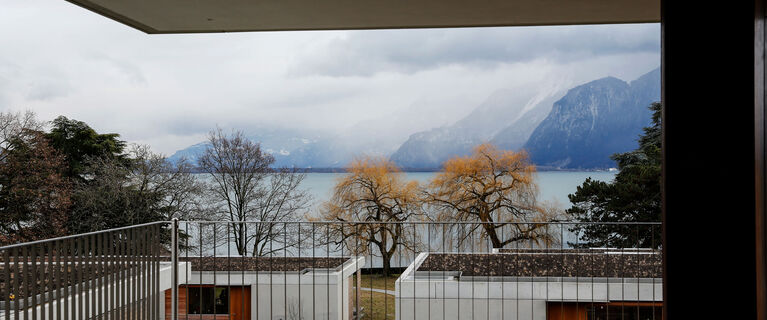 Art
A Radical New Artist Residency Rises at the Foot of the Swiss Alps
Alina Cohen
Towards the end of the train ride south from Basel to La Tour-de-Peilz, Switzerland, pickle-hued hills and vineyards slope down toward Lake Geneva. Mountains, sheathed in clouds, appear across the placid, gray water. The journey ends in a small town, just outside of Vevey. A 15-minute walk past the global Nestlé headquarters, charming homes in pastel hues, a grand yellow mansion, and you'll arrive at the entry to La Becque, a new, modernist designed artist residency.
La Becque, which opened in September 2018, welcomed its first group of artist residents in early April. They range from an American artist channeling her spirituality into ceramics and paintings to a Berlin-based collective making music with data gathered from the night sky. The residency aims to support artists who engage with nature and technology in their work. And in turn, residents take advantage of La Becque's unique location—on the water's edge with views of the Alps, and in close proximity to all the cultural amenities that Switzerland has to offer. Experimental and accepting, La Becque provides a radical artist utopia in the middle of a wealthy region most famous for chocolate and banking.
The walk from the La Tour-de-Peilz train station to La Becque; the terrace view from the residency's welcome building; the wildflowers on the property.
The residency's artists live and work out of elegant, modern lodges and studios designed by Swiss architecture firm Pont12. Their polished concrete facades evoke the designs of Tadao Ando with wood paneling, flooring, and movable screens. Low, flat roofs covered in grass suggest the influence of California modernism. The buildings feature floor-to-ceiling windows with views of the water. "The Lake Geneva area is a very privileged part of Switzerland," said Pont12 architect and partner Florentine Neeff. "Building a new project on a still virgin plot is a personal dream for a lot of architects. Creating space for artists is the next most-dreamed occasion."
Swiss furniture company Vitra outfitted the minimalist live-work spaces that artists occupy. Each one has sleek rolling chairs and work tables, lamps with x-shaped wood bases, and other modernist shapes. The company can change out furniture based on feedback from residents. "Vitra turns the place into an experimental showroom," said La Becque director Luc Meier.
View of La Becque. Photo by Roger Frei.
When Meier came on board in 2018 to direct La Becque's programming, he proposed the residency's focus on nature and technology. Since artists offer "alternate views on living," he hoped that participants might reconsider "how we live out our relationship with nature." Such concerns are particularly salient now, as we fret about global warming and how much time humans have left on the planet. "Art is how we understand nature," Meier added, nodding to the power of painters and photographers who introduce us to new places before we experience them firsthand.
On the 1,000-square-meter campus, high grass, stalky purple salvia, and white and tangerine–colored flowers brush up against the low, flat buildings that stagger alongside a central gravel walkway. The structures' grass-covered roofs further blend the architecture into the verdant surroundings. By the water, a short stone wall runs beside Lake Geneva; when the weather warms, around mid-June, residents can dive in. In lieu of a private beach, La Becque maintains a graveled expanse that hosts parties, dinners, and other serene and elegant affairs. According to Meier, before the residency was erected, it was one of the largest still-unbuilt plots of land on Lake Geneva.
Site of the forthcoming recreation of Derek Jarman's garden. Jarman was a prominent queer rights activist who famously launched Tilda Swinton's acting career.
While the setting looks placid and picturesque to the modern-day traveler, that wasn't always the case. Before the 19th century, the Alps inspired more fear than joy. "The Swiss really had to be told to look at [nature] as something beautiful," Meier explained, sitting on the terrace of the residency's welcome building, situated close to the entrance. The mountains were perilous with unpredictable weather and posed the threat of getting lost.
Throughout the 1800s, a British travelling craze brought tourism to Switzerland with an appreciation of its natural beauty. Over the past two centuries, the region has beckoned creative people including Fyodor Dostoevsky, Charlie Chaplin, and Graham Greene. Artists migrated to Vevey, including American anglophile Henry James, who set the opening of his 1878 novel Daisy Miller in the city. He wrote of the "remarkably blue lake—a lake that it behooves every tourist to visit."
"Building a new project on a still virgin plot is a personal dream for a lot of architects. Creating space for artists is the next most-dreamed occasion."
The residency's land once belonged to another artist, violinist Françoise Siegfried-Meier, who played in Zurich's Tonhalle Orchester. She was born in 1914 to a wealthy Swiss family; her father ran a factory in Monthey, Switzerland for what became the CIBA chemical company. She inherited the waterfront property as a young woman and spent summers living in the rustic cabin that still stands down by the lake. Towards the end of her life, she established a foundation and designated her property as a future hub for artists. Before she died in 2012, the foundation had begun erecting the studios and temporary homes that now dot the property. In June, they housed residents that ranged from a toddler to a woman just over 50 years old.
Down by the old cabin, curator Elise Lammer was planting a garden that pays homage to the coastal garden that filmmaker Derek Jarman created at his home in Kent, England. The site will host performances throughout the fall.
La Becque Director Luc Meier stands by the edge of La Becque, which sits on Lake Geneva. It's June in this picture, but it wasn't yet warm enough for swimming.
When La Becque was built, the only structure on the property was a small, rustic cabin where previous landowner Françoise Siegfried-Meier used to vacation.
The residency supports eight projects at a time, executed by either individuals or collaborative groups. Jurors, who include Lammer and artist Latifa Echakhch, select the participants from a pool of open call applicants.
In a studio down by the water, designers Mitch Paone and Meg Donohoe, of Brooklyn's DIA studio, were working on branding for Adidas—the company's "identity system," Donohoe said. The duo make screen-based work, which includes animations, interactive applications, and other moving images needed for various stores.
As part of a La Becque partnership with École Cantonale d'art de Lausanne (ECAL), Paone taught a course at the art and design university. He's also sharing his fonts with Swiss designers and asking for their feedback. "The type design scene in Switzerland is probably the best in the world," he explained.
View of La Becque. Photo by Roger Frei.
Beyond the natural beauty of their new environment, Paone had become interested in the region's viticulture. "He's a huge wine freak at home," Donohoe said, as Paone began singing the praises of the Chasselas grape, which is difficult to find outside Switzerland. The Lavaux region, near La Becque, is UNESCO-protected and filled with vineyards. Vevey is known for its Fête des Vignerons, a bacchanalian wine festival that occurs roughly every 20 years—this summer's La Becque residents have a once-in-a-generation opportunity to participate.
From Paone and Donohoe's studio, a gravel path leads uphill, away from the water and towards four other studios. The Berlin-based collaborative, Quadrature, comprised of Juliane Götz and Sebastian Neitsch, were working out of the space on one end, with their toddler daughter in tow.
Götz and Neitsch are conversant on outer space, sound, Big Bang cosmology, neural networks, and music composition. They brought along a telescope, propped outside on the lawn, to collect frequency data from the stars, then map it onto instrumental notes. "We're trying to bring this unseen and hard to understand stuff into the gallery space," Neitsch offered. At La Becque, Götz was excited to finally use the telescope, which took them years to procure. "We're not astronomers, we don't have science backgrounds," she said. The residency gave her time to experiment and play with the new tool.
Rashayla Marie Brown in her studio next to her work, Sister Rashayla Wears Her Mama's Clothes (Theaster's Blunder) (2019). The work references a quote from a 2019 interview between former Chicago mayor Rahm Emanuel and artist Theaster Gates in which Brown's work was mentioned. The piece contains the Arabic script for "I am," along with the names of Black women scholars (Zora Neale Hurston, bell hooks, Adrian Piper, Kimberlé Crenshaw), plus the words "Yo Mama!"
Next to Götz and Neitsch, Chicago-based artist Rashayla Marie Brown was pursuing her multidisciplinary work. Brown said that her practice aims to "undo the epistemology of whiteness in the art historical canon," and rethink which artists deserve celebration and remembrance. In performance pieces, she burns and destroys artworks in an attempt to refuse their commodification; she reads a contract to her audience about the value of her work, implicating them in a performative lawsuit. Brown films these performances, then incorporates the footage into subsequent videos alongside found footage and clips from pop culture—excerpts from a Destiny's Child video or an Art21 episode, for example.
While at La Becque, Brown was interested in investigating the history of Louis Agassiz, a 19th-century Swiss biologist who studied the scientific basis of race, using photographs of slaves and their masters to investigate surface differences.
Brown was making text-based drawings and figuring out how to integrate her ideas on Agassiz and his subjects into a future film. She doesn't believe that being photographed and seen by the masses is good for minority groups. "It's so empty," she said. "There's no point in trying to be made visible to people who have power over you. That's what's drawing me to this legal conversation." Brown was about to travel to Basel, where two of her heroes—Coco Fusco and Julieta Aranda—would be speaking. She'd write an article upon her return.
Sparkly (the artist formerly known as Nora Berman) in her studio in front of large-scale paintings inspired by her meditations, in which she visualizes making love to herself. They include I am both (dark to light) (2019), Self Realization (dark to light) (2019), and Covert Assholes II (2018–19).
Next door to Brown, Sparkly, the artist formerly known as Nora Berman, said she was trying to connect with nature and tap into the energies of the landscape. Her spiritually focused work spans painting, ceramics, and performance. At La Becque, she'd completed a seven-day water fast for the first time. "It was really psychedelic," she told me. Every morning around 2:00 or 3:30 a.m., she meditates, sings Sikh chants, and visualizes herself making love to herself. She surrounds herself with ceramic bowls attached to microphones and plays them like instruments. Sparkly demonstrated, lying on the mat and "playing" one of the ceramics. Later in the day, she retreated to her studio, where she made paintings that were part of a series tentatively called "Self-Love Paintings." The large-scale works feature abstracted female forms, many of them twinned.
Sparkly explained that when she was in art school, occult and witchy people started reaching out to her. "Dark figures," she said. Spirituality was clearly trying to find her. Then, she says, "I found kundalini yoga." At the end of her residency, she plans on staging a performance with a cast of collaborators—people with the type of energy she is interested in unlocking.
La Becque provides a radical artist utopia in the middle of a wealthy region most famous for chocolate and banking.
The last member in studio row, artist Duy Hoàng was integrating La Becque's landscape into his residency. The New York–based artist makes site-responsive installations, gathering plant life and objects from his surroundings. His studio resembled a natural history exhibit. Atop his table he'd fixed feathers, leaves, and a pink wristband to small cardboard rectangles with delicate pins. A worn copy of French naturalist Jean-Henri Fabre's La Vie des Insectes (1910) rested nearby. A styrofoam tub held rocks and a small, corked bottle of green liquid, while insect carcases had colonized their own section. Unpotted baby trees, interspersed among the small objects, created the appearance of a miniature, aesthetically manipulated forest.
By gathering and arranging objects from his environment, Hoàng hoped to gain a new perspective on the natural life in his temporary home—and offer new interpretations to anyone who enters his studio. "This is me nesting," he said. He moved to the U.S. from Vietnam when he was a child, and the relocation made him pay more attention to the environmental changes around him. His process now resembles detective work: gathering clues, then organizing them meticulously in his studio to learn about the world around him.
Pont12's design for the 80-square-meter live-work spaces feature smooth stone exteriors with wood detailing. From this balcony, you can see Lake Geneva and the Alps.
Hoàng also makes prints. He takes pictures of plant life, then feeds them into Google translate's character recognition function. The program "reads" the grass and flowers as Japanese or Chinese characters, then converts those words to English. "They're random words, but it's striking how they come out," he said, reading a few he'd generated. "Pollution, cruelty."
Götz, Neitsch, Brown, Sparkly, and Hoàng all work in the complex and have developed a sense of congeniality. Yet the atmosphere remains subdued. When asked whether the residency gave her new opportunities to commune, Sparkly laughed. "This is a pretty isolated place," she said. More importantly, she'd found the time and space to interact with the landscape.
Götz and Neitsch were also thankful for the open, accepting environment that allowed them to participate as a couple and bring along their daughter—a rare opportunity among residencies. The quiet affability, and significant age range, make La Becque feel more like a family affair.
A view of Lake Geneva from the train window on the way to La Becque; Duy Hoàng makes a small forest in his studio from objects and plant life he finds on La Becque's property; artists Rashayla Marie Brown and Juliane Götz talk outside their adjacent studios.
Back at the main building, a group gathered for coffee and cookies around a long table. Netherlandish artist Joan Heemskerk handed out posters advertising the virtual reality taxi rides she was organizing in Cologne. Sparkly brought a picture of a man she believed to be her in a past life. Neitsch and Hoàng left to catch the train back to Basel, where they were seeing friends and enjoying Art Basel–related festivities—and Hoàng had plans to visit the city's Natural History Museum.
In a dining car on the train, Neitsch ordered a green soup. It was his first break, in weeks, from artmaking and child raising. He pulled a bodysuit covered in cosmic patterns out of his backpack. For a couple nights, he'd leave behind the wild beauty and contemplative quiet of La Becque. It was time to party.
AC
La Becque's next open call for artist applications will be launched in April 2020. To apply, you'll need the following: completed application form (can be found on www.labecque.ch or http://labecque.ch/en/); pitch for project proposal; short biography; project proposal; curriculum vitae; one reference letter; and a digital portfolio.
Find the full application guidelines here.