Rina Banerjee's New York Is a Tropical Paradise Populated by Mythical Women, Serpents, and Monkeys
Rina Banerjee. Photo courtesy Jacob Lewis Gallery.
Jacob Lewis Gallery
in "
Tropical Urban
"—a befitting title for an exhibition filled with technicolored human personages clad in city-ready clothing, ensconced in jungles of color and life.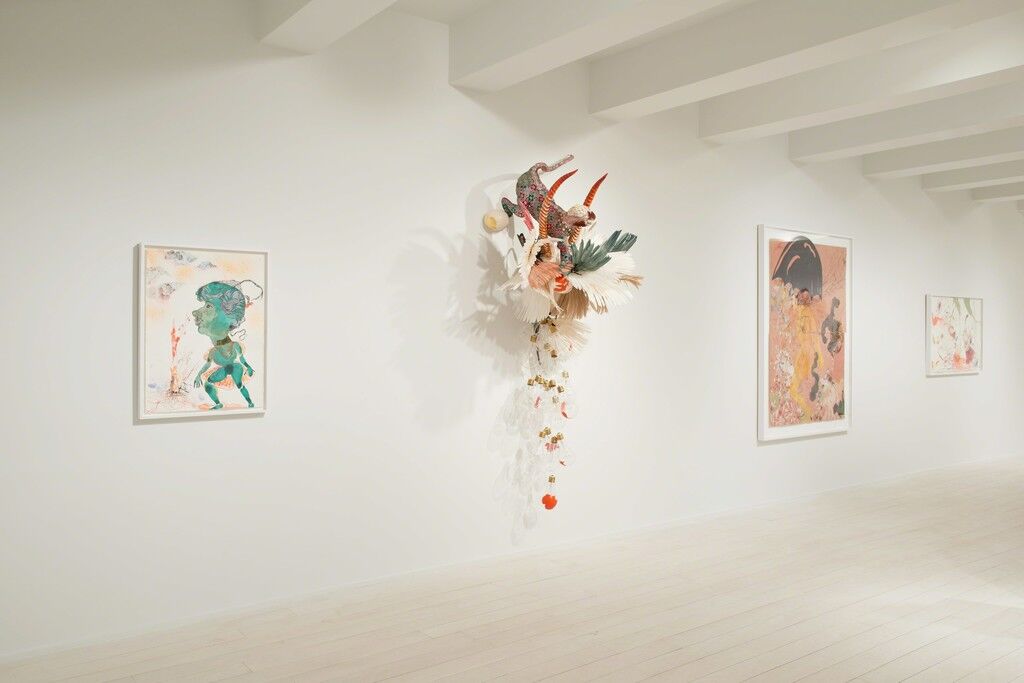 Installation view of "Rina Banerjee: Tropical Urban," Jacob Lewis Gallery, New York. © Rina Banerjee, photo courtesy Jacob Lewis Gallery.
The show furthers Banerjee's investigations into cultural identity and exchange, and the meanings that emerge from combinations of disparate materials and ideas. With "Tropical Urban," she homes in on the city as a place of assembly, diversity, opportunity, and action—and she injects the scenes with narratives from the Bible, Mayan fables, and European fairytales. In doing so, she taps into universal issues like equality and race. The results are roiling intersections of people (mostly female), animals, and their surroundings; ultimately they're her own brand of cityscapes, where the expected architectures are excluded. The show's setting, New York, is also the artist's home—and given this, one wonders if the region's melting-pot nature is the inspiration behind the mythical, riotous scenes at hand. We caught up with the artist recently to find out, and to learn about the process, motivation, and inspiration that goes into Banerjee's poetic and perplexing art.
Artsy: What led you to live in New York? How has living here affected your art?
Rina Banerjee: My family arrived in New York City in 1970, when I was seven years of age. I think an important question you allude to is what conditions or circumstances make people leave a country that they themselves have claimed for 2,000 years. War and colonization bring that change. In the 1970s, there was a wave of migration from India of the educated, middle class, which was later coined the "brain drain."
This could be recounted, from my mother's recollection, as a time of uncertainty for a generation who did not remember the British. This generation was ready to be in the world and away from India's rough transformation, a struggle to heal itself and become modern. My mother is from Bangladesh and she saw her own life and education vanish due to the Bangladesh War. She professed that she wanted to marry a man who would allow her to leave India. Gross inequality led my family to leave India for the United States.
Artsy: Is "Tropical Urban" a response to New York?
RB: My New York is a paradise—tropical in the sense that all things are invited and can grow, coexist, and flourish. Differences can be expressed, shared, and enjoyed. In the heat of this humid, fertile location are the wonders of the world, intellectuals, the talented and the outcast, wandering people who nestle here, where different communities merge and neighborhoods of diverse people coalesce.
Artsy: What is your process like? How do you choose your materials and the objects you employ in your works?
RB: All creative things happen by way of experiment, with error and practice. They are both intuitive and learned. My process includes reading, seeing, and a vast experience of sifting through information by browsing. I forage from retail stores, the Internet, eBay, junk shops, high-end antique shops, thrift stores, and local ethnic shops. The objects come when they come. There is a steady flow of selection and discarding that happens in the studio.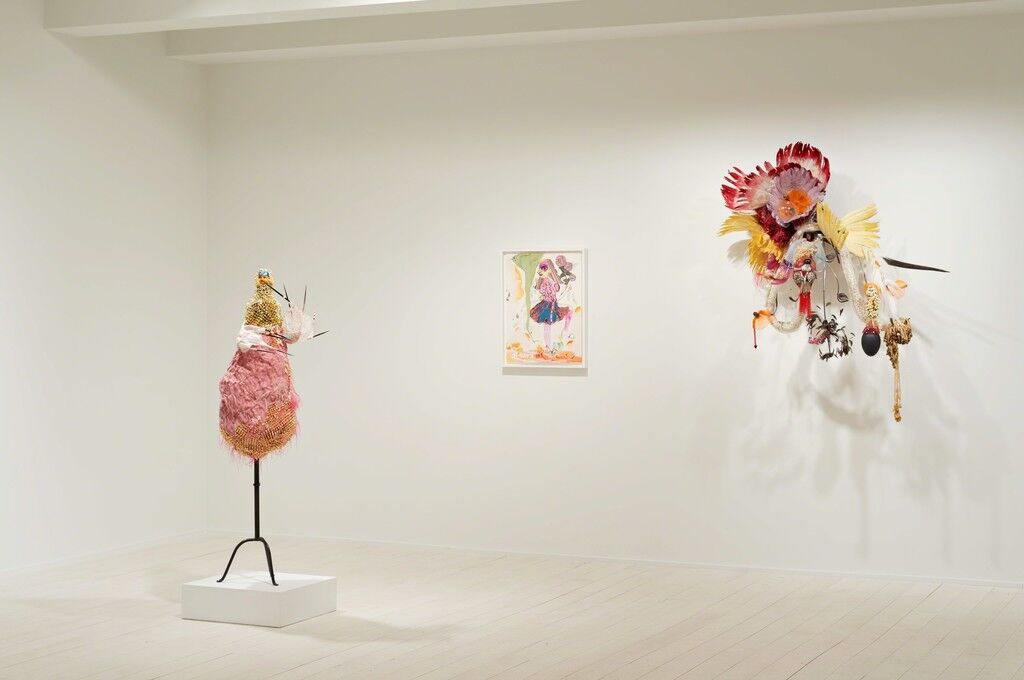 Installation view of "Rina Banerjee: Tropical Urban," Jacob Lewis Gallery, New York. © Rina Banerjee, photo courtesy Jacob Lewis Gallery.
Artsy: How would you describe the characters you've created in these works? What are they doing? Do real people ever inspire your figures?
They are all aspects of our human emotion. The mythology that accumulates around them reflects a global and universal story that warns or informs us for the ever-changing future. Like deities, they are a deposit for all our emotions—fear, anxiety, desire—and they are preserved to retell the story.
The mounted sculptures at Jacob Lewis Gallery recall the mythological snake and monkey. They conjure up the stories warning of female and/or racial inferiority. The "mad woman" Eve, leaving her senses in a hysterical exit from paradise, is dehumanized as is the racial other. The snake, insect, alligator, turtle, and bird are recurring images in my work. They preserve our link to other animals.
In one Mayan fable, the serpent grows out of the son who refused to know his mother's courage and love. The fables talk of flood and the slumber of slippery animals that could hide and then return to be reborn. These stories are relevant today because they tell of how people cope with crisis, disaster, abuse, and rejection.
You have a bachelor's degree in polymer engineering from Case Western Reserve University and worked for a time as a chemist. How does your background in science and engineering affect the way you approach art making
Considering the experience I have of several cultures, my work affords no one identity superior value. I am what I see, and I see what I choose to see, and therein lies both the problem and the answer. I choose to lean into this education as fraught with problems, something to be manipulated, massaged and made anew. My work is not solely about New York or Calcutta or London. It rejects authenticity. Being human is the only thing I know as fact.
Casey Lesser is Artsy's Creativity Editor.
Stir Creativity
See how Bombay Sapphire supports artistry.
Sponsored by Bombay Sapphire