How Roberto Lugo Is Uplifting Artists of Color in the Ceramics Community
Teapot by Roberto Lugo in "THEY" at Clay Art Center, Port Chester, New York.
Puerto Rican artist
But recently, Lugo started noticing something about the exchanges he was having with fellow artists. "Everyone you meet has some sort of story about how they've been oppressed in their lives, how they've struggled with something, and it becomes competitive, rather than it being a system for empathy," Lugo recently told Artsy over the phone.
These conversations ended up inspiring a new exhibition Lugo curated, "
THEY
," on view at the Clay Art Center, in Port Chester, New York, through May 26th (part of a year-long series of shows that explore social activism at the clay studio's gallery). Through the works of seven artists, plus a few of his own, Lugo aims to show how ceramic artists are relating to one another and their audiences through their work, while tackling a wide range of issues, from race to the environment. "They're sharing their own story, with the hope that maybe someone will empathize and grow from that experience," Lugo said.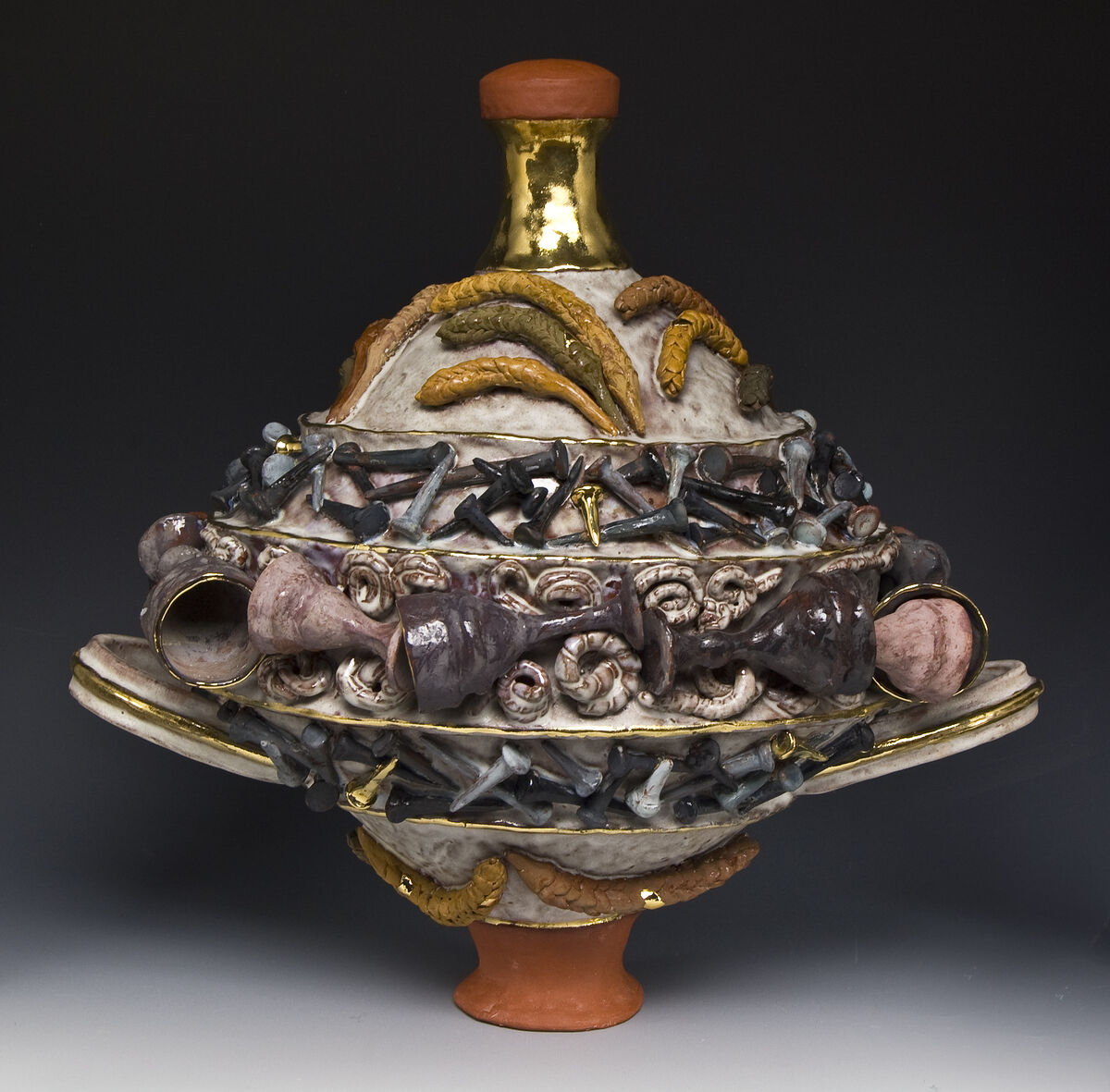 Work by Lauren Sandler in "THEY" at Clay Art Center, Port Chester, New York.
The works on view include dynamic, abstract sculptures by
Lugo himself is showing four Renaissance-inspired wall-hung ceramic roundels, as well as a teapot bearing portraits of B.B. King and Jimi Hendrix couched within swirling patterns and graffiti-inspired line work.
"I feel like black people and Hispanic people are now part of the conversation," Lugo said of his own pots, the traditional forms of which might more typically be plastered with the face of George Washington. "I have the autonomy to choose who gets to be put on this pot and who gets to be used as a muse."
Works by Nathan Murray in "THEY" at Clay Art Center, Port Chester, New York.
Work by Christina Erives in "THEY" at Clay Art Center, Port Chester, New York.
Several artists Lugo included in the show are creating work inspired by their cultural heritage, like his former grad school classmate, Christina Erives. Erives creates work to embrace Mexican traditions and rituals, including cooking. Her work in the show is a green ceramic pepper, which hangs on the wall beside a photograph of a plate full of the faux-vegetables, with her hand painted the same green hue.
Jennifer Ling Datchuk, who was born to Chinese and European immigrants, reflects on her identity as a half-Asian woman in her work. She often employs the symbolism of blue-and-white ceramics, a tradition that originated in Asia before being poached by Western Europeans. For her piece Exotic AF (2017), Datchuk broke plates from English, German, Swedish, Japanese, and Chinese potteries, then mixed them together and encased them in a clear, trophy-like vessel. It's topped with a figurine of an Asian woman and a placard that reads "Exotic AF." It's a sly response to the experience of being approached by men at bars who ask her where she's from, and then tell her she looks "exotic."
Works by Courtney Leonard in "THEY" at Clay Art Center, Port Chester, New York.
This empathetic approach is a personal one for Lugo, who has become a powerful supporter of diversity within the American ceramics community through his teaching (he recently became a professor at Temple University's Tyler School of Art), organizing, and speaking engagements. Recently, he helped raise funds to send artists of color to the Haystack Mountain School of Crafts in Maine; in March, at the annual National Council on Education for the Ceramic Arts (NCECA) conference, he set up an event to bring together ceramic artists of color, with the goal of forming a network. He first saw an opening for this kind of activism back in 2014 at the NCECA conference, when
"It seems like every time folks like me are given a chance to go in front of an audience and share our story, and why a future with artists of color within the field of ceramics is so necessary, people really get behind it," Lugo said. With "THEY," though, it was also important to represent the diversity of subject matter being explored. "Just because we're all artists of color, it doesn't mean we make work about the same things."
Casey Lesser is Artsy's Creativity Editor.
Marc Quinn Iris
Explore the cup collection here.
Sponsored by illy