Rose Eken Builds the Ultimate Artist Studio in Copenhagen, Completely in Ceramic
Rehearsal rooms, stage sets, and the objects they hold continue to inform Eken's practice. In recent years she has focused on creating intentionally imperfect
the complete contents of a woman's purse
. For Eken's
new exhibition
at her native Copenhagen's
V1 Gallery
—mounted some two decades after her first forays into the music industry—the artist homes in on a different sort of stage, filling the gallery with a full-scale, ceramic artist's studio.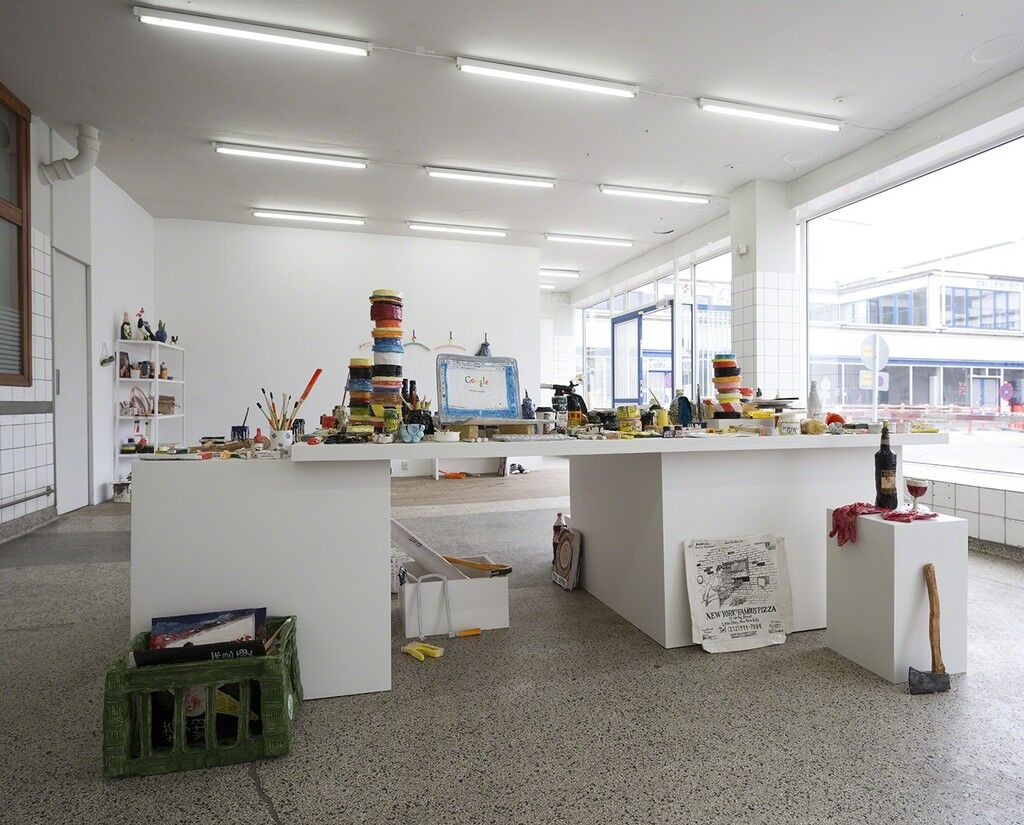 "You can have objects that sort of tell a story," Eken tells me after a long day of glazing in the studio. "All the things that people have left behind tell this narrative of what either has happened or is about to happen, and in many ways that is what informs my work." Her show at V1, titled "Tableau," uses Eken's recent recreations of art supplies and more average provisions (coffee cups, M&M's) to tell a story about the artist's studio—and the creative process itself. (The studios of other artists too—several peers contributed to the show.)

Eken's preparations for "Tableau" began via email. She sent hundreds of messages to artists around the world—friends, acquaintances, and other V1 artists—asking them to send an image of an item in their studio. "It could be something really common, like a paintbrush or a pen, a tool that they've adapted, or a weird thing that inspires them that they always have around," she explains. The crowdsourcing effort turned up some 30 submissions, ranging from a jar of paintbrushes and notebooks, to a Darth Vader mug and a rabbit figurine. Eken then translated the objects from jpeg into three-dimensional ceramics. "Tableau" is, in part, an homage to the artists who offered up inspiration for its objects. "I've been making this really big fictional studio with all these of these branches out to different artists," Eken notes. "It's a fictional space but it's also very specific to specific artists' practices."
As a child, Eken was already a maker:  "I started out when I was a kid, making little tableaus in cardboard and masking tape. I never really had a dollhouse; it was like my entire room was one." In art school, her childhood experiments found their way into her works. One series saw miniature rooms and objects crafted from cardboard, tape, wire, and paint. Intrigued by labor-intensive, repetitive processes, she experimented with embroidery before picking up clay, drawn to its tactility and flexible nature. "I like it because it's kind of stupid; it somehow always reminds you of a Christmas decoration or something you made in third grade."
Her first experiments with clay during 2007 and 2008 were tied to the fragility of the material when left unfired. "I was doing all these rock gadgets, like a drum stick; if you bang it down it will just explode into a million pieces," adds the artist. "It's sort of like this oppressive rock climate, where you have a really poetic, fragile thing, which is a little bit like being a musician in the sense that either you make it or don't make it in that business; it's like being an artist in many ways."
In between studios during the lead up to the V1 show, Eken was granted a temporary studio space in what she says is "one of the best ceramics workshops in Denmark" for three months of frenetic effort to create all of the works on view. According to Eken, the offer is a testament to the city's generous arts council, which subsidizes studios like this one, making it free for eligible artists. She was similarly enthusiastic about the city's upcoming art fair,
CHART
, which opens next week, in time with her show. "I think it's important for Copenhagen to have this fair; it's much more international and outward-looking than the previous art fairs have been, which is great."
Eken's is an irreverent-yet-intricate approach to representation, which has more to do with concept than aesthetics. "It's more about the idea of the thing rather than actually being a complete replica of the thing," she notes. Whether a paper plate splattered with paint, a handful of brushes, or a smattering of rolled up paint tubes, her works are easily identifiable yet executed with an even sense of imperfection—and a dose of rule-breaking punk.
Casey Lesser is Artsy's Creativity Editor.