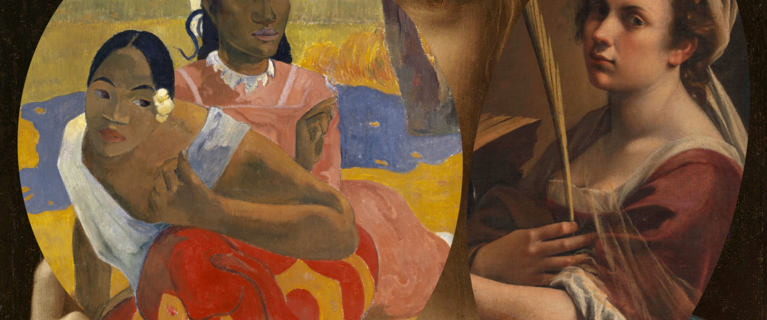 Art Market
The Biggest Sales of the 2010s
Payal Uttam
In the past decade, the art market has achieved new heights—or, some might say, become more unmoored from reality. It reached a fever pitch in 2017, when Saudi Arabia's crown prince purchased a painting attributed to Leonardo da Vinci for an astonishing $450 million, making it the world's most expensive painting.
The astronomical sale of Salvator Mundi (ca. 1500) was in many ways illustrative of the dominant mood this decade in the international art market, where attention focused on a few dozen billionaires from the U.S., U.K., China, Europe, Russia, the United Arab Emirates, and a few more countries as they vied for trophy pieces in the eight- and nine-figure price range. And those billionaires were busy: The 10 most expensive paintings ever sold were sold this decade, all for prices equal to or above $165 million, including masterpieces by Pablo Picasso and Paul Cézanne. But works by artists with mass appeal and significantly less institutional backing—such as former street artist KAWS—also fetched formidable sums at auction, selling for three- and four-figure prices by the thousands.
Earlier this year, the auction market was jolted by the unexpected sale of Sotheby's to French-Israeli billionaire Patrick Drahi, marking the beginning of a new era. Not only will major transactions at the auction house be significantly less transparent, but the market has lost a much-needed yardstick. As the decade comes to a close, we look back at the most significant art market transactions of the past 10 years, how they shaped the art world today, and how they will continue to mold the market in 2020 and beyond.
2010: The decade's first nine-digit painting
In 2010, Pablo Picasso's sensuous portrait of his sleeping mistress Marie-Thérèse Walter titled Nude, Green Leaves and Bust (1932) sold for a staggering $106.5 million at Christie's. After about eight minutes of fierce bidding, it was snatched up by an anonymous buyer, setting a record as the most expensive auction sale of a painting at the time. The buyer's identity remains a mystery, though some reports speculated it may have been Russian-Israeli billionaire Roman Abramovich. The seminal work, which had not been exhibited in public since 1961, was the first nine-digit sale of the decade. Coming on the heels of the recession, it signalled the rise of top-tier buyers chasing trophy pieces and driving up prices for rare masterpieces. Moreover, it demonstrated that auction houses had regained their pre-recession momentum, setting the tone for subsequent landmark sales that saw nine-digit results become almost expected.
2011: The art market puts down roots in Hong Kong
Art Basel in Hong Kong, 2013. Photo by PHILIPPE LOPEZ/AFP via Getty Images.
When the Swiss fair and exhibition giant MCH Group, which owns Art Basel, acquired the majority of the Hong Kong fair Art HK in 2011, it signalled the rise of the city as Asia's leading art market hub. The Swiss fair organizers were lured by Asia's wealth boom and Hong Kong's relatively lax censorship and tax-friendly policies. As Art Basel's first Asian outpost, the rechristened fair transformed the financial center into a mandatory stop on the global art circuit. Since Art Basel in Hong Kong's arrival, the city has undergone a renaissance of sorts with an influx of international galleries setting up outposts to capitalize on China and Hong Kong's thriving economy and the growing appetites of Chinese collectors. Despite the recent protests, it appears Hong Kong will hold onto its current place as the world's second-largest auction center after New York. Meanwhile, Art Basel in Hong Kong is unfazed by the tense political situation and remains optimistic about next year's fair.
2012: The Qatari buying spree
Paul Gauguin, Nafea faa ipoipo ("When Will You Marry?"), 1892. Photo by Quim Llenas via Getty Images.
In the last decade, the royal family of Qatar emerged as one of the art market's most dominant—and secretive—players. The oil-rich kingdom's international buying sprees continue to make headlines. The country is on a mission to build a museum empire and amass prominent works of art to bolster its reputation as a cultural mecca. Early this year, Qatar unveiled the otherworldly National Museum of Qatar, designed by Ateliers Jean Nouvel with a reported price tag of about $434 million. Meanwhile, Sheikha al-Mayassa bint Hamad bin Khalifa al-Thani, chairwoman of the Qatar Museums Authority (QMA), is rumored to have an annual purchasing budget of $1 billion. Among QMA's top acquisitions is Paul Cézanne's The Card Players (ca. 1890s), which cost $250 million, setting a record in 2011 for highest price ever paid for a work of art at the time. Three years later, Qatar reportedly eclipsed this by purchasing Paul Gauguin's 1892 painting Nafea Faa Ipoipo? (When Will You Marry?) for $300 million. A heated lawsuit—in which art advisor Simon de Pury and his former partner demanded $10 million for helping to facilitate the sale—later revealed that the work, in fact, sold for $210 million, $90 million less than originally reported.
2014: Nearing the $1 billion auction
Installation view of Jeff Koons, Balloon Monkey, 2006-2013outside of Christie's, New York, 2014. Photo by Ben Hider via Getty Images.
Christie's netted a jaw-dropping $852.9 million (including fees) during its November 2014 post-war and contemporary art evening sale in New York, smashing the all-time record for the total take from a single sale. New buyers from the Middle East and Asia competed with major collectors from the U.S. for paintings by the likes of Andy Warhol, Roy Lichtenstein, and Ed Ruscha. The sale set new auction records for 11 artists, including blue-chip figures such as Ruscha, Cy Twombly, and Peter Doig. The sale confirmed New York's status as the art world's biggest arena and represented the peak of the market in the 2010s as it rebounded from the dramatic 2008 downturn.
2016: Sotheby's bulks up
Amy Cappellazzo and Allan Schwartzman of Art Agency, Partners. Photo by Roe Etheridge. Courtesy of Art Agency, Partners.
After a tumultuous period in which it haemorrhaged high-ranking staff and its stock price fell, Sotheby's bought boutique art advisory Art Agency, Partners (AAP) in 2016 as part of a series of high-profile acquisitions. The auction house struck the deal—for a price tag that may have totaled as much as $85 million—in an attempt to boost profits, build out its private sales business, and broaden its client base. The top auction houses increasingly focused on private sales this decade to improve their margins. The AAP acquisition demonstrated Sotheby's attempts to become a more vertically integrated business, transforming it into a one-stop shop for the various needs of collectors, or what has been described as a simulacrum of the entire art market. In addition to gaining an advisory division, Sotheby's purchased a scientific laboratory in 2016 to guard against fakes: Orion Analytical, the firm run by renowned scientist and art conservator James Martin. The acquisition of Mei Moses Art Indices, an art market analytics tool, added another string to its bow that year.
2017: Salvator Mundi
Leonardo da Vinci, Salvator Mundi , ca. 1500. Photo by Carl Court via Getty Images.
The collective gasp was audible in Christie's Rockefeller Plaza salesroom when Leonardo da Vinci's Salvator Mundi sold for $450 million in November 2017, becoming the most expensive work of art ever sold. The auction house marketed the work aggressively as the "last da Vinci," sending it on a multi-city tour, commissioning a dramatic video (showing the almost religious awe it inspired for viewers, including Leonardo DiCaprio), and creating special paddles for bidders to fuel the hype. The portrait of Jesus Christ, consigned to Christie's by Russian billionaire Dmitry Rybolovlev, was surrounded by controversy even before its sale—in no small part due to debate over its attribution to Leonardo. After the sale, the buyer's identity became an equally complex issue. The bidder was first identified as a Saudi prince little known in the art world, but it was soon discovered he was just a proxy for Saudi Arabia's Crown Prince Mohammed bin Salman. The painting's ultimate destination was later reported to be the Louvre Abu Dhabi, by way of the Abu Dhabi Department of Culture and Tourism, but the Emirati museum subsequently called off the display with no explanation. Since then, the elusive work's location has remained unknown, despite rumors that it might make a late appearance in the Louvre's blockbuster Leonardo show. The sale not only marked a new extreme for the art market, but also encapsulated its frustratingly opaque nature.
2018: The rise of Kerry James Marshall
Famed figurative painter Kerry James Marshall set a record for the most expensive work at auction by a living African American artist last year, when his painting Past Times (1997) was snatched up by hip-hop mogul Sean "Diddy" Combs for $21.1 million at a Sotheby's sale. Part of Marshall's effort to reinsert black subjects into the canon of Western art history, the work is a reimagining of a classic European pastoral scene. Beyond simply setting a new auction record for Marshall, it put an exclamation point on the figurative painting trend that took hold of the market this decade. Marshall is part of a coterie of African American market favorites that includes Mark Bradford, Julie Mehretu, Glenn Ligon, Kehinde Wiley, Mickalene Thomas, and Amy Sherald. The fact that Combs was introduced to Marshall's work by his friend, the producer and collector Kasseem Dean (a.k.a. Swizz Beatz), underlined the rise of a new class of collectors. Another example of this fresh approach to collecting was Japanese billionaire Yusaku Maezawa, who in 2017 revealed on Instagram that he had purchased a Jean-Michel Basquiat painting for $110 million.
2018: Artemisia Gentileschi Baroque the mold
Artemisia Gentileschi, Self Portrait as Saint Catherine of Alexandria, ca. 1615–17 on easel. © The National Gallery, London.
Artemisia Gentileschi is having a moment. After decades of being upstaged by her male counterparts (including her father Orazio), the master of Baroque painting has finally entered the limelight. Last year, she became the first female artist in 27 years to become part of the collection of London's National Gallery. Her work Self Portrait as Saint Catherine of Alexandria (ca. 1615–17) broke a record for the artist at a Paris auction when a London dealer purchased it for €1.8 million ($2.9 million) in December 2017. A few months later, the National Gallery acquired the piece for £3.6 million ($4.7 million). Last month, her auction record was smashed again by the canvas Lucretia (1630s), which sold for €4.7 million ($5.2 million) at Artcurial, showing that the artist's market is catching up with curators and art historians. Gentileschi's life story—particularly the fact that she brought a painting instructor who raped her to justice—has drawn additional attention in the context of the #MeToo movement. She is among a handful of female artists of the Renaissance and Baroque eras who are finally appearing in major museum exhibitions—London's National Gallery is organizing a Gentileschi show next April.
2019: KAWS-ing a scene
KAWS, The KAWS Album , 2005. Courtesy of Sotheby's.
Earlier this year, a painting by one of the art world's most polarizing artists, KAWS (real name Brian Donnelly), sold for HK$116 million (US$14.8 million) at Sotheby's in Hong Kong—more than 14 times its high estimate—smashing his previous auction record of US$2.7 million. A Simpsons parody of the Beatles's Sgt. Pepper's Lonely Hearts Club Band album cover, the work had been in Japanese fashion entrepreneur Nigo's collection. A former street artist, Donnelly now boasts 2.6 million Instagram followers and has a prolific number of fashion and consumer brand collaborations under his belt. Much to the chagrin of some members of the art cognoscenti, he is one the most popular living artists today. Similarly, Japanese artist Yoshitomo Nara has developed a cult following not only for his paintings of sullen, wide-eyed girls, but also for the proliferation of his images on T-shirts, toys, and other merchandise. He recently entered the blue-chip realm when his painting Knife Behind Back (2000) sold for HK$195.7 million (US$24.9 million) this past October at Sotheby's—more than five times his previous auction record. Artists like KAWS and Nara gained serious market traction this decade, appealing to young collectors eager to acquire works by famous artists at lower price points, as well as a growing number of buyers at the top end.
2019: Sotheby's goes under the hammer
Patrick Drahi. Photo by Eric Piermont/AFP via Getty Images.
Sotheby's sold to French-Israeli telecom tycoon Patrick Drahi this year as part of a $3.7 billion deal that shook up the art world. The acquisition means that both of the world's top auction houses are now owned by French billionaires (mega-collector François Pinault owns Christie's). It also marked Sotheby's return to private ownership after more than three decades as a public company whose shares were traded on the New York Stock Exchange. The move finally leveled the playing field with Christie's, giving Sotheby's more flexibility to take risks away from the public eye. Experts say there is likely to be increased competition and creative financing for high-profile consignments. Sotheby's now also has a chance to grow its digital sales of lower-priced goods. The privatization, however, will reduce transparency in a tremendously opaque market. Sotheby's quarterly financial reporting long provided a valuable assessment of the state of the art market and the sentiments of wealthy collectors. Now, details of transactions and market machinations can remain shrouded in secrecy.