What It's Like to Sculpt from the Same Marble as Michelangelo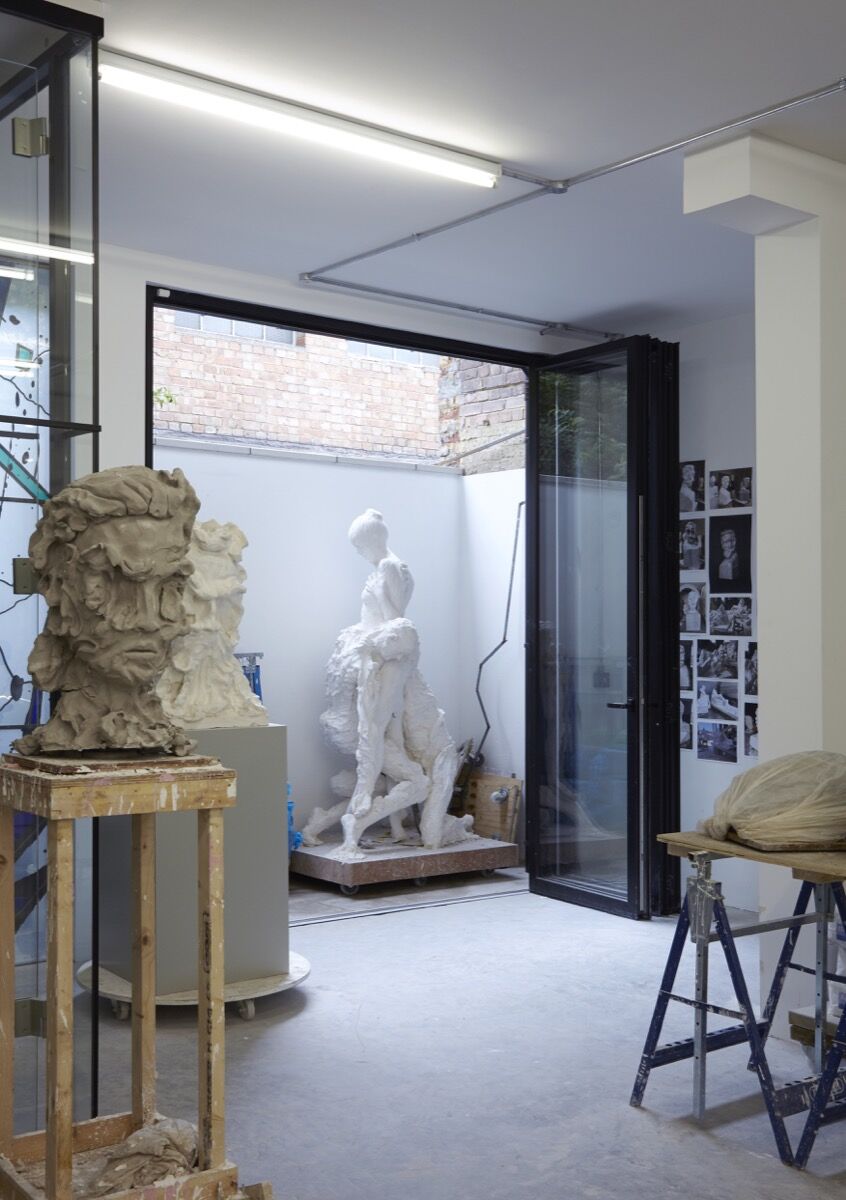 This technique emphasizes the materiality of each sculpture. Gray's studio manager Anakena Paddon says they want to enhance that feeling with their decision to allow visitors to touch the works in the gallery. "It's so enticing," she says. "You want to put your hands where the artist's hand has been. When you feel how hard the rock is, you also realize the amount of manual labor that's gone into the production. It's a really moving experience."
The production of each sculpture is no small feat. First, Gray crafts a clay model in his London studio, which is then cast in plaster and sent to the marble workshop in Pietrasanta. There, it is translated from plaster to stone by a team of trained artisans. The block itself can take some two to three weeks to select; Gray relies on Giannoni's intuition and experience to sense if there may be a hidden flaw in the stone. Then it takes months—six to nine for a bust, or up to a year for a full-length nude—to realize the final sculptures.
Although any work to come out of the studio will follow this process, the sculptures for the Pace show were particularly time-intensive. Before they began work on these sculptures, there were just three artisans staffing the studio. As the work progressed, the team swelled to eight; the 76-year-old Piero Quadrelli, a master at carving a rough form into the block of marble, even came out of retirement to pitch in. The work was unlike anything they'd done before, even the contemporary pieces they had crafted for Gray's previous shows—many of which were based on Neoclassical sculpture. In total, seven works on view at Pace took three years to complete.
Many artists who commission sculptures from the marble workshops at Pietrasanta are not involved in the carving process themselves. Hirst, in fact, never visited the studio that produced his £1 million Anatomy of an Angel (2008) (he approved the work through photographs). But Gray visits Italy often, spending some 10 days each month in the studio. Not only is he there to supervise, but he actually handles the fine detailing of the sculptures himself.
It's not easy work, he notes. Carving kicks up so much white marble dust that the artisans are jokingly referred to as the "ghosts of Pietrasanta." Gray's favorite part of the process is the end. "It's so labor-intensive and so emotionally and physically attritional, it's such a joy to walk away from a piece."
Michelangelo's presence in the town has been well documented; bronze plaques mark houses where, centuries ago, he may have slept, while a local cafe claims the distinction of serving as his workspace during a visit in 1518. But the connection is even more explicit in Gray's Pace show. One piece, titled Cave Girl (2016), was carved from a block of marble extracted from the very same cave Michelangelo sourced for his marble back in the 1500s.
"They're using the same techniques that