The Shanghai Biennale Boldly Tackles Censorship, Consumerism, and Progress
At the opening of the 12th Shanghai Biennale, chief curator Cuauhtémoc Medina described its title, "Proregress," as a "word like a lost tool in a drawer." He seized upon the term, taken from an E.E. Cummings poem published in 1931, as a way of framing the current global moment: when gains in economic openness, human rights, and environmental protections have begun to backslide, moonwalking towards disaster. (Another dance move—禹步, or yubu, the basic step of Daoist ritual in ancient China—gives the biennial its Chinese name.)
Artist Rehearsal I (1999–2004), in which a plucky Volkswagen Beetle tries again and again to summit a steep hill, each time losing oomph as it nears the top, rolling back down to where it began. Born in Belgium in 1959, Alÿs has long lived and worked in Mexico City, where Medina also works as the chief curator of the Museo Universitario Arte Contemporáneo. The biennial's exhibition design is by another Mexican, architect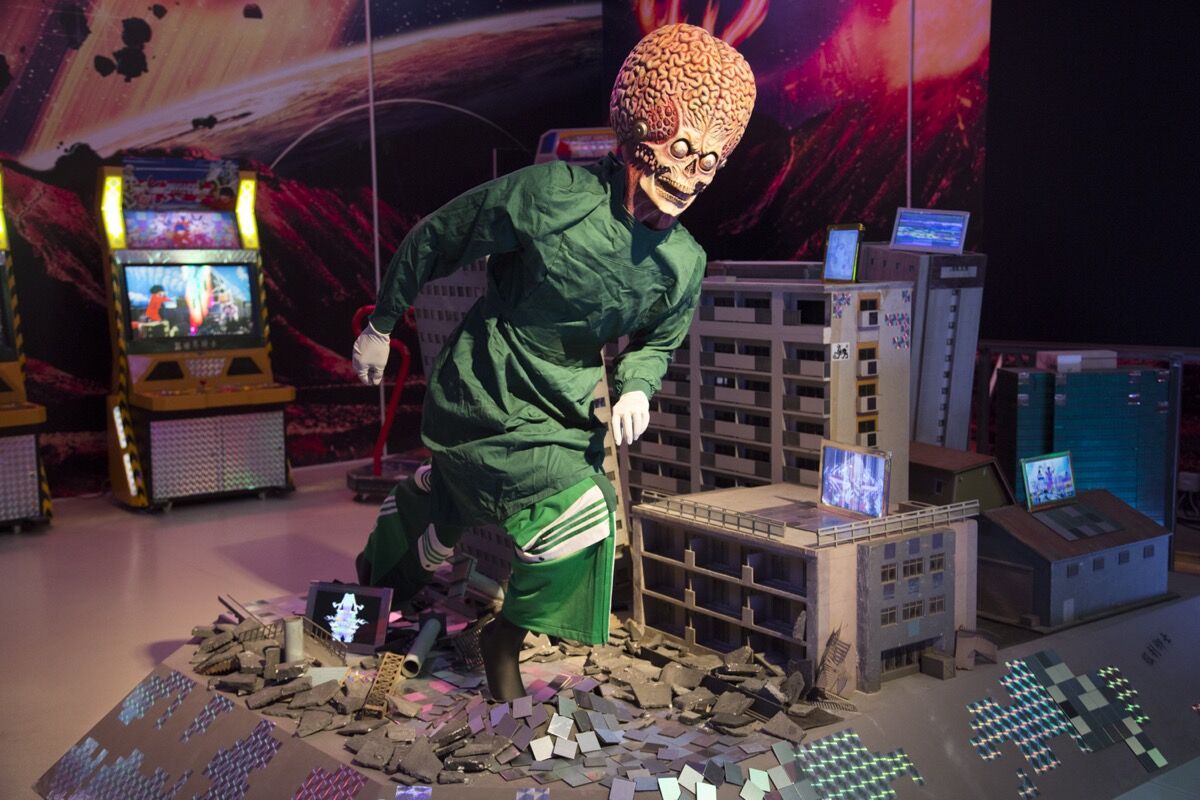 Much has been made of that region's uneven progress—Mexico's GDP growth has averaged only two percent in recent decades; Brazil's years-long recession helped spur the election of "
Trump of the tropics
," Jair Bolsonaro; and Venezuela is on track to hit
1 million percent inflation
in 2018. But for the Power Station of Art (PSA), China's only state-run contemporary art museum, to turn to Latin America while China continues to experience enviable GDP growth north of six percent speaks to the country's unique predicament.
China's economy is cooling, growing at its
slowest rate since the global economic crisis in 2009
. Because the legitimacy of the Chinese Communist Party's rule is widely seen as conditional on economic gains, this slowdown poses an existential threat, and presages a tighter, even more authoritarian grip on power.
Censorship of the arts, media, and social media has toughened under Xi Jinping. Medina said it is always the job of curators and artists to "negotiate the limits of discourse," and praised the PSA's support in helping the curators come out with "a very critical show," yet few works tackled China's own "proregress" head on. To no one's surprise, there is nothing here that explicitly addresses, for instance, China Coal's position atop the list of the
world's worst carbon emitters
, China's island building in the South China Sea, or the internment of
more than 1 million Uighurs
and other Muslim Chinese in Xinjiang.
Consequently, China's political situation is at the center of the show, but also absent—a black hole around which everything else orbits, but from which no light escapes. This redaction—and censorship as a key component of "proregress" in general—is nevertheless alluded to in Cuban artist performance Nothing About Nothing (2018), which sees the same wall painted and re-painted white. And it's there in a neighboring work by Chilean artist Monumental (2018), a giant mobile of state secrets printed on transparent plastic and shushed by printed black bars, which dangles down the museum's central shaft, a skylight.
Many other pieces selected for the biennial are not about China, but nevertheless have a particular resonance here. The first work viewers encounter upon entering the museum is a white light-box sporting a version of the Apple logo installed above the ticket office by Evil / Good (2017) apple does not have a bite taken from it. The subtle shift suggests a prelapsarian path not taken by the first trillion-dollar public U.S. company, whose moral compromises include systematic tax dodges, dubious conditions at its suppliers' Chinese factories, and censorship of its Chinese app store.
Another multi-national company's logo, the golden arches of McDonald's, was appropriated as part of Shenzhen trio A Community Estate Project (2018), a model home equipped with gaudy faux-Versailles furniture and a TV tuned to a home shopping network. That corporate logos still hold any interest for artists and audiences in China—long after they were glibly used by Chinese painters cashing in on post-Mao economic reforms—is testament to the total triumph of consumerism in contemporary China.
The Shanghai Biennale opened on November 10th, the day before China's 11/11 online shopping festival, which, this year, saw gross merchandise value for the 24-hour period top $30.8 billion. The sales frenzy still has fleets of delivery trucks and overloaded scooters transporting boxed-up purchases around the country. A work that might have been too on-the-nose absent this context—Mexico-based artist In Hemmed-in Ground (2018), a roughly 38-by-38-foot installation of collapsed cardboard boxes stacked in metal frames to spell out the phrases "one step forward, two steps back" and "two steps forward, one step back" in simplified Chinese—instead implicates online shoppers in our easy overconsumption.
One alternative way forward (and backward) is offered by The Auroville Project (2017). Auroville is a commune founded in Tamil Nadu, India, by French philosopher Mirra Alfassa in 1968, before the very idea of utopias had lost their luster. Five increasingly cynical decades later, this "retrotopia"—as Zygmunt Bauman describes our once-hoped-for paradises—persists, though its 2,500 residents are far fewer than the 50,000 originally planned for.
Material World Knight (2018) installation is an Akihabara-esque gaming arcade with aesthetics seemingly borrowed from Attack on Titan and Mars Attacks!. A collection of videos and video games pit humans against artifically intelligent Buddhist god-bots who remind us that "desire and wisdom can be straight parallel lines," and complain that we have burdened them with sexy avatars that only appeal to humans' animal instincts. The hope, Lu implies, is that maybe we can code away our irrationality.
In the end, it is neither hippies in India nor buxom digital robo-bunnies who offer the most cogent response to "proregress," but a Puerto Rican parrot named Alex. In The Great Silence (2014),
The problem, as Alex sees it, is not that we are not listening, but that we are listening to the wrong thing. Likewise, as the Shanghai Biennale points out (with more careful courage than art-fetish novelty), the problem is not that we are not progressing, but that we have defined progress so very terribly.
Daan Roosegaarde ​& BMW i
Premiere of installation SYNC at Art Basel.
Sponsored by BMW