Shepard Fairey on Keeping Obama's "Hope" Alive in the Age of Trump
Street artist
As a teenager in the 1980s, Shepard Fairey channeled his rebellious nature into skateboarding and punk music. In the '90s, he turned to
Since then, Fairey has become a go-to artist for liberal activism in the United States, collaborating on posters, t-shirts, and graphics with everyone from Occupy Wall Street to the American Civil Liberties Union (ACLU) to 350.org. It's a role that, according to Fairey, has taken on a new urgency since Donald Trump's election last November.
"Trump has been an agent of so much division and negativity," Fairey tells me from Los Angeles, on a recent afternoon. "I've realized that in order to challenge that, the most punk rock thing we can do right now is to look at what we have in common—as human beings."
Fairey has made these deepening inequalities and injustices the subject of his newest and largest-to-date solo show, "Damaged," whose title was inspired by the punk band Black Flag's 1981 album. Organized by Detroit's
Library Street Collective
, it opens this Saturday in a warehouse in downtown Los Angeles. The show corrals some 200 paintings, sculptures, and stencils Fairey has made over the past two years, addressing police brutality, xenophobia, racial discrimination, climate change, and the dangers of authoritarianism.
But Fairey's approach isn't aggressive. Instead, he undermines these destructive forces, as he refers to them, by celebrating the very people they threaten.
"In the past, I've done some work that is more positive and decorative—celebrating peace and harmony, for instance—and other work that is more agitational and critical," Fairey explains. "These works combine both."
One print, titled Bias by Numbers (2017), shows an African-American woman staring defiantly out at the viewer. Her face is obscured by an arrangement of angular lines that allude to containment or prison bars. Images of torn newspaper clippings collaged behind her contain statistics pointing to discrimination of the black community by police, the prison system, and the media.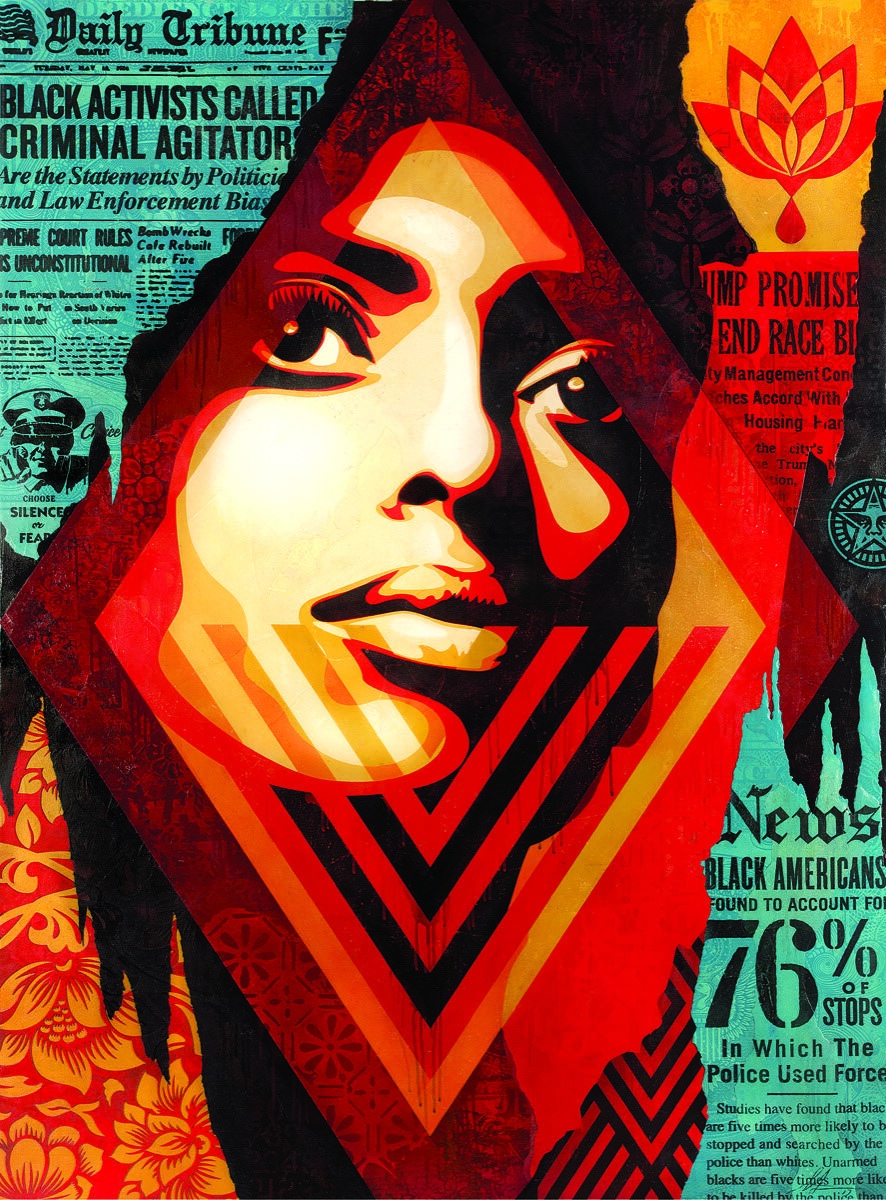 In another, called Drink Crude Oil (2017), jagged pieces of paper covering a woman's mouth—perhaps in an attempt to silence her. The paper is embedded with references to oil, Coca-Cola, and corporate America—"forces trying to tear her, and the environment, down," Fairey notes.
Both pieces, like many that will be unveiled in the show, depict individuals who represent communities and causes that have been persecuted and cast aside—especially under the Trump administration. "I hope the immediate read of these portraits is: This is another human being, I can't look at this person and see them as an enemy," Fairey says.
The majority of Fairey's recent subjects are young, and this is intentional. "When you look at resistance to progress, it's coming from people who are greedy, whose power is deeply entrenched in our society—and who are mostly old," Fairey says.
"But there are a lot of younger people who are looking at the world in a way that is more selfless and more communal—who are saying, 'We're all in this together, and we need to make some moves,' whether it's in the context of political division, racism, xenophobia, or a warming planet."
When "Damaged" opens this Saturday, it will no doubt draw hundreds, if not thousands, of Fairey's fans—many who are young (and not so different from Fairey's own skateboard-wielding, underground-music-obsessed teenage self). Fairey is optimistic that these youth, and others like them, will continue to oppose forces of unchecked authority and power that segregate communities and seed conflict.
To drive home this point, he's included a series of what an exhibition text refers to as "do-it-yourself tools of empowerment." These include a printing press, where visitors can produce their own protest art, and free posters.
"Everyone has more power than they know," Fairey explains. "Youthful idealism mixed with DIY principles of action can be incredibly transformative—so don't squander your power."
Alexxa Gotthardt is a contributing writer for Artsy.