These Smithsonian Archival Photos Show Famous Artists with Their Cats
If Instagram had been around during lifetime, you can be sure his feed would have been filled with cat photos. His three cats—Minouche, Coussi, and La Puce—were never far from him while he painted. Likewise,
Indeed, many of art history's famous artists have taken comfort in the companionship of cats; they, too, have abided by the demands of such charming yet fickle creatures.
In the Smithsonian's Archives of American Art—which houses documents, photographs, and diaries that paint a broader picture of the lives of artists—there are, unsurprisingly, a large number of cat photos. The curator of manuscripts, Mary Savig, recently dug deep into the Smithsonian's vaults and published a compendium of these images in the book
Artful Cats
(2019).
But the project didn't begin as a concerted effort to uncover the felines that influenced famous artists. In the foreword, Smithsonian Archives of American Art director Kate Haw writes that the book was "inevitable" based on the popularity of cats—not just on the internet (she points to Grumpy Cat's 8.5 million followers), but in the Smithsonian's own library, too. Based on its collection, artists seem to favor cats over other pets: While pet crow, Caw-Caw, makes an appearance, as does daschund, Archie, it's "cats that rule the Archives," Haw notes. Here, we share excerpts from Artful Cats, highlighting 10 famous artists and their cats.
Hedda Sterne with Poussin
"Romanian-born New Yorker illustrator Saul Steinberg, drew a portrait of Poussin inside the cabinet under their kitchen sink; the idea was to keep away mice."
Gertrude Abercrombie holding some cats
"Again and again, painter
Berenice Abbott holding a cat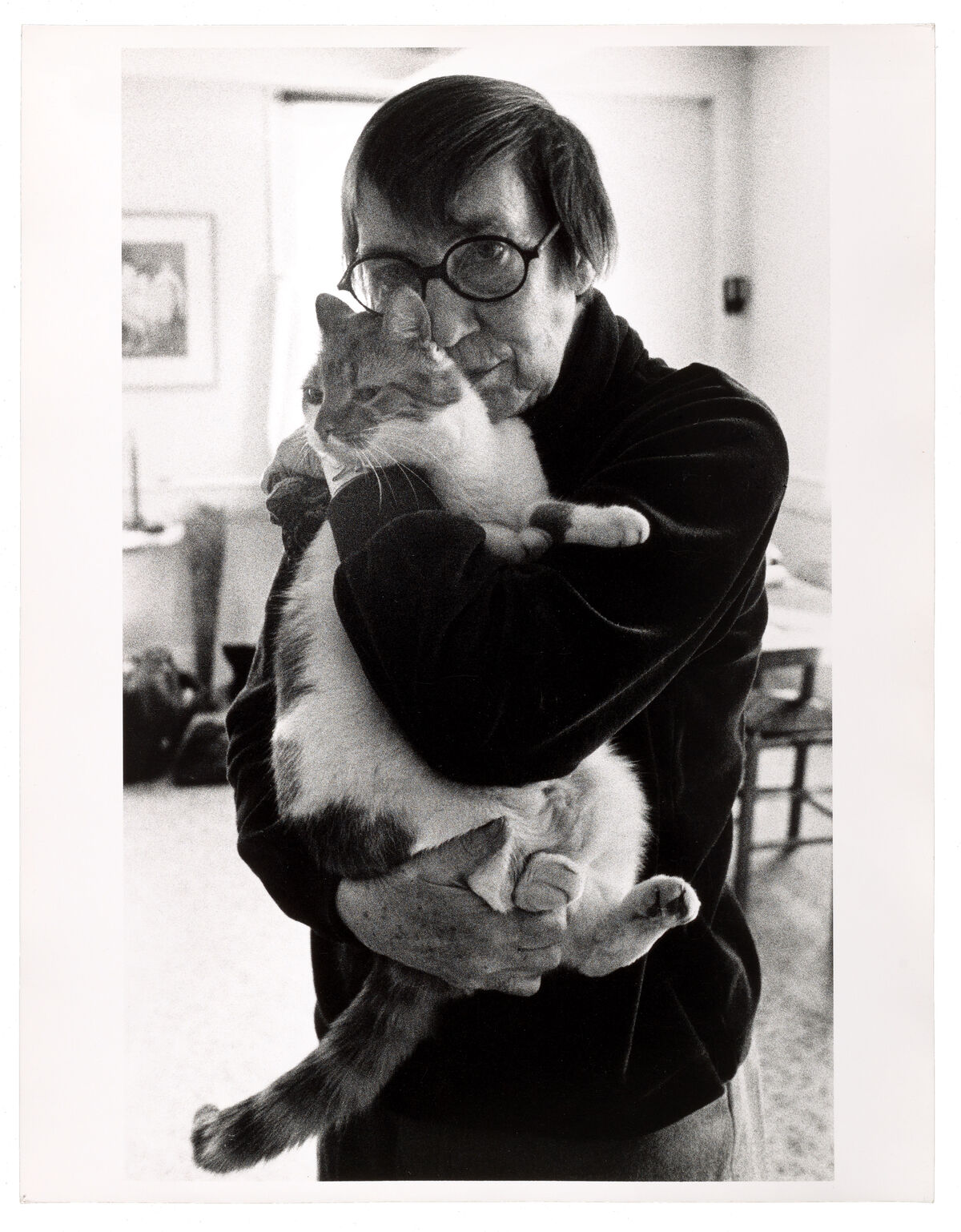 Gathering at the Breuer I House
"In 1947 prolific architect
Frank Stella with Marisol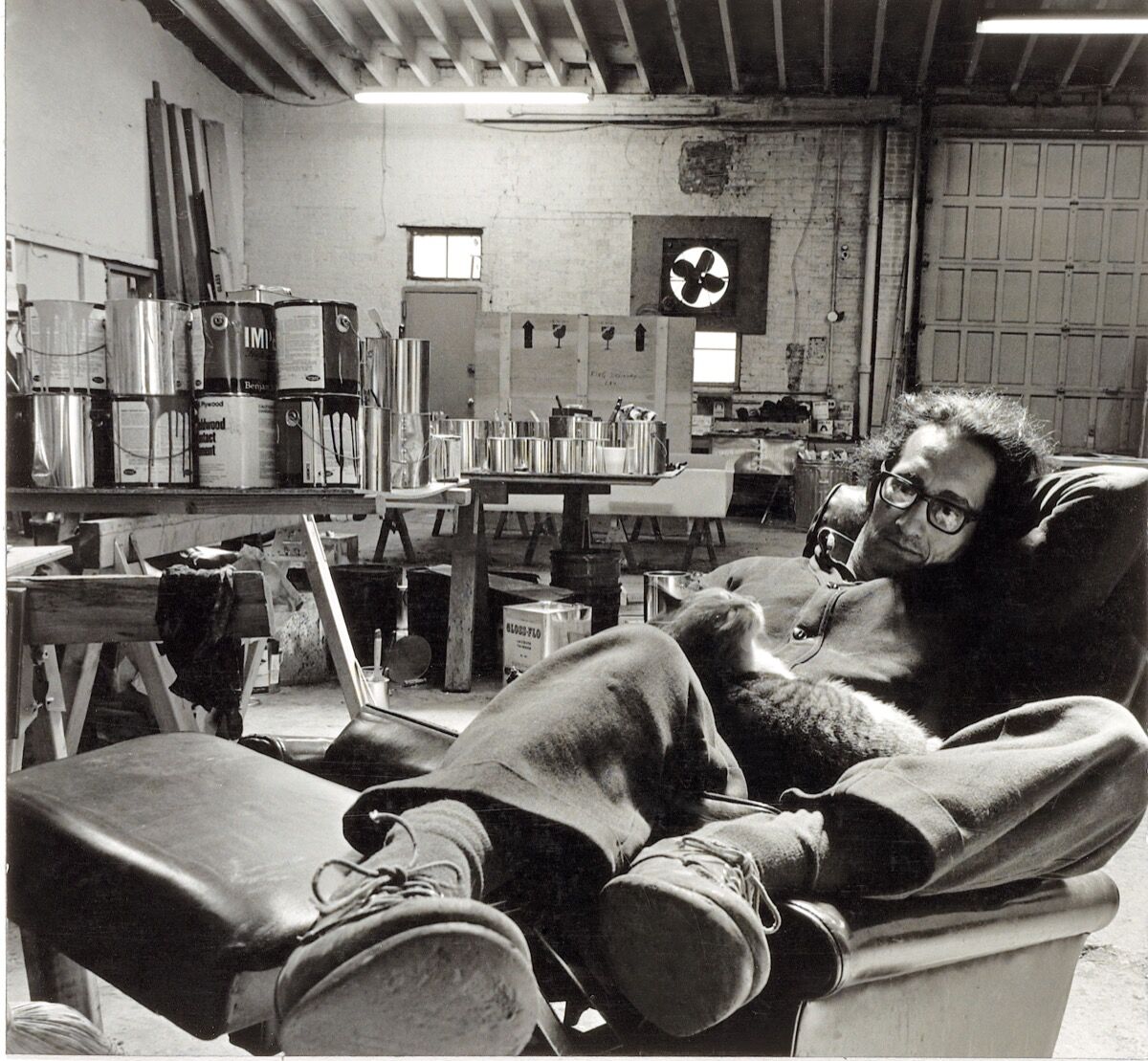 Jay DeFeo's cat Pooh Bear
Maria de Conceição (also known as Sao) in her studio

"Textile and fashion designer Maria de Conceição (b. 1946) created a cozy studio for crafting her popular 'wearable art' garments. Surrounding de Conceição in her Washington, D.C., studio are spools of thread and piles of remnants for her artworks. Everything was at hand, including an amiable black cat."
Beatrice Wood at her pottery wheel
"San Francisco Chronicle, Wood works at her wheel with one of her Manx cats looking on. At the time, Wood owned two Manxes named
Emily Barto at work on her mural Animal Tales
"As part of the New Deal's
'There was a crooked man, and he walked a crooked mile, / He found a crooked sixpence against a crooked stile; / He bought a crooked cat which caught a crooked mouse, / And they all lived together in a little crooked house.'"
Jacqui Palumbo is a Senior Editor at Artsy.
Excerpts from the book Artful Cats by Mary Savig. © 2019 Princeton Architectural Press.