Snow Storm Couldn't Stop Armory Show Crowds, but Early Sales Were Scattered
Installation view of Gagosian's booth at The Armory Show, 2018. Photo by Adam Reich for Artsy.
Despite a vigorous snowfall that beat steadily down upon New York City all day, collectors made the journey to a remote strip of highway on Manhattan's West Side to attend Wednesday morning's VIP preview of
The Armory Show
, the first stateside test of the art market in the new year. While some out-of-towners may have been stuck at home due to cancelled flights, there was still a crush of VIP cardholders squeezed into the entrance, waiting to get through the gates as soon as the clock struck noon.
Sales were leisurely at the outset, but enough work changed hands to suggest the market is stable, despite the volatility of the weather and the equity markets so far this year.
"The weather isn't on our team, but we're doing pretty good here," said Johann König, whose
König Galerie
had sold
o.T.
(2017) for €140,000 ($173,000), and a gigantic
For König, a longtime devotee to The Armory Show, the fair represents a way to stay tethered to New York without splurging on a brick-and-mortar space here. König Galerie is based in Berlin, and last October debuted a space in London, but has no plans to open in New York.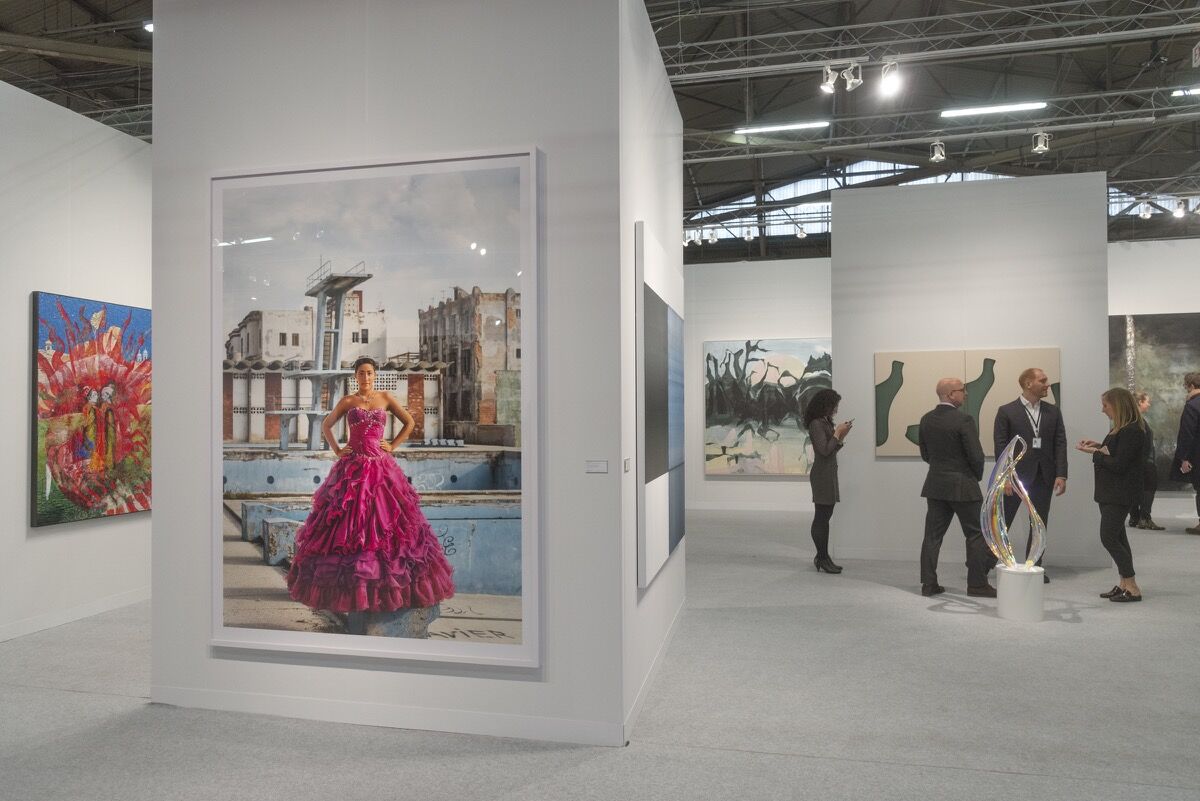 Installation view of Sean Kelly Gallery's booth at The Armory Show, 2018. Photo by Adam Reich for Artsy.
"I've been doing Armory for a long time, and it's because of New York collectors—they come, they come, they come multiple times," throughout the fair's duration, König said. "It's not even so much American collectors—just New York collectors."
Other dealers said The Armory Show is also a chance to connect with collectors who fly in from elsewhere in the country, many of whom were stuck due to the freak blizzard.
"We had a group of collectors from Boston who got held up, but they'll come tomorrow," said Alex Logsdail, a director at
Lisson Gallery
. The London-based gallery now has two locations in New York, but isn't yet a member of the Art Dealers Association of America (ADAA), so they focus on the Armory. This year, they sold
wt (extended)
(2016) for £385,000 ($477,960),
Cadmium orange with blue
(1989) for $600,000, and
The Hidden Paintings Grandma Improved - We Are Coming Out
(2017) for £30,000 ($37,200).
If anyone was missing in action,
Sean Kelly
hadn't noticed. He said that The Armory Show is consistently one of the best fairs for his business, year after year.
"We've been packed," he said. "The volume of people and people coming back everyday—it's one of the most successful fairs we do."
Installation view of Galerie Thaddaeus Ropac's booth at The Armory Show, 2018. Photo by Adam Reich for Artsy.
But other dealers and advisors worried that sales were slower than in past years, and not just because of the weather.
"None of the big guys are selling, because they didn't bring their best stuff," said one advisor, who asked not to be named. "[The collectors] think the galleries are waiting for Hong Kong, and they're saving their best material for that."
Installation view of Victoria Miro's booth at The Armory Show, 2018. Photo by Adam Reich for Artsy.
The centerpiece is a treasure, for sure, but Gagosian wasn't able to sell it by the end of the first day. It seems collectors were slow to come around to a $1.5 million price tag at a fair where, in general across all galleries, work is usually more moderately priced.
"That doesn't seem to be in line with Nam June Paik's auction history," said a former auction specialist, who is now an advisor.
The top price for a work by Paik at auction is $646,897, recorded at Christie's Hong Kong in 2007.
But sources at the gallery did indicate other, smaller works had sold, and it was one of the more talked-about presentations at the fair.
"The installation, performance and video-based strategies which seem to dominate the current contemporary art landscape are unthinkable without the profound influence of Nam June Paik," Nick Simunovic—who is the director of Gagosian's Hong Kong outpost, and put together the booth—said in an emailed statement. "At the same time, his work is too little known, especially in relation to his enormous stature."
Victoria Miro
, which has two locations in London plus one in Venice, also had an ambitious booth set up: The gallery decided to play house here at Pier 94, setting up "furniture" by
"We decided to do a booth about the domestic," said Glenn Scott Wright, director and partner at the gallery.
In the "living room" there are a few delightful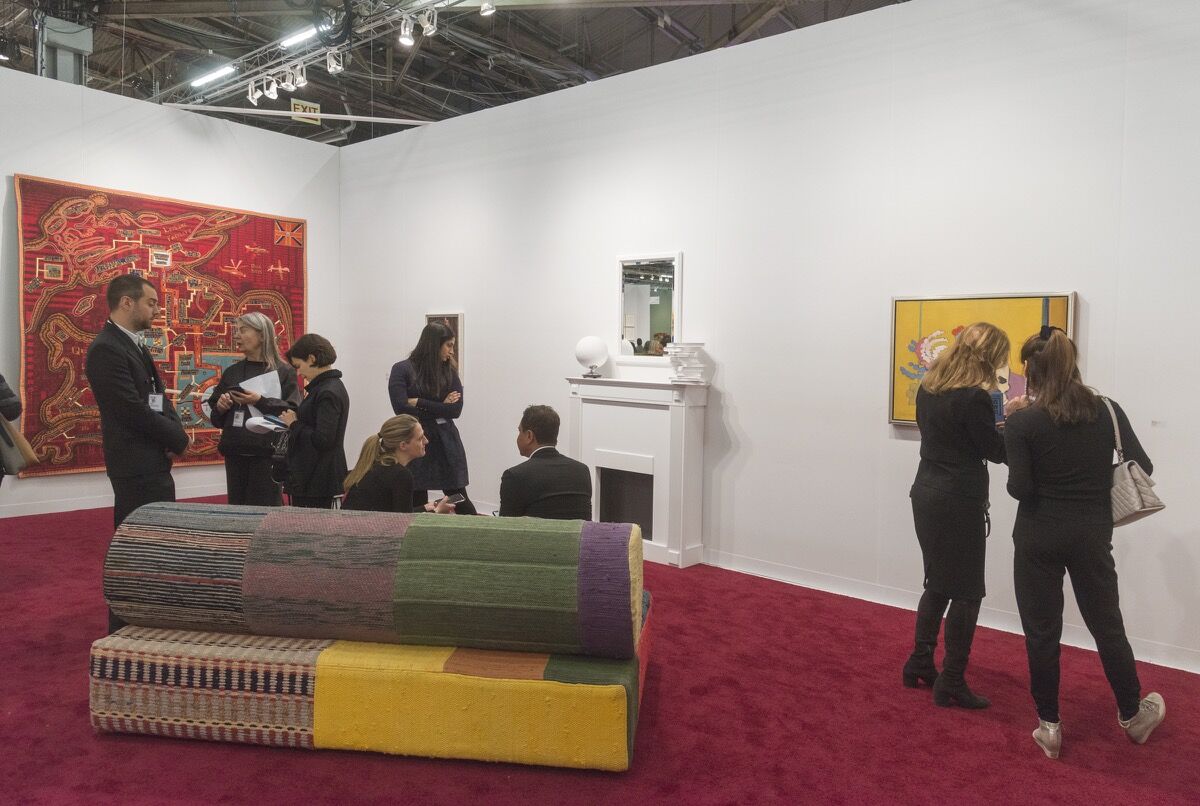 Installation view of Victoria Miro's booth at The Armory Show, 2018. Photo by Adam Reich for Artsy.
And at the booth's dead center was Nitsch himself, squatting on a chair in overalls and a bowler cap. Asked whether he enjoyed attending an art fair and watching his work get sold, he responded slowly and with a strong Austrian accent: "I'm just glad I don't have to be here every day."
Nate Freeman is Artsy's Senior Reporter.