What Happens When Social Practice Art Meets the Market?
Pablo Helguera, Nuevo Romancero Nuevomejicano, 2014. Courtesy of Kent Fine Art, New York.
Over the past decade, social practice art, which strives to create social or political change through community-based or participatory projects outside of art's traditional gallery space, has become increasingly mainstream. As it grows in stature, with MFA concentrations and major museum shows, artists in this distinctly publicly oriented genre are grappling with how to engage with the market for their works.
In recent years, social practice art has been the subject of major museum exhibitions, such as the
New Orleans Museum of Art
's 2014 retrospective of environmental artist
Queens Museum
's 2016 survey of
Because socially engaged work often aims to facilitate discussion and other interpersonal interactions, it's attractive to major museums seeking to amp up their educational programming and community engagement endeavors. For this reason, the movement has largely been spurred up to this point by nonprofit funding and academic support. MFA programs across the country are starting to offer concentrations in the subject—notably California College of the Arts, Portland State University, and Otis College of Art and Design—which suggests that the social practice model is not only becoming more institutionalized, but also professionalized, and perhaps even commercialized.
To that end, though many socially engaged artists consider their work to be outside the scope of galleries, some are returning to studio-based practices, creating objects that can be commercially sold through galleries to museums and collectors in order to support their larger public projects.
"Social practice art is seen as the antithesis of the art market because it cannot be owned, preserved, or exhibited easily," explained New York-based artist Education for Socially Engaged Art. Located somewhere between activism and performance, the tangible and the ephemeral, social practice is linked to relational aesthetics and other community-based work since it's often action oriented and site specific, requiring some sort of audience engagement.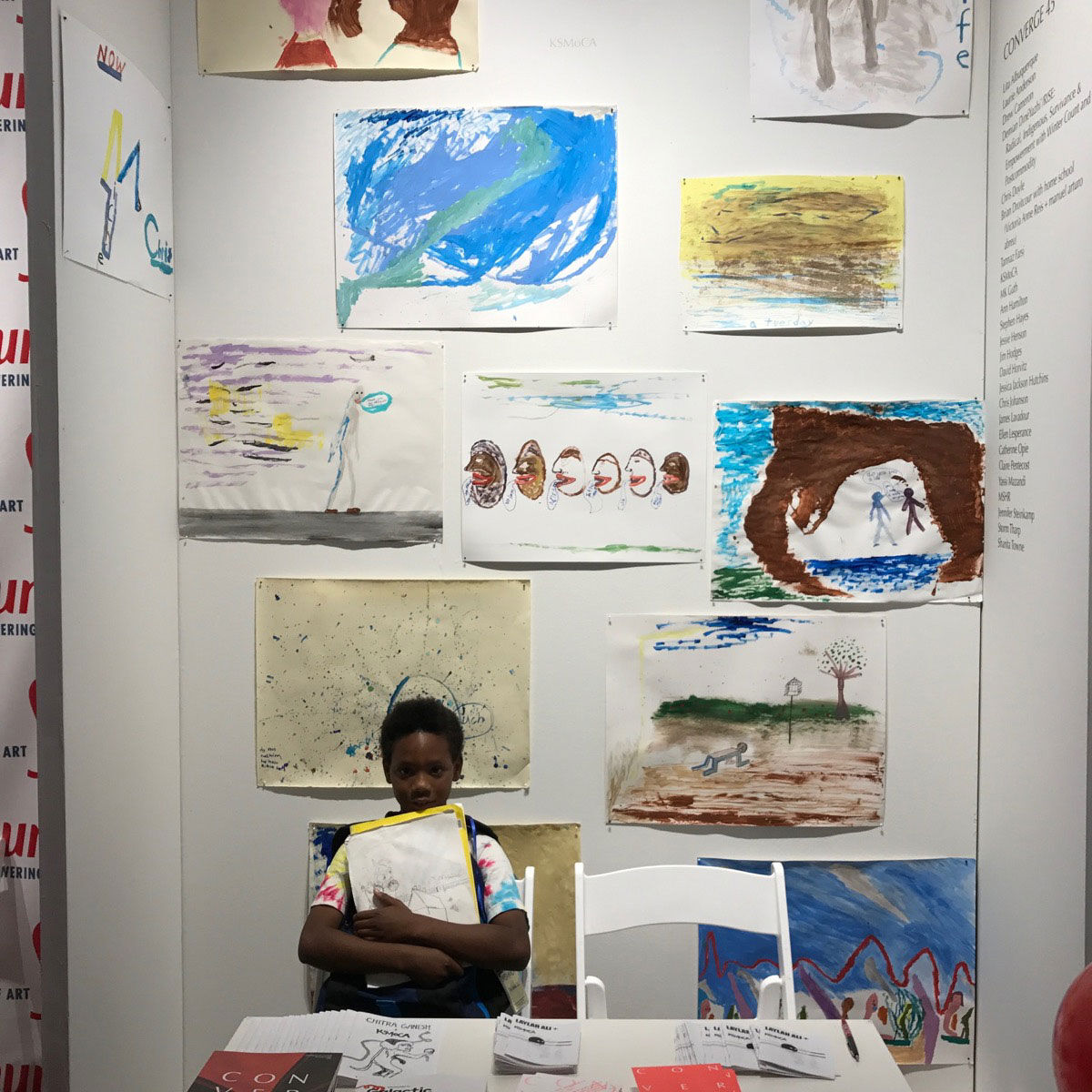 Photo from KSMoCA. Courtesy of Harrell Fletcher.
Photo from KSMoCA. Courtesy of Harrell Fletcher.
But objects, gallery spaces, and ownership rights are often an afterthought for social practice artists, whose work responds to issues of public concern.
Yet many artists are finding ways to consciously straddle the line between social and studio practices, perhaps because Conceptualism set a precedent for selling objects related to projects that extend beyond the physical space of the gallery and into public spaces. Fletcher explained that, like Conceptualism, social practice has been positioned by critics and theorists as in opposition to studio-based practices that yield objects like paintings or sculptures that can be easily sold.
"The reality is that this sort of practice is proving to be more mutually supportive for both artists and the institutions that show them," said Fletcher, referring to artists who integrate object-making as part of their socially engaged work. A lot of social practice-style projects end up being supportive of studio-based work, and vice-versa, he explained, effectively expanding the visibility of the artist and the galleries they work with.
Installation view of Michael Rakowitz, The Invisible Enemy Should Not Exist, 2007-ongoing. Courtesy of Rhona Hoffman Gallery.
New York- and Chicago-based artist The Invisible Enemy Should Not Exist, in which he reproduces objects missing or looted from the National Museum of Iraq in Baghdad, which was looted after the U.S. invaded the country and failed to secure the museum, leaving the country's heritage vulnerable.
Represented by
Jane Lombard
in New York and
Rhona Hoffman
in Chicago, Rakowitz shows routinely with both galleries while creating numerous public projects for institutions and sites around the world. And his renown is on the rise: Within the next year alone, a survey of his work will open at the
Museum of Contemporary Art, Chicago;
a replica of the Lamassu statue destroyed by ISIS in Mosul, Iraq, (part of
The Invisible Enemy Should Not Exist
) will go on view in London's Trafalgar Square as part of the 2018 Fourth Plinth commission; and a traveling mid-career retrospective will be mounted at Turin's Castello di Rivoli.
"With Michael, I'd say we have more institutional interest in and support for his work compared to other artists we work with," said Anastasia Karpova Tinari, director of Rhona Hoffman Gallery. "Even if his work doesn't squarely fit into a commercial setting, he has found ways to extend his projects through objects that are not just documentary of his social practice."
Instead, these objects embody the cultural histories and social issues he addresses while facilitating sales to museums and private collectors alike. She added that the gallery placed the first of his works, a replica of an ancient Babylonian Ishtar Gate, in the MCA Chicago's collection in 2015, before the museum started planning their survey of his work opening this fall.
"We're not just selling the artist's work, we're selling the development of these other projects, too," Tinari said. In other words, many collectors are investing not just in the objects themselves, but in the artist as an agent of social change.
Michael Rakowitz, The Flesh is Yours, The Bones Are Ours, 2016. Installation view, Graham Foundation for Advanced Studies in the Fine Arts, 2016. Photo by RCH|EKH art documentation. Courtesy of Rhona Hoffman Gallery.
Helguera said the sales of more conventional, object-based works that he shows with his galleries ultimately allow him to experiment more freely in the social practice realm, but he looks forward to a day when social practice artists have more revenue options available to them.
"I think we still have a couple or so decades more to go before the idea of supporting social practice might take hold in the art market," he said.
One challenge for collectors or potential patrons is that his work often relies on shared resources, precluding private ownership. For example, in the first edition of his ongoing work Librería Donceles, (2013–present) an itinerant, Spanish-language second-hand bookstore in New York was stocked with books donated in exchange for a piece of Helguera's work; the books were then sold on a pay-what-you-wish basis to visitors in order to offer greater accessibility to Spanish-speaking communities.
"This kind of practice takes a certain kind of collector who wants to support specific ideas and issues," said Helguera's New York dealer, Douglas Walla of
Kent Fine Art
, who said the prominent Dallas collectors Howard and Cindy Rachofsky had recently purchased work by the artist.
"There's certainly more interest in Pablo's work, especially over the last five years or so. But that doesn't mean it's a big market. If this was all I was doing I would starve," Walla joked.
That points to a central challenge going forward for social practice artists. While many are experimenting with hybrid practices that can offer different tiers of participation—the experiential and the commercial—what remains paramount for them, and what is inherently problematic when their work is privately collected, is the issue of public access. Many works feature components (photos, videos, actions, or experiences) that can be duplicated or performed ad infinitum, since artists want as as many people as possible to see or experience the work, a quality that in turn limits the marketplace value of related objects or ephemera, because ownership is not as unique. In the meantime, most social practice artists rely on competitive grants and teaching jobs.
Perhaps if the art world were to mirror the burgeoning "
sharing economy
" where access trumps ownership, a similarly strong market for social practice art could take root.