Inside the fair's 44th edition, sunlight streamed in through the glass roof of the 1900 Belle Époque building, illuminating the artworks on view; open doors brought a warm breeze into the vast hall, creating continuity with the beautiful day outside and an art fair experience unlike any other.
"We are totally in a new paradigm," said Dreyfus, referring to the psychology of collectors and the French public more broadly, as the nation emerges from the cloud of terrorist threats. She credited the Interior Ministry for its work in making the country feel more safe. Legislation is also currently moving through France's parliament that would give law enforcement expanded powers, while allowing for the state of emergency's official repeal.
Dreyfus and others also described a paradigm shift amongst French collectors, with a new generation of patrons under 50 taking on more responsibility in the French market to support young galleries and contemporary art in general. She cited names such as real estate developer Laurent Dumas and Guillaume Houzé, a great-grandson of the co-founder of French department stores Galeries Lafayette, who are taking their place alongside the two luxury magnates Bernard Arnault of LVMH and Francois Pinault of Kering Group, which includes Gucci and Yves Saint Laurent. The younger collectors, some of whom come from collecting families, others of whom are starting to dabble after finding success in other fields, feel a strong responsibility towards young artists and galleries, the adviser said.
Parisians and visitors alike have benefited from the largesse of these private collectors: In addition to Paris's many state-run institutions, such as the world-famous
Louvre
, the city boasts a number of private and corporate foundations, such as the
Fondation Cartier
or the
Fondation Louis Vuitton
, with more—including Dumas's S17 and S18 cultural complex, set to be built on Paris's Île Seguin—on the way.
"One cannot neglect the importance of this market," said Jennifer Flay, FIAC's director since 2003. "There's a deep tradition of collecting here, and all the surrounding countries—Belgium, Germany, Italy. These people are very, very active."  
A handful of these very important collectors, who are said to drop several million at the fair each year, are rumored to browse FIAC ahead of opening hours, taking a quiet, hassle-free tour through the fair even before the dealers get there. That's a rumor that Flay vehemently denied, although she did note that FIAC is "the only fair in the world that two very large collectors attend," presumably a reference to Pinault and Arnault. Chinese-Indonesian collector Budi Tek and Adrian Cheng of Hong Kong's K11 Foundation were also in attendance this year, Flay said, and dealers said representatives from major French institutions were also present.
The institutional presence was a major draw for some of the younger galleries in the Secteur Lafayette, an upstairs section of the fair launched with the Galeries Lafayette group in 2009, following the financial crisis, to support emerging galleries. For the ten galleries selected, half of the fair costs are subsidized; housing is also provided for the gallerists throughout the fair. Without subsidies, booths at FIAC range in cost from less than €10,000 to more than €60,000, said Flay.
Aleya Hamza of Cairo's Gypsum Gallery, participating in the Secteur Lafayette for the first time, brought two pieces by
Downs & Ross
, nearly all the works they offered by
"We were able to bring these conversations to fruition once decision-makers and curators were able to access the works in the flesh," he said.
Crespo is a transgender, neurodiverse artist whose work explores "non-normative identity formation and the visualization of alternative relationships to common social categories of ability," Ross said, inspired by Crespo's own experience. Although the conversation in Europe around gender fluidity and neurodiversity is not as advanced as it is in the U.S., Ross said, "These are important discussions for institutions to lead," and Crespo's practice can help advance this dialogue. Most of the roughly half-dozen works ranged in price from $10,000 to $20,000.
The general consensus was that in addition to the local institutions, the FIAC collectors—French, American, and those from continental Europe—tend to be more sophisticated than the
Frieze
crowd, which is a little looser and edgier.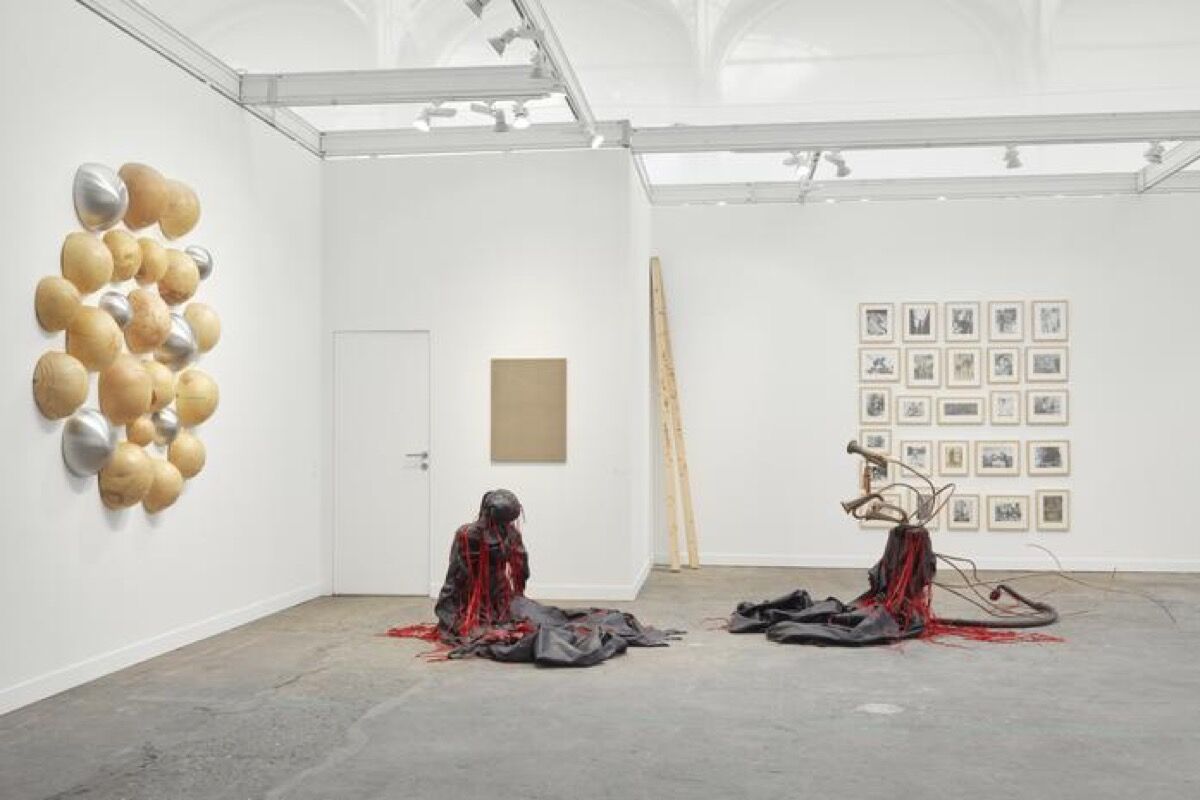 "I get to meet French, Belgian, some German collectors that I'm not going to meet elsewhere...and now that the fairs are separated by ten days, there are two camps," he said, referring to Frieze's decision last year to push its dates a week earlier, thereby separating itself from FIAC.
"It's very different if you promote one position, because there are more conversations we can have than if you have a group show," she said. "This is the first time I'm doing this, and it's been very enjoyable, so I might continue to do that. It's very rewarding."
"It doesn't feel like a market frenzy," said Kurt Mueller. "You feel like people are being thoughtful...It is a beautiful fair, so it entices you to look. You want to spend time here."
Thaddaeus Ropac also called FIAC his favorite fair, not least because it's on his home turf—two of his five locations are in Paris. He said he admires the fair's selection of galleries, which offer something for everyone, as well as the breathtaking cultural offerings that surround the fair.
"I mean, it's Paris, it's the Grand Palais—oh my god!" Ropac said, gesturing around him. "It's my favorite fair because it has this mix of young and sophisticated. It's less underground than London, but I think it's the right mix of classical works, and young artists when you look upstairs...and what you have in Paris at the moment right now, it's staggering...here art feels so much at home."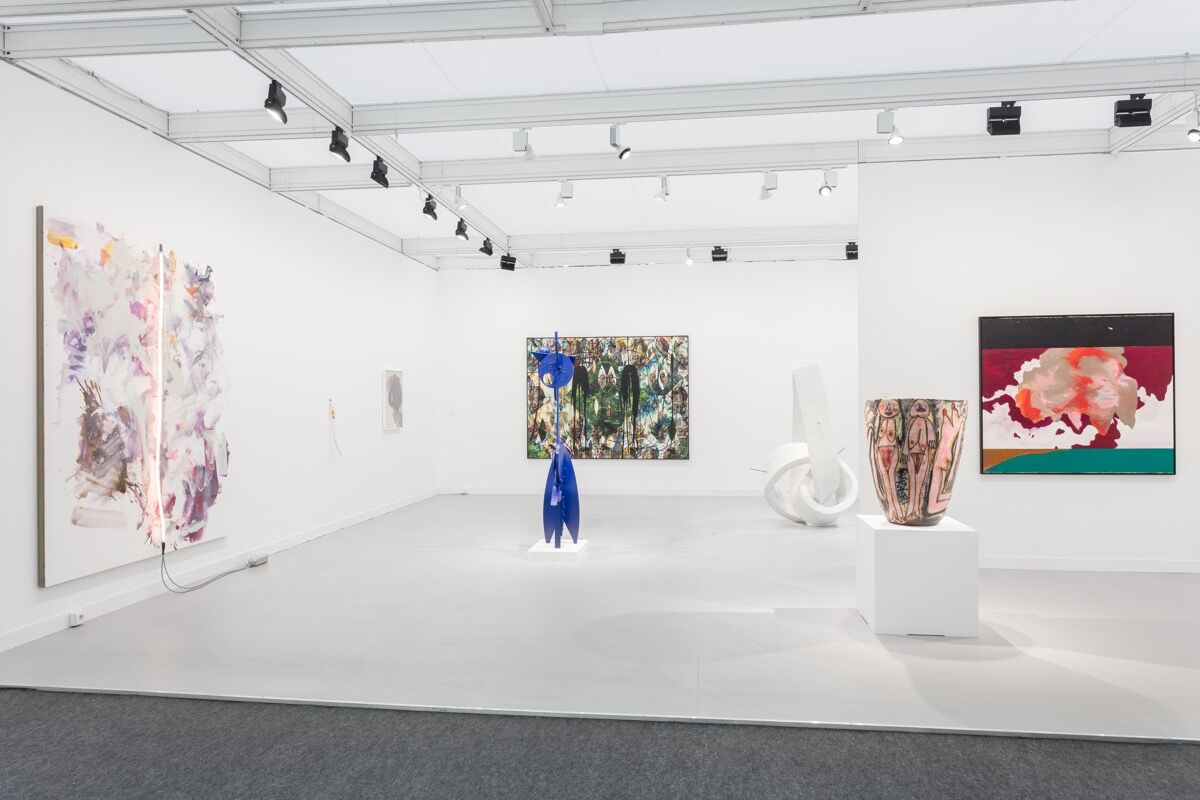 "You don't feel like a little dwarf facing a big giant," he said.
But he said if they were to leave him for a big gallery, he'd be in trouble. "The only thing holding it together is I have some artists that are very successful," he said.
Jennifer Flay, the fair's director and a former gallerist herself, said that's something that's been part of the art world as long as she's been in it.
"It's never been easy," she said. "It's not easy now. But that's just the reality of dealing with something as complex and demanding as art."
TEFAF, Mar 16 – 24
7000 years of art history in Maastricht.
Sponsored by TEFAF