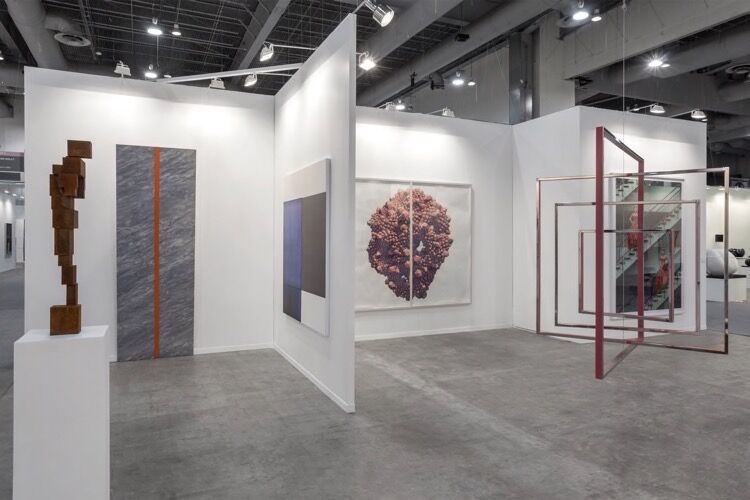 Installation view Sean Kelly Gallery's booth at ZsONA MACO, 2018. Courtesy of Sean Kelly Gallery. Photo by Sebastiano Pellion di Persano.
There's no question that the hundreds of collectors, dealers, and museum types who descended on Mexico City this week for a trio of art fairs have a terrific time enjoying the city's world-class museums and restaurants. Whether they, alongside Mexican and regional collectors, can sustain the growth that the country's art market has experienced in recent years, is up for debate.  
Explanations varied as to why sales were slow at Zona Maco. Some cited politics, with Mexico's upcoming elections this summer a cause for uncertainty, or the potential renegotiation of the North American Free Trade Agreement, which could have a significant impact on Mexico's economic relations with the United States. Others wondered whether the economic aftershocks of last September's earthquake, which hit Mexico City during Zona Maco's sister fair, Salón del Anticuario, and led to the cancellation of the city's gallery weekend, were still being felt. Others said it was simply down to the fact that Mexican collectors like to take their time.
Wolfgang Tillmans, unlikely match, 2017. © Wolfgang Tillmans. Courtesy David Zwirner, New York, Galerie Buchholz, Cologne/Berlin, and Maureen Paley, London.
"We should have brought more!" said Grayson.
Across the board, Mexican galleries seemed to be outselling their international peers.
"It's sort of an endurance race," he said, to promote Mexican artists, which his gallery and others such as Kurimanzutto and Proyectos Monclova have been doing for years. He said the work is starting to pay off: "Now they are indeed in the international eye, and people are coming to Mexico and to Guadalajara to visit their studios."
Riestra said Mexican collectors were growing more ambitious, looking to acquire bigger works, start foundations and museums, and seeking the guidance of art advisors as they grow their collections. He noted that the Mexican economy is strong and, specifically, that the Mexican people who buy art are getting wealthier and wealthier, which, alongside the worldwide trend of putting money into art as an asset, was boosting the local market.
Mauricio Galguera of Mexico City and Berlin's
Galería Hilario Galguera
had a similar take. He said Mexican collectors were just beginning to get comfortable taking risks on younger artists, often after they've made a few initial investments in big names, such as the ones Galguera's gallery represents, which include
"These bigger names, Damien Hirst, Daniel Buren,
At Zona Maco, Galguera sold work not only by Buren—an untitled 2018 mirrored work for $150,000 to a local collector—but also had strong interest in younger artists who they have shown at their curator-driven project space El Cuarto de Máquinas, including Caillou Ciré II (2017), for $10,000, and Torres's Colisiones Temporales: agosto 1986, I (2018), also for $10,000.
He was optimistic about the future, citing a "new fantastic generation of collectors in their thirties to mid-forties, people who will eventually inherit big companies," who travel frequently, have a global mindset, and are open to learning about new artists, especially from a gallery they know.
Gabriel de la Mora, Social, 2017. Courtesy of the artist and PROYECTOSMONCLOVA. Photo by Studio Gabriel de la Mora.
Tercerunquinto, Arqueología del muro político. Palimpsesto de estudios preliminares. Estudio de taller 1, 2017. Courtesy of the artist and PROYECTOSMONCLOVA. Photo by Rodrigo Viñas.
Both at Zona Maco and at two satellite fairs that opened on Thursday, these younger collectors (or would-be collectors) were indeed out in force.
Salón Acme, by contrast, "has its own voice, it's more about discovering emerging audiences," Arróniz said. "We can do both because [Salón Acme] is cheaper," roughly a tenth of the price for participating in Zona Maco, or $2,500 versus $25,000. He said Salón Acme attracted people like a friend of his who is not herself in the art world but wants to buy something each year that's "affordable and good," and who might find Material, another satellite fair, "too alternative."
However, Homero Fernández, a founder of Salón Acme who also has a gallery in Mexico City,
Parque Galería
, said in Mexico City, the range of fairs can work symbiotically. Salón Acme was started as a platform for artists, a way to help those without representation find a connection to the market. But he also shows at Zona Maco, where he can expose his young artists to the key collectors who are drawn by the blue-chip names.
"A lot of collectors come [to Mexico City] from Latin America because of the blue-chip galleries, and for me as a gallery it's important to put my artists in that network of the big collectors," he said. Fernández was showing work by artists such as
"The good collectors go and check out the emerging spaces," he said.
Galguera said that was one lovely thing about the Mexican market: As a collector this week, "you find a niche for everything."  
"You have the more established fair like Maco, where you have all the famous international galleries coming in, then you have, economically speaking, the mid-level fair, Material, which has some fantastic projects, and then you have Acme, geared toward emerging artists," he said. "In terms of economics, I think there's a target for everything."