How Stanley Whitney Became an Icon of Contemporary Abstraction in His Seventies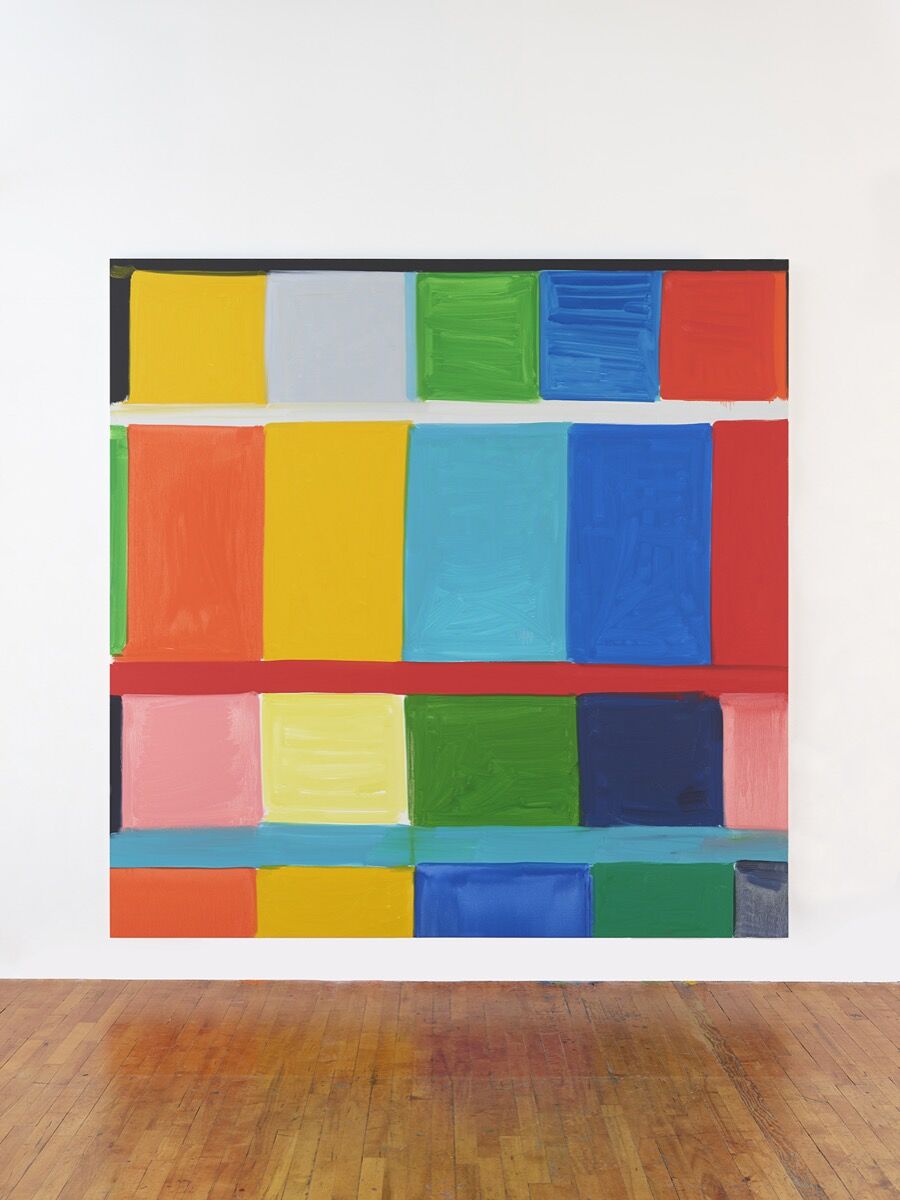 If it's a truism that paintings are windows into different worlds, abstract canvases are some of best portals into color. His trademark compositions comprise off-kilter grids, with horizontal lines separating rows of brightly hued squares. Edges are soft and flowing, creating a sense of rhythm throughout the works. Whitney's work is easy to look at, but more difficult to figure out: How are these colors coalescing, and to what effect?
Whitney's practice finds infinite permutations within a simple formal conceit—rows of squares, separated by thin lines. In this way, his canvases respond to the idea of
the grid
, which has served as an organizing structure for painters across centuries. Like
"The paintings are about opening space," Whitney told me recently during a visit to his studio in Ridgewood, Queens. "Then people can think and wander." His appreciation of deep, slow art appreciation also extends to his literary interests: Recently, he's been spending each day reading four to five pages of Proust—that master of elevating accumulated minutiae into masterpieces.
Whitney's omnivorous aesthetic tastes extend from 17th-century Spanish painter
While these paintings offer new perspectives for viewers, they've also liberated the artist himself. Whitney came of age during the Vietnam War (narrowly avoiding the draft due to his asthma) and a time of great American upheaval. The Philadelphia-born artist recalls how, when he was a student at the Kansas City Art Institute, the Black Panthers knocked on his studio door, trying to recruit him for their cause. He didn't want to get involved—instead, he stayed in his studio. He just wanted to paint. At the same time, he avoided the demands of his day for African-American artists to make politically engaged, figurative work that was explicitly about the black experience.
For years, Whitney worked in relative isolation. He moved to New York in the 1960s, with a brief interlude at Yale University's MFA program, from which he graduated in 1972. Though he befriended artists such as
Christine König Galerie
began showing him and took his work to Art Basel. In the United States, gallerist José Freire (who ran Fiction/Nonfiction, then Team Gallery) also exhibited Whitney's work.
Eventually, a larger audience caught on. In 2015, the
Studio Museum in Harlem
mounted a major solo exhibition of Whitney's work—his most prominent institutional show to date.
Lisson Gallery
brought him onto its roster and have since given him four solo gallery shows (in New York, London, and Milan). Through December 21st, the gallery's stateside space is showing his work from the 1990s onward. Drawings and canvases of varying scales line the walls. The longer the viewer looks, the less any two works share in common. Each configuration adopts a mood of its own.
In the Color
(2018), for example, with its central swath of teal and four sections of yellow, offers a significant contrast to
Untitled
(1997). In the latter work, squares mingle with much thinner rectangles, and busier brushstrokes create murkier divisions between each patch of color. These elements, combined with a palette full of reds, greens, and blacks, make for a more intense, noisier canvas.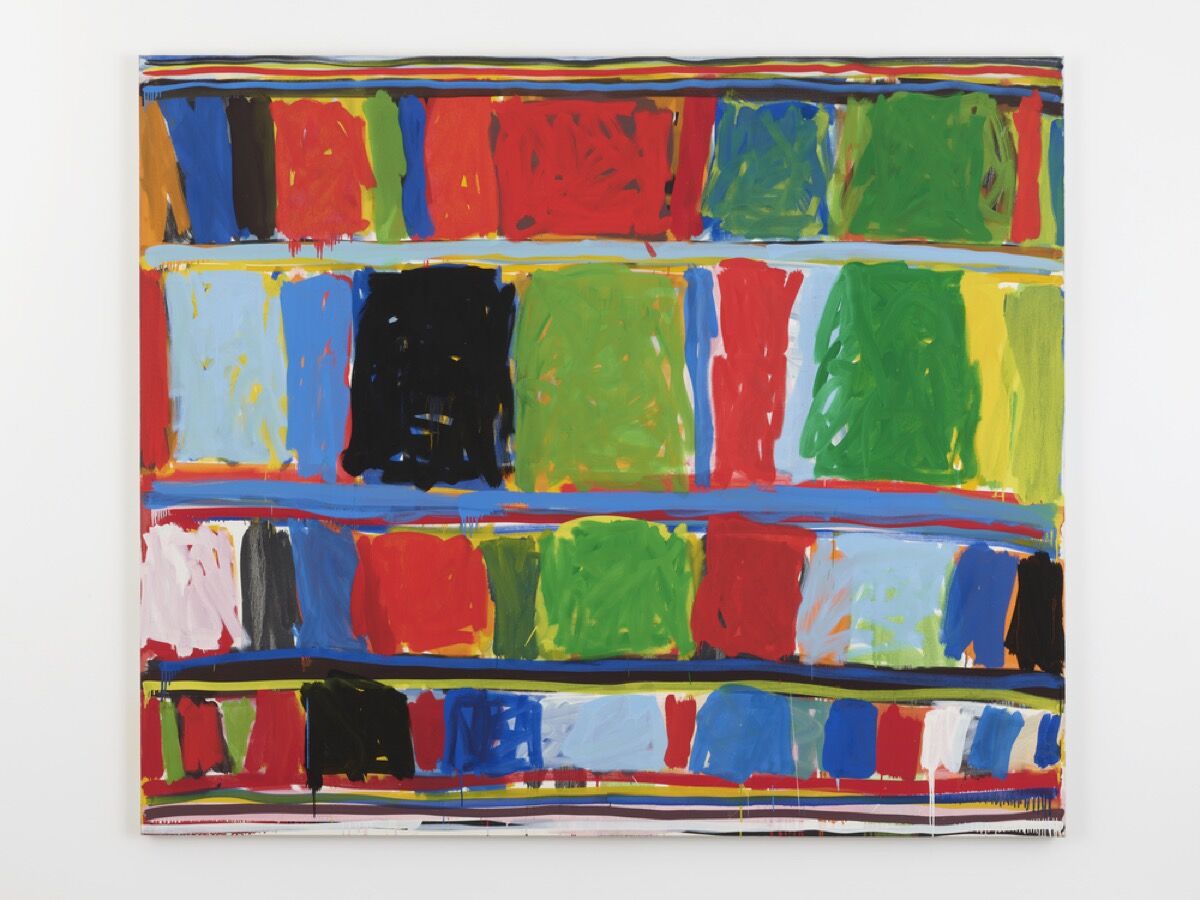 Throughout my conversation with Whitney, a tension between autonomy and community emerged: mixed feelings about the New York art scene, and teaching itself. Though his occupation required a significant social investment—more speaking and interacting than most occupations—he told me that he didn't maintain relationships with his students. "Students put their claws in and then don't let go," he said. He never wanted "disciples" around him.
Whitney's painting process, of course, requires just such engagement and withdrawal. He begins by laying down one color, then stepping away and considering the correct next move. He's likened the process to jazz musicians' "call and response," as they improvise and engage with each other.
As he paints one swatch after another, Whitney attempts to maintain a sense of equality, so that each part of the canvas is as interesting as any other. He concerns himself with what he thinks of as transitions, or how the viewer's eye moves from one square to the next, without trapping it in any particular part. Nevertheless, he's also aiming for his audiences' lingering, endless examinations. "Every square or every color could be a painting in itself," he said. He pointed to a white square: "That might be enough for someone to look at all day long."
Alina Cohen is a Staff Writer at Artsy.