The Stories behind 7 Objects That Made up Frida Kahlo's Iconic Look
Revered for her beguiling look as much as her searing paintings, Kahlo was her own constant muse: She created
55 self-portraits in her lifetime
, and was the subject she returned to most. A new exhibition at London's
Victoria and Albert Museum
(V&A), "Frida Kahlo: Making Her Self Up," explores the objects that made up Kahlo's inimitable look—from the colorful traditional Mexican garments she wore to her customized prosthetic legs—and expressed her personhood. It's a three-dimensional self-portrait of the artist that celebrates Kahlo's multifaceted life and style through personal possessions that are being shown for the first time outside of Mexico, in addition to several of her beloved paintings.  
Over 200 objects have arrived from the Casa Azul, Kahlo's former residence and the home where she was born, raised, and eventually died, which is now a museum dedicated to her life and work. The belongings retell Kahlo's well-known life story, but with new insights: There's an album of photographs of churches taken by her Hungarian-German father, Guillermo, and the medical braces and bodices embellished with symbols that she wore following the horrific accident that would haunt her for the rest of her life. Kahlo's own telling of her physical suffering after the accident and her subsequent miscarriages is well-documented in the diaries she left behind, as well as a biography, but these bodices illustrate the ways that she found solace and healing through art, in a very direct way.
The objects also collectively serve as a rumination on the power of creativity. The way Kahlo dressed was not only representative of her artistic panache, but a bold means of expressing herself as a woman, as a Mexican, and as a disabled person.  
As the show opens to the public, we take a look at some of Kahlo's most coveted possessions and the stories behind them with the exhibition's co-curator, Claire Wilcox.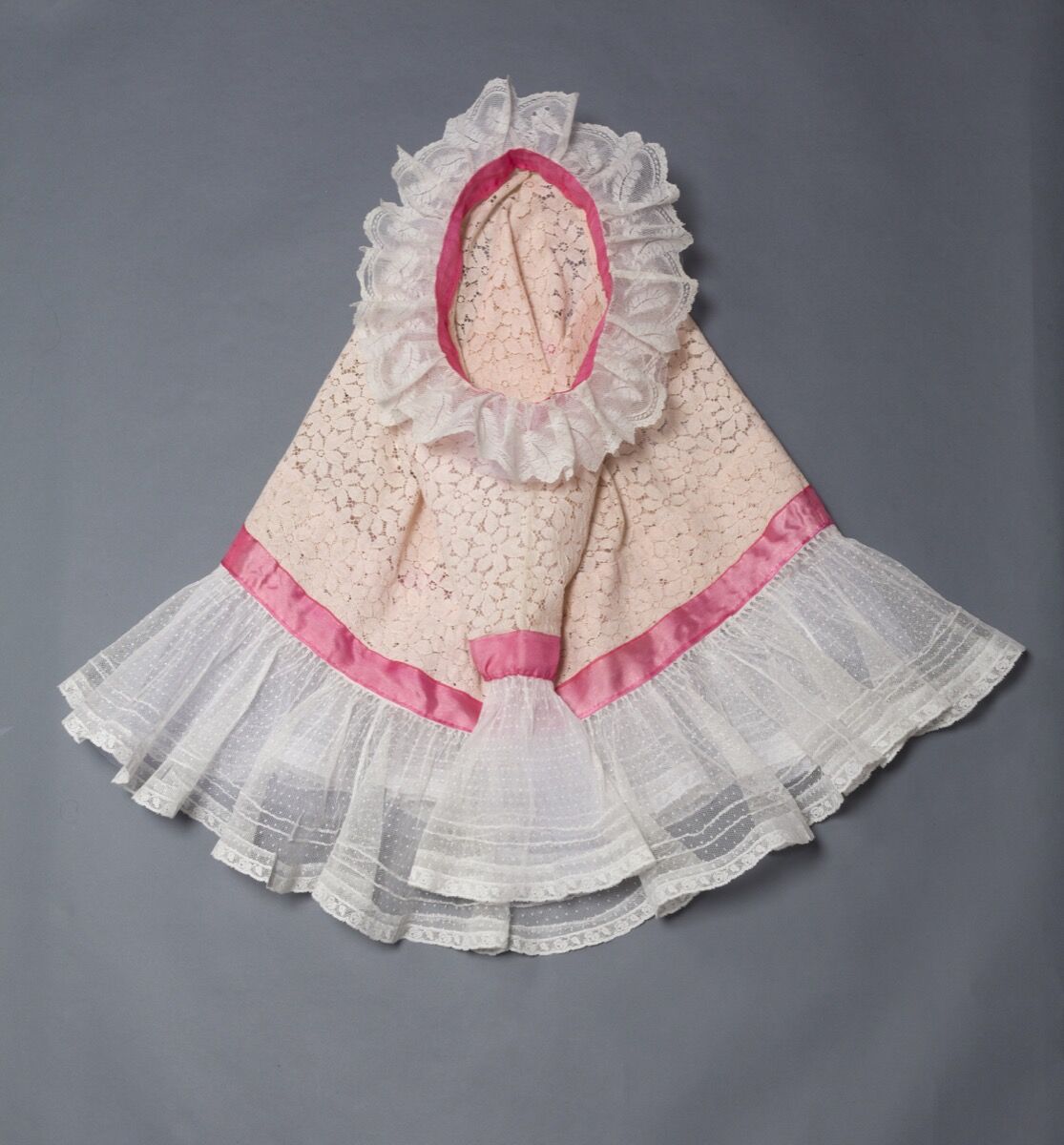 This starched, lace headdress was typically worn by women of the Isthmus of Tehuantepec region in southern Mexico in the 18th and 19th centuries for festive occasions like weddings, saints days, and processions, Wilcox explained. In the town of Juchitán de Zaragoza, it was known as resplandor. Kahlo's version is made of three kinds of white lace trimmed with pink ribbon, and could be worn two ways: framing the face, or as a cape.  
"Frida frequently dressed in Tehuana dress, but there are few examples of Frida wearing the resplandor, also from the Tehuantepec region in southern Mexico," Wilcox explained. "This suggests that these rare moments were particularly significant," she added, noting that the artist painted herself in the resplandor twice.
Kahlo's medical issues date back to childhood, when she contracted polio, which caused her right leg to be shorter than the left. But at age 18, she nearly died while riding a bus home from school. The vehicle collided with a streetcar and Kahlo was impaled by a handrail; her spine, collar bone, and several ribs were fractured, her pelvis was shattered, and her foot was broken. She endured several major operations, but the severe injuries would leave her bedridden for much of the rest of her life.
Her medical records suggest
that the accident also left her infertile.
After surgery, Kahlo was obliged to wear orthopedic corsets made of plaster or leather. "Kahlo transformed these medical corsets into items of great beauty by painting them," Wilcox noted. On this particular corset, Kahlo painted the Communist symbol—an expression of her political sympathies—and carved a hole, which is thought to allude to her inability to have children. "She did physically rely on these items, but her rebellious nature turned them into a form of art," Wilcox said. There are seven of Kahlo's corsets on display at the V&A, and they are among the rarer objects in the exhibition—part of a collection of items only discovered in 2004.
Prosthetic leg with leather boot
Kahlo's right leg was amputated in 1953, but three months later, she learned to walk again. This highly decorative prosthetic leg, with sumptuous appliqué and dragon motifs, is another example of how Kahlo empowered herself in spite of her medical problems. Rather than hold her back, the prosthetic leg became a treasured part of her identity and sensuality. "Kahlo commissioned these boots of red leather decorated with bows, bells, red laces and Chinese embroidered silk," Wilcox said. She added that 45 years later,
wooden prosthetic legs
.
Kahlo's interpretation of traditional dress continues to influence the contemporary image of Mexican women. Taking an avant-garde approach to honoring the history of her native culture, Kahlo wore items from different regions across Mexico. This huipil is typical of the Tehuana style, while the wide lace flounce on the skirt, known as holan, comes from the Isthmus of Tehuantepec. Printed with floral designs and lined with polka dots, some of the cloth is believed to have been imported from Manchester, England, adding another layer of cultural hybridity.
"These huipils were very typical of the time," Wilcox said. "Kahlo would wear these as everyday items—she even painted in them. They were loose fitting and often adorned with embroidery." The garments were not only comfortable, they also covered her medical corsets, but in a way that proudly embraced her culture and femininity.
Wilcox notes that Kahlo "had her own striking and distinctive style, which was a blend of traditional Mexican and European fashion"—another way in which she was ahead of her time. Though there is no record of where she acquired these jade beads, they signal Kahlo's ongoing interest in pre-Hispanic art; her husband and fellow artist,
Revlon compact and powderpuff with blusher, Revlon lipstick, emery boards, and eyebrow pencil
A fundamental element of Kahlo's iconic look, which she painted in her self-portraits, was her make-up. Her strongly defined brow and her rouged cheeks, lips, and nails were important to the artist as symbols of vivacity. Revlon was her go-to brand, as the makeup company opened a factory in Mexico in 1948.  
Her blusher shade of choice was Clear Red; her go-to nail polish was Raven Red; and for her lips, Everything's Rosy. On her famous monobrow, she used Revlon's eyebrow pencil in Ebony. "Diego Rivera recalled of his first meeting with Kahlo, 'Dark and thick eyebrows met above her nose. They seemed like the wings of a blackbird, their black arches framing two extraordinary brown eyes,'" Wilcox explained. "They were a standout signature even then."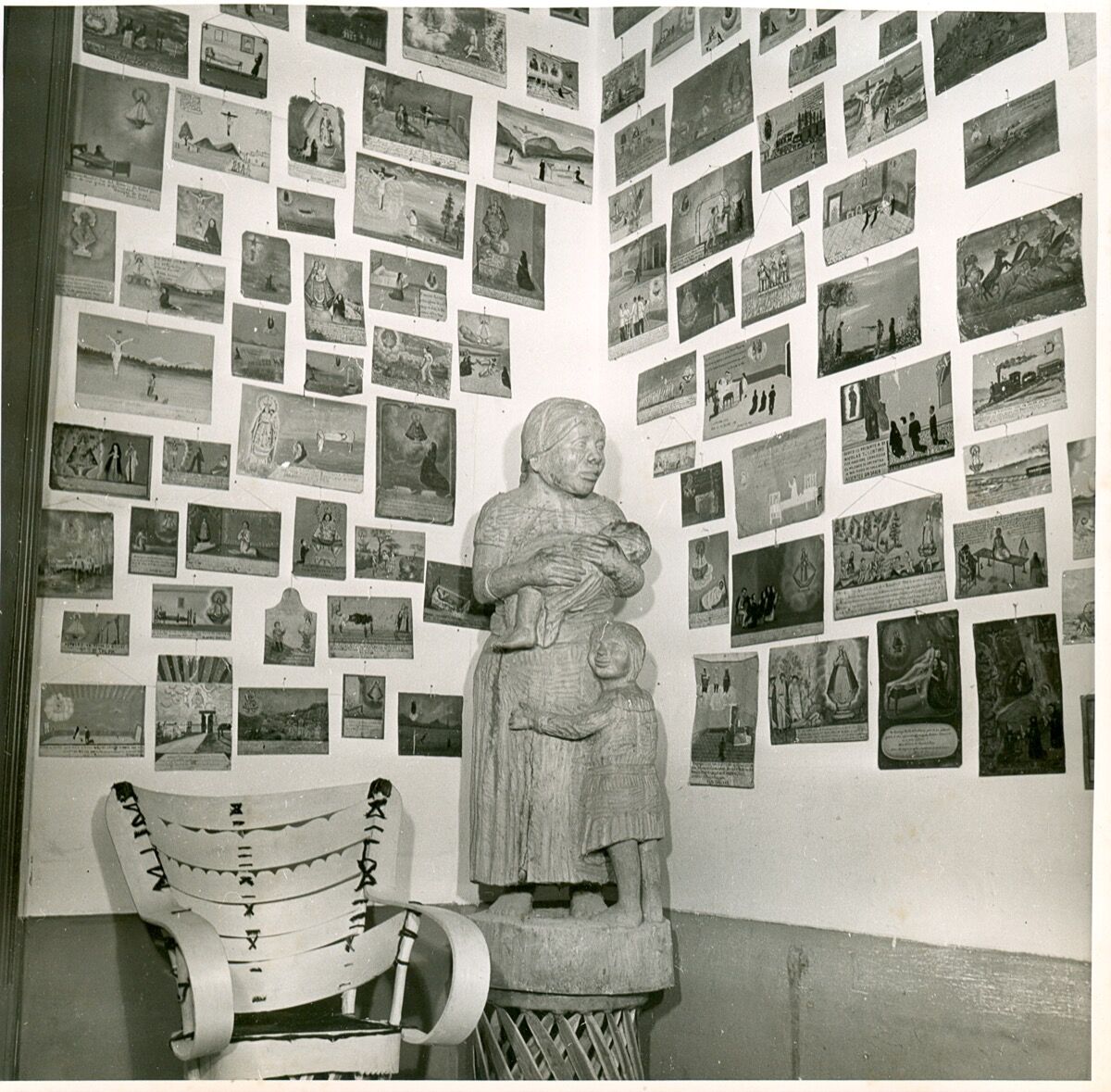 One of the standouts of the exhibition is Kahlo's remarkable collection of devotional paintings on tin, known as ex-votos. A wall at the V&A recreates the interior of the Casa Azul where Kahlo and Riviera's collection hangs, displaying these paintings in the same manner they would have been hung in a traditional church, where they are typically found.
"These items were used to offer thanks to the Virgin or saints after an accident, injury, or illness," Wilcox said. "Kahlo did emulate their style in some of her paintings, but never [in those] about her specific accident." She did, however, collect paintings of road traffic accidents, including one depicting a man whose legs are trapped under a car, echoing Kahlo's own accident.