Street Photography's Bible Was Just Updated for the First Time in 20 Years
Joel Meyerowitz, Paris, 1967. Courtesy of Joel Meyerowitz.
In 1994, legendary street photographer Bystander, which has since become an unofficial bible of the genre. This November, the pair release a fully revised edition that takes into account significant updates to the story of street photography.
In the 23 years since their book was first published, they note in a new introduction, "photography has been transformed more profoundly than in any other quarter-century in history." Indeed, this type of work has consistently evolved and remained relevant through decades of technological advancement, changes in stylistic approaches, and the constant state of flux that urban streetscapes find themselves in.
Street photography's role in the past century is closely linked to photography's emergence as a serious art form, one that curators are willing to showcase in museums and galleries. As Westerbeck tells me, a lot of this can be credited to a single man: John Szarkowski, the Director of Photography at the
Museum of Modern Art
from 1962 to 1991.
During his tenure, Szarkowski organized over a dozen exhibitions focusing exclusively on photography, though one in particular made the largest mark on the medium. For "New Documents" in 1967, Szarkowski presented works by
"The show really set a new agenda that superseded the journalistic ideas about photography that his predecessor [at MoMA], Edward Steichen, had," says Westerbeck. The exhibition was such a success that it went on to be shown at 14 additional museums and institutions across the United States. As Szarkowski had written in
the press release
, what united Arbus, Friedlander, and Winogrand was "not style or sensibility; each has a distinct and personal sense of the use of photography and the meanings of the world. What is held in common is the belief that the world is worth looking at, and the courage to look at it without theorizing."
In 2017, 50 years since "New Documents," street photography has become much more of a cross-pollinated genre than it was in its infancy. Today, there's an active online community of practitioners; this sort of dialogue wasn't always the case.
"When Joel Meyerowitz started out being interested in street photography, he'd run into Garry Winogrand and this strange woman with a Rolleiflex camera—Diane Arbus—on the street," Westerbeck says. During that time, "street photographers might run into each other in the city, but often times they might not even be aware of each other's work," he says. Today, the community of street photographers is "bigger than ever," he says, and infinitely connected through the internet.
And that community of street photographers is also more diverse than ever. What was once a heavily Western (and in turn heavily white) practice is not nearly as much so today. "There was a time when most of the street photographs of India that people would see were done by
"But now, not only are people from India photographing India, they are also photographing the Western world. They bring different cultural values to the process. You get a mix which feeds into the inherent ambition of street photography: to show us the world in a way we've never seen it before," he adds.
Natan Dvir, Juicy Couture 01, 2008. © Natan Dvir.
Israeli-born, New York-based street photographer
Westerbeck, who is also a fan of the photographer, believes that Dvir's images are symptomatic of how the street has physically changed and in turn, how street photographers have had to change their approaches in recent years: "The visual nature of the street is dominated by commercial interests, and therefore the street photographer often has no choice but to react to that, instead of working in the more improvised, kind of unplanned and unspecific environment that the street used to be," says Westerbeck.
Accompanying street photography's shift away from being an activity practiced mostly by a homogenous group of native, white, Western photographers, there has been a marked increase in interest surrounding female practitioners since the "New Documents" exhibition in '67. Though there has been a fair share of iconic female street photographers in its history (Arbus,
Melissa O'Shaughnessy, Herald Square, 2016. © Melissa O'Shaughnessy.
Meyerowitz emphasizes the work of two contemporary female street photographers in particular. One is Melissa O'Shaughnessy, a New York-based photographer whose work he describes as "deeply engaged with the contemporary rhythm of the street today," capturing what he calls "the kind of unconscious aspect that city dwellers project as they multitask their way through the urban slalom." Meanwhile, Melanie Einzig, another street photographer based in New York, makes images that engage with "the human comedy and drama of urban life," but at the same time, Meyerowitz says, "recognizing the political and social undertones being woven into everyday behavior."
It's also impossible to overstate the effect of new technologies on street photography since the mid-1990s, when Bystander was first published. While there are still a number of street photographers who work with film, many, like Einzig, work primarily with digital cameras and software. The ability to capture an exponentially higher number of urban moments—at no extra cost—seems well suited for street photography. But surprisingly, Westerbeck doesn't believe that the technological advances that the medium has undergone are always useful for street photographers, going so far to argue that it can alter one's shooting style for the worse.
Melanie Einzig, Spring Corner, New York, 2000. © Melanie Einzig. Courtesy of Ariel Meyerowitz Gallery.
"I think there's a terrific difference in the way that street photographers work today compared to the past. They are both liberated and blinded by the technology of the digital camera," says Westerbeck. "When Meyerowitz or Winogrand would go out on the street, they might go out for the day and take two rolls of film to shoot 72 pictures. After developing the roll, they'd make contact sheets which would always get saved—even though there might be pictures on it that would make them think, 'What the hell was I thinking when I shot that?' Weeks or months later, they might take another picture that suddenly reminds them of those other pictures, and a new idea then emerges."
In contrast, Westerbeck says, a photographer today may go out and shoot 300 or 400 pictures with a digital camera. "By the end of the day, they might start deleting them," he says. In doing so, "you are going to throw away some very good ideas," he says, "partly because you are overshooting since it doesn't cost you anything, and partly because you are 'under-understanding' the images."
The manner in which a street photographer comprehends her own images is something that Westerbeck believes lies at the core of the genre. Almost paradoxically, he believes street photographers must intuitively understand what they are doing, but must also not overanalyze the work they make, both as they are shooting and after the fact.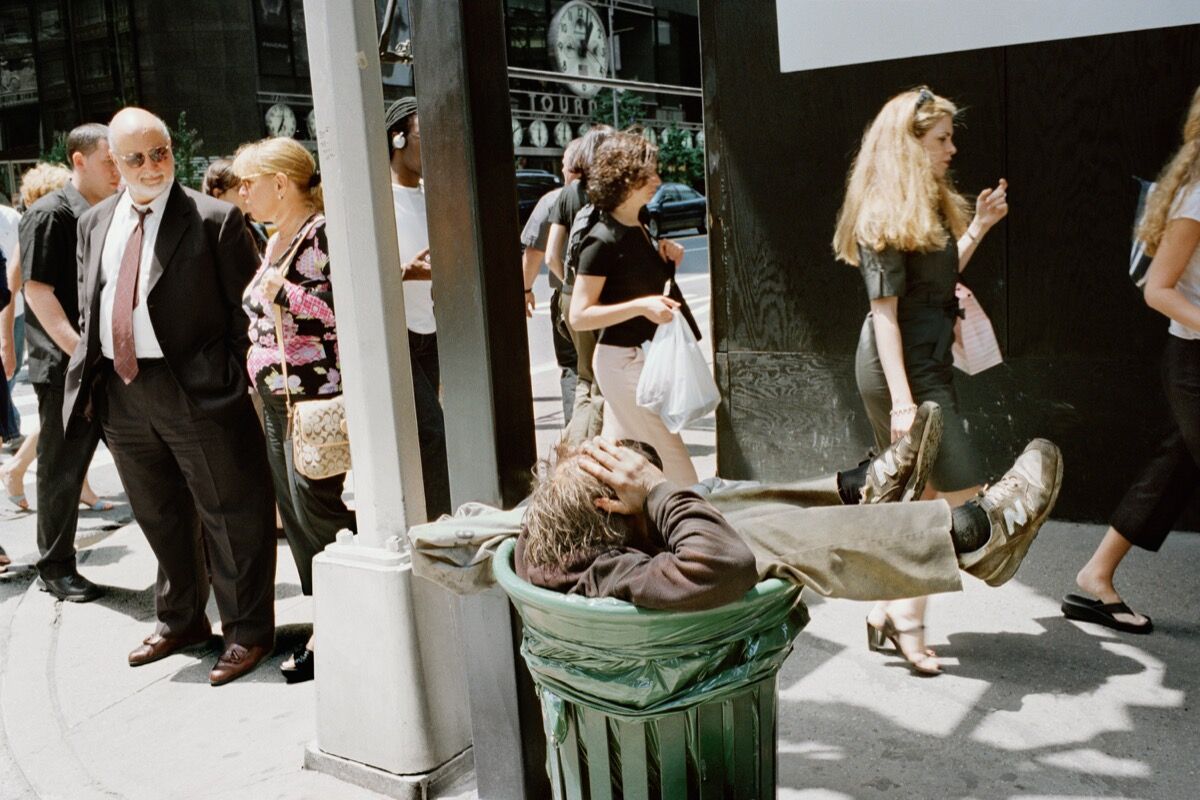 Noel Camardo, New York, New York, 2002. © Noel Camardo.
While much has changed about street photography over the past half-century, this ethos of instinct over self-analysis seems to be the primary guiding thread between the street photographers of now and then. Street photography is by nature unplanned, instantaneous, and impulsive. Overthink things too much, and the image is lost.  
To Westerbeck, that's why street photography is so special, and why it continues to thrive. "This genre is inherent in the whole idea, concept, and mechanism of photography, more than any other," he says. "As long as people are taking photographs, no matter what instrument they are taking them with—they will be making street photographs."
Marc Quinn Iris
Explore the cup collection here.
Sponsored by illy