How to Succeed as an Artist While Living outside of Art-World Capitals
You want to be an artist but can't face the relentless pace, astronomical rents, and distractions of the art world's capitals. Can you still hope for success?
There was a time when the art market—and all the opportunities that go with it—was concentrated entirely in a few cultural centers. Nowadays, the international art world is more porous: There are dozens of art fairs and biennials on every continent, galleries are increasingly itinerant, and curators travel the globe in search of talent. The internet has made it exponentially easier for artists to broadcast their work globally, and it's consequently more plausible than ever before to develop a career beyond art world hubs (and financial capitals) like New York, London, and Berlin.
Deana Haggag, president and CEO of United States Artists—an American nonprofit that issues grants to artists from all over the country—regularly meets young artists, from Alaska to Puerto Rico, who are graduating with MFAs and grappling with the question of where to settle and establish a studio practice. "Of course you can go to New York, London, or Paris, try to play that game and immediately try to work your way into that system," she said. "Or you can move to a city with a tight-knit artist community and find opportunities sooner." Moving to a smaller city or town often means affordable studio space and assistance, a supportive network, and easier access to local arts professionals and venues.
"Of course you can go to New York, London, or Paris. Or you can move to a city with a tight-knit artist community and find opportunities sooner."
However fruitful a smaller ecosystem might be, however, living away from the art world's financial infrastructure comes with undeniable challenges. One such obstacle is the fact that local collectors don't always collect work by local artists. "A lot of small American cities are struggling to figure out how to amplify their collector base, how to encourage new collecting," Haggag said. "That seems to be a topic of conversation that's happening everywhere—Houston, Baltimore, Philadelphia, Minneapolis." It can also take a fair amount of extra legwork to remain visible in the art world hubs.
What follows are some points of advice on how to navigate a pathway to career stability while living away from the whirlwind of the art world's capitals—culled from conversations with artists who have done just that.
Prioritize what you need to pursue your art practice  
Perhaps you're an artist who thrives under pressure and in cramped conditions. (The seeds of
For
"You wouldn't self-fund a feature film in New York, London, or L.A. You would be insane to do that."
Among the artworks Reeder developed there was a feature film, Moon Dust (2014)—an absurdist sci-fi comedy about a resort on the moon—which took him 11 years to complete. "It was this crazy passion project, and it's the kind of thing you could only do in Milwaukee," he said. The film required constructing elaborate sets, which he made in a 6,000-square-foot space that cost him just $400 per month. He bankrolled the whole project himself. "You wouldn't self-fund a feature film in New York, London, or L.A. You would be insane to do that," Reeder said. (He now lives between Detroit and Chicago, where he is an associate professor at the School of the Art Institute of Chicago.)
Moon Dust
led to a couple of career milestones for Reeder: When he finally finished his cinematic odyssey, former L.A. art venue 356 Mission presented an exhibition about the completion of the film. The feature screened at the
Whitney Museum of American Art
last December, and it will be included in an upcoming exhibition at the
Louisiana Museum of Modern Art
in Denmark.
Estonian artist
Temnikova & Kasela
, as well as the local institutions she works with. "I can have a big studio, I can have an assistant," Estna said. "For production, it's so much easier here. I've been able to take my practice to the maximum."
"I wanted to be able to live…so that I would be able to do my work."
For Patterson, as for many other artists, the bottom line was choosing a lifestyle that would enable her to pursue her work without struggling to survive. "I wanted to be able to live," she said, "meaning to be able to afford to pay my rent, to buy my materials, to be myself…so that I would be able to do my work." Teaching art at a university also meant that Patterson could move fluidly between the classroom and the studio on her days off. And it provided extensive vacation time to return to Jamaica—enabling her to show her art in the community and environment that has been most formative for her, and to soak up its influence, which she channels back into intricate mixed-media installations that sometimes examine themes from Jamaican history.
Create your own opportunities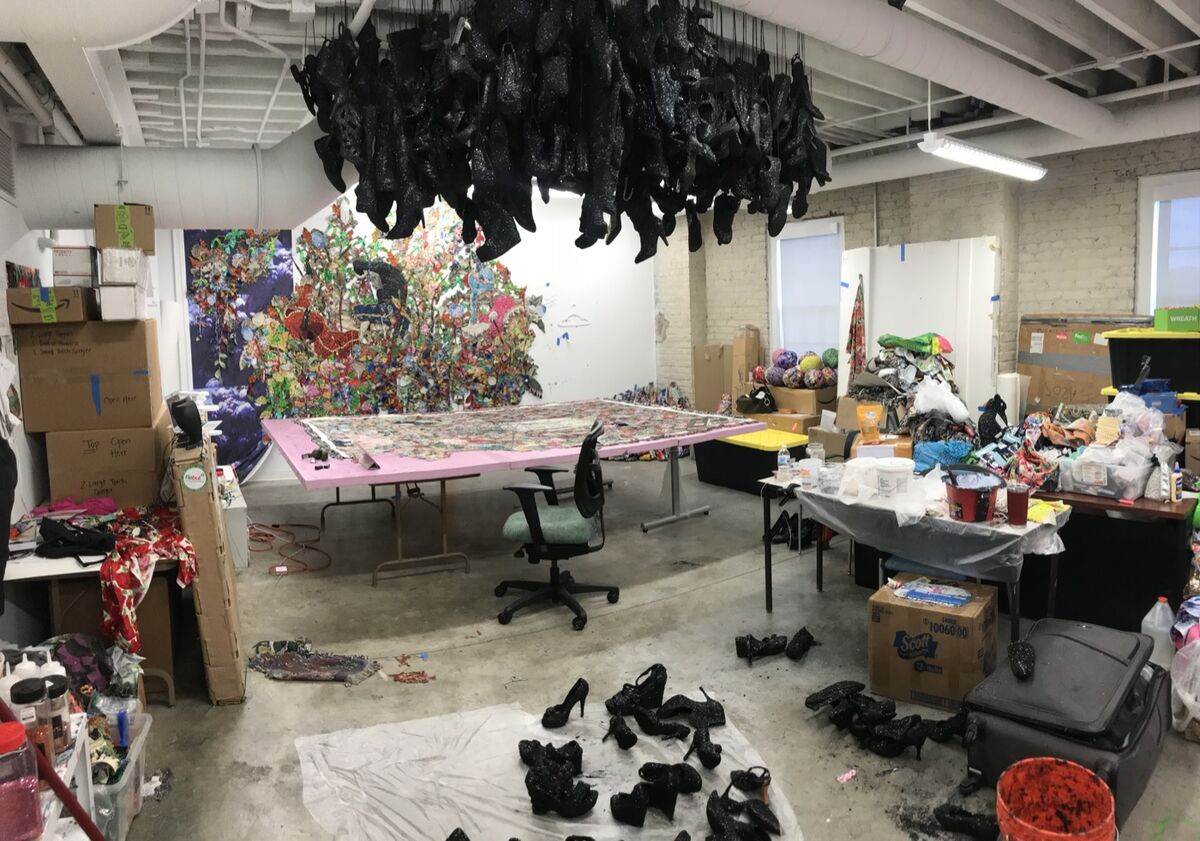 The freedom to work at a remove from the art world establishment, of course, can be contingent on finding a dealer who will advocate on your behalf. Reeder and Patterson have both enjoyed the considerable benefits of being represented by mid-level dealers—Reeder by
Kavi Gupta
and CANADA, and Patterson by Monique Meloche. (Since joining Meloche's roster in 2011, Patterson's work has received a solo exhibition at New York's
Museum of Arts and Design
and been featured on the hit TV show
Empire
, among other accolades.) Similarly,
For many artists, though, being a one-stop shop for your own practice—maker, organizer, marketer, champion, accountant, seller, etc.—is an experience that will be familiar. And artists who run their own studios, even in places that are a little off the beaten track, can still take matters into their own hands.
"You have to give people a reason to come to you or you have to go to them. You can't just completely become a hermit."
For example, artist and writer
Nigeria at the 2017 Venice Biennale
, among other recent milestones. And though he is now represented by London's
Tyburn Gallery
, and has gained visibility by showing work at the Lagos space of celebrated curator Bisi Silva and through contact with overseas curators who have visited the city, Ehikhamenor's first shows were his own productions.
"It wasn't really an easy road," he said. Though new spaces and a new crop of collectors were emerging in Lagos at the time that he moved back, there were few institutions there that could support him. "You pretty much have to handle your own business," he said. Ehikhamenor organized exhibitions for himself there in 2006 and 2009, paying for the spaces and asking friends and peers to contribute texts for the accompanying catalogues. "Gradually, people began to see my work. I really believe you just have to continuously work," he said. Now, Ehikhamenor has a strong collector base in Nigeria that is made up of individuals who have grown up alongside him.
Wearing different creative hats has also served Ehikhamenor well. (He formerly occupied the role of creative director of a media house, and is a published author and poet.) Being a writer has enabled him to deftly speak and write about his work—and gave him a network to pursue when he began designing book jackets. He has designed well over 100 cover designs for prominent writers like Chimamanda Ngozi Adichie and Chinelo Okparanta, and—though the income from these projects is relatively minimal—Ehikhamenor sees them as another method to reach people with his work. "It helps in ways that you probably won't be able to quantify," he said.
Reeder likewise found he was able to remain visible—and to attract artists, curators, and gallerists to Milwaukee—by making things happen for himself. "It's taken some effort to stay in the conversation," he said. "You have to give people a reason to come to you or you have to go to them. You can't just completely become a hermit." He has variously assumed the roles of shop manager, fair director, and comedy club impresario, along with his brother, artist
"I like being a bit away from the coasts, to get some perspective. And for something weirder to develop."
After the brothers left L.A. in 2000, they opened a gallery-cum-gift shop in Milwaukee called General Store (along with Reeder's wife, Elysia Borowy-Reeder, who is now the executive director of the
Museum of Contemporary Art Detroit
), with a small white cube space in the back where they showed local and international artists, including
Boesky
, White Columns, but with all these local Milwaukee galleries mixed in."
Among the participants was New York's CANADA gallery. "It's the one gallery that participated in every weird idea we've ever done," Reeder said. "That's part of how we ended up working with them. We broke them down." Both Reeders are now represented by CANADA, and Scott is preparing for a solo exhibition there next year.
Grow your network and maintain ties with art world hubs
Reeder made important friendships while in residence at the prestigious Skowhegan School of Painting & Sculpture and during the handful of trips he's made to New York each year. Even though he's never lived in the city, he had some of his earliest and most important shows there, and got his first big break at Pat Hearn Gallery in the 1990s. "I think it's important to show in those centers," he said. "That's where the writers are, the collectors."
Ideally, he says, you can do both—have a local presence and a foot in an art world capital or two, even if this means extending oneself beyond artmaking. The Reeders, for instance, have curated shows at New York's
Gavin Brown's Enterprise
and White Columns, and organized their so-called Dark Fair at New York's
Swiss Institute
, before taking it to Cologne, Germany. "It's more work wearing these different hats," said Reeder, "but it seems like whatever isolation or opportunities are missing from being in a smaller place, it can help to keep a conversation with other cities going."
Patterson and Ehikhamenor also attest to the importance of regular visits to big art world cities—both as part of an artist's education, and to cultivate new and existing connections. "Charlottesville, Virginia, and Lexington, Kentucky: things are really slow there," said Patterson. "So I left as often as I could, and as I could afford." On trips to New York, she would spend time with artist friends and see exhibitions, and return to Kentucky feeling energized and ready to work.
"I think social media kind of blew open that door for artists to take their destiny into their own hands."
Ehikhamenor similarly makes annual trips to London. "Once I make money from my art, I invest it back into going to see exhibitions," he said. "I've made a point to come to London every year or so since 2012, usually in October to feel the pulse of Frieze week. I always visit
Tate Modern
." One such visit led to his first gallery show in London at the Gallery of African Art, and to a sell-out solo booth at New York's 1:54 art fair. (He has since cut ties with the gallery.)  
Ehikhamenor also uses social media to amplify his work and maintain contact with the broader art world. In a place like Nigeria, he explained, "where, for the longest time, people have had to rely on middlemen—in the sense that the curators come in, or do not even bother to come (they just keep showing artists from the Diaspora without knowing what is happening on the continent)—I think social media kind of blew open that door for artists to take their destiny into their own hands." He cautions, though, that posting your work online can also lead to other artists abroad "pilfering your ideas," a problem he has had in the past that led him to post fewer images of his work.
Ehikhamenor experienced the power of social media in 2017 when his critique of New York Times and CNN. "That's when I realized," he said, "people might not comment, but they are consuming what you are doing. Social media has helped a lot of young artists and collectors."
"Opportunity is everywhere. You just have to claim it from where you are."
The availability of such tools has helped Ehikhamenor stay in touch with the wider art world while remaining committed to not only advancing his career, but the art community in Lagos in general. "I have never felt the pressure to leave since I arrived back to Nigeria 10 years ago. I have never given it thought," he said. "I have had really tough moments surviving as an artist, being out of a job and all of that. But I made a personal decision to tough it out. I want to be able to contribute to the building of arts institutions in Nigeria. That is my mindset and my modus operandi and that is how I want to live my life as an artist. I want to create opportunities for younger artists and contemporaries."
Ehikhamenor, like Patterson and Reeder, is helping expand the art world and support his peers by lighting a fire in a smaller art community. Indeed, mutually supportive relationships with other artists have proved essential for all those interviewed for this article—for inspiration, collaboration, and connections. "Opportunity is everywhere," said Patterson. "You just have to claim it from where you are."
Tess Thackara is Artsy's Writer-at-Large.
Header image: View of Lagos. Photo by Benson Ibeabuchi.