Swizz Beatz Is Using Hip-Hop Dollars to Put Power Back in Artists' Hands
Swizz Beatz. Photo © BFA, Angela Pham.
This past Thursday, hip-hop artist and Grammy-winning producer Swizz Beatz drifted through a sprawling South Bronx warehouse with his five-year-old son at his hip and an angel on either shoulder. "
Swizz Beatz, born Kasseem Dean, grew up just across the Harlem River from Haring's famous "Crack is Wack" mural. Today, Haring's paintings, which have been known to sell for north of $1 million, hang in the New Jersey home Dean shares with his wife, R&B star Alicia Keys. (The 32-room mansion features both an art wing and a bowling alley but was put up for sale because it's too small for the art collection.) His hit 2012 track "Street Knock" pulses with the verse "
The title straightforwardly—if not brazenly—broadcasts the project's defining ethos: a show of for-sale artworks where all proceeds go directly back to exhibiting artists. This is a rare model in the art world, where sales typically route through galleries or representatives who make 40-50% commission on a given transaction. "I saw that a lot of artists were going unnoticed—maybe because of their status or their unwillingness to sell out—and it reminded me of all the politics that surround art," explained Dean, with infectious earnestness, several hours before the exhibition opened to the public. "I'm an artist on the music front and deal with the same thing. Nobody ever really comes to our rescue, so I thought, 'What if I created a show where there were no politics; where artists don't have to pay for a booth or space and get to keep 100% of what they sell.'"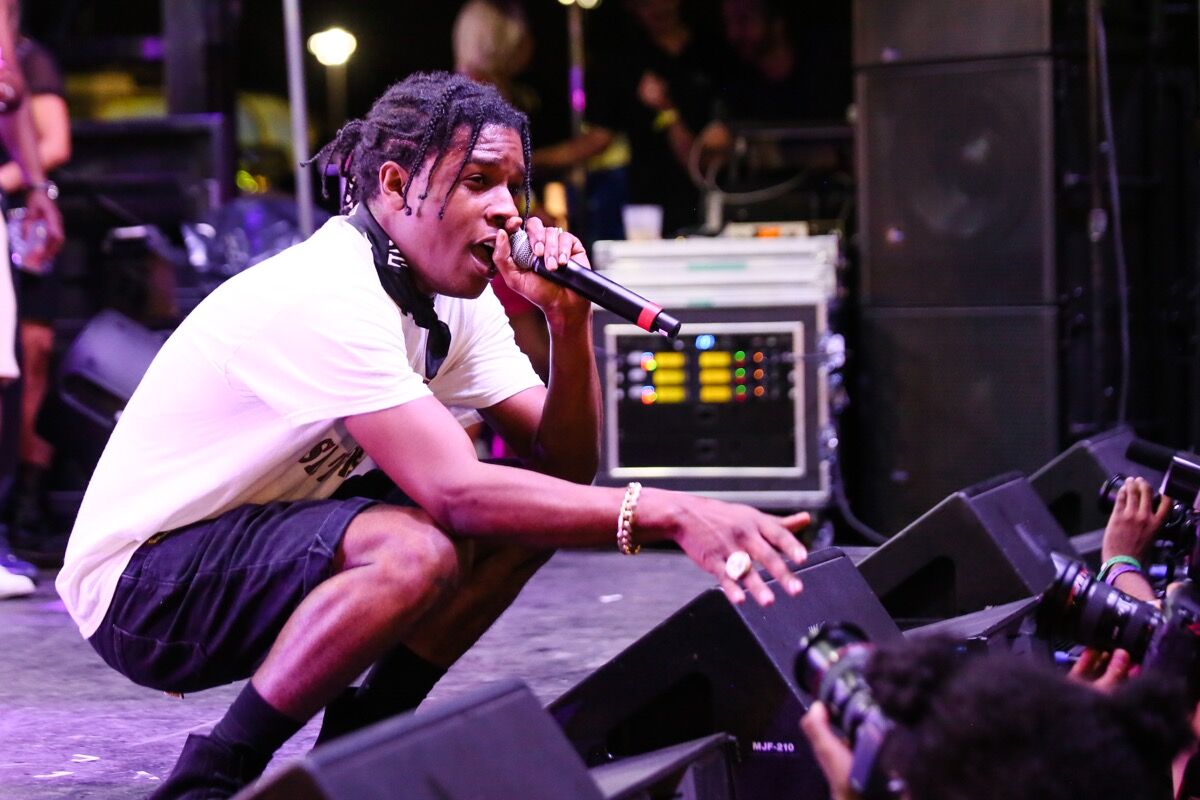 A$AP Rocky performing at "No Commision." Photo © BFA, Angela Pham.
A newly minted mural by three Bronx-based 
Dean grew up writing graffiti on the streets of the Bronx (his tag was "Loco"). But it wasn't until several years after he skyrocketed to hip-hop success—at age 20, he produced DMX's enduring 1998 hit "Ruff Ryders' Anthem"—that he returned to art, this time as a patron. His first purchase was a classic At This Time (2013), one of the Brooklyn-based artist's signature cartoonish figures rendered in wood and buffed to a sheen that would make a parquet aficionado blush. "I was the first one to put one of his big pieces in a house. It was a real statement: 'The Dean Collection has arrived,'" he laughed, adopting a booming voice for theatrical emphasis.
Marcus Jahmal with his paintings at "No Commision." Photo © BFA, Angela Pham.
The collection, indeed, has become influential amongst a certain set; Dean has encouraged his friends, in particular, to take a closer look at art. "All my peers in music used to laugh at me when I started collecting 10 years ago. Now they're competing with me," he said, laughing. He noted that several of his friends have already staked their claim to works from "No Commission." Knicks player Carmelo Anthony will head home with five, after the show is deinstalled.

But for Dean, art collecting has become more than a hobby, investment strategy, or status symbol—it's an ideology that drives both his philanthropic efforts in the art space, like "No Commission," and his personal purchases for the Dean Collection. Today, he buys only work by living artists, from the obscure to the established, who he can get to know, and he's banned himself from re-selling any works that he purchases. "People have tried to buy that KAWS from me so many times," he said with a grin. "But I'll never sell anything that goes into the Dean Collection. It's a museum that I'm building for my kids to run, one day, and it will be filled with artists who I know, who I have a dialogue with," he continued. "I think it's important to have that linkage."
As 6:30 rolled around, people flooded into "No Commission" and its grounds, where a stage was already vibrating with heavy bass. ("Music and art are brothers and sisters, I want to bring them back together," Dean explained.) Cuba Libres were imbibed voraciously—Bacardi sponsored the event, and it was upwards of 90 degrees outside—while artist
Brooklyn Museum
director Anne Pasternak strolled in, the young Jahmal rubbed elbows with his elder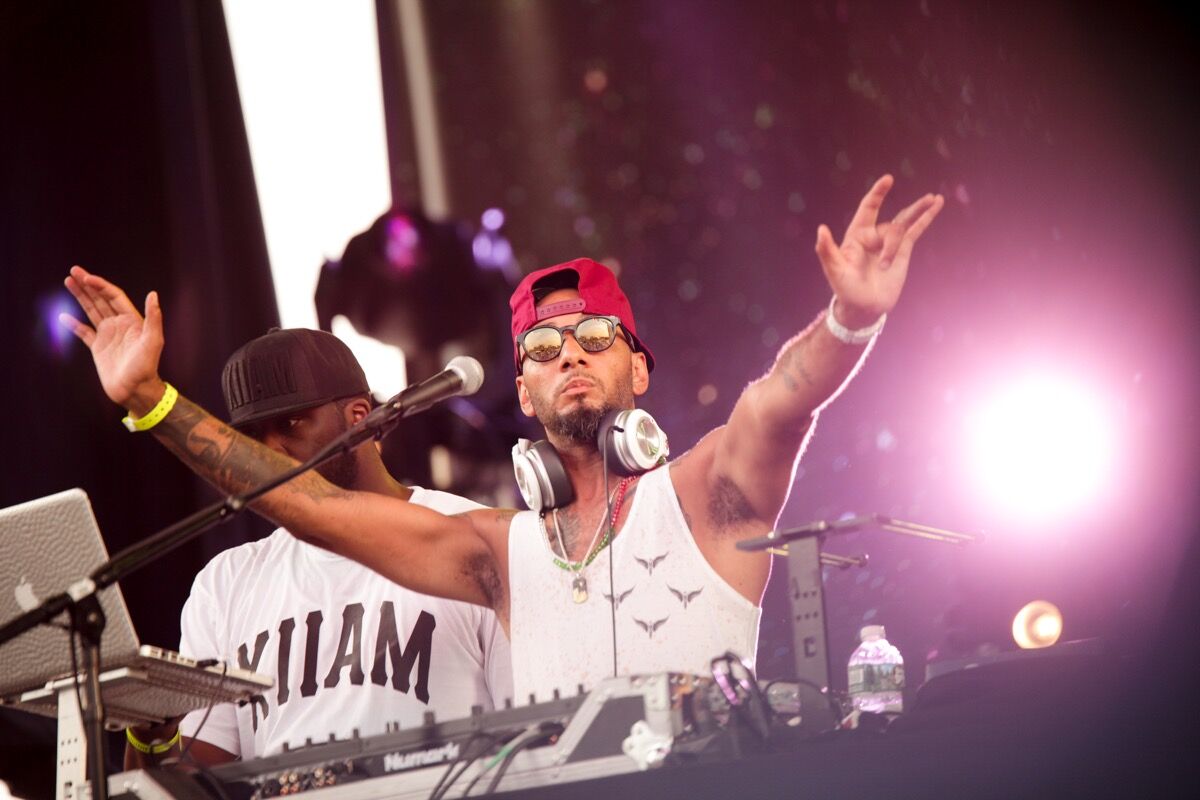 Swizz Beatz performing at "No Commision." Photo © BFA, Angela Pham.
Later in the night, Dean took the stage and addressed what had become a crush of dancing guests. "I see real people in this crowd tonight, I see talented people in this crowd tonight, I see game-changers in this crowd tonight. I see people coming from nothing with visions of making it into something." The throng was rapt and responding with screams. "You don't have to pay a dollar to get into this show tonight. You understand, all the artists get to walk home with everything that they sold tonight," Dean continued, his voice raising in step with the building volume of the track behind him.
DJ Norie and A$AP Rocky performed as the night went on. At one point, Dean cut in and reminded the crowd why they're here. "If you free the artist, you free the world," he called. It's an idealistic phrase, but one that sums up Dean's mission. When the show closed on Sunday, and Dean
announced
to his 1.4 million Instagram followers that 98% of the works in "No Commission" sold, you couldn't help but imagine his gospel spreading. Perhaps Dean's message isn't so unrealistic, after all.
Alexxa Gotthardt is a contributing writer for Artsy.
Stir Creativity
See how Bombay Sapphire supports artistry.
Sponsored by Bombay Sapphire