A Treasure Trove of Historic Neon Signs Is Nestled on Las Vegas Boulevard
Photo courtesy of the Neon Museum, Las Vegas.
It's rare for a museum to have pets roaming through its collections. But Las Vegas's Neon Museum isn't your typical art institution. Occupying a vast plot north of Vegas's infamous Strip, the museum harbors a trove of the monumental and historic signs, many of which once topped casinos, that have defined the Vegas skyline since the 1920s. It also owns two cats, Elvis and Liberace, named not only for their flamboyant forebears, but also for two neon signs, housed in the museum's cache, that represent important moments in the musicians' lives—and in cultural history at large.
The signs—one depicts Liberace's signature and was originally festooned outside the Liberace Museum; the other was the marquee for the New Frontier Hotel and Casino, where Elvis played his first Las Vegas show in 1956—are two in a collection of over 200 neons and other iconic Vegas signage. Many of them would have disappeared had it not been for the Neon Museum's efforts. "Las Vegas's major contribution to visual culture lives where our buildings and sky merge: our skyline of signs," explains Maggie Zakri, the Neon Museum's collection manager. "That's why it's been so important to preserve these signs and their stories."
The museum was founded in 1996 amid public cries for cultural preservation in Vegas. The primary catalyst: the loss of what was perhaps the greatest work of Strip signage. Towering above Las Vegas Boulevard, the massive Sands Casino crest had a sinuous, cursive letter "S" that extended 36 feet in height. And thanks to the sign's appearance in the original 1960 Ocean's 11 film, behind the Rat Pack's Frank Sinatra, Dean Martin, and Sammy Davis Jr., it had become an emblem of Vegas glamour and cool.
"When the hotel closed, the sign was so large that there was nowhere to put it; it was lost," explains Zakri. "People had already begun to talk about the importance of saving our signs, but the Sands loss really hit home." The death of the Sands sign mobilized a group of passionate preservationists who would go on to establish one of the most idiosyncratic and fabulous museums in the country.
Photos courtesy of the Neon Museum, Las Vegas.
Today, the Neon Museum, which also includes a seemingly endless collection of ephemera and even one historic building, is just a short drive up the glittering Las Vegas Boulevard from behemoth hotels like The Flamingo, Caesar's Palace, and Luxor. Zakri describes her city's geography like most Las Vegans, in terms of proximity to the nearest big-name casino. The museum, for its part, is closest to the El Cortez, a hotel illuminated, fittingly, with a garland of neons: the cursive "El Cortez Hotel," a series of smaller signs advertising "Cocktails" and "Floor Shows," and a vertical arrow decorated with the all-caps "GAMBLING."

But more than El Cortez or its much glitzier counterparts further down the road, it's the Neon Museum that arguably houses Vegas's most prized cultural treasures—time capsules chock-full of history, from the pop cultural to the political. "Design-wise, we have examples of everything you can think of," explains Zakri. "We've tried to collect a wide array so that people can experience the full scope of signage that they might come across in their daily lives and understand that there's a purpose and story behind every little bit of it. It's the stories that really fascinate visitors."
Indeed, a tour through the Neon Museum is not only a tour through the history of signage, but also of the aesthetics of advertising and American culture itself. A large portion of its collection, some of which dates clear back to the mid-1930s, is stacked in the museum's outdoor gallery, affectionately dubbed the "Boneyard." The signs come together in an exuberant maze that dwarfs visitors with letters, armatures, and luminescent objects as tall as 40 feet. It's within this labyrinth that Liberace and Elvis roam, "keeping the critters at bay," as Zakri explains, and occasionally sunning themselves on the collection's crown jewels.
Photos courtesy of the Neon Museum, Las Vegas.
One of those crown jewels is the Stardust casino sign. "It just speaks to everybody," Zakri explains, "because of all the facets of history it represents." The Stardust opened in 1958 during Vegas's golden age, at the height of the U.S.-Soviet Space Race, which saw the two world powers vying to be the global leaders in space travel during the Cold War. And its sign, designed by Kermit Wayne, played into America's obsession with both size and outer space. It originally stood 188 feet tall on top of the casino—that's taller than Paris's Arc de Triomphe—and depicted a scintillating explosion of stars.
To make it more complex, it also alluded to the excitement around the nuclear testing that was taking place just north of Vegas. "During our tour, we always remind visitors about the atomic testing parties that used to pop up around the city during that time," Zakri continues. "Tourists would sit on top of casino roofs, like the Stardust's, and watch the bombs go off. Casinos sold 'Atomic' cocktails." What's more, the sign also represented a very specific moment in Vegas history, when criminal activity was rampant in casino dealings. The Stardust was run by the mafia for many years, and its sordid history inspired Scorsese to direct his great 1995 cult classic, Casino.
Beyond all of its cultural resonances, the sign was also just plain stunning, even sculptural. "It was really a game-changer for the aesthetic of this city," Zakri explains. "It set the bar incredibly high." Its aesthetic value was even confirmed by Art in America—they made an image of the sign their cover in January-February 1972.
Photos courtesy of the Neon Museum, Las Vegas.
A stone's throw from the fragments of the Stardust sign (it's so large that it's placed around the Boneyard in several pieces), sits another creatively and technically ambitious piece—the Yucca Motel sign. "This is where we tell the story of neon, because this entire yucca plant is made out of neon tubing," Zakri says. The sign includes a six-foot-tall sculptural yucca plant forged from knotty arabesques of white neon and perched on a big arrow tattooed with the comic sans text "Yucca." "This sign gives us the opportunity to talk about how, unlike with other materials and objects, you cannot use a machine to make neons," Zakri explains. "A human being is making every piece."
Around the corner, many visitors beeline toward fragments of a 23-foot-tall, immediately recognizable "Moulin Rouge" sign. But the serpentine letters, it turns out, aren't just a proxy for the famous Parisian burlesque club or the 2001 Baz Luhrmann film. "The Moulin Rouge was the first integrated casino in Las Vegas," explains Zakri. "Though it was only opened for a few months, in 1955, it's remained a symbol of desegregation and the Civil Rights movement here in Las Vegas."
It also represents the struggles and triumphs of another marginalized group: women. The sign's elegant letters, outlined in flamingo pink, were designed by Betty Willis, a pioneering voice in the 1950s advertising industry, which was monopolized by men. She also conceived of Vegas's most iconic sign—one recognized the world over—the multi-part, 
Googie architecture
- and Disney-inspired "Welcome to Fabulous Las Vegas" sign. "It's surprising to some, but Moulin Rouge is one of our most important pieces. And it's because it means so much to so many people," Zakri continues.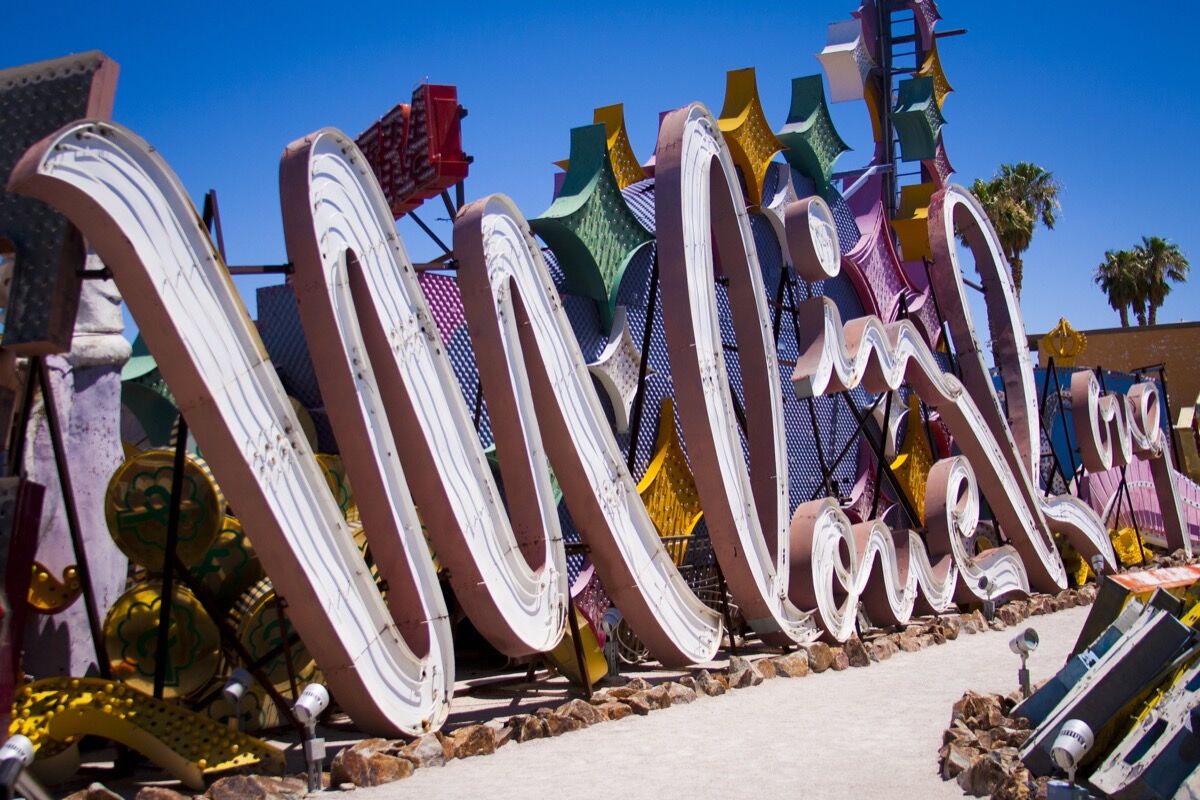 Photo courtesy of the Neon Museum, Las Vegas.
The Moulin Rouge sign, like many of the pieces housed in the Neon Museum, shows its age. While the museum takes impeccable care of its collection, "we don't want to restore every piece to perfection," Zakri explains. "And it's not only because complete restoration is expensive"—costs run as much as $100,000 per sign—"it's also important to show that these pieces have history." Indeed, the history of Vegas, and of the 20th century itself, can be felt across the Boneyard. "People know that art and design represents our culture, but it really becomes clear when a piece of history is brightly colored and towering over you. You can really feel the time period in which it originated."

As the Neon Museum expands—it's currently on the hunt for additional square footage to exhibit its blossoming display of ephemera—one hopes that the historical and aesthetic importance of its pioneering collection will be celebrated with the recognition and traffic it deserves, too.  
Alexxa Gotthardt is a contributing writer for Artsy.
Stir Creativity
See how Bombay Sapphire supports artistry.
Sponsored by Bombay Sapphire