Taner Ceylan Explores the Psychology of a Famous Portrait
For the artist
Paul Kasmin Gallery
, Ceylan, one of Turkey's most prominent contemporary artists, has superimposed the face of
Princess de Broglie
(1851–53).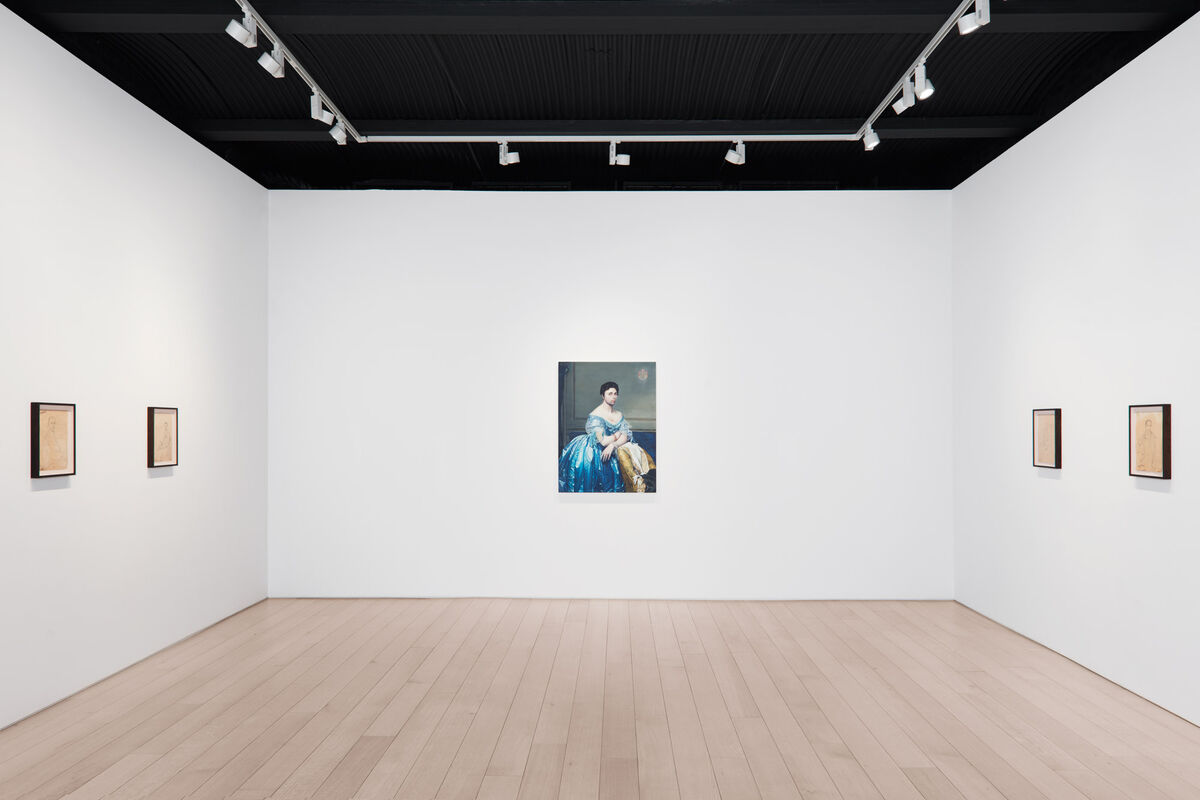 Installation view of "Taner Ceylan: We Now Must Say Goodbye" at Paul Kasmin Gallery, New York. Courtesy Paul Kasmin Gallery and the artist.
The exquisite painting, in the collection of the  
Metropolitan Museum of Art
, is Ingres's last commissioned portrait of a female sitter. Despite her distinctive beauty, the Princess de Broglie had a reputation for her shy demeanor in aristocratic circles. Ingres was asked to portray her not as herself, but as an ideal society hostess. In an imaginary diary entry (that serves as wall text here), based on Ingres's real letters to his friends at the time, Ceylan writes, "Why is the most beautiful painting I have ever painted causing me such pain? Why does the artist wish to paint someone? When does he decide to paint someone? When I look deep into my soul, I see only myself in my paintings."
Installation view of "Taner Ceylan: We Now Must Say Goodbye" at Paul Kasmin Gallery, New York. Courtesy Paul Kasmin Gallery and the artist.
Titled "
We Now Must Say Goodbye
," the exhibition is the contemporary painter's attempt at liberating a reluctant subject from its portrait. Mining inspiration from Oscar Wilde's
Dorian Grey
, Ceylan sees the sitter as an excuse for the painter; while reproducing the painting, he realized that Ingres unleashed his own femininity into the piece, evident in the glamorous blue taffeta of her dress or the iridescence of her pearls. In the gallery, Ceylan has placed the central work, titled simply
Ingres
(2015), on the far wall, while in the middle of the space a pedestal holds a small painting of the original Princess de Broglie, cropped to include only her head, which stares across the gallery at the fictive Ingres self-portrait. Ceylan has also created a variety of sketches of Ingres' paintings featuring his own face.
Installation view of Taner Ceylan, 'Volpedo,' 2015, at the Istanbul Moderne as a part of the Istanbul Biennial, Sep. 5–Nov. 1, 2015. Courtesy Paul Kasmin Gallery.
For his installation at Istanbul Modern for the current Istanbul Biennial, Ceylan uses a similar trope to bring another great painter face to face with his own artwork. Curator Carolyn Christov-Bakargiev wanted to include Italian neo-impressionist Il quarto stato (1901) in the Biennial, but was unable to do so due to bureaucratic limitations. She asked Ceylan to reproduce the work, a massive, divisionist depiction of a public uprising, which was not well received by the public at the time. He accepted on one condition: he would paint Volpedo's portrait, from a photograph he found in the artist's studio, and hang it where the Italian painter could see "his" painting.
"Poetic justice," he says, when asked why he chooses to tackle these sad tales. "I treat these art historical figures as my family and I like seeing justice restored."
—Hande Oynar
Stir Creativity
See how Bombay Sapphire supports artistry.
Sponsored by Bombay Sapphire