Teach Your Kids the ABCs of Photography with Wolfgang Tillmans, Nan Goldin, and More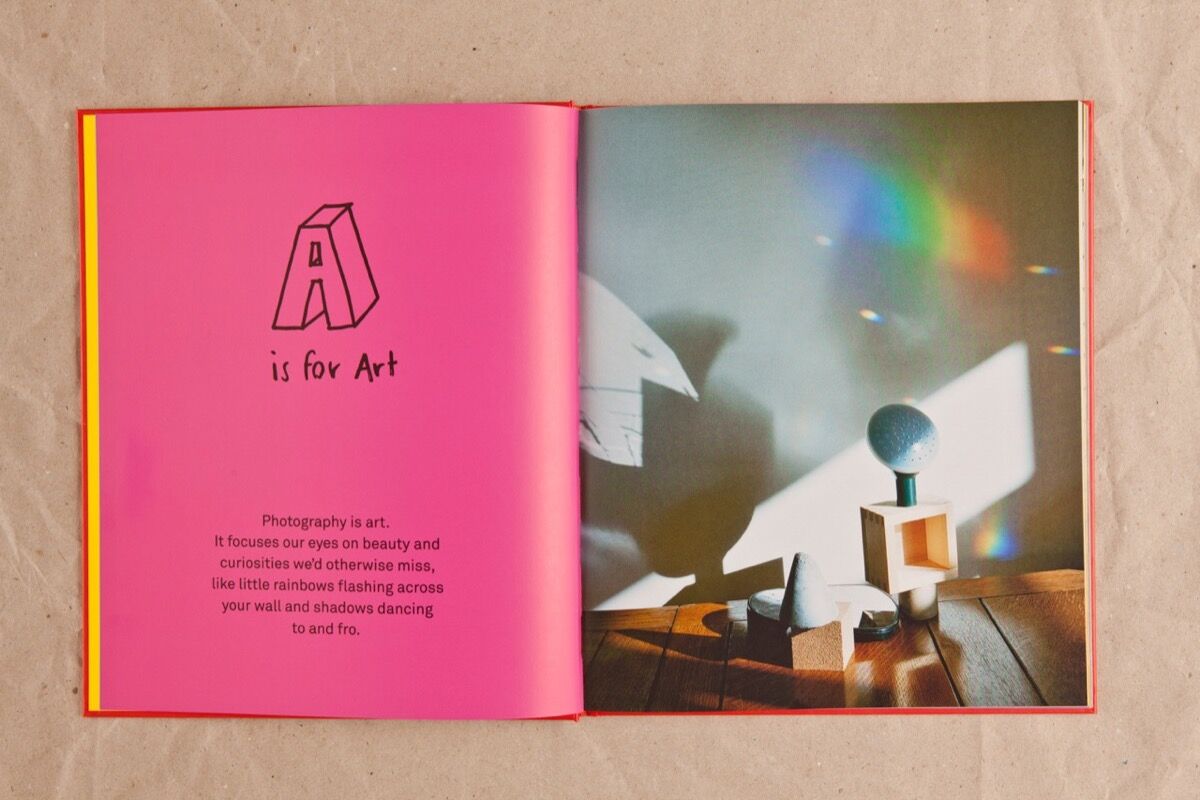 © 2017 Tarzipan Books, Berlin.
It was during a vacation in Italy that brothers Marius and Jan von Holleben hatched a plan for their photo book company. Seeing a gap in the children's book market, they dreamt of a family business that would fill it by teaching young readers the fundamentals of photography. In 2016, some five years later, the duo launched
Tarzipan Books
—a publishing company that aims to bring high-quality photography to new generations.
"We hope that it's something that doesn't only attract parents who want their kids to be little arty guys, but also to people who are looking for a regular picture book and understand that photography is so omnipresent," says Marius, noting that the medium's reach will only grow as children are increasingly exposed to smartphone cameras.
Marius, formerly a marketing and communications consultant in Zürich, focuses on the business side of bookmaking and distribution. Jan, who previously ran his own bookshop and is a photographer in Berlin (he studied under
Their first book,
ABC Photography
, was published in December 2016 following a successful Kickstarter campaign. It has since been distributed across Europe, the United States, and Australia and currently serves as the subject of an exhibition at the
Victoria and Albert Museum of Childhood
.
© 2017 Tarzipan Books, Berlin.
A compilation of 26 photographs (one per letter of the English alphabet), the book includes the works of major photographers including Tillmans, 
After compiling a shortlist of ideal photographers to feature in the book—a "dream team," as Marius puts it—the brothers were able to secure permissions for a mix of esteemed and lesser-known names. They also pledged to donate profits from the first edition to the Afghan Institute of Learning, an organization that rebuilds education and healthcare infrastructure in Afghanistan, which allowed them to acquire the photographs for free.
Rather than trying to explain Goldin's work to a child, Marius says, they sought to "recontextualize photographs away from the museum or gallery space, and make them approachable." The book's text, written by author Monte Packham, maintains a balance between enhancing visual literacy and inspiring imagination.
One photograph by 
© 2017 Tarzipan Books, Berlin.
The von Hollebens are now in the midst of producing two more books. The first will be a photo story by Jan himself, which follows a socially conscious Norwegian boy named Olaf as he runs away from home. Olaf eventually takes up residence in the forest, where he contemplates issues including poverty and pollution. The second will feature creations by visual artist Sarah Illenberger, weaving a fantastical tale through her compositions made from food.
"It's nothing new by any means," Marius acknowledges. "Photography has been around for many, many years. But it still seems not quite there yet when it comes to kids' books. And we hope to push that a bit further."

—Casey Lesser
Stir Creativity
See how Bombay Sapphire supports artistry.
Sponsored by Bombay Sapphire