Thaddeus Wolfe Does Not Make Art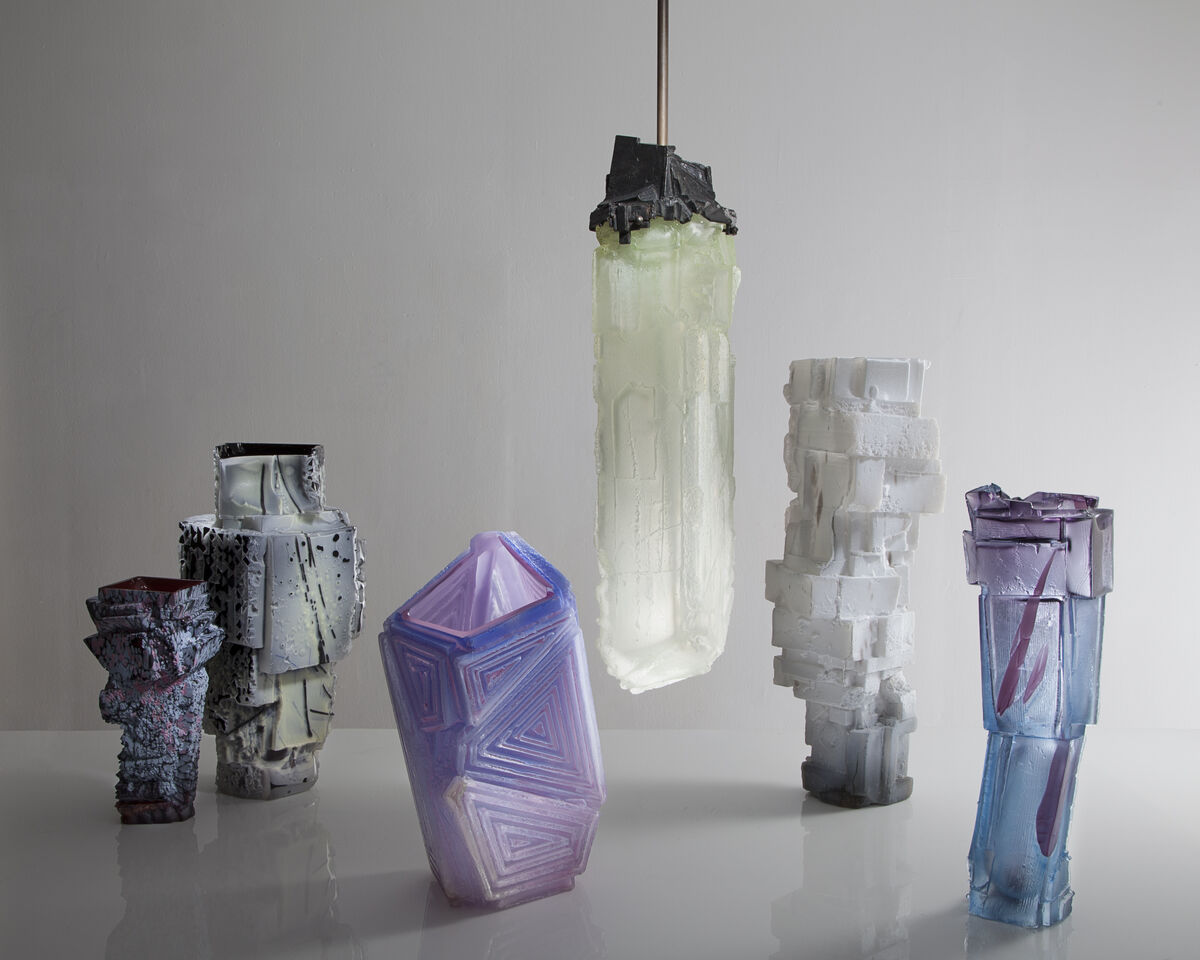 Thaddeus Wolfe, images by Joe Kramm/R & Company
When describing his blown glass vessels, chandeliers and sconces, 
Thaddeus Wolfe, images by Joe Kramm/R & Company
Working out of his basement studio in Brooklyn, the former industrial designer resides comfortably in the hazy mist between design, craft, and fine art: "I don't like to define myself in such specific terms. You don't need to." Part workshop, part office, part archive, Wolfe's space is a laboratory for his unique process, which merges glass casting and blowing to transform carved foam forms into sumptuously textured glass vessels. 
Thaddeus Wolfe, images by Joe Kramm/R & Company
The technique begins with hands-on carving, with the artist sculpting a ragged totem out of packing foam. "This part is largely instinctual," says Wolfe—picking up a maquette he has scored. The artist then casts the foam in plaster, creating a one-time use mold into which he blows a molten balloon of glass. "Once the piece is blown, the polishing tends to have a natural conclusion." Judging by the tables and shelves laden with his colorfully cragged vases, Wolfe has developed a brilliant touch for every step of the process—even his library of rejected work evokes the glossy appeal of a confectionary. 
Just four years old, Wolfe's complex technique continues to evolve, as his
forthcoming show
at
R & Company
demonstrates. Presented in the gallery's downstairs space, the exhibition contains Wolfe's largest works to date, including his first chandelier and a monstrous glass floor lamp.  Created using the same blown-glass casting process, these more robust works showcase the way the artist continually pushes the limitations of his process and skills as a craftsman. "There are surprises that come with every scale," remarks Wolfe. "It keeps it interesting for me."
Thaddeus Wolfe, images by Joe Kramm/R & Company
Also included in the exhibition are Wolfe's fragile miniatures, whose petite frames make the molten intricacies appear even richer.  Placed next to his rough-edged vases, these hand-held works look like dazzling artifacts of some alien civilization.  Connected by Wolfe's hands-on process, each work is inherently one-of-a-kind—and it shows. When asked where he finds inspiration for each playful permutation, Wolfe refers back to his environment.  An amateur mushroom forager in his free time, Wolfe delights in the organic architecture of decay—even as it applies to his urban surroundings. "This neighborhood hasn't been built up yet, so there are a lot of dilapidated buildings and cracks in the sidewalks," says Thaddeus. "I find those moments of decay and deconstruction a lot more stimulating then something contrived."
"Thaddeus Wolfe: New Work" is on view at R & Company, New York, Sep. 8–Oct. 20, 2015.
Cover image by Emily Johnston for Artsy.
Stir Creativity
See how Bombay Sapphire supports artistry.
Sponsored by Bombay Sapphire