The 12 Young Painters You Need to Know at NADA New York
The fifth edition of NADA New York opened yesterday, and as ever, it was teeming with collectors and artists eager to set their sights on the fair's 108 booths. The largest edition to date, this year sees exhibitors from 18 countries and 44 cities, including 51 first-time exhibitors. It also features an especially strong selection of painting, with works by a fresh generation of young painters—including these 12 you need to know.
Tschabalala Self
B. 1990 in Harlem, NY. Lives and works in New Haven, CT
On view at Thierry Goldberg
That her four paintings (priced between $7,000–20,000) sold out within the first minutes of the fair speaks to the momentum
Studio Museum in Harlem
and a
current show
at the Hammer Museum. Self is known for her figurative collages that explore the black female body in contemporary culture, and at the fair,
The Engagement
(2016) tells the story of a couple through hand-stitched figures formed using fabric from her family home in Harlem. In the work, the female character is flanked by a ghostly figure. "I wanted to explain that the female protagonist, while she has a tangible attachment to the male, has another part of her identity that is not visibly seen," Self told me.
Sarah Faux
B. 1986, Boston. Lives and works in Queens, NY
On view at Stems Gallery
Recent Yale grad
Blacklight
and
Prickly Things
(both 2016; $6,000) a woman licks her own nipple; the former is a lurid, acidic night scene and the latter, a jovial, solitary moment in the day. "I'm thinking about how you might have contradictory feelings with one sensation," said the Boston-born artist, happy lingering near her solo booth by
Stems Gallery
, who will present her solo show this June. "You might remember a physical experience one way for a period of time, but then you change your memory and rewrite your narrative."




Jordan Kasey
B. 1985, Chicago. Lives and works in Brooklyn
On view at Nicelle Beauchene Gallery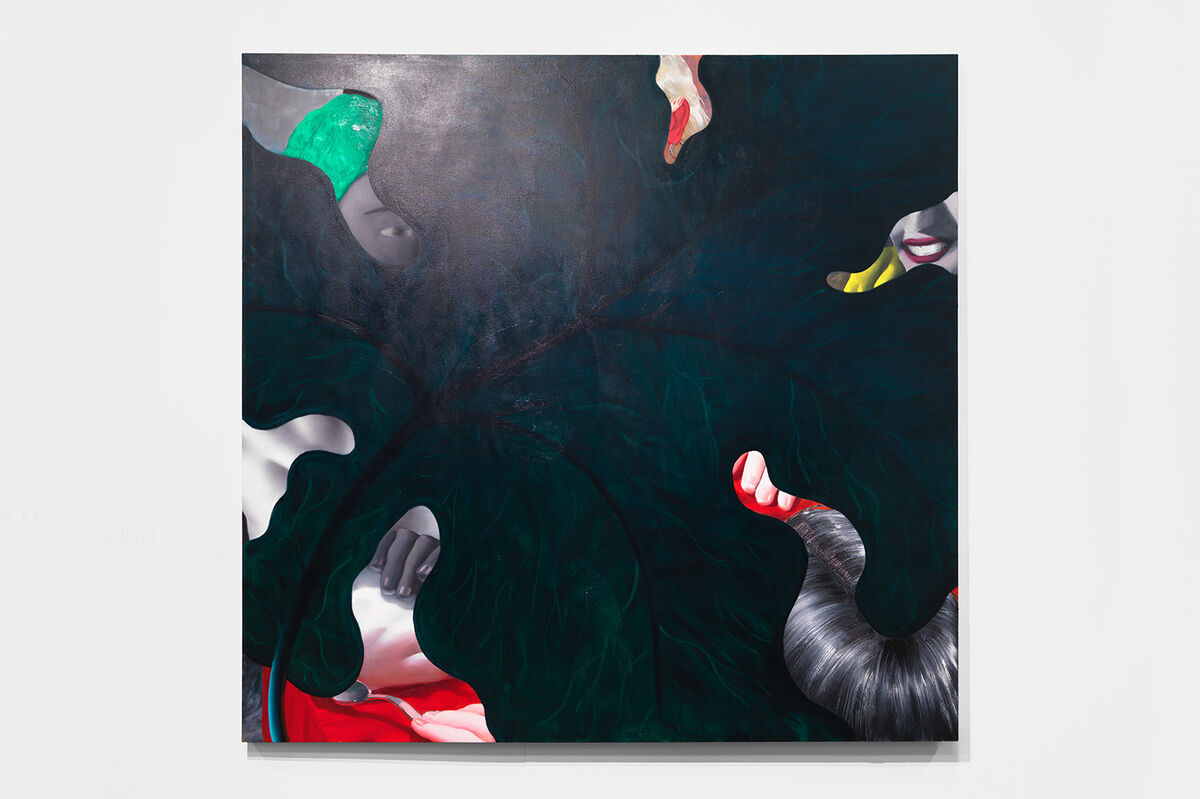 Ahead of her first solo show at Brooklyn gallery Signal later this month, you'll find two of Person Lying on a Salty Beach (2015; $10,000), that hangs in the booth's interior and fake plant at a restaurant (2015; $8,500), a mysterious tableaux where a bellybutton, a pierced ear, and the tips of fingers curiously peek between leaves, which calls fairgoers into her painted world. 
Ragna Bley
B. 1986 Uppsala, Sweden. Lives and works in Oslo and London
On view at Hester
In sunbleached, painterly washes and amoebic, sea life forms,
Heidi Hahn
B. 1982 in Los Angeles. Lives and works in Brooklyn, NY
On view at Jack Hanley
Forever touched by a photograph her mother once showed her—of the happiest time in her life, at a slumber party in the '70s—Hahn paints the ups, the downs, and the disillusionment in the life cycle of a woman. Following her solo show at Jack Hanley in February, Hahn debuts four new paintings at NADA that take a newly methodical bent: Stippled with meticulous patterning, the series sees a woman happily confined to a flower patterned room, wearing flowered clothing, and reading books about, you guessed it, flowers. Calling to mind the pattern-sheathed women of
Sojourner Truth Parsons
b. 1984, Vancouver, Canada. Lives and works in Los Angeles
On view at Tomorrow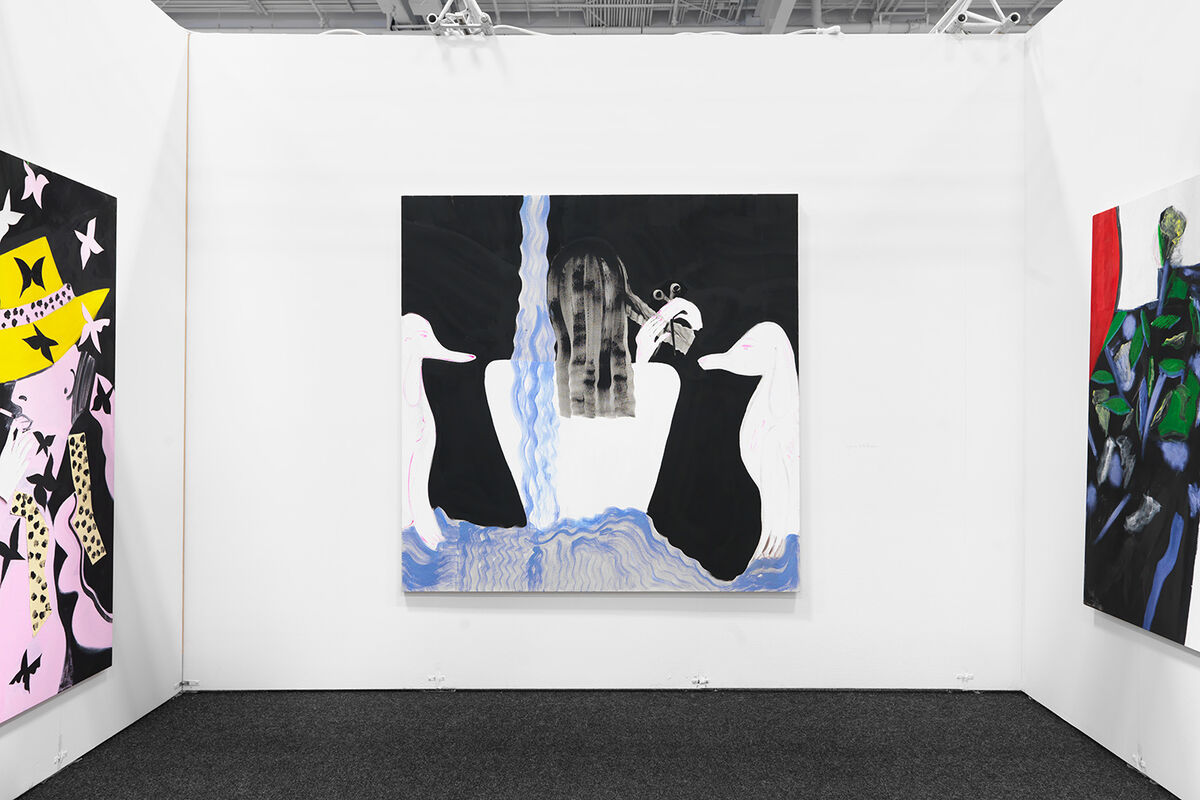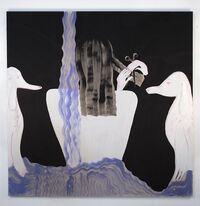 Named for African-American abolitionist and women's rights activist Sojourner Truth, Parsons paints strong female characters, like the scintillating, silhouetted figure smoking in the darkness in her large-scale work Anthony at Night with the butterflies (2016). Ahead of her summer group show with Foxy Production and a fall solo show at Night, four paintings—evoking
Jana Schröder
B. 1983 in Brilon, Germany. Lives and works in Düsseldorf
On view at MIER Gallery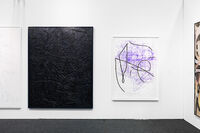 Chloe Wise
B. 1990 in Montreal. Lives and works in New York
On view with Galerie Sébastien Bertrand 
Last year, Ain't No Challah Back(pack) (2014), was a highlight of NADA. This year, the Canadian artist continues to explore the semiotics of desire, consumerism, and luxury, this time throwing painting into the mix. In Life's Rough, But Not Rough Enough (2016), a bare-chested woman clad in elbow-length gloves stands among a spread of fruit and flowers; a nearby sculpture, A Magnificent Forgetting (2016), sees a papaya with a piercing. "These fetish items connote bondage, and the still life, art-historically, is a display of abundance but also a reminder of memento mori," said Wise. "These decadent, succulent things are all going to rot and die, and the image of the female body is an image of something that's transient."
Akira Ikezoe
B. 1979, Japan. Lives and works in New York
On view at Proyectos Ultravioleta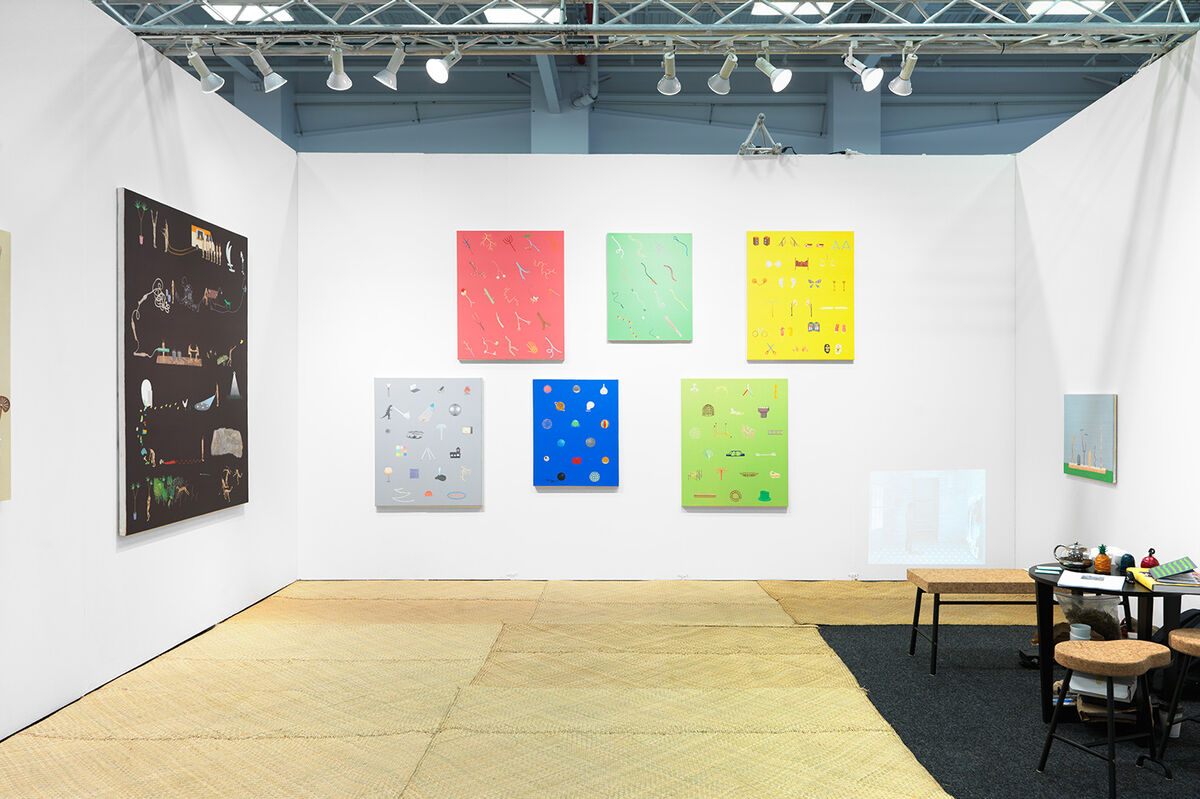 Dale Lewis
B. 1980 in London. Lives and works in London
On view at Edel Assanti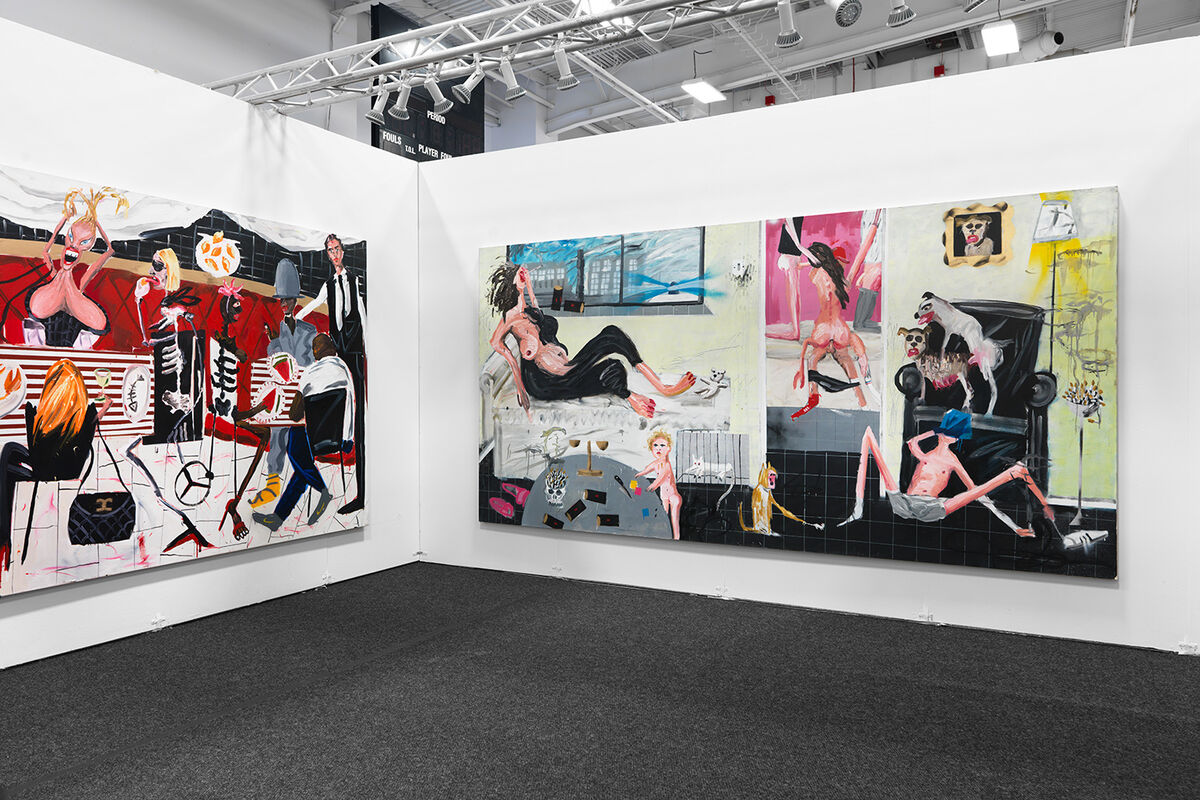 In compositions pulling from masterworks of art history, 36-year-old British artist Lewis paints scenes from urban society and his own experience—a working-class cafe in London, a drug dealer's home in Essex, a sex show in Bangkok—with raw, visceral brushstrokes. Recalling references from
Luc Paradis
B. 1979 in Vancouver. Lives and works in Montreal
On view at Parisian Laundry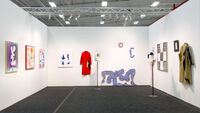 Turn to you (2016; $2,600), for example, four shapes present the above conundrum. Also on view at NADA, Paradis shows checkered, painted wooden sculptures, Lucca (2016; $3,600) and Veronica (2016; $2,700), that call to mind the can-can dancers of
Jeffrey Tranchell
B. 1982 in Owosso, Michigan. Lives and works in Brooklyn, NY
Essex Flowers
Molly Gottschalk is Artsy's Features Producer.