Art
The 16 Best Booths at FIAC
On view this week at Paris's Grand Palais, the 43rd edition of FIAC showcases 175 galleries from 26 countries around the world. The city's leading fair for contemporary art, FIAC is once again in no short supply of works to admire. We share below 16 standout booths, with artworks ranging from the hyper-colorful paintings of Katherine Bernhardt to Guan Xiao's dynamic, large-scale sculptures.
Sadie Coles HQ
Grand Palais, Booth 0.B41
With works by Urs Fischer, Sarah Lucas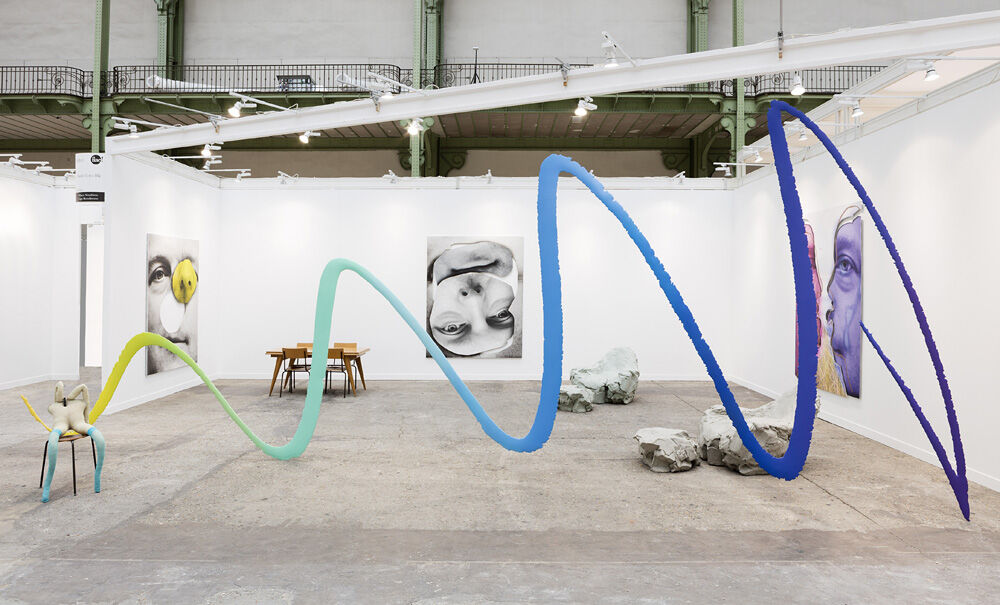 Installation view of work by Urs Fischer and Sarah Lucas at Sadie Coles HQ's booth at FIAC, 2016. Copyright the artist, courtesy of Sadie Coles HQ, London. Photo: Andrea Rossetti
Why you should stop

Coles's booth resembles an installation out of a museum show, consisting almost entirely of works by Urs Fischer—save for a Sarah Lucas chair piece of a figure wearing turquoise tights, from Coles's personal collection, that Fischer asked be included. Against a raw concrete floor, the largest work is a giant scrawl sculpture of a colored line. On the walls are large monochrome faces with upside-down or cut-out features. Best of all are two incredible seat sculptures—made of urethane foam and delightfully soft to touch—that resemble grey lumps of clay or objects pulled from The Flintstones.
Karma International
GRAND PALAIS, BOOTH 1.J17
WITH WORKS BY MARCEL BROODTHAERS, SYLVIE FLEURY, MÉLANIE MATRANGA, EMANUEL ROSSETTI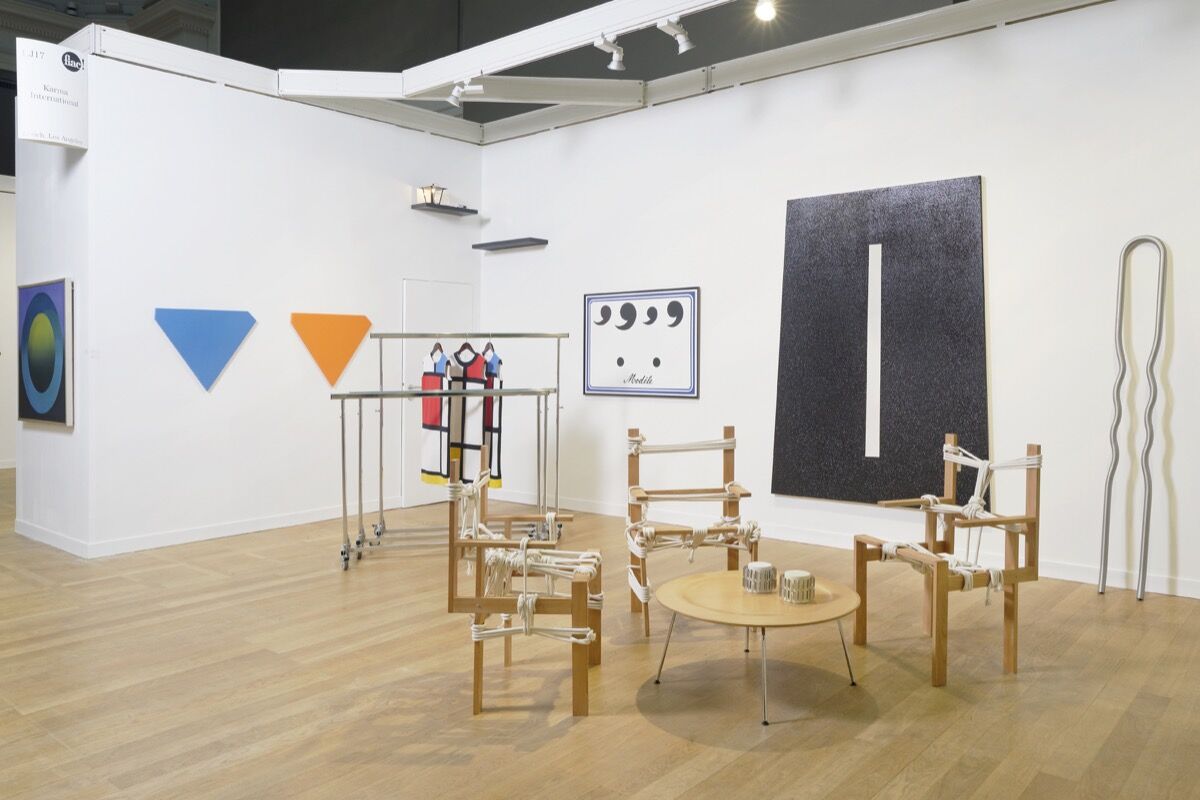 Installation view of Karma International's booth at FIAC, 2016. Photo courtesy of Karma International.
Galerie Perrotin
Grand Palais, Booth 0.B42
With works by Sophie Calle, Elmgreen & Dragset, KAWS, Paola Pivi
Why you should stop

Galerie Perrotin has gone all out with a booth curated by Elmgreen & Dragset (taking a break from preparations for the next Istanbul Biennial). The original installation was mounted a month ago, as a lonely, freestanding booth at Grand Palais, and has been restaged for FIAC. Whereas previously it stood in stark contrast to the palatial, empty space, now it is surrounded. The majority of the works on show are in black and white, with highlights by KAWS, Sophie Calle, and Paola Pivi.
Galerie Christophe Gaillard
Grand Palais, Booth 1.K13
With works by Tetsumi Kudo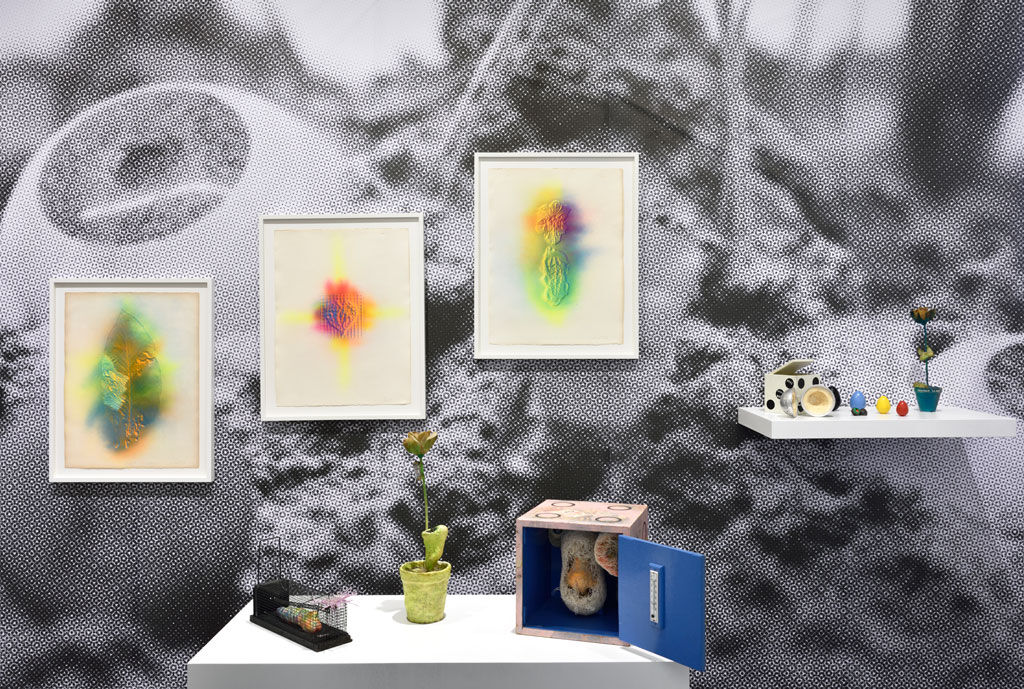 Installation view of Galerie Christophe Gaillard's booth at FIAC, 2016. Photo courtesy of Galerie Christophe Gaillard.
Why you should stop

This booth, from the Paris-based Galerie Christophe Gaillard, was devoted entirely to an exquisite collection of works from the late Japanese artist Tetsumi Kudo. Kudo's fascination with the intersection between technology, ecology, sexuality, and humanity is well-represented. There are fluorescent prints, lesser-known cage works—including a miniature, rainbow-colored penis in a small barred enclosure—a wall work in a plastic vitrine, and an early portrait piece comprised of a large die and plastic eggs.
Galerie Natalie Seroussi
Grand Palais, Booth 0.C29
With works by Hans Bellmer, Hannah Höch, Francis Picabia, Martial Raysse, Martha Rosler
Why you should stop

Part of the joy of FIAC is its booths focused on the 20th century. Seroussi is presenting an out-of-this-world stand curated around the theme of "la femme visible." Included are Hans Bellmer sculptures and drawings, and Elaine Sturtevant's take on Martial Raysse, alongside Raysse himself. Photomontages by Hannah Höch hang beside works by Martha Rosler, Francis Picabia paintings of Spanish ladies, and self-portrait photos by Claude Cahun. Through it all was the represented female body—on display, ready to consume, sexualized or desexualized, and utterly fascinating.
Blum & Poe
GRAND PALAIS, BOOTH 0.A40
WITH WORKS BY YOSHITOMO NARA
Installation view of Blum & Poe's booth at FIAC, 2016. Artwork: © Yoshitomo Nara. Courtesy of Blum & Poe, Los Angeles/New York/Tokyo.
WHY YOU SHOULD STOP

If you want to know what Japanese artist Yoshitomo Nara has been up to in recent years, this booth is the answer to your dreams. It explodes with his work of all sizes and mediums, with a central focus on a new, unglazed ceramic piece—a typical Nara face with a pointed, fir tree-like head. This motif is repeated in miniature, as well as on pine-table plinths. Also on view are paintings on cardboard, pen drawings on paper, and a small corner of a photographs hung salon-style. The presentation is joyous, cartoony and melancholic all at the same time.
Kraupa-Tuskany Zeidler
Lafayette Sector, Booth 1.G04
With works by Guan Xiao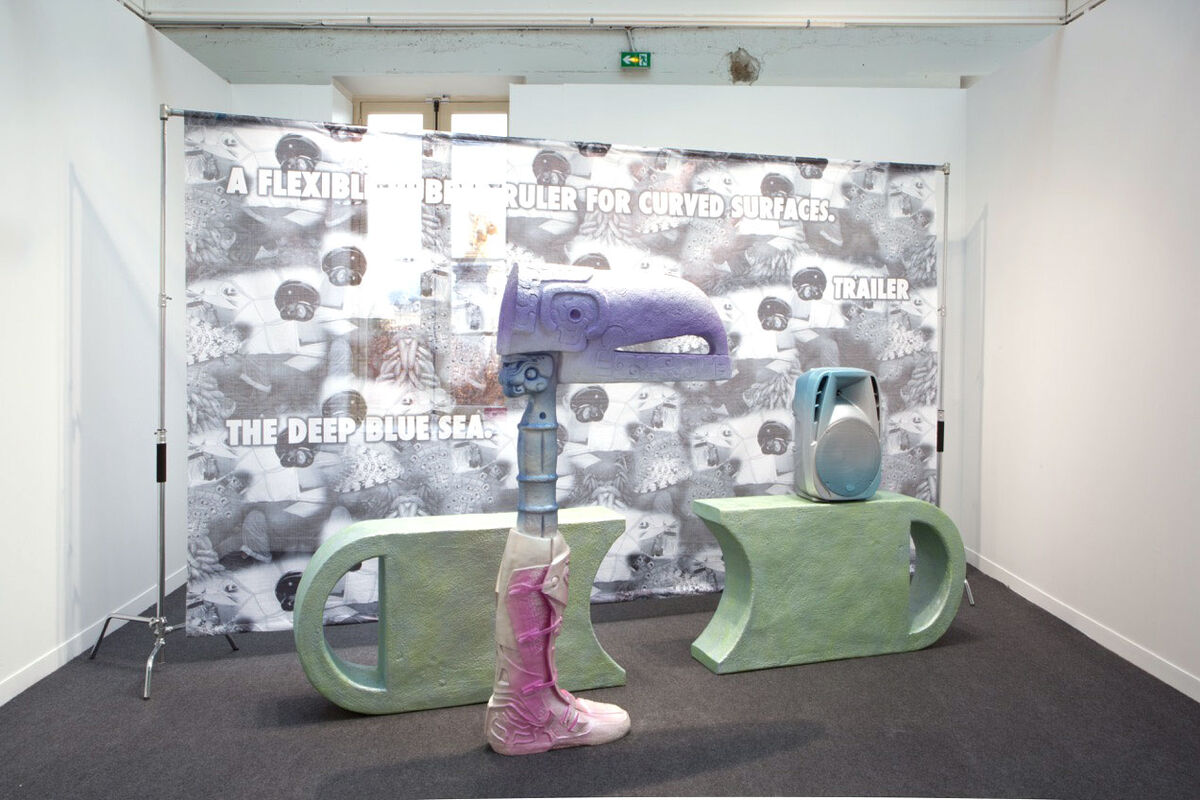 Installation view of Kraupa-Tuskany Zeidler's booth at FIAC, 2016. Photo courtesy of Kraupa-Tuskany Zeidler.
Why you should stop

Guan Xiao's huge sculptures nearly spilled out of Berlin gallery Kraupa-Tuskany Zeidler's booth. Also exhibited at the ICA in London this past spring, Guan's work examines the complexity of history as well as the circulation of digital images and how we understand the world. The Beijing-based artist was influenced by texts on biology and cybernetics, and her pieces straddle both the ancient and the futuristic, the natural and the synthetic, in interesting ways.
Mendes Wood DM
Grand Palais, Booth 1.J02
With works by Paulo Nimer Pjota, Daniel Steegman Mangrané, Luiz Roque
Why you should stop

São Paulo gallery Mendes Wood has a large and very well-designed booth at FIAC with some inspiring new talents. At the center of the space is a "puddle" floor piece by Daniel Steegmann Mangrané consisting of puzzle-like shards of mirror. The booth's three walls are focused on the absorbing paintings of Paulo Nimer Pjota—canvases that resemble a dirty bathroom wall, covered with detailed representations of African masks or ancient Greek artefacts, meshed with emojis, Disney stickers, and dashes of spray paint.
Gavin Brown's enterprise
GRAND PALAIS, BOOTH 0.A20
WITH WORKS BY JANNIS KOUNELLIS
Installation view of Gavin Brown's enterprise's booth at FIAC, 2016. Photo courtesy of Gavin Brown's enterprise.
WHY YOU SHOULD STOP

Arte Povera is in the air these days, with major shows from Pistoletto and Penone happening with increasing regularity. Gavin Brown's deep grey booth is almost entirely devoted to the work of Jannis Kounellis. The four large works—three on walls and one on a plinth—all combine an iron base, a wardrobe, as well as rope tying things together. The combinations feel brutal, strong, and immensely powerful.
Ghebaly Gallery
Grand Palais, Booth 1.H15
With works by Mitchell Syrop, Kelly Akashi, Patrick Jackson
Left: Kelly Akashi, iiland, 2016; Right: Mitchell Syrop, Untitled (Barbell, from Giacometti's Bar Mitzvah), 2013. Photos courtesy of Ghebaly Gallery.
Why you should stop

Ghebaly's booth is a strong three-person, multi-generational display of Los Angeles artists. The works on view largely play with ideas of materiality and the body. A fair number of pieces were from Mitchell Syrop, with examples of his photographic images of words on wiped out chalkboards and his steel sculptures that range from wilting dumbbells to intimate spirals. He was joined by the plasticine wall sculptures of Patrick Jackson, and Kelly Akashi's notable bronze, orange, and black pillow sculpture that resembles an alien's spine.
Luciana Brito
Grand Palais, Booth 0.C51
With works by Leandro Erlich
Installation view of Luciano Brito's booth at FIAC, 2016. Photo courtesy of Luciano Brito.
Why you should stop

Brito's booth is devoted to a single work: Changing Rooms (2008) by Argentinian artist Leandro Erlich. From the outside, the booth looks like a pair of identical changing rooms, each with blue curtains pulled aside, revealing a stool and mirror. However, upon entering each space, you realize that the same setting is multiplied throughout—repeating the everyday scene so that a viewer walks through what becomes a single, never-ending changing room. Simply put, this is a work that inspires sheer and utter pleasure.
Cherry and Martin
Grand Palais, Booth 1.G01
With works by Ericka Beckman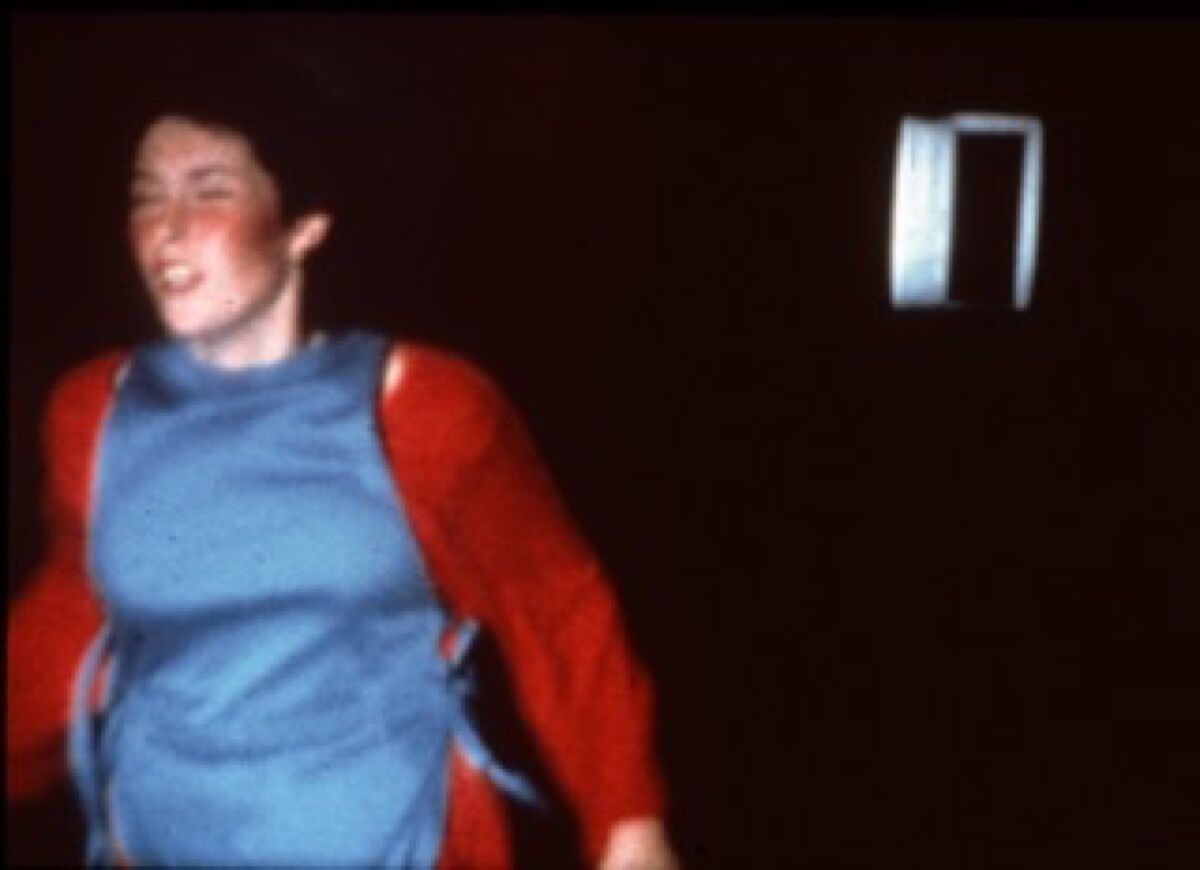 Ericka Beckman, Hit and Run (still), 1977. Image courtesy of Cherry and Martin, Los Angeles.
Why you should stop

Los Angeles-based gallery Cherry and Martin devoted its booth to Ericka Beckman, with incredible results. Alongside film storyboard pencil sketches and photographic stills, the main piece on display is her 1977 film Hit and Run, created in New York City following her graduation from the Whitney's Independent Study Program and Cal Arts. At the fair, the projected video is shown in a dark room with a kinetic white, painted door that opens and closes theatrically, echoing the images onscreen. With a solo show at the Vienna Secession next year, Beckman's work feels increasingly influential and relevant.
Arcade
Grand Palais, Booth 1.G18
With works by Caroline Achaintre
Installation view of Arcade's booth at FIAC, 2016. Photo courtesy of Arcade.
Why you should stop

Arcade rightfully devoted its entire booth to London-based artist Caroline Achaintre, who has shown at the Musée d'Art Moderne de la Ville de Paris, Tate Britain, and the Castello di Rivoli. A large tufted rug wall work and three ceramic pieces on display all expand on the idea of the face. In Achaintre's work, the human form is represented through simple gestures; a hole for an eye or a loose gap for a mouth. One black-and-pink-striped ceramic sits on a pale pink plinth, while another wall piece hints at the monstrous and the imaginary, with its gaping orifice.
Bugada & Cargnel
Grand Palais, Booth 1.F20
With works by Alfredo Aceto, Wilfrid Almendra, Adrien Missika, Théo Mercier, Julian Charrière, Claire Tabouret
Why you should stop

At the fair's opening, Bugada & Cargnel's booth was bottlenecked with visitors—and deservedly so. On display are some of the most interesting French artists working at the moment, including Adrien Missika, who exhibits two wall pieces. The works were made of interconnected geometric metal wires, sometimes embedded with shells and stones, drawing on influences ranging from Polynesian and Micronesian nautical charts to NASA spacecraft routes and the artist's own travels. But Théo Mercier's sculptural pieces were the standout works, including a large pile of broken and discarded African masks—a "suicidal totem" that touched on the spoils of history.
Vilma Gold
Grand Palais, Booth 1.J18
With works by Trisha Baga, KP Brehmer, Anselm Kiefer, Yayoi Kusama, Richard Prince
Installation view of Vilma Gold's booth at FIAC, 2016. Photo courtesy of Vilma Gold.
Why you should stop

KP Brehmer is the starting point for a booth filled with representations of landscape. The late German painter's mixed-media work is contextualized by surprising pieces like Trisha Baga's screen and table assemblage of a lenticular deer, and a stunning 1981 painting of a rose by Anselm Kiefer. These works are joined by an early green painting by Yayoi Kusama, and a wildly strong Richard Prince painting from 1996 of black tumbleweed-like blobs and abstract green circles above a text about picking up hitchhikers and scaring them for the fun of it.
CANADA
GRAND PALAIS, BOOTH 1.H10
WITH WORKS BY KATHERINE BERNHARDT
WHY YOU SHOULD STOP

At Canada's booth, the Pink Panther is the central protagonist in four of the six paintings on display by New York City-based artist Katherine Bernhardt. Her hyper-colorful, fluid paintings of lush flowers surround the central Panther figure, with symbols like the Instagram logo subtly embedded as well. A complimentary, electric pink rug anchors the booth. Thankfully, Bernhardt has never shied away from redefining pop.
Stay up to date with Artsy Editorial