The 50 Gallery Shows You Need to See This Spring
Spring is nearly here, and it's time to look ahead. We've culled gallery listings worldwide to highlight 50 must-see exhibitions over the next three months, spanning 14 cities and ranging from historical surveys to cutting-edge contemporary work, from all-female group exhibitions to debut solo shows.
_____
Berlin
Left to right: Keltie Ferris, Step Step Step, 2015. Photo: Mark­Woods.com. Courtesy of the artist, Mitchell-Innes & Nash, New York, and Klemm's; Peles Empire, installation shot, 2016. Photo: Peles Empire. Courtesy of the artist and Wentrup, Berlin; Sanya Kantarovsky, Effacement, 2016. Image courtesy of Tanya Leighton.
Sanya Kantarovsky at Tanya Leighton
Mar. 15–Apr. 16, Kurfürstenstrasse 156 & 24/25
For "In the Gutter,"
Keltie Ferris at Klemm's
Mar. 19–Apr. 23, Prinzessinnenstrasse 29
Ed Fornieles at Arratia Beer
Apr. 29–Jun. 4, Potsdamer Strasse 87
In
Kate Steciw at Neumeister Bar-Am
Apr. 30–Jun. 25, Goethestrasse 2
Steciw
has shifted from providing incisive commentary on stock imagery to creating curious yet immaculate abstract works couched in carefully crafted frames; new works, some over four feet, will hang in clusters.
Peles Empire at Wentrup
Apr. 30–Jun. 16, Tempelhofer Ufer 22
With a practice inspired by Romania's majestic Peles Castle,
Alexandre Singh at Sprüth Magers
Apr. 30–Jun. 25, Oranienburger Strasse 18
In his first solo show since the stunning three-hour theatrical work The Humans (2014), The School for Wives Criticized (1663).
_______
Brussels
Left: Dan McCarthy, All Saints, 2016. © Dan McCarthy /Photo: Kent Pell. Courtesy of the artist, Anton Kern Gallery, New York and rodolphe janssen, Brussels; Right: Work by Michael Williams. Image courtesy of Gladstone Gallery.
David Altmejd, "L'air" at Xavier Hufkens
Mar. 4–Apr. 9, 6 rue St-Georges
Michael Williams at Gladstone Gallery
Mar. 11–Apr. 15, 12 Rue du Grand Cerf
In his first presentation with Gladstone,
"8 Femmes" at Office Baroque
Apr. 16–May 28, Bloemenhofplein 5 Place du Jardin aux Fleurs
While the all-female group show model is on the ascent, this one delivers a smartly curated lineup of mid-career artists (many not from the
gallery
's roster); a mix of mediums and styles ranges from the entrancing patterning of
"Made in Oven" at Rodolphe Janssen
Apr. 20–May 21, 32 rue de Livornostraat
In a true ode to spring, Janssen collides its artists' spirited ceramic vessels—think: an Dan McCarthy facepot—with the theatrical creations of Belgian florist Thierry Boutemy, whose environments have bolstered the fashion world for years (on catwalks, in Vogue shoots), as well as Sofia Coppola's 2006 film Marie Antoinette.
_____
Dubai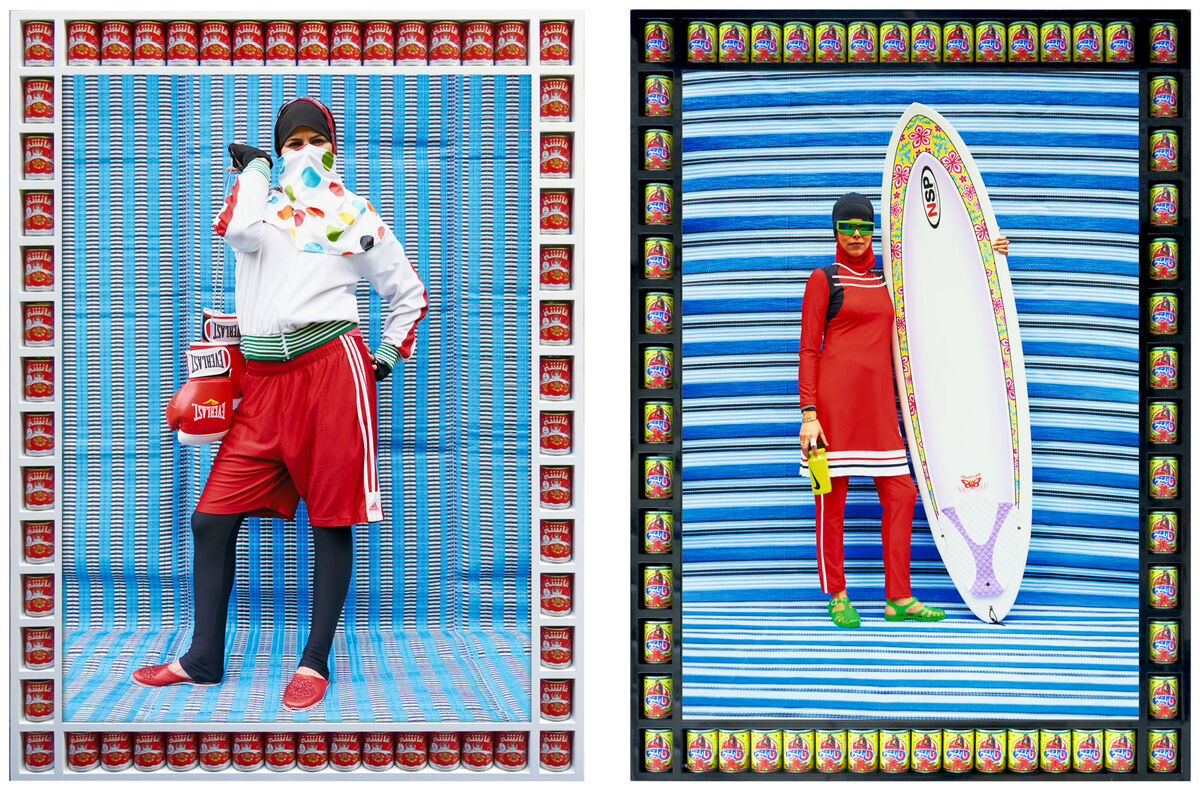 Left: Hassan Hajjaj, Nabila Boxer, 2011; Right: Hassan Hajjaj, Surfer in Red, 2015. Images courtesy of The Third Line.
Hassan Hajjaj at The Third Line
Mar. 14–Apr. 16, Street 8, Al Quoz 1 Alserkal Avenue
In "La Salle de Gym des Femmes Arabes,"
the gallery
into a fitness club for women—and filling it with bold, bright photographic portraits of its customers (one sporting a hijab and boxing gloves, another with a head scarf and surfboard).
__________
Hong Kong
Tracey Emin at White Cube and Lehmann Maupin
MAR. 21–MAY 21, 50 CONNAUGHT ROAD (WHITE CUBE)/12 PEDDER STREET (LEHMANN MAUPIN)
Titled "I Cried Because I Love You,"
Dan Colen at Gagosian Gallery
MAR. 21–MAY 13, 12 PEDDER STREET
solo show in Hong Kong
, has him employing New York bodega flowers and unexpected objects (bowling pins and billiard balls among them) to expel natural and artificial color onto canvas.
Yan Pei-Ming at Massimo de Carlo
MAR. 21–TK, 12 PEDDER STREET
The Milan- and London-based gallery inaugurates its new Hong Kong space with a show of
____
Ibiza
Work by Adam Pendleton. Image courtesy of Parra & Romero.
Adam Pendleton at Parra & Romero
Jun. 3–Oct. 8, Carretera de San Miguel Km 2,300
Coinciding with his first solo museum show, "Becoming Imperceptible" (which begins at Contemporary Arts Center New Orleans and travels to Museum of Contemporary Art Denver), The Black Dada Reader.
___________
Johannesburg
Alfredo Jaar at Goodman Gallery
Feb. 25–Mar. 23, 163 Jan Smuts Avenue
Across a range of JOHANNESBURG 2026 (2016)—an expansive, 27-foot-long installation positing Johannesburg as a mighty port city of the future, with greatness to rival that of Carthage, Axum, and other urban centers from antiquity.
Glenn Ligon at Stevenson
Mar. 17–Apr. 15, 62 Juta Street
For his third show with the gallery,
_______
London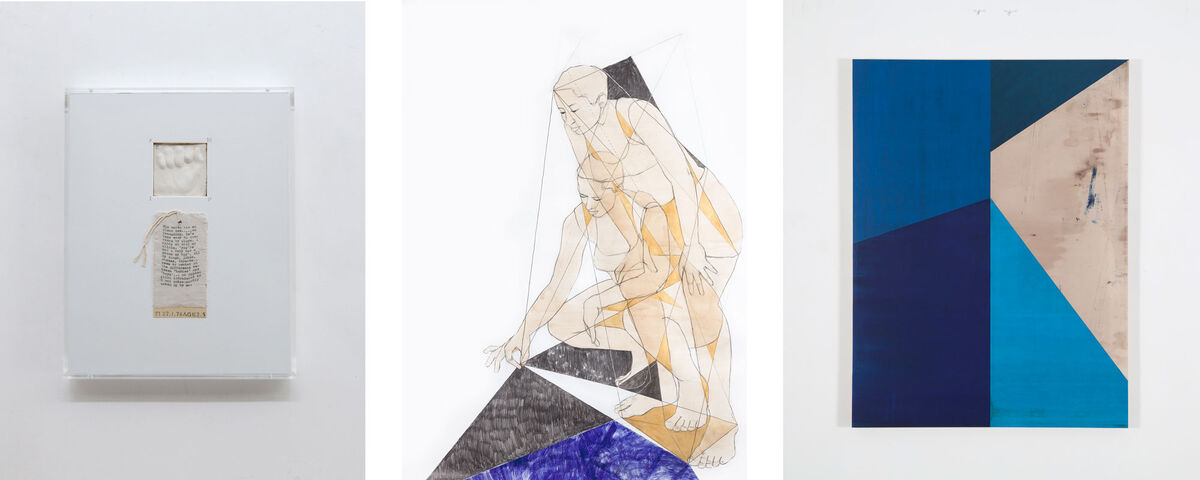 Left to right: Mary Kelly, preparation for Post-Partum Document (1973–79). Image courtesy of Pippy Houldsworth; Pamela Phatsimo Sunstrum, Panthea 02, 2016. Courtesy of the artist and Tiwani Contemporary; Gabriel de la Mora, MCI / 6 – II f e, 2015. © Gabriel de la Mora, courtesy Timothy Taylor.
Keren Cytter at Pilar Corrias
Mar. 18–May 7, 54 Eastcastle Street
On the heels of her 2015 solo exhibition at MCA Chicago,
shows
three recent videos—
Game
(2015),
Metamorphosis
(2015), and
Ocean
(2014)—along with a series of new drawings.
Gabriel de la Mora at Timothy Taylor
Mar. 18–May 7, 15 Carlos Place
"Serial,"
Jules de Balincourt at Victoria Miro
Apr. 14–May 14, 16 Wharf Road
In "Stumbling Pioneers," the frontier (in particular,
Pamela Phatsimo Sunstrum at Tiwani Contemporary
Apr. 1–May 7, 16 Little Portland Street
For her first solo
exhibition
in the U.K., Johannesburg-based
R. Crumb at David Zwirner  
Apr. 15–Jun. 2, 24 Grafton Street
The
Mary Kelly at Pippy Houldsworth
Apr. 15–May 28, 6 Heddon Street
Post-Partum Document (1973–79) is resurfaced in a show devoted to her early photographs, films, and prototypes from the 1970s, tracing the first six years of her son's life and the intimate relationship between mother and child.
__________
Los Angeles
Left to right: Installation view of Phyllida Barlow, GIG, 2014. Photo courtesy of Hauser Wirth & Schimmel; Jesse Mockrin, School of Love, 2015. Photo by Nik Massey. Courtesy of the artist and Night Gallery; Lukas Geronimas, Untitled Work, 2015. Photo courtesy of the Landing.
Lucien Smith at Moran Bondaroff
Mar. 5–Apr. 2, 937 N. La Cienega Boulevard
The term "dawn patrol" (used to reference both early-morning military missions and surfers seeking untouched waves) inspires a new series of paintings from
Elaine Cameron-Weir at Venus
Mar. 11–Apr. 30, 601 South Anderson Street
For her first solo exhibition in L.A.,
Jesse Mockrin at Night Gallery
Mar. 12–Apr. 16, 2276 East 16th Street
Infused with hints of
"Revolution in the Making" at Hauser Wirth & Schimmel
Mar. 13–Sep. 4, 901 East 3rd Street
Julian Schnabel at Blum & Poe
MAR. 18–APR. 30, 2727 S. LA CIENEGA BOULEVARD
From Jack the Bellboy (1975), a wax painting
Lukas Geronimas at the Landing
MAR. 19–APR. 30, 5118 WEST JEFFERSON BOULEVARD
After his sculptures made eye-catching appearances in group shows at Andrea Rosen and 247365 last year, Yin Yang Shelf and the graphite-swathed Custom Work Table, embedded with carvings that recall school-desk doodles.
"Desert Now" at Steve Turner
MAR. 19–APR. 23, 2016, 6830 SANTA MONICA BOULEVARD
Berlin-based artist-adventurers
gallery
into a makeshift museum featuring objects that document, parody, and fetishize the southwestern desert.
__________
Mexico City
Allora & Calzadilla at kurimanzutto
APR. 7–MAY 7, GOBERNADOR RAFAEL REBOLLAR 94
In their first show with the gallery since 2009, artist duo
________
New York
Left to right: Installation view of Marcel Broodthaers at Paul Kasmin Gallery. Photo courtesy of Paul Kasmin Gallery; Carmen Herrera, Costa del Sol, 2015. © Carmen Herrera, courtesy of Lisson Gallery; Installation view of David Hammons at Mnuchin Gallery. Photo courtesy of Mnuchin Gallery.
Ibrahim El-Salahi at Salon 94
MAR. 1–APR. 24, 243 BOWERY
Marcel Broodthaers at Paul Kasmin Gallery
Mar. 3–Apr. 23, 515 West 27th Street
Coinciding with MoMA's Broodthaers retrospective,
Kasmin
offers an unprecedented show in the U.S. including 20 artist books created between 1957–1975, and 26 editioned works from 1964–1975—plus an iconic installation featuring a living African gray parrot and an audio loop of the artist reciting his poetry.
Greg Parma-Smith at David Lewis
Mar. 4–Apr. 17, 88 Eldridge Street
The centerpiece of Last Judgment (2016), a 25-foot-wide, multi-panel painting with whole sections peeling tidily to reveal a solitary female figure or lush sacred geometries beneath a seascape at sunset; also on view is a series of smaller ink-on-paper works.
David Hammons at Mnuchin Gallery
Mar. 15–May 27, 45 East 78th Street
With the show's installation conceived by
Barkley L. Hendricks at Jack Shainman Gallery
Mar. 17–Apr. 23, 524 West 24th Street
In the Crosshairs of the States (2016), in which a man in a grey hoodie is viewed unsubtly through the barrel of a gun—reveal a sharpening in the artist's critiques.
Willa Nasatir at Chapter NY
Mar. 20–Apr. 24, 127 Henry Street
For her second New York solo show, Nasatir distorts and layers images of everyday objects to create haunting photographic tableaus—some over six feet tall—that build on the lexicon of master Surrealist image makers like
The Propeller Group at James Cohan Gallery
Apr. 8–May 15, 291 Grand Street
Ahead of their first major museum solo show at MCA Chicago in June, the Ho Chi Minh City-based collective presents a new show including The Living Need Light, The Dead Need Music (2014), a video work that blends documentary and reenactment in a musical meditation on funeral rites.
Janet Cardiff and George Bures Miller at Luhring Augustine
Apr. 16–Jun.11, 531 West 24th Street
Marionettes dance and play instruments around a sleeping sculpture of Cardiff inside an old trailer in one installation by
Carmen Herrera at Lisson Gallery
May 3–Jun. 25, 504 West 24th Street
As her 101st birthday approaches,
gallery
's newly built space in Chelsea.
Eva Kot'átková at Maccarone
May 3–Jun. 18, 630 Greenwich Street
Following her 2015 solo show at MIT's List Visual Arts Center and inclusion in the New Museum Triennial, the 32-year-old artist presents new works motivated by art workshops she runs with children at a mental hospital in Prague, where she is based; the show comprises stone sculptures, collages, and giant wire sculptures inspired by the children's drawings.
Cindy Sherman at Metro Pictures
opens May 5, 519 West 24th Street
The Broad
this June, she offers a show of various signature types she has shot, including a return to the familiar terrain of early Hollywood.  
Adam Silverman at Friedman Benda
May 5–Jun. 11, 515 West 26th Street
In his first
solo show
in New York, "Ground Control,"
Nicole Eisenman at Anton Kern Gallery
May 19–Jun. 25, 532 West 20th Street
Two weeks after the MacArthur Genius's retrospective opens at the New Museum, the masterful
____
Paris
Installation views of Oscar Tuazon at Galerie Chantal Crousel. Photos courtesy of Galerie Chantal Crousel.
Oscar Tuazon at Galerie Chantal Crousel
Mar. 5–Apr. 16, 10 rue Charlot
With a solo show at L.A.'s Hammer Museum under his belt, the
Leiko Ikemura at Galerie Karsten Greve
Mar. 11–Apr. 30, 5 Rue Debelleyme
Natalie Czech at gb agency
Apr. 2–May 14, 18 rue des 4 Fils
"One can't have it both ways and both ways is the only way I want it," says Czech of this show of large-scale photographs from two discrete series, "Critics Bouquets" and "Poems by Repetition."  
___________
San Francisco
Isaac Julien, Homage Noir, Looking for Langston Series, 1989. Image courtesy of Jessica Silverman Gallery.
Isaac Julien at Jessica Silverman Gallery
Apr. 22–Jun. 11, 488 Ellis St
Titled "Vintage," this exhibition offers a retrospective glimpse at the accomplished Looking for Langston, a fantastical exploration of the artistic community, race, and sexuality in Harlem during the 1930s and '40s.
________
São Paulo
Sônia Gomes at Mendes Wood DM
Apr. 9–May 21, Rua da Consolação 3358
Expect intricate new assemblages of wire and spun fibers from
______
Tokyo
Mariko Mori at SCAI The Bathhouse
Mar. 21–Apr. 23, Kashiwayu-Ato, 6-1-23 Yanaka, Taito-ku
The