The 8 Best Booths at Art Cologne
The 50th anniversary edition of Art Cologne is in full swing, with 218 galleries from 24 countries exhibiting at the Koelnmesse through Sunday. While this edition of the world's oldest art fair presents what's 
likely its strongest assemblage of established international galleries to date
, some of the most exciting moments come on its top floor, where young galleries present the next generation of blue-chip artists in the making. We scoured the booths to pick out the eight best presentations on display.
Soy Capitán 
New Contemporaries, Booth A 45 
With works by Grace Weaver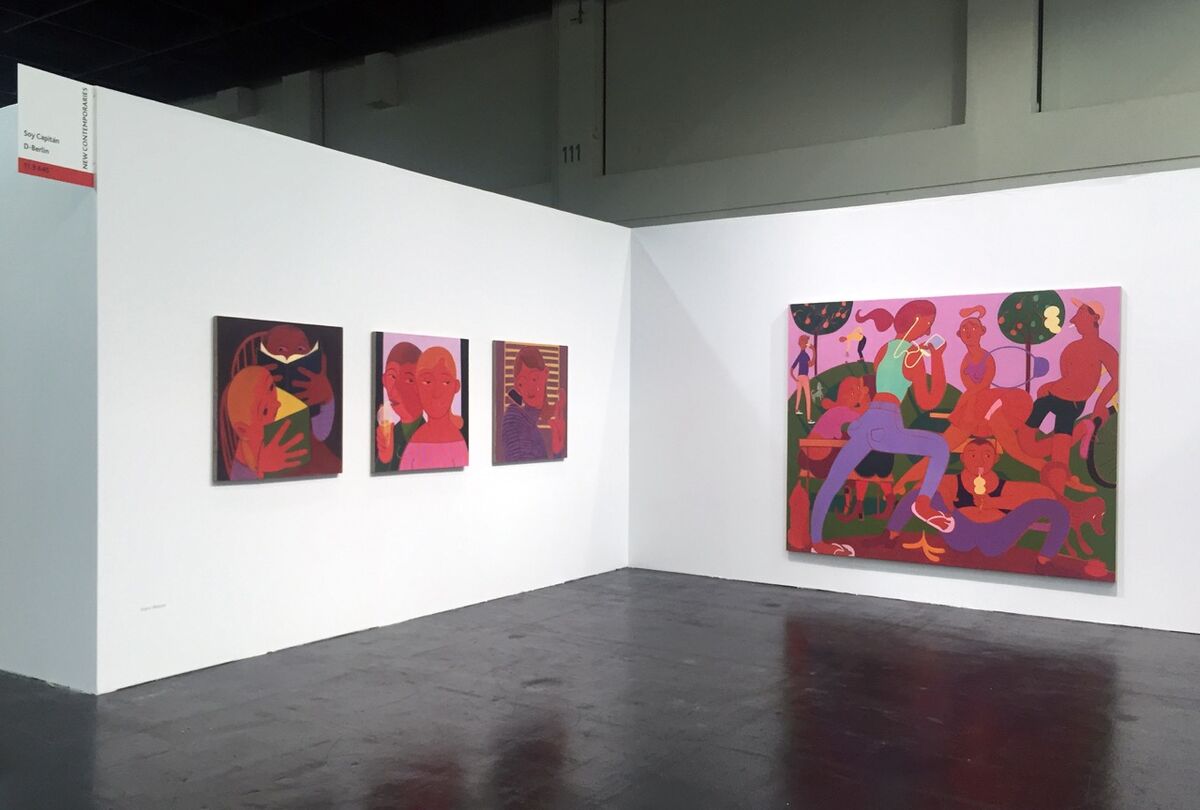 Installation view of Soy Capitán's booth at Art Cologne, 2016. Photo courtesy of Soy Capitán.
The German art world isn't known for its love of color. So it was a risk to present a solo booth of vibrant canvases by twentysomething American artist 
Weaver
, a standout among the recent crop of figurative painters coming into the spotlight. "She is quite well-known in the States, but it was important to build a base for her here," says gallerist Heike Tosun of the outing, which was off to a banner start. Weaver created the booth's largest work (
lust for lite
, 2015) last summer while working in the 
Berlin gallery
, in preparation for her solo show that September. It sold for €12,500 at Art Cologne. The artist also debuts a series of drawings (available for €2,600 apiece) at the fair. "She never considered them as works for some reason. But when I was preparing for the solo booth here, I asked if she would consider making some, and I was blown away," says Tosun. "You can really focus on her image-making, which then allows you to look at the paintings in a different way." The booth also features three smaller paintings for €5,000 each, two of which had sold by Thursday afternoon.
Aanant + Zoo 
New Contemporaries, Booth B 34 
With works by Michael Müller
Installation view of Aanant + Zoo's booth at Art Cologne, 2016. Photo courtesy of Aanant + Zoo.
There are solo booths and then there are solo exhibitions. 
KW Institute for Contemporary Art
. The piece features a self-portrait in pencil on paper of the artist posed after 
Courbet's L'Origin du monde
 and a piece of marble chiseled with the Wikipedia definitions of his first and last name. Nearly all the other works are created on pink sheets of A4 paper. "The first time I used the pink paper was many years ago due to the 
Financial Times
," Müller says. In his current project, however, pink represents cherry blossoms and the short lives of samurai (symbols the color is tied to in Japan). The work includes a copied image of a Shinto shrine, a sacred temple that is traditionally rebuilt every 20 years. Müller has Xeroxed a piece of wood from this process of reconstruction 100 times, until only a gray block is visible (12 are on view at the fair). In other works, priced from €7,000–40,000, Müller addresses the theme of originality in various ways. In one, he draws renowned forger Elmyr de Hory and one of his faked masterpieces; in another, he has an assistant copy an abstract painting he's created; in a third, he has recreated 
Olympia 
(1863). "I had a copy of the Gauguin copy made in China," says Müller. "And I included these devils that are from the 
only
 painting that 
Supplement 
New Contemporaries, Booth A 35 
With works by Yuri Pattison, Philomene Pirecki
Installation view of Supplement's booth at Art Cologne, 2016. Photo courtesy of Supplement.
"The fair has been getting really interesting, especially in the New Contemporaries section over the past few years. I've been completely blown away walking around and seeing what's on view," says gallery director Adam Thomas of their first outing, the compliment all the more weighty considering that he's half of the duo behind London's beloved SUNDAY Art Fair. At Supplement's booth, 
Instagram feed
, earplugs, hair ties, and chewing gum on top of embossed likenesses of those objects, nearly all chosen for the way in which they are shaped by the body when used.
Ruttkowski;68 
Collaborations, Booth B 19 
With works by Henrik Vibskov
Installation view of Ruttkowski;68's booth at Art Cologne, 2016. Photo courtesy of Ruttkowski;68.
Copenhagen-based 
Vibskov
's creative output is more often seen on the runways of Paris Men's Fashion Week (where he's the only Scandinavian designer on the official show schedule) than along the aisles of an art fair. "These works are related to fashion. They're hand-knitted embroidery on top of machine-knit backdrops," says 
Ruttkowski;68
's Nils Müller. "The whole series has something to do with meat." There are "meat-filled palm trees," where blood sausages hang from the fonds; a sausage plate; and a butcher's knife. "They're really naïve in their form; that's how his world functions," adds Müller of the works, one of which had already sold for €10,500. (Smaller pieces and wood cuts are available for €3800.) This coming December will mark Vibskov's third solo exhibition at the Cologne gallery, which is participating at the fair for the first time in collaboration with 
Wertical
, a magazine founded by Müller and his girlfriend, which pairs interviews with artist portraits by the gallerist (who is also a photographer).
Alexander Levy 
New Contemporaries, Booth B 1 
With works by Julius von Bismarck
Installation view of Alexander Levy's booth at Art Cologne, 2016. Photo courtesy of Alexander Levy.
Von Bismarck
 continues to impress with his latest series of works based on failed rocket launches. A several-meter-wide LED panel screens 
Escape Shapes
 (2016; priced at €10,000), a compilation of every major rocket disaster from the last 70 years in a 40-minute loop. "He pulled footage from the NASA archives, from TV documentaries, even private people who had happened to capture the disasters," says 
Alexander Levy
. Von Bismarck has also created sculptures based on images of the exhaust and explosion of the space shuttle Challenger in 1986, among others (€16,000). "He's trying to capture all the energy lost in that moment into this one object," explains Levy. "Rocket science is such a symbol of the competition between nations to go further or faster than each other. But in these explosions you lose everything; you have to completely start over." In addition, a series of photographs of tents flying through the air is priced at €15,000.
Daniel Faria + PSM 
Collaborations, Booth B 31 
With works by Iris Häussler, Kristine Moran, Elizabeth Zvonar, Anca Munteanu Rimnic, Nadira Husain, Pauline Curnier Jardin
This standout women-only show of six artists actually got its start at 
Art Toronto
, where gallerists 
Daniel Faria
 and PSM's Sabine Schmidt met last October. "Sabine visited the gallery and liked what I was doing. My program is mostly women, so she suggested that we create this booth," says Faria. "
Häussler
 was a natural choice to include. She's mid-career but she grew up in Germany and had many shows here in the '90s." The artist's works see nightgowns and negligees captured in wax, giving the surface a marble-like quality. "She's always worked in wax, but she recently started letting the pieces of clothing spill out of the wax. The idea is that these things hold onto memories but that as time goes on those memories slip away," explains Faria. A structure created by Schmidt's artist Husain sees paintings by 
Moran
, as well as those by Husain herself, installed on wooden bars throughout the space. "Nadira grew up in Paris with an Indian father of Muslim background and French mother," explains Schmidt of the genesis of the paintings, which the artist creates on fabric typically used for clothing and scarves in India. "This series features feminist comics like a woman sitting on a man's face," adds Schmidt, noting the different station of women in France versus India.
DUVE 
New Contemporaries, Booth B 10 
With works by Maximilian Arnold, Christopher Füllemann, Leonhard Hurzlmeier
Installation view of DUVE's booth at Art Cologne, 2016. Photo by Maria Litwa, courtesy of the artists and DUVE Berlin.
"The concept was to present very process-oriented works. Each of the artists has an intense way of making their work," says 
DUVE
's Karim Crippa of the stand. Hurzlmeier's figurative works, which play with how women are depicted in art history, are deceiving in this regard. Their flat, saturated surfaces are created by no fewer than 40 coats of paint. "He works on some paintings for three years," says Crippa. 
Arnold
's works involve cutting individual strips of polyester to form a pattern—here, hangers and blind-like slats—which is then printed onto a new piece of material using an aggressive varnish which extracts pigment from the original strips. 
V1 Gallery + Halsey McKay 
Collaborations, Booth B 15 
With works by Chris Duncan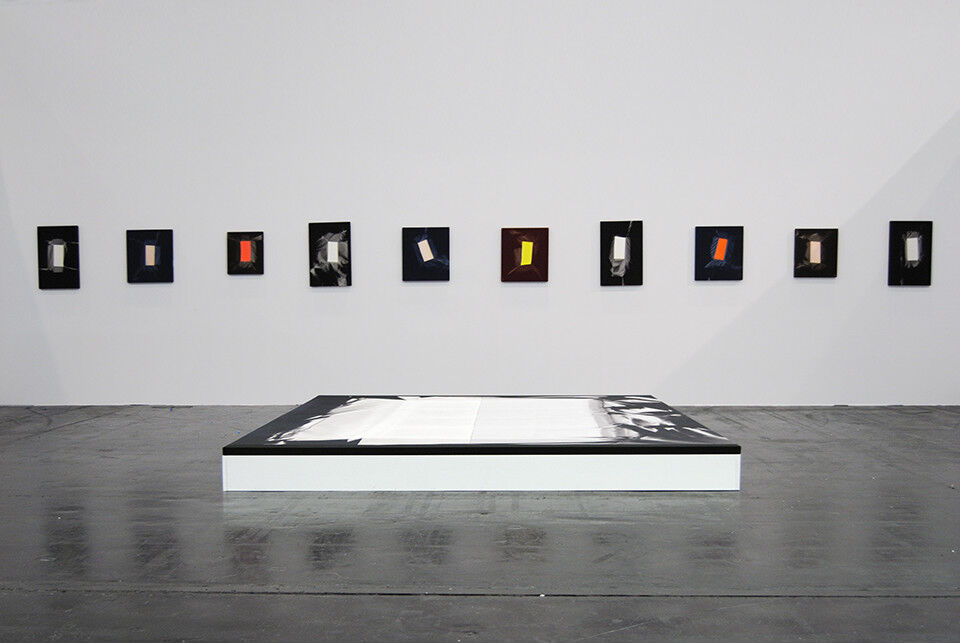 Installation view of V1 Gallery & Halsey McKay's joint booth at Art Cologne, 2016. Photo courtesy of V1 Gallery & Halsey McKay.
Duncan
's covetable canvases originate from what's perhaps the simplest practice on view at Art Cologne. He exposes each to sunlight for periods of four to eight months, letting its rays sear an image onto the surface. The smallest works, available for €4000, were wrapped around a brick and placed on Duncan's studio roof. Others were hung in front of a window, giving the pseudo-photograph a distinct depth and materiality. (They're on offer for €14,000.) The largest piece in the booth, which rests on a plinth at its center, was created by draping the canvas underneath a large skylight. Though these works are simple in their creation, their effect isn't. "There's something incredibly poetic about them," says 
V1
's Jesper Elg. "I had a couple of the small ones hanging in my office, which sold. But I had a very hard time taking them down and letting them go."
—Alexander Forbes
Stir Creativity
See how Bombay Sapphire supports artistry.
Sponsored by Bombay Sapphire