How the Bauhaus School Influenced the Way We Live Today
The far-reaching legacy of the Bauhaus movement is evoked in this fall's Triennial of Modernism, "Gropius—Open Spaces," currently on view in Berlin, after traveling from Dessau and Weimar—the three cities where the Bauhaus took up residence during its 14-year span. The triennial centers around the theme of open space, focusing on its founder 

For members of the Bauhaus, to live in the modern world meant to actualize the Gesamtkunstwerk, or total work of art. The broad, interdisciplinary approach taken by the school's instructors and their students considered fine arts, graphic design, advertising, architecture, product and furniture design, and theory not as separate fields, but as parts of a conversation about living in the modern world.
Though the Bauhaus set its sights on bringing its ideas into the mainstream, during the interwar years these concepts were still considered avant garde. We see this in Ise Gropius's fuzzy, black-and-white photo of the Director's House at the Bauhaus campus in Dessau, designed by her husband Walter and shot in 1926. In the image, the building looks as if it were anachronistically Photoshopped into its surroundings, the hard-line geometry indicative of Bauhaus architecture and design—now an icon of High Modernism—appearing out of place in its wooded Germanic environment.
Yet the simplicity of Bauhaus design allowed it to be integrated into any context. The school's instructors—among them 
The Masters' Houses all shared the same basic floor plan and prefabricated, built-in cabinetry, but each of the instructors brought their own flourishes. While some outfitted their homes exclusively with furniture designed by From Bauhaus to Our House outlines.
Despite their legacy, however, the houses of Bauhaus masters Gropius and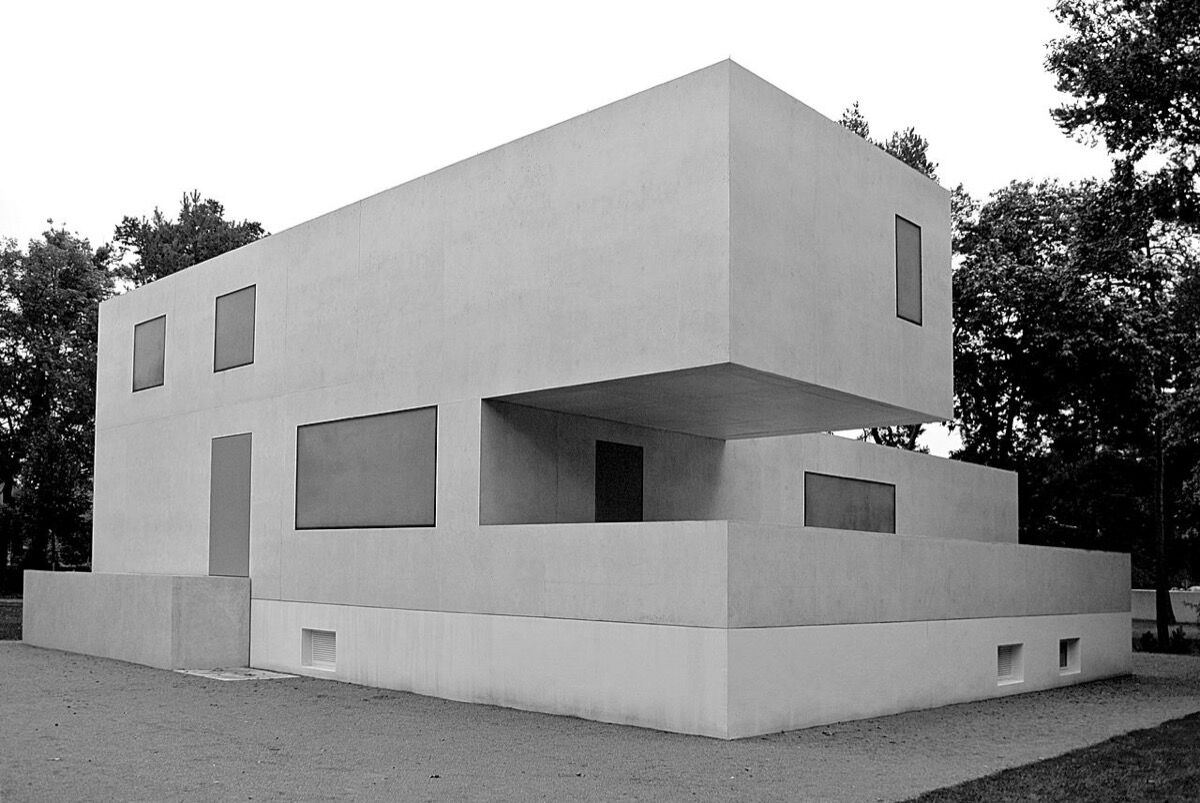 The winning design, "Blurry Reconstruction," by architectural firm Bruno Fioretti Marquez, transformed the former House Gropius into a new visitor's center, which opened in 2014. The design is a pared-down variation on the architect's original theme. The structures' already minimal design is further reduced: Flatness is made even flatter, color is muted to grey, and detail is diminished to accentuate the overall effect of the building's imposing mass. A literal shell of its former self, the structure is a blank canvas for the viewer to imbue with meaning, a symbol of the central tenets of Bauhaus thinking for viewers today.

Openness in design, whether literal space or the imaginative space left open to the beholder, is something that directly links the Bauhaus to our lives in the 21st century. Lucky for us, it only takes an Allen wrench to keep the Bauhaus alive.