These 10 Unrealized Artworks Would Have Been Spectacular
For every work on display in a museum or gallery, the artist has overcome one or dozens of hurdles: creative roadblocks, material limitations, bureaucratic red tape, even stalled fundraising campaigns. Sometimes, however, these hurdles are simply insurmountable. From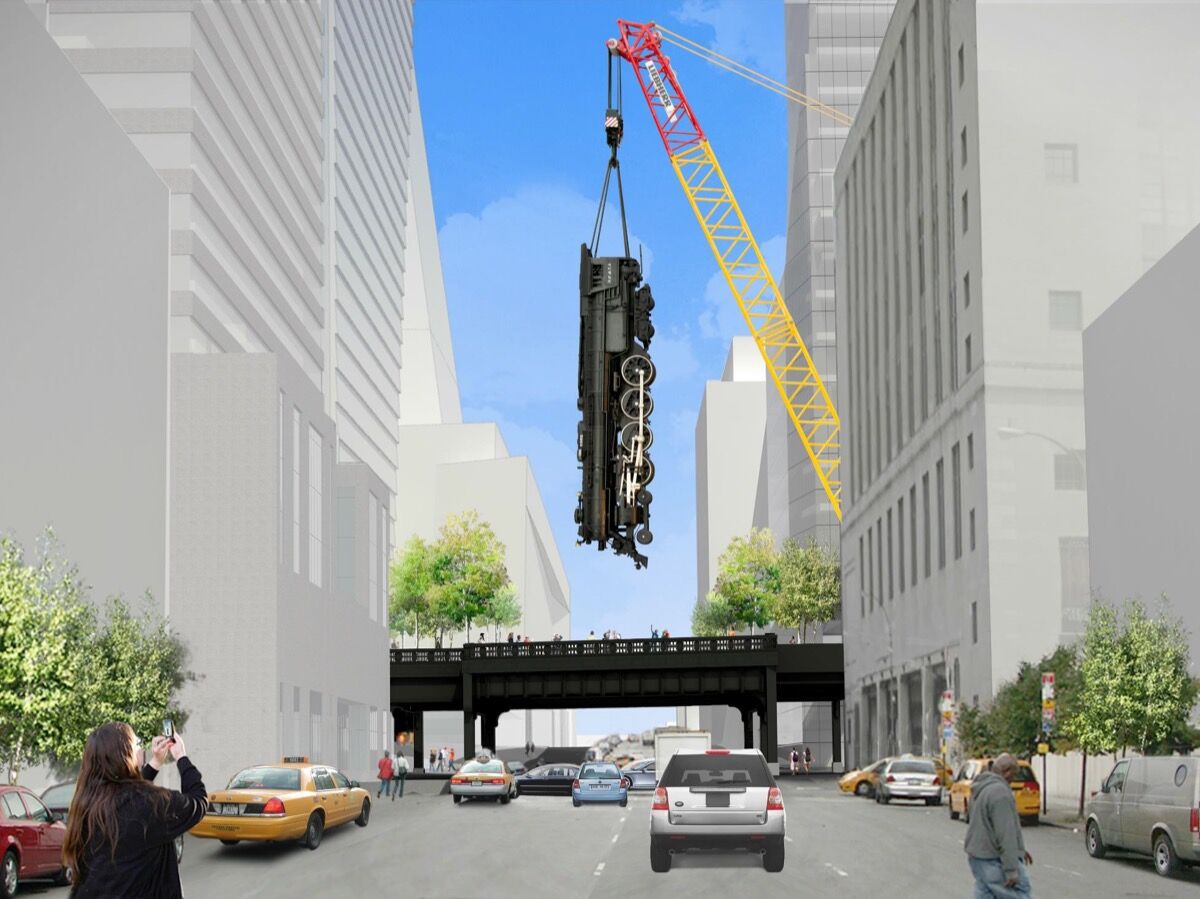 So far, all attempts to realize Koons's 161-foot-tall sculpture have run out of steam. The American artist first proposed the work—a full-size replica of a 1940s locomotive, suspended nose-down from a crane while periodically spinning its wheels and belching smoke—to French billionaire art collector François Pinault in the early 2000s. But when Pinault's plans for a museum on the Seine fell through in 2005, Koons's idea was once again up for grabs. Both
LACMA
and Friends of the High Line expressed interest in the massive work; in fact, LACMA spent more than $2 million in feasibility studies,
finally determining
that
Train
"was safe, possible, and more complicated than anyone thought." The High Line picked up the project in 2008 and again in 2012, only to see it derail both times. The likely culprit: an estimated cost of $25 million to $50 million.
Cai Guo-Qiang, Placid Earth: A Project for the Meeting of Millennia
the Chinese artist finally completed Sky Ladder (2015)
, a fiery latticework of fuses and fireworks that extended 1,650 feet into the air and burned brightly for two and a half minutes. But
Placid Earth
, proposed in 1993 for an exhibition associated with the United Nations, remains incomplete. For this work, Cai envisioned all inhabitants of Earth flicking off their lights simultaneously for the first moments of the new millennium, allowing the planet to "leap across Time and Space, a thousand years, ten thousand years, all the way to where it meets the original, primal self." He even proposed a live broadcast from satellites, offering participants a god's-eye view of Earth as it momentarily plunged into darkness.
Lee Krasner, Mural, Studio A, WNYC
Beginning in the 1930s, the WNYC radio studios in Manhattan welcomed a series of abstract murals by the likes of
said
, "Always dangling in front of me [was] that when I completed this job, I absolutely would get an abstract mural to do for myself." Despite a series of detailed preparatory sketches—which saw her subject transform from a series of still lifes into abstract shapes à la
Although Palestinian-British artist
ICA
called for displaying live video feeds of the gallery's toilet stalls, putting into focus the taboos and societal restrictions surrounding certain behaviors and bodily functions. Although the New Contemporaries committee selected Hatoum's work for the exhibition, ICA was less enthusiastic: They refused to let the piece be realized on the grounds that the bathrooms were outside the gallery space, thus viewers were not expecting art to follow them in.
Leonardo da Vinci, Il Cavallo
When da Vinci applied for a job at the court of Ludovico Sforza, Duke of Milan, he emphasized his engineering practice by listing the things he could build: portable bridges, water-supply systems, even cannons that could hurl rocks "like a hailstorm." But his most audacious proposal for the duke was a 79-ton bronze horse, what would be the largest equestrian statue in the world. The Italian polymath presented a 24-foot clay model to Sforza in 1493, but his plans were cut short when French troops overran Milan the following year. The bronze for da Vinci's horse was instead used to make weapons; his clay model shattered in 1499 when enemy archers used it for target practice. Nearly 500 years later, a retired American pilot took it upon himself to finish what da Vinci had started—a project that resulted in two massive bronze horses inspired by the Old Master's design, one in Milan, the other in Michigan.

Anthony Caro, "Park Avenue" series
It wasn't until his late eighties that English abstract sculptor

Christo and Jeanne-Claude, The Museum of Modern Art Wrapped 
Nancy Spero, Messages to the Public
Between 1982 and 1990, the Spectacolor board at One Times Square was home to a series of video artworks by artists ranging from
Public Art Fund
, was known as "Messages to the Public," and it featured 30-second animations screened between a 20-minute commercial loop. When feminist artist
Ed Ruscha, 654 things from the United States
Greeting cards. Camping equipment. Hair spray. These were just a few of the hundreds of manufactured items

Claes Oldenburg and Coosje van Bruggen, Screwarch Bridge State II