These 5 Paintings Show How Zeng Fanzhi Changed Contemporary Chinese Art
Zeng emerged on the Chinese art scene in the early 1990s with fleshy, expressionistic portraits inspired by individuals the artist saw at a clinic close to his home. Those works would lay the foundation for his career, but it was the instantly recognizable "Masks" series that made Zeng a household name, propelling the Wuhan-born talent to art-world stardom. In 2008, Mask Series 1996 No.6 (1996) broke records for a contemporary Asian artist at auction, selling for an impressive $9.7 million at Christie's in Hong Kong. Just five years later, in 2013, Zeng dwarfed that achievement when his Leonardo da Vinci-inspired The Last Supper (2001) went under the hammer for $23.3 million at Sotheby's in the same city.
But to focus on his staggering market performance overlooks Zeng's most remarkable quality as an artist: his capacity to constantly reinvent his style, approach, and media in order to best express his observations about China. That particular quality is evidenced in UCCA's current exhibition, on display through November 19th. The below works are those selected by UCCA Director Philip Tinari from the landmark exhibition. He and Zeng shared their thoughts about the works' significance.
The exhibition's titular work and the earliest piece on view at UCCA is Parcours (1990), which is the French word for journey, route, or course. Zeng completed the work as a student at Hubei Institute of Fine Arts, during a time when the artist's formal training was at odds with his instinctive means of expression. "When in class, I followed academic rules in my practice; after school, I would paint in my own way," he recalls. "During this process, I learned to employ lines, color, and form in an experimental approach, and instead of mechanically copying subjects I began to let my emotions melt into my brushstroke."
A painting on the cusp, a tipping point, Parcours serves as an early sign of Zeng's distinct approach. "We see in this small work Zeng's initial urge to use expressionist gestures to get beyond socialist realist orthodoxy—a key idea that underlies much of his following practice," says Tinari. The artist understood the painting's significance at the time he made it. "I chose this title primarily because I felt I had found a certain direction," Zeng says. "I began to experience creation as taking a parcours, an exercise of remarkable freedom."
The painting was shown in Zeng's first solo exhibition at Hubei Institute of Fine Arts Gallery in 1990, attracting the attention of art critic Pi Daojian, whose glowing review was titled "Premature Maturity." The critic's words had an impact on Zeng. "The review was a great encouragement to me," explains the artist. As a gesture of his appreciation, Zeng went on to gift the work to the critic.
Hospital Triptych No. 1, 1991
The "grim social realities" of Zeng Fanzhi's Hospital Triptych No. 1, as Tinari describes it, represented an unusual choice for a graduation work at the time it was made. Bucking the trend of students opting to travel to either the countryside for inspiration, or to far-flung places like Tibet and Yunnan "to create exotic paintings about ethnic minorities," the work documents an encounter closer to home.
"For me, life is made up of events that take place in your reach," says Zeng. "The apartment I was renting back then was really close to a hospital, and the apartment did not have a bathroom, so I had to use the hospital bathroom, taking multiple trips everyday. I grew familiar with the expressions and faces of people in the hospital and the hospital's other features, so I decided to turn this subject matter into a painting."
Tinari notes the work's nod toward Western painting conventions, both in terms of its triptych format and its configuration, which are reminiscent of religious paintings. "The combination of these interpreted structures and his emergent pictorial sensibility turned heads then as now," he explains.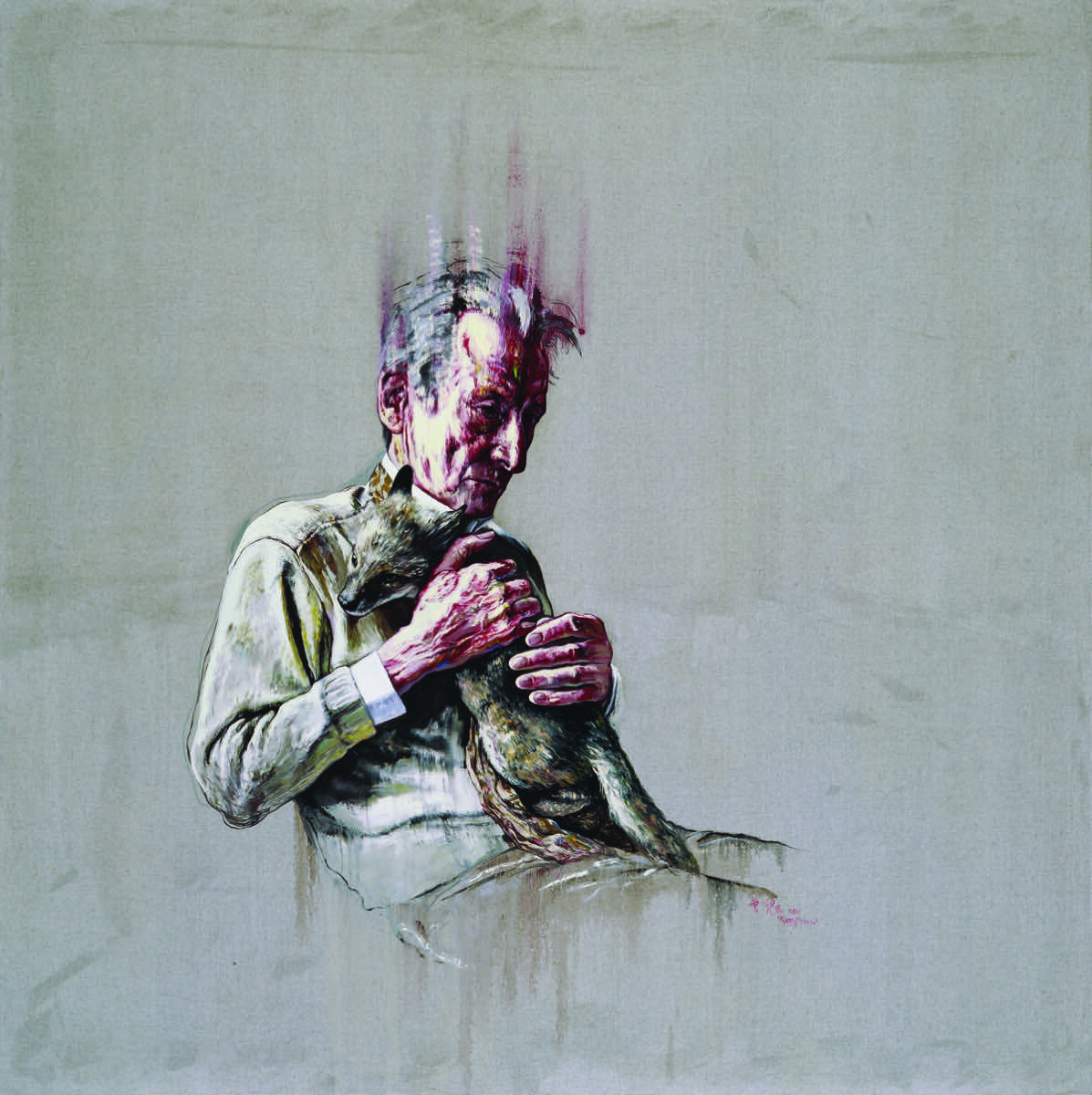 "This is probably the work in the show that Zeng himself is most proud of, a triumph of detail and blankness," says Tinari of the artist's portrait of the late Anglo-German painter holding his pet fox.
Painted from a photograph in 2011, it is at once a tribute to the painter
"This is the most exquisite of all the works in Zeng's 'abstract landscapes' series," explains Tinari. One of a succession of paintings featuring jagged branches in silhouette against color-drenched backdrops, they point to Zeng's range and evolution as an artist. Stylistically and thematically distant from his early expressionistic works, they incorporate characteristics of Western abstraction, traditional Chinese elements, and vivid color. (Blue first showed in New York in 2015 at Gagosian Gallery, which represents the artist.)
"Before I started painting, I asked several assistants to collect different shades of blue from various regions," Zeng recalls. "The blue you see on canvas is actually composed of more than 10 different colors: for instance, the shade of blue in the lower background and the shade of blue in the foreground are entirely different. According to
The exercise was indeed a catalyst for Zeng's practice, in keeping with his appetite for exploring new forms. "As for the lines in the picture, I believe they enjoy their own vitality, and as long as the overall rhythm and aura is kept in good shape, any form of development is positive," he says. "This finding was a revelation: it allowed me to grasp another creative method."




Works on Paper—triptych with three views of the tree, 2011
"The subtle monochrome of ink and graphite on paper delights and confuses," says Tinari of these recent works, on display for the first time in China at UCCA. The group of three works captures different perspectives of a tree, encountered by the artist on vacation in the south of France. "The tree is really just a device on which to hang his explorations of line and form," explains Tinari.
For Zeng, the work encapsulates the necessity, subtleties, and transience of observation. "Over the course of my creative endeavour on paper, I have discovered two insights," he explains. "First, our experiences and feelings in every second are different, what existed a second earlier might disappear after this second, and this is why the present moment matters."
"Second, the more you want to express or the closer you come to what you want to express, the more alert you must be for overexertion," he continues. "In a painting, any excessive deployment of lines is a mistake; instead, blankness or subtlety leaves more space for the audience. These two realizations gave rise to a rich array of ideas, and they coincide in large measure with my thoughts on life."