These 7 Photographers Captured the Fearless Fashion of the '70s
What accounts for the timeless appeal of the 1970s? From Gucci's fringed midi skirts this spring to Missoni's latest bohemian ruffled dresses and Vivienne Tam's flared pants on New York's catwalks this past week, the iconic decade has seen a strong resurgence in the last year of fashion. During an era defined by the sexual revolution, the fight for women and gay rights, hippie subculture, and anti-war movements in the U.S., people began to use their wardrobes as vehicles for self-expression and sartorial experimentation. Urban youth looked to pop icons like David Bowie, in his body-hugging catsuits and fluorescent-hued makeup, and Cher, with her sweeping hair, groovy crop tops and fur-lined sleeves, for inspiration.
While
Jack Garofalo, Black is beautiful: Portrait de deux femmes, 1970. Photo by Jack Garofalo/Paris Match via Getty Images.
Long before gentrification seized Harlem, Garofalo traversed the blocks of the historic upper Manhattan neighborhood for six weeks in the summer of 1970, photographing its stylish residents for Paris Match magazine. In response to a mounting crime rate, hoards of Harlemites had begun to relocate to the safer streets and better schools of surrounding New York City boroughs. The resulting series, which made the magazine's October cover story, recognizes those who stayed put, carrying the legacy of Harlem's vibrant culture and history—and sartorial excellence.
Photographs from Charles H. Traub, Lunchtime, 2015. Courtesy of the artist.
Roaming city streets with a Rolleiflex camera during his lunch break, Traub photographed passersby—bedecked in the oversized sunglasses and fur coats emblematic of the '70s—going about their days in what he
calls
the "theater of the street." From 1977 to 1980, the Kentucky-born photographer captured some 400 people across New York, Chicago, and even Milan. Just last year, these close-up, predominantly square-format photographs were published in his time capsule of a book,
Lunchtime
. "I am not a fashion photographer and was never interested in that issue, but rather into how a 'type' could be seen through the lens at looking at the face," he has said.
Photograph from Al Vandenberg, On a Good Day, 2016. Courtesy of Stanley/Barker.
After starting off shooting musicians in the '60s (most notably collaborating on the Fab Four's album cover for
Sgt. Pepper's Lonely Hearts Club Band
), Boston-born photographer Vandenberg was disenchanted by the commercial scene and began to focus on street photography. His portraits of London youth in the '70s and '80s—in styles ranging from dandy to retro to glam rock—are laid bare in a 2016 photo book,
On a Good Day
. "He was very low-key, and you can tell that the people who engage with him—they're at ease,"
said
V&A curator Martin Barnes of his work. "It's very hard to make street portraits like that now and have that lack of wariness or defensiveness."
Nick DeWolf, Los Angeles, California, 1974. Courtesy of the Nick DeWolf Photo Archive.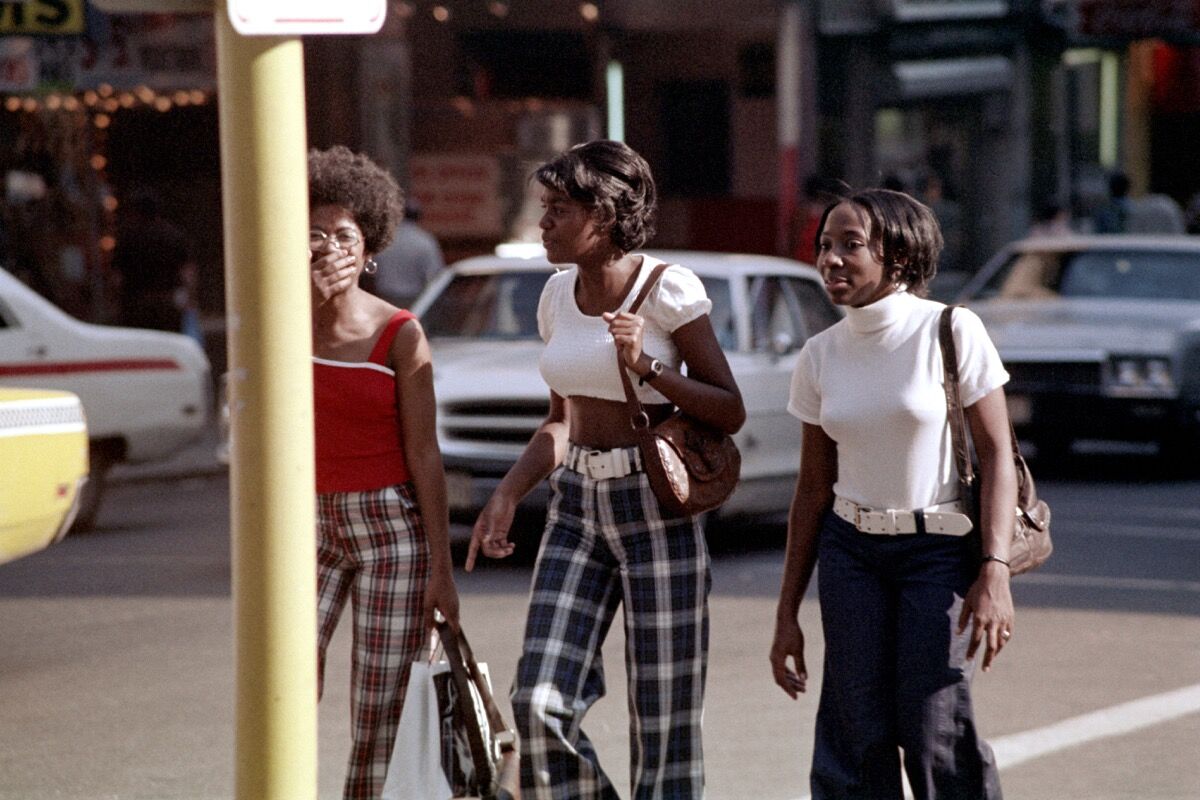 Visionary businessman DeWolf is perhaps better known for founding billion-dollar tech company Teradyne, but his lifelong passion was photography, which he picked up in high school. From the 1940s until his death in 2006, he documented both intimate family affairs and his widespread travels across the U.S. and around the world, from England and Greece to Hong Kong and Thailand. From this prolific yet largely unseen body of work, an unexpected treasure trove of urban street style in the '70s—in his home city of Boston, as well as New York—has only recently been recognized for its unassuming look at the everyday fashion of the times. In candid shots of unsuspecting streetwalkers in Harvard Square and crosswalks of Manhattan, it's evident how diverse—and playful—fashion became, changing just as rapidly as the urban neighborhoods he photographed.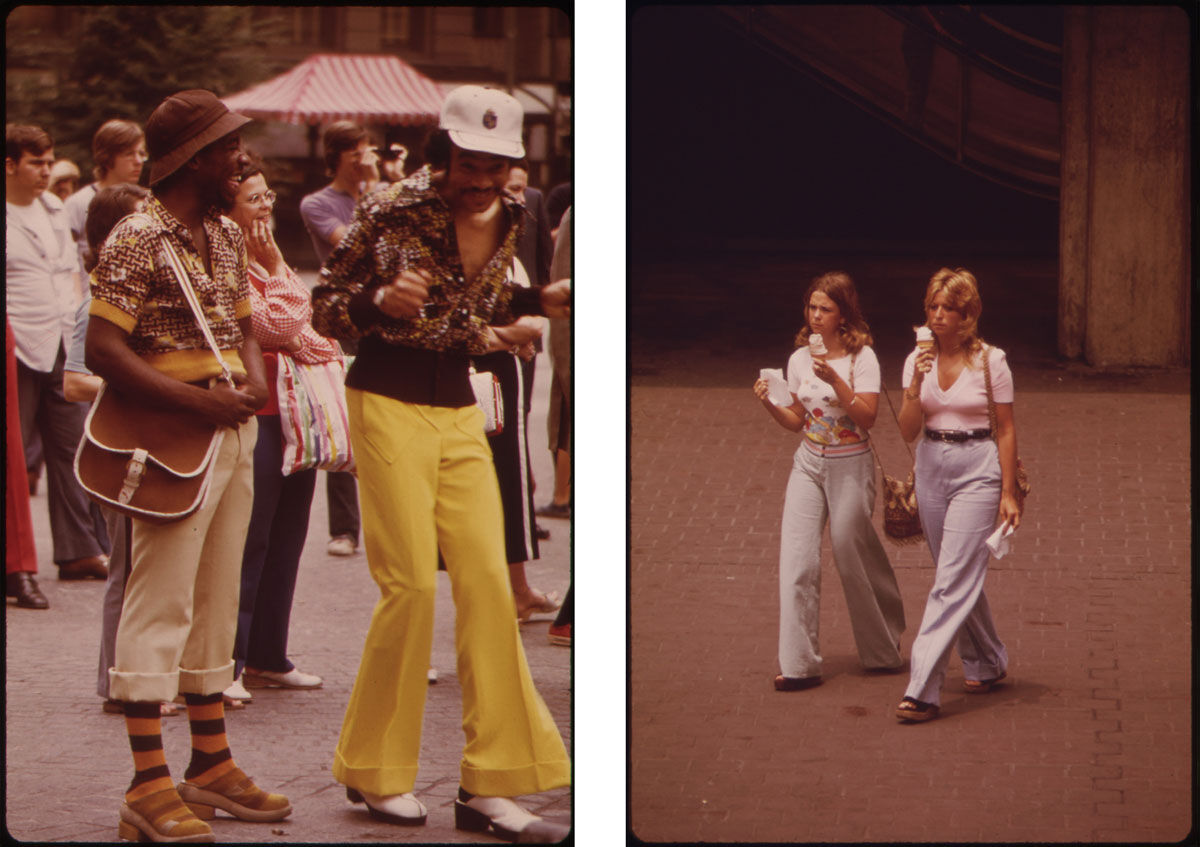 Left: Tom Hubbard, Far-Out Style Setters Groove to Music of Fountain Square Band 06/1973, 1973; Right: Tom Hubbard, Quick Snack in Fountain Square 06/1973, 1973. Images from the U.S. National Archives, via Flickr.
In the early '70s, Hubbard was commissioned by the Environmental Protection Agency for Project Documerica, which saw a roster of some 100 freelance photographers travel across the U.S. to photograph polluted cities, the natural landscapes they threatened, and the everyday lives of the people inhabiting them. Hubbard's subject was Fountain Square in downtown Cincinnati, where he shot the acoustic guitar jam sessions, anti-war protests, and leisurely onlookers—sporting funky patterns, high-rise bell-bottoms, and flannel shirts—that came and went in the spring and summer of 1973.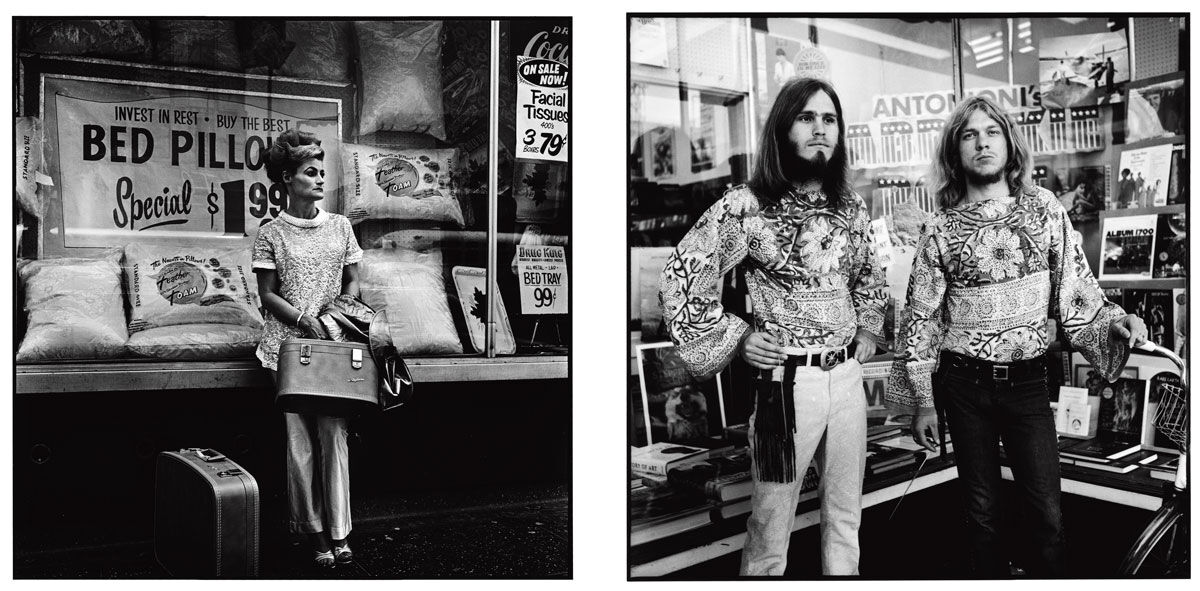 Photographs from Dennis Feldman, Hollywood Boulevard: 1969-1972, 2015. Courtesy of the artist.
Inspired by the photographs of Abbey Road. On the decade's timeless appeal, Feldman points to the "burst of freedom" that characterized everything from gender roles and the sexual revolution to punk, disco, and rock 'n' roll—a sense of rebellion routinely encapsulated in the expressive ensembles caught before his Rolleiflex camera. "Until then, people had to be dignified," he told me of the restrained fashion of earlier decades. "Then the dam broke, and the water went everywhere."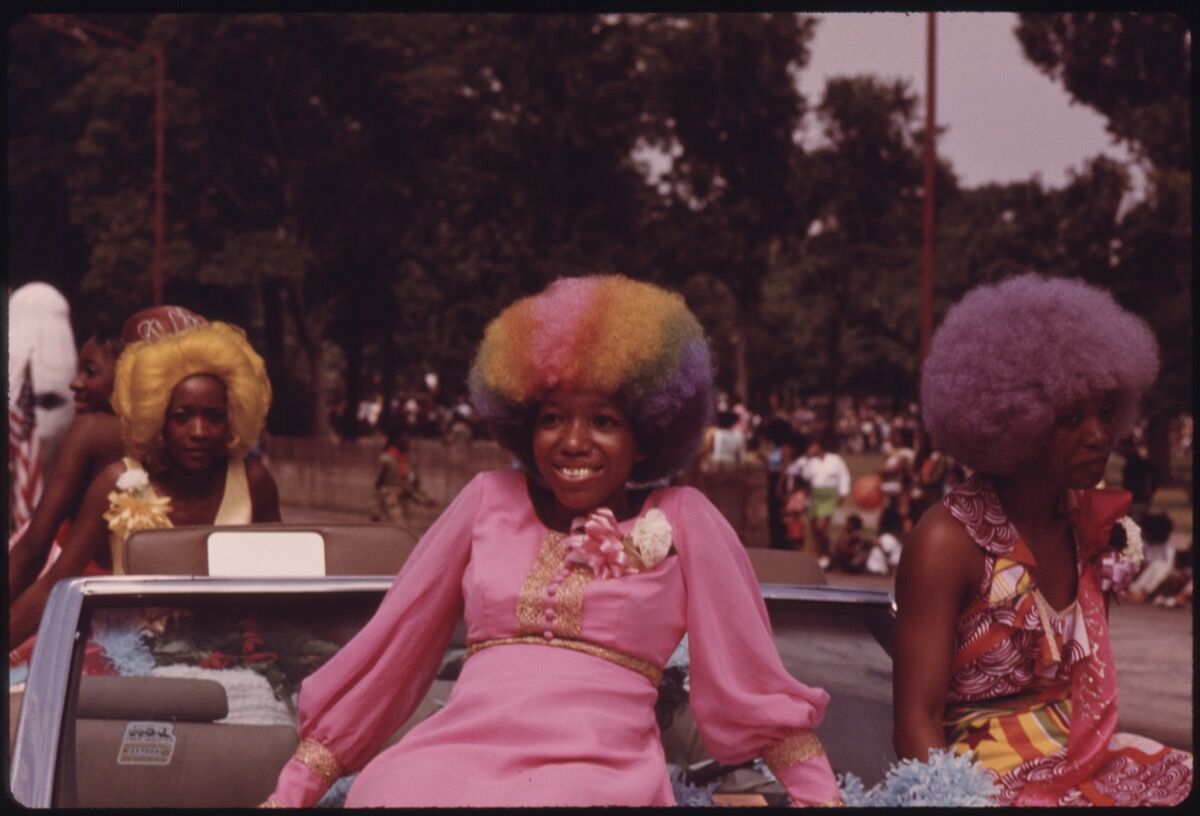 John H. White, Black Beauties with Colorful Hair Grace a Float During the Annual Bud Billiken Day Parade, 08/1973, 1973. Image from the U.S. National Archives, via Flickr.
Also on assignment for Documerica, White zoomed in on the everyday lives of black communities on Chicago's South Side in the early '70s. Catching moments of joy and hardship, from family outings at Lake Michigan to political protests and religious speeches, his photographs celebrate black beauty and culture while bearing witness to political and economic struggles of the time. This photograph sees women beaming atop a float in the annual Bud Billiken Day Parade—the largest African-American parade in the U.S.—along Dr. Martin L. King Jr. Drive, their rainbow-dyed afros matching their disco-ready dresses.
Demie Kim is an Editorial Associate at Artsy.
Stir Creativity
See how Bombay Sapphire supports artistry.
Sponsored by Bombay Sapphire