10 of the World's Most Iconic Cemeteries, Mausoleums, and Crematoriums
"I wanted to show some ways in which you could approach death in a social and civic way, and further, what meaning there was in death, in the ephemerality of life—other than these shoeboxes," explained Venetian architect
Though we may think of cemeteries as transporting us to the past to remember and honor our loved ones, they have historically been spaces of innovation and reinvention in art, architecture, and design. In the 19th century, for example, idyllic park-like cemeteries were established in response to increasingly overcrowded, unhygienic urban graveyards. Some of the most visionary resting places for human souls were designed in this past decade alone. From the Alpine countryside to the forests of Sweden, these cemeteries, mausoleums, and crematoriums are artworks in their own right—and worthy memorials to the deceased.

Cimitero Monumentale di Milano in Milan, Italy
Architect: Carlo Maciachini | 1886
Left: Photo courtesy of Bruno Balestrini. Right: Photo courtesy of Giulia di Marco.
Described as an "open-air museum," this monumental cemetery is a treasure trove of art, architecture, and design from the 19th and 20th centuries. Among the eclectic array of styles—including Egyptian,
Chapel of the Chimes in Oakland, California
Architect: Julia Morgan | 1909

Left: Photo courtesy of @desiye_ via Instagram. Right: Photo courtesy of Raena DeMaris.
The first woman to graduate from the architecture program at the École des Beaux Arts in Paris, Julia Morgan oversaw the redesign and expansion of Oakland's Chapel of the Chimes in 1909. Named a "chapel" for its interior design rather than its function, the Moorish and Gothic-inspired columbarium is a maze-like configuration of rooms, winding hallways, and indoor gardens. Thousands of funerary urns (some shaped like books) occupy niches in the walls, resulting in a serene, library-like setting. In 1959, Morgan's eclectic design was further expanded with Aztec-inspired additions from Aaron Green, a protegé of

San Cataldo Cemetery in Modena, Italy
Architect: Aldo Rossi | 1984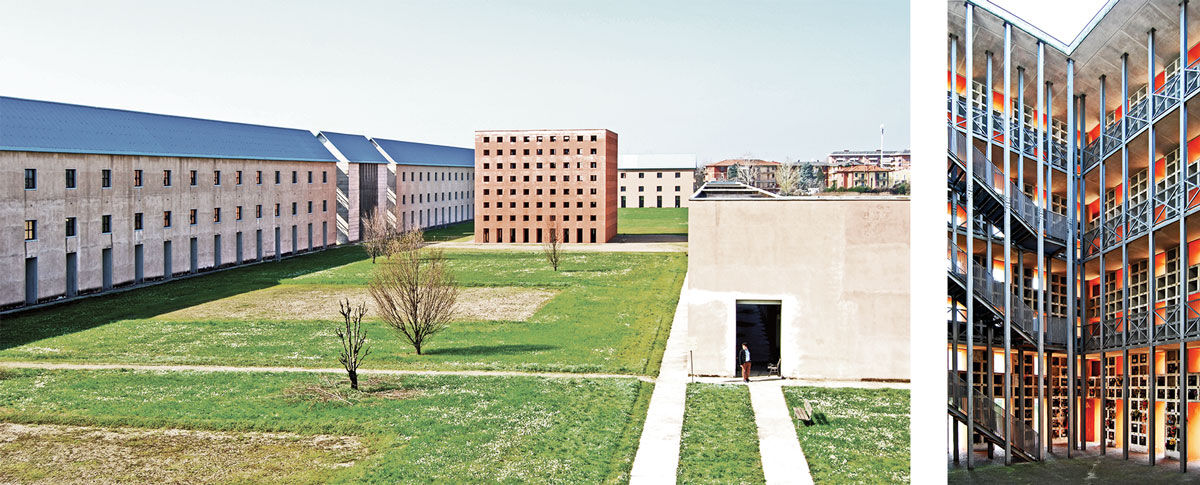 Photos courtesy of Diego Terna.
The Italian architect and theorist

Brion Cemetery in San Vito d'Altivole, Italy
Architect: Carlo Scarpa | 1978
Photos courtesy of Nuno Cera.
Located in the Veneto region—which is also home to
Meiso no Mori Crematorium in Kakamigahara, Gifu, Japan
Architect: Toyo Ito | 2006
Left: Photo courtesy of Alberto Pugnale. Right: Photo courtesy of Tomooki Kengaku.
From above, the Meiso no Mori crematorium in Kakamigahara, Japan looks like a polished white sand dune that gracefully echoes the hilly landscape around it. Serene and seemingly weightless, the undulating roof is actually a 20-cm-thick layer of concrete. Underneath, columns appear to drip down from the roof; inside, walls of glass separate areas designated for funerals, wakes, and cremation. Designed by Japanese architect Toyo Ito in collaboration with engineer Mutsuro Sasaki and project architect Leo Yokota, this "Forest of Meditation" and its accompanying park cemetery, which is currently in development, was envisioned as a gentle space that departs from the characteristic solemnity of crematorium design.

Sunset Chapel in Acapulco, Mexico
Architect: Bunker Arquitectura | 2011
Photo courtesy of Esteban & Sebastian Suarez.
Shaped like a boulder, this mausoleum is perched among large granite rocks in a mountainous terrain in Acapulco. When given the commission, Bunker Arquitectura was faced with the challenge of incorporating views of the surrounding landscape, which were then obscured by a huge boulder. They found a solution by raising the level of the chapel and, to impact the natural vegetation as minimally as possible, reduced the footprint to nearly half of the upper floor. Inside the second-floor chapel, light floods in through vertical slits in the wall, and a glass wall opens out to a magnificent view of the sunset—for which it is aptly named.
Extension to the Gubbio Necropolis in Gubbio, Italy
Architect: Andrea Dragoni | 2011
Just five years ago, Andrea Dragoni completed an extension to an ancient necropolis at the base of Mount Ingino in the Apennines. Rows of monumental walls—made of travertine, a traditional Italian material used by the Etruscans to build some of Italy's most important Renaissance structures—echo the linear arrangement of the surrounding town, Gubbio. "I wanted to reinterpret the material to emphasize the gravity of the volumes of the cemetery and their strong abstraction," he once
explained
. In between the walls, four separate courtyards offer a public, social space for reflection, with square skylights inspired by
Crematorium in Kėdainiai, Lithuania
Architect: Architectural Bureau G.Natkevičius & Partners | 2011
Photo courtesy of Gintaras Česonis.
In 1911, the Belgian Nobel Laureate Maurice Maeterlinck penned the treatise
Death
, which challenged many taboos about human mortality and advocated for crematoriums. "Decay offends our senses, stains our memory, slays our courage," he wrote. "But purified by fire the memory lives on in the ether as a glorious idea, and death is nothing more than undying birth in a cradle of flame." Yet crematoriums have historically been met with resistance on religious, political, and environmental grounds, especially in Lithuania, where architects only succeeded in building the first crematorium in 2011. Consisting of concrete walls punctured by square windows, the crematorium in Kėdainiai is designed,
according to its architects
like a "human introvert," to close itself off from the sugar mills and fertilizer factories that surround it. A private interior courtyard serves as an "emotional filter" before entering the facilities.
Islamic Cemetery in Altach, Austria
Architect: Bernardo Bader Architects | 2012
Photos courtesy of Julia Stockinger.
Inspired by the primordial garden where, in Islamic tradition, God placed the first humans, this Islamic cemetery in the Alpine countryside serves the 8 percent Muslim population in Vorarlberg, a state in western Austria. The red-tinted concrete walls contain prayer rooms, which lead out to five rectangular graveyards, each enhanced by trees, benches, and patches of grass. On the face of the building, a long window is adorned by an oak screen, latticed in the traditional pattern of an Islamic mashrabiya. The year the cemetery was built marked the 100th anniversary of Austria's "Islamic Law," which, following the Austro-Hungarian Empire's annexation of Bosnia and Herzegovina, recognized Islam as a religion and guaranteed Muslims the same rights as all other recognized religions in the empire. 

New Crematorium at Skogskyrkogården Cemetery in Stockholm, Sweden
Architect: Johan Celsing Arkitektkontor | 2013
Photos courtesy of Ioana Marinescu.
Respect for the dead, the living, and the surrounding landscape is reflected in every element of this crematorium, the winning design of an international competition in 2009. Nestled in an uncultivated territory of the Woodland Cemetery in Stockholm, the compact, one-story building—presented by the architect as "A Stone in the Forest"—seeks to blend into its environment, its red bricks matching the surrounding century-old pine trees and the sloping roof following the curve of the hilly terrain. Inside, exposed white concrete walls reflect natural light to provide what the architect called "a sense of clemency," and the brick canopy at the public entrance allows mourners to seek solace in the woods.

—Demie Kim

Marc Quinn Iris
Explore the cup collection here.
Sponsored by illy