How This Tiny Museum in Virginia Lands Major Shows of Botticelli and Michelangelo
Photo by Stephen Salpukas, via William & Mary.
When news broke that an unprecedented show of work by
"We're really punching above our weight class, being a modest-sized university museum," says Muscarelle director and CEO Aaron De Groft. Under the leadership of De Groft and the Italian art scholar and curator Dr. John T. Spike, the small museum at the College of William & Mary has built up a track record over the past decade of ambitious shows of Italian old masters. Within its small footprint on campus, the Muscarelle has hosted shows dedicated to
The museum opened in 1983 under the leadership of current
MoMA
director Glenn D. Lowry, and has long aspired to live up to the university's legacy. The second-oldest college in the nation, William & Mary was the first in the U.S. to collect and teach art (beginning in 1732 and 1779, respectively). And while it holds a high-quality permanent collection that includes works by 
Georgia O'Keeffe
, and
"This is one in a series of exhibitions that have built upon relationships and opportunities with our Italian colleagues," De Groft says of the Botticelli show. That series began in 2011, with a small show of Michelangelo drawings, which was made possible through Spike and De Groft's relationships with the Casa Buonarroti, the Michelangelo museum in Florence that loaned the show's 12 works.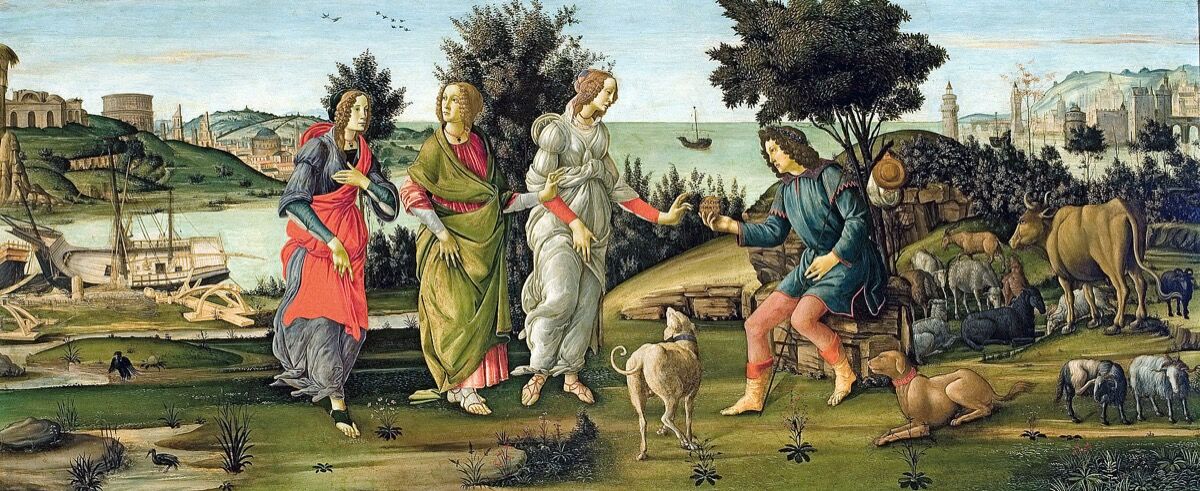 Sandro Botticelli and Workshop, Judgement of Paris, 1485-1488. Giorgio Cini Foundation, Galleria di Palazzo, Venice. Image courtesy of the Muscarelle Museum of Art & Museum of Fine Arts Boston.
"That set the table for a major Michelangelo drawing show," De Groft continues, nodding to the 2013 follow-up show "Michelangelo: Sacred and Profane," which gathered together 25 drawings from Casa Buonarroti and attracted over 25,000 visitors over its two-month run (then a record-breaking number for the museum). Shortly after, in 2014, they presented an exhibition of three works believed to be by Caravaggio or his followers.
The most successful show (perhaps until now), though, was "Leonardo da Vinci and the Idea of Beauty," which showcased 15 da Vinci drawings, including loans from the prestigious Uffizi Gallery in Florence, and garnered some 63,000 visitors in six weeks. Patrons came from as far away as Sydney, Australia. It traveled on to the 
Museum of Fine Arts, Boston
 (which is also a partner institution for the current Botticelli show), and the Palacio de Bellas Artes in Mexico City; at the latter museum it was seen by over 200,000 visitors in the first six weeks.
De Groft notes that the strong reception has been gratifying. "Ten years ago, the entire attendance in a year at the Muscarelle was 11,000—we've done that in almost a week with these major shows," he says.
Exhibitions such as these require serious funds for everything from insurance to the cost of couriers who travel with the works of art and oversee their installation (for the Botticelli show there were as many as 10). So, in step with its attendance numbers, the Muscarelle has solicited large private gifts and cultivated an expanding donor base to support its increasing operating budget.
A fall-winter 2015 museum newsletter reports that the budget grew from $375,000 in 2005 to $3.5 million in 2015, and the college's financials show that the museum received $1,730,188 in private gifts in 2016. When asked about funding, De Groft points to multiple other revenue streams, including memberships, rental fees, admission, and the sale of books and posters.
But money only goes so far. He emphasizes that Dr. Spike's three decades of scholarship and connections in Florence have been essential to putting on these shows. "It's all about relationships," he says, "without the relationships you have no real in, no beckoning power."
Filippo Lippi, Madonna and Child, ca. 1466-1469. Palazzo Medici Riccardi, Florence (property of the Città Metropolitana di Firenze). Image courtesy of the Muscarelle Museum of Art & Museum of Fine Arts Boston.
Detail of Sandro Botticelli, Venus, ca. 1484-1490. Galleria Sabauda, Turin. Image courtesy of the Muscarelle Museum of Art & Museum of Fine Arts Boston.
The new Botticelli show features 16 works by the great Renaissance master, as well as the paintings of his teacher 
The works on show are traveling from the Uffizi and the Pitti Palace, among some 20 esteemed lending institutions. Most prominent is a full-length painting of Venus from the Galleria Sabauda museum in Turin, painted after the central figure of the artist's famed Birth of Venus (1484–1486) and never before shown in the U.S.
The Muscarelle organized the exhibition in partnership with Italy's Associazione Culturale Metamorfosi, and it will travel on to the Museum of Fine Arts Boston (the only other venue for the show, as Italian law limits the time the works may remain outside of the country).
He notes that despite this being the fourth show of this kind for the Muscarelle, negotiations around securing loans remain a significant challenge that involves working not only with the lending institutions, but also with provincial ministries of culture and superintendents who oversee cultural heritage. "It's been more difficult in some ways," he says of the Botticelli show, noting the large number of institutions they loaned from, as well as the custom architectural elements and detection and surveillance devices they needed to install to protect the works.
Sandro Botticelli, Saint Augustin in his Study, ca. 1480. Chiesa di San Salvatore in Ognissanti, Florence. Image courtesy of the Muscarelle Museum of Art & Museum of Fine Arts Boston.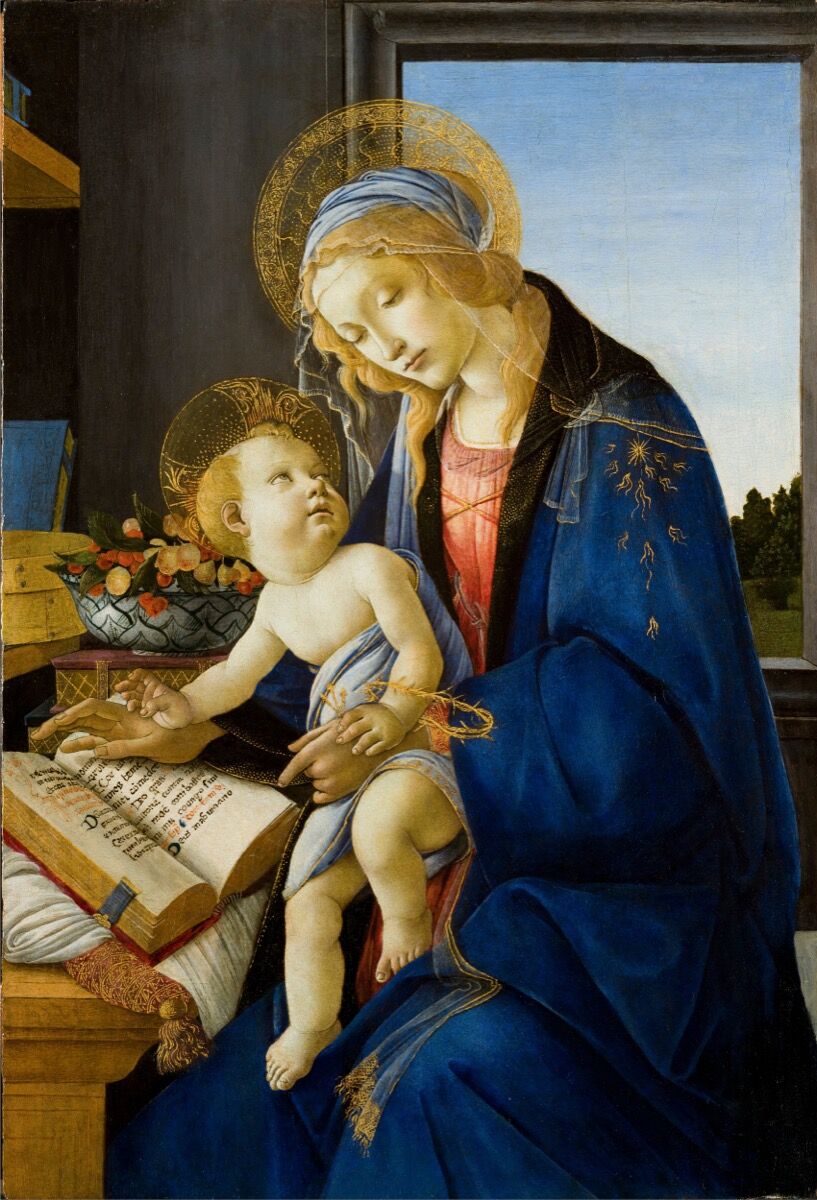 Sandro Botticelli, Madonna of the Book, ca. 1479. Museo Poldi Pezzoli, Milan. Image courtesy of the Muscarelle Museum of Art & Museum of Fine Arts Boston.
But beyond the Botticelli show, the museum now faces a new frontier: a major expansion of its space and programming. "We've totally outgrown this space, given the number of people that are coming in," De Groft says, adding that with only a small space, there are few opportunities to show the permanent collection.
A major fundraising campaign focused on the arts at William & Mary is currently underway. It includes fellowships for art history students and professors, a larger facility for exhibitions and the permanent collection, and endowments for staff positions. De Groft notes that feasibility studies are in progress and an esteemed architect—"a top five architect in the world"—has been chosen to lead the expansion.
The Botticelli show has large shoes to fill, but according to De Groft, it's set to exceed those expectations. "We can say one thing," he says, "and that is the Botticelli show is outpacing the record-breaking attendance of the Leonardo da Vinci exhibition in 2015 that broke not only our attendance records for an exhibition, but also that of Boston."
Casey Lesser is Artsy's Creativity Editor.