Can a Title Make or Break Your Exhibition?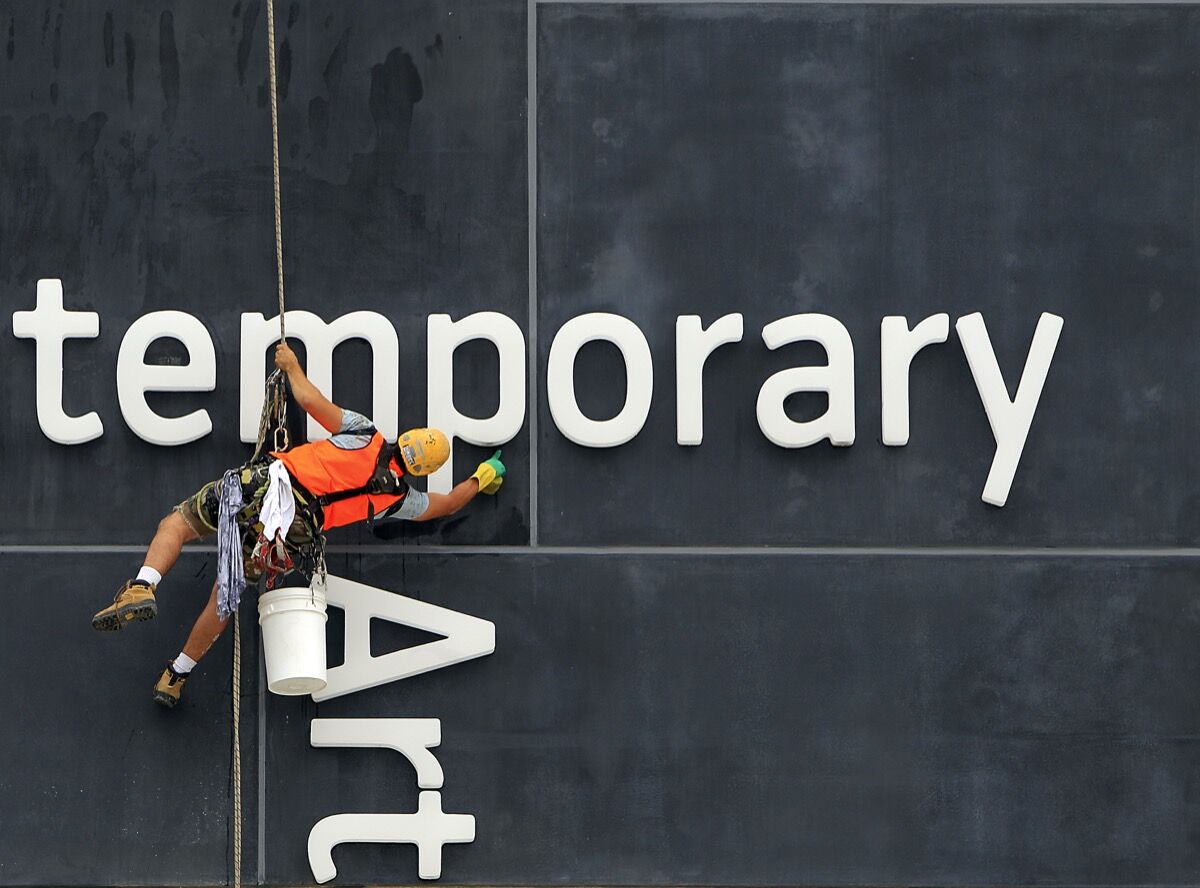 Lettering signage at the Museum of Contemporary Art, Sydney, 2012. Photo by Steve Christo/Corbis via Getty Images.
So you've spent months carefully curating a group show, securing an adequate space, and wrangling the artists—all the exhibition needs now is a title. A good name can inspire early enthusiasm and critical interest; it can allude to the show's themes or remain coy and provocative. Despite the fact that anything goes when it comes to christening an exhibition, curators often fall back on comfortable tropes.
Museums are especially fond of colon-separated clauses (as in the
Metropolitan Museum of Art
's forthcoming "Everything Is Connected: Art and Conspiracy"). Sometimes they insert trendy terms from critical discourse (the
New Museum
's recent "Trigger: Gender as a Tool and a Weapon" comes to mind). In 2013, spoofing exhibitions' self-serious titles, art historian and independent curator Rebecca Uchill created a
Random Exhibition Title Generator
with web developer Ben Guaraldi. The site proffers such pretentious, buzzword-laden, and ultimately meaningless phrases as "Parsing Relevance: Queers and Dilettantism" and "Extravagant Dreams: Deconstructing Social Practice."
"Hot Tub Time Machine," CANADA Gallery
Poetry is another favorite resource for show titles, with Frank O'Hara
an obvious favorite
. A 2012 show at
Bortolami
curated by Tom Burr used the line "Now I Am Quietly Waiting For The Catastrophe Of My Personality To Seem Beautiful Again, And Interesting," and
the art school
at the University of Wisconsin–Madison has co-opted "Meditations in an Emergency"—both cribbed from O'Hara's oeuvre.
The band Talking Heads have unwittingly donated
a number of lyrics
to exhibition titles. "This Must Be the Place" has introduced shows of varying media, from
landscapes
to
photography
. In 2008, the
Brooklyn Museum
mounted "Burning Down the House: Building a Feminist Art Collection," and this past summer, Transmitter Gallery borrowed the band's concert film title,
Stop Making Sense
.
A command can also prove effective. The title of Hans Ulrich Obrist's participatory show "do it," first mounted in 1994, immediately highlighted the do-it-yourself conceit of the mobile, generative exhibition.
Installation view of "SYPHILIS" at Rental Gallery, New York. 2018. Courtesy of Rental Gallery.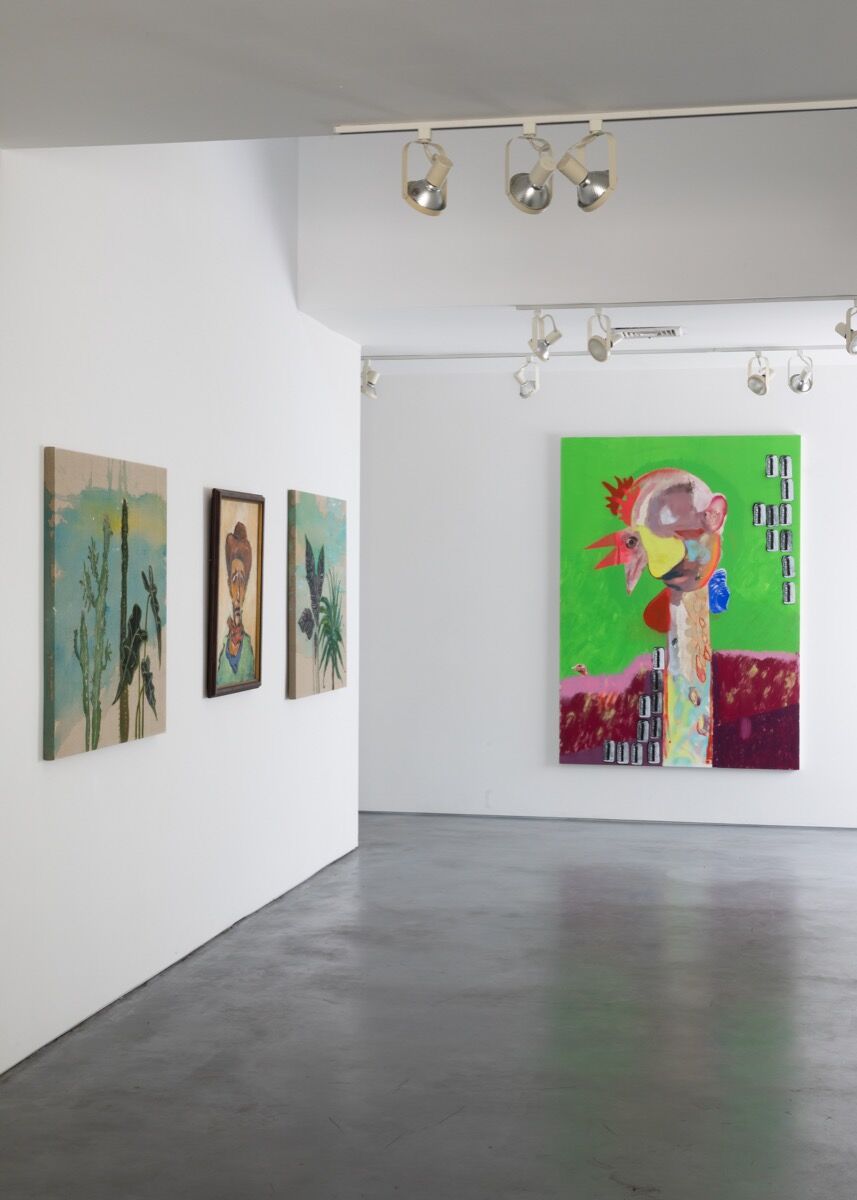 Installation view of "SYPHILIS" at Rental Gallery, New York. 2018. Courtesy of Rental Gallery.
Sometimes an exhibition title suggests a definitive moment in art history. "Primary Structures," first staged at the
Jewish Museum
in 1964,
canonized
American and British minimalist works by artists such as
Museum of Modern Art
from 2014 to 2015, "The Forever Now: Contemporary Painting in an Atemporal World" attempted to gather—and implicitly endorse—the best contemporary painters (
On the other hand, calling out an underrepresented group in your show title can easily backfire. MoMA's recent "Making Space: Women Artists and Postwar Abstraction" led critics to request that the museum make space for the included artists—
A show shouldn't be judged on the merits of its title alone, of course. But sometimes, a good name can induce an audience to engage with the artwork in a new way. Below, several experienced gallerists offer insights that might be helpful to anyone headlining their press release. A rose, by any other name, might miss out on a review.
"Someone Has Stolen Our Tent," Simon Preston Gallery
This summer, Joel Mesler invited dealers Adam Cohen of
Gagosian
and Anton Kern of
Anton Kern Gallery
to co-curate a show at his own Rental Gallery in East Hampton. The trio at first considered dubbing their project "Daddy Issues" and including work that addressed fathers in the art world (the idea particularly resonated with Cohen, the son of British collector and curator Frank Cohen). Kern wanted to call it "Eros" or "Erotica" and include fewer patriarch-centered works.
Around a table at Bar Pitti in the West Village, they made something of a compromise, and "Syphilis" was born. The exhibition, which features works by artists including
The titular disease, Cohen noted, has contributed to many artists' downfalls (Charles Baudelaire, Gustave Flaubert,
Installation view of work by Damien Roach in "Someone Has Stolen Our Tent" at Simon Preston Gallery, 2012. Courtesy of Simon Preston Gallery.
"When you come up with a title, then you work around the parameters," Kern said of their process. "It's catchy. It sticks." For anyone with a press release-cluttered inbox, the bold, unusual title—both off-putting and laugh-inducing—immediately grabs the reader's attention, its shock value amplified by the gallery's genteel Hamptons clientele. A potential headline, "'Syphilis' Comes to the Hamptons," nearly writes itself.
Not everyone takes such pleasure in determining what to call their shows. "I have a love/hate relationship with exhibition titles," said Paula Naughton, former director of Simon Preston Gallery who recently stepped down to become an independent curator. In a solo show, a title can, according to Naughton, signify an artist's extended practice, or open up "some correlations you might be finding between a group of works, rather than closing down any narratives."
Susan Swenson, co-owner of Pierogi, agreed. "The title may influence or frame how the viewer perceives the work," she said. The gallery recently hosted "Les Fleurs du Mal" ("The Flowers of Evil"), a title borrowed from a Baudelaire poetry collection. The group show centered on an eponymous series of miniature, colorfully painted mud sculptures by
"Now I Am Quietly Waiting For The Catastrophe Of My Personality To Seem Beautiful Again, And Interesting," Bortolami Gallery
Naughton's most inventive title may be "Someone Has Stolen Our Tent," employed for a 2012 summer group exhibition with works by
Different rules, however, apply for solo shows. "I always take the artist's lead when it comes to exhibition titles," said
Lehmann Maupin
's senior director Amy Cosier. In her experience, artists like to reference their research, highlight an underlying message, or underscore a theme that ties all the works together.
This season, the gallery will open "Liza Lou: Classification and Nomenclature of Clouds" in New York and "Nari Ward: Correctional" in Seoul. The former is based on Lou's research on amateur meteorologist Luke Howard's 1802 lecture "Essay on the Modification of Clouds," the first scientific attempt to classify varieties of clouds.
Nari Ward, Knot Endings, 2010. Courtesy of the artist and Lehmann Maupin, New York, Hong Kong, and Seoul.
Nari Ward, Swing Low, 2015. Courtesy of the artist and Lehmann Maupin, New York, Hong Kong, and Seoul.
Meanwhile, Ward's exhibition of new work will feature copper panels with abstracted references to both bondage and prayer. The artist "was thinking about the term 'correctional' as having multiple meanings," Cosier said. "It can be interpreted as being both punitive but also altruistic." The best exhibition titles, like Ward's, expand viewers' interpretive possibilities.
"Buy My Bananas," Kate Werble Gallery
Alternately, in group shows, curators generally produce the titles. Recently, Lehmann Maupin closed "American Landscape," featuring works by
Summer group shows
often boast the art world's most inventive, unexpected titles. CANADA Gallery offered "Hot Tub Time Machine" back in 2012, which was a good year for offbeat appellations; the exhibition coincided with "Buy My Bananas" at Kate Werble Gallery and "The Mystery Trend" at
Wallspace
.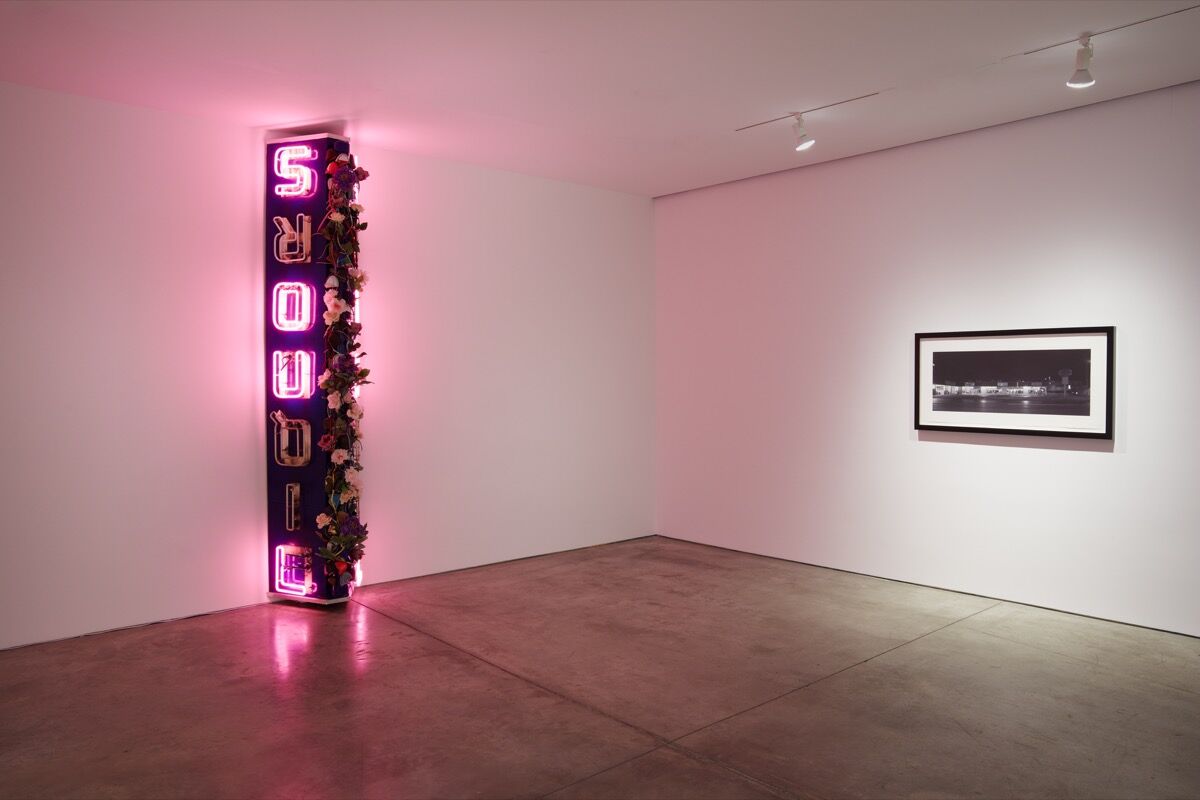 Installation view of "American Landscapes" at Lehmann Maupin, New York, 2018. Courtesy of Lehmann Maupin.
This summer,
Andrew Kreps
has mounted the atmospheric-sounding "After Hours in a California Art Studio," while the title of a concurrent show at Klaus von Nichtssagend relies on a
series of emojis
: a starburst, roller coaster, sun, umbrella, rainbow, whale, and volcano.
Cohen, Kern, and Mesler had lots of hypothetical title ideas. At Bar Pitti, Cohen threw out "The People Versus." Kern suggested "Zeitgeist," the name of a pivotal 1982 exhibition in Berlin that featured the work of Italian, German, and American painters.
The Getty Center
used the term again in 2015 when it mounted "Zeitgeist: Art in the Germanic World 1800–1900." It's an endlessly renewable word for any curator positing a crucial artistic "moment."
At his own gallery, Mesler once mounted a show called "Jew York," a survey of Jewish artists working in the city. The name, at the very least, won him press in Jewish trade publications. An exhibition title, he said, is "like anything in life. It could mean nothing or it could mean everything."
Alina Cohen is a Staff Writer at Artsy.
Stir Creativity
See how Bombay Sapphire supports artistry.
Sponsored by Bombay Sapphire