Top Lots at Christie's and Sotheby's Impressionist and Modern Auctions Fail to Sell
Sotheby's recorded a total of $315.4 million with fees at its Impressionist and modern evening sale in New York on Monday, beating the sale's low estimate, even though the evening's star lot, Pre-War Pageant (1913), failed to find a buyer; the work had been expected to sell for as much as $30 million. The auction came on the heels of Sunday's Impressionist and modern evening sale at Christie's, where high-profile flops contributed to a tepid total of $297.2 million with fees, well below the pre-sale estimate of $304.7 million, which does not include fees; the result was 42% below the $479.3 million total at the same sale a year ago.
Coin de jardin avec papillons
(1887) was estimated to sell for $40 million at Christie's, but bidding failed to reach $30 million, and the work was bought in. At Sotheby's York Street saleroom Monday, the Hartley failed to receive a single bid. Prior to the sale, Sotheby's had
trumpeted
the abstract painting as "the most important work of American modern art ever to appear at auction."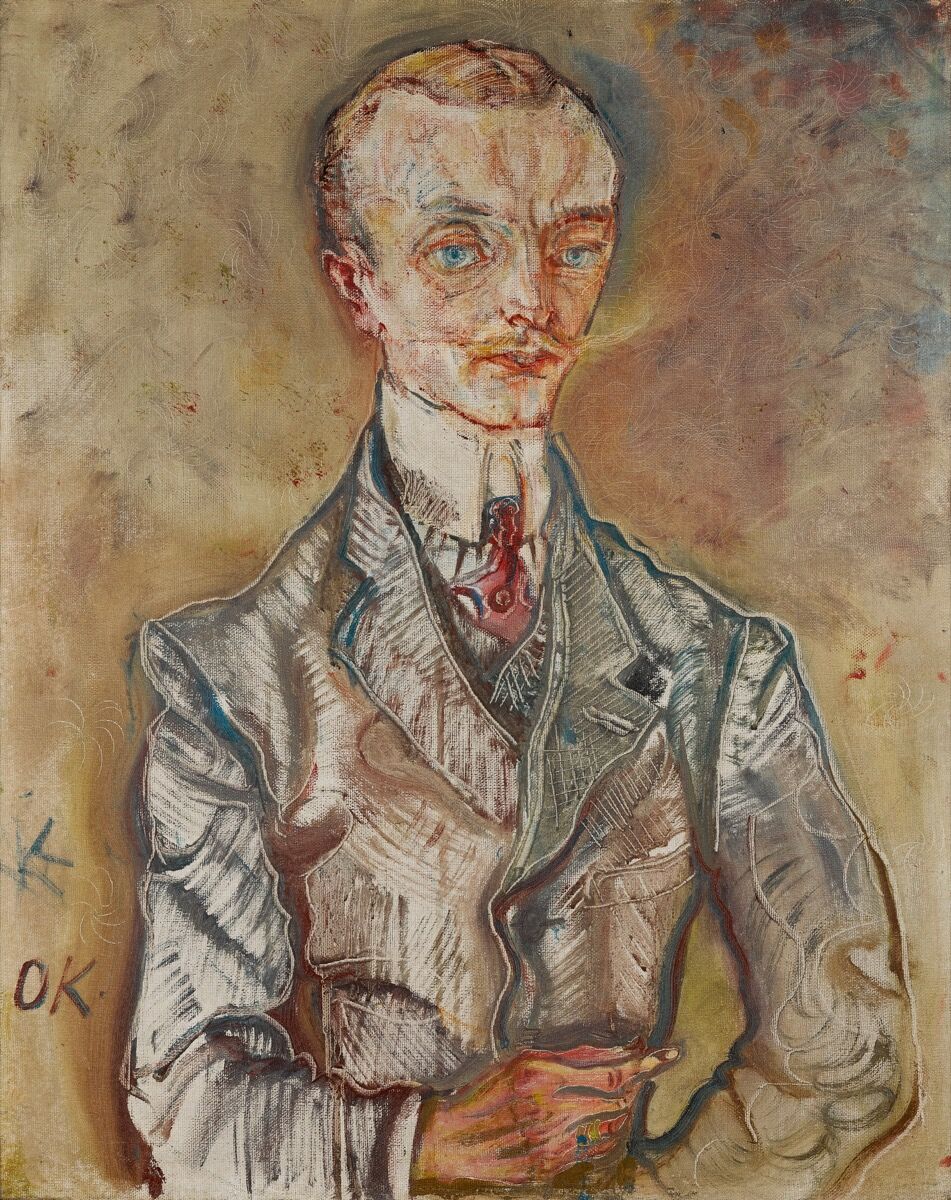 Le Principe du Plaisir (1937) hammered at $23.5 million, or $26.8 million with fees, smashing the
City in Twilight (The Small City II) (1913) hammered at $21.5 million, well ahead of its $18 million high estimate, totaling $24.5 million with fees. It sold to a client on the phone with Samuel Valette, Sotheby's vice chairman of private sales based in London; he bid out Asian clients on the phone with Wong and Jacky Ho, a specialist based in Hong Kong.
Improvisation on Mahogany (1910) hammered at $21.2 million, and intriguingly went to not an Impressionist and modern art specialist, but the post-war and contemporary department head, Grégoire Billault. With fees, the total was $24.2 million. Billault had to fend off Mackie, who matched the post-war chair's every move until throwing in the towel as bidding went past $21 million.
In addition to the record price of the Magritte, new marks were achieved for
Apocalyptic Landscape
(1912) went to a representative from
Lévy Gorvy
bidding in the room. The hammer price was $12.2 million, or $14 million with fees.
"That was a work that my colleagues, particularly Helena Newman, have been pursuing for literally decades," Julian Dawes, a senior vice president in the department, said of the Meidner.
Gagosian
director Andrew Fabricant fended off a fellow in-room bidder, Nicholas Maclean of London- and New York–based gallery
Eykyn Maclean
. Fabricant took Maclean past the portrait of Joseph De Montesquiou-Fezensac's low estimate of $15 million and brought bidding up to $17.8 million, capturing the work for $20.4 million with fees—a whopping five times the artist's previous record. Before that, three Kandinsky works from the estate of a European collection that Sotheby's dubbed "The Triumph of Color" sold for a combined $67.8 million with fees; all the nine other works from the collection also found buyers.
Even though the top lot of the Sotheby's auction failed to sell, the night's total was 17% up from a year ago, and Sotheby's representatives said the house is confident it will find a buyer for the bought-in Hartley privately (Sotheby's had guaranteed the work and therefore owns it until a buyer can be found).
"We believe in the painting," Uribe said after the sale. "We're confident that we're going to come out all right. We have no apologies."
One more reason for optimism: The total trounced the equivalent sale at rival Christie's by nearly $20 million.
Le bassin aux nymphéas (1917–19) sold for $31.8 million with fees. The hammer price was $28 million, short of the low estimate of $30 million. It sold to Elaine Holt, vice president and director of Impressionist and modern art for Asia in the Impressionist and modern department based in Hong Kong.
La Lampe (1931) sold for $29.5 million with fees, in the middle of the pre-sale estimate that ranged between $25 million and $35 million. Bloomberg reported that the consignor of the work was John Thain, the Wall Street titan who resigned from Bank of America in January 2009, during the height of the financial crisis. He reportedly purchased La Lampe in 2008.
Le Chat (conceived in 1951, cast in 1955) sold for $17 million, with fees, after hammering for $15 million, within its $14 million to $18 million pre-sale estimate range.
Max Carter, head of the Impressionist and modern evening sale, said that the Van Gogh would be sold privately. But a small portrait that Picasso painted of his mistress Marie-Therese Walter was also bought in after failing to hit its low estimate of $15 million. A Monet, expected to achieve between $12 million to $18 million, also didn't inspire the bidding that was expected, and failed to sell.
Despite the Asian collector on the phone with Elaine Holt who bought the Monet at Christie's—a work that is, so far, the most expensive lot of the giga-week—specialists at both houses, as well as independent advisors at the sale, said Asian collectors were less enthusiastic than at equivalent Impressionist and modern sales in the past two years. Sotheby's appeared to have better luck with collectors from Asia, with Wong as the underbidder on the Schiele and the Magritte, and Hong Kong–based Jacky Ho and Yuki Terase having received active bidding on other high-performing lots.
After the sale, Wong said that there were 16 or 17 lots out of 65 on offer that attracted bidding from Asia. But instead of the French Impressionists the region has long known to covet, she said the collectors' targets were somewhat surprisingly Schiele's
New York auction week continues on Tuesday with the single-owner sale of work from the Ebsworth collection at Christie's. Sotheby's follows on Wednesday night with its post-war and contemporary evening auction, and Christie's and Phillips's post-war sales wrapping up the week on Thursday.
Nate Freeman is Artsy's Senior Reporter.