Tracing Language through Time at Paul Kasmin
In the 1960s, French semiology philosopher Jacques Derrida popularized the term "trace,"  which he described as the residual effects that accompany any sign, word, or symbol. In our world of signifiers, each word is a composite of confluent histories, messages, and socio-cultural DNA. At
Paul Kasmin Gallery
in New York, curator Ariella Wolens has used this idea as a springboard for the group show "
The Written Trace
."
Featuring a roster of contemporary artists and stalwart figures associated with the written aesthetic movements of the 1960s and '70s, the show is a loosely narrated study of how words and their visual aspects are conveyed through mediums and time.
"I wanted to do an exhibition of text that veered away from conceptualism," Wolens told Artsy. "This was not about dematerialization, it's quite the opposite. When most people think of text within art, they certainly think of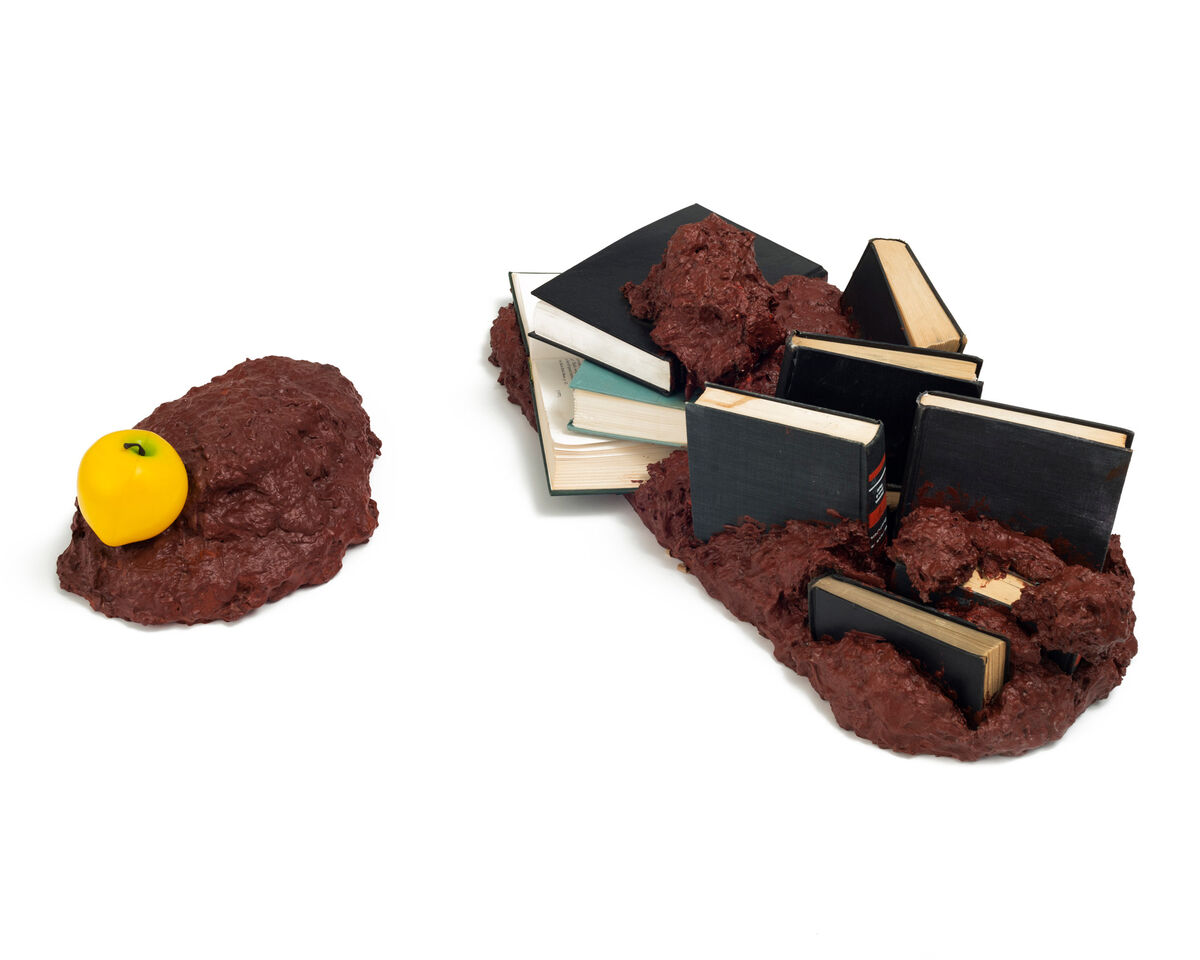 John Miller, Untitled, 1992. Courtesy Paul Kasmin Gallery and the artist.
In the center of the second room sits Untitled (1992), a cluster of books sitting or sinking into an organic turd-like sculpture. The piece touches upon our modern, almost nonchalant relationship with texts in comparison to the hallowed illuminated books that celebrated them; it is the bedrock for the other pieces that are arranged chronologically.

"I was interested in tracking the development of the instruments utilized in writing, and how our relationship to words is affected by the tools we use to render them," mentions Wolens. Starting with the medieval calligraphy tome Book of Hours of Jacques Hurault (1500-1510), the exhibition then moves forward from early printing to neon signages, letters, robotic translations, and text within film, each progressing a categorical evolution (or devolution) between the writer and his or her intended thoughts.
Wolens further explains: "In the book, Gramophone, Film, Typewriter (1986), Friedrich Kittler writes about how Nietzsche was incredibly conscious of how working on a typewriter impacted his style. As he states, the philosopher's approach, 'changed from arguments to aphorisms, from thoughts to puns, from rhetoric to telegram style.' I think this is certainly indicative in the various forms represented here."

The exhibition also includes the work of comics legend
"The Written Trace" is on view at Paul Kasmin Gallery, New York, Jun. 25-Aug 15, 2015
Marc Quinn Iris
Explore the cup collection here.
Sponsored by illy