The Unlikely Friendship of Duchamp and Dalí
Carl Van Vechten, Salvador Dalí, 1939. Image via Wikimedia Commons.
Marcel Duchamp, 1927. Image via Wikimedia Commons.
In 1961,
"Duchamp went out of his way to support Dalí at different junctures in time," explains William Jeffett, curator at the
Dalí Museum
in St. Petersburg, Florida. For this particular occasion, he had invited fellow artists
The supportive, creative, and intellectual bond between these towering figures of 20th century art sits at the heart of "Dalí/Duchamp" at the Dalí Museum, previously on view at the
Royal Academy of Arts
in London. Those familiar with the artists may initially feel the relationship incongruous with their legacies: Dalí as the showy, egoistic painter, compared to Duchamp as the more cerebral "father of conceptual art." But those legacies, suggests Dalí Museum executive director Hank Hine, "may be more related than we have assumed."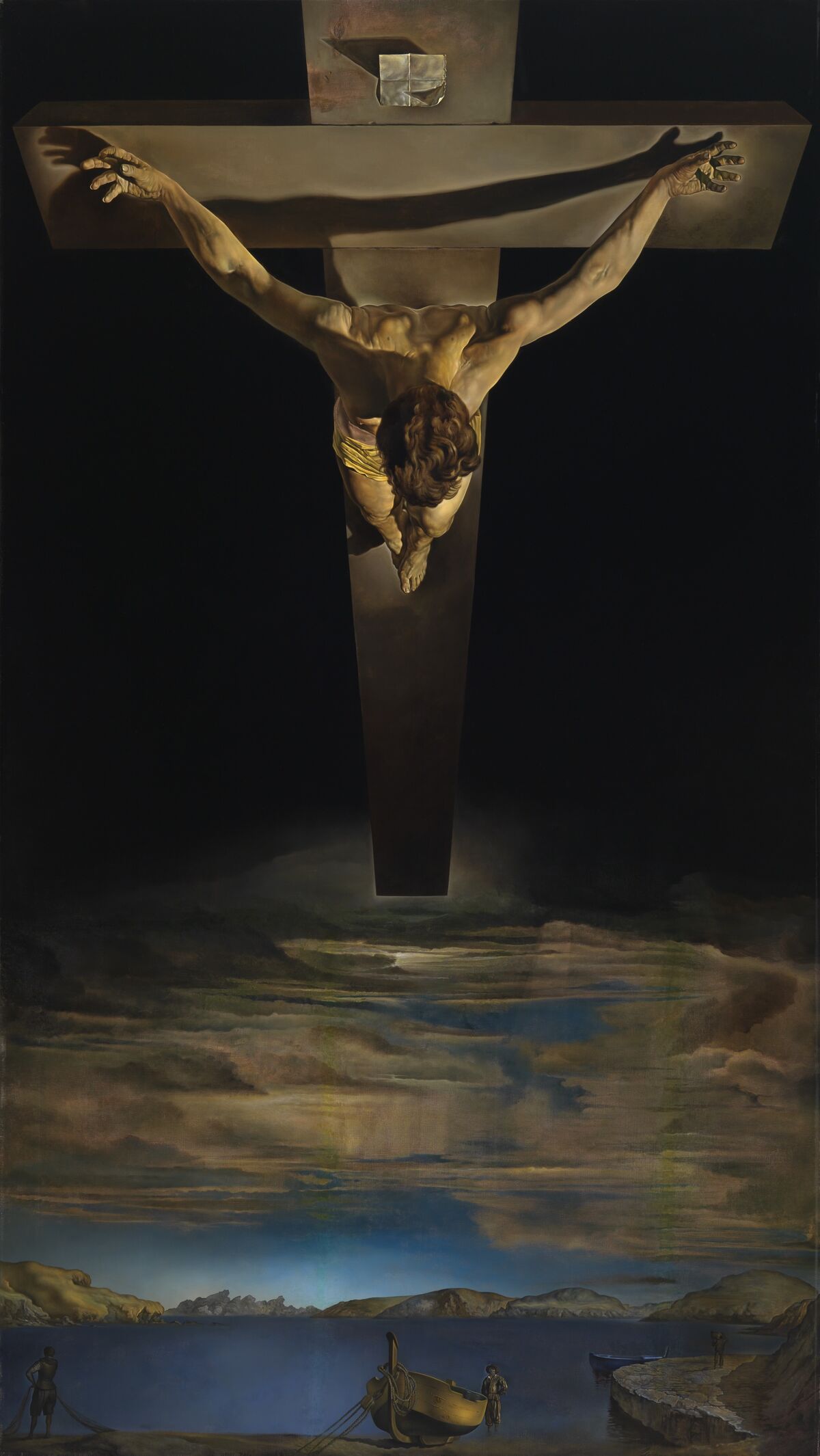 Salvador Dalí, Christ of St. John of the Cross, c. 1951. Kelvingrove Art Gallery and Museum. © CSG CIC Glasgow Museums Collection.
Marcel Duchamp, Étant donnés: 1° la chute d'eau, 2° le gaz d'éclairage . . . (Given: 1. The Waterfall, 2. The Illuminating Gas . . . ), 1946-1966. © Artists Rights Society (ARS), New York / ADAGP, Paris / Estate of Marcel Duchamp. Courtesy of the Philadelphia Museum of Art.
It isn't entirely clear when or where the two first met. Although they exhibited together in March 1930, Jeffett suggests the November film premiere of Dalí's L'Age d'Or (1930) as a possible meet cute. "There's a seating chart where you can see that Dalí and his wife Gala were seated near Duchamp, about three rows away from each other," he notes. "It's very probable that they met each other around that time."  
By 1933, their friendship had blossomed—there are photographs of Duchamp, Dalí, and Gala summering together in eastern Spain. Duchamp and his companion, Mary Reynolds, rented a house in Cadaqués, not far from Dalí's home in the Spanish fishing village of Portlligat. Duchamp and Dalí's meetings were largely social, involving frequent visits, beach trips, and parties.
Their relationship demonstrates a seldom-admitted truth about artists' lives, says Hine. "There's an idea that artists are always looking after their own careers and their own place in art history," he explains, "but there was tremendous affection between these two people."
"People tend to just talk about artists in isolation, as if they don't live in the world, and in fact they do," Jeffett adds. "All these people knew each other."
Salvador Dalí and Edward James, Lobster Telephone, 1938. Edward James Foundation West Dean / © 2018 Salvador Dalí, Fundació Gala-Salvador Dalí, Artists Rights Society.
Duchamp and Dalí shared a deep interest in subjects such as philosophy, religion, science, transgressive ideas—and puns. Impish and provocative, "they loved play, to play with words and to play with images," Hine explains. "Duchamp's interest in puns and linguistic double images rhymes with Dalí's interest in visual double images."
These commonalities helped establish a collaborative relationship of equals, despite the fact that Duchamp was 17 years Dalí's senior and already a well-established artist. Jeffett tells stories of "young artists—there are quite a lot of them—who would go to see Duchamp at Cadaqués" as a sort of pilgrimage. During these visits, Duchamp repeatedly sought to expand their circle to include Dalí, but guests like
In a 1973 interview, Cage recalls finally accepting an invitation to lunch with Dalí, no longer able to avoid it. He remembered the meal as bizarre: Duchamp "was friendly with Dalí. Isn't that strange?...I was astonished to see that Marcel took a listening attitude in the presence of Dalí. It almost appeared as if a younger man were visiting an old man, whereas the case was the other way around." Their relationship, it appeared, was reciprocal—an exchange of concepts and conversation, with the highest respect on both sides.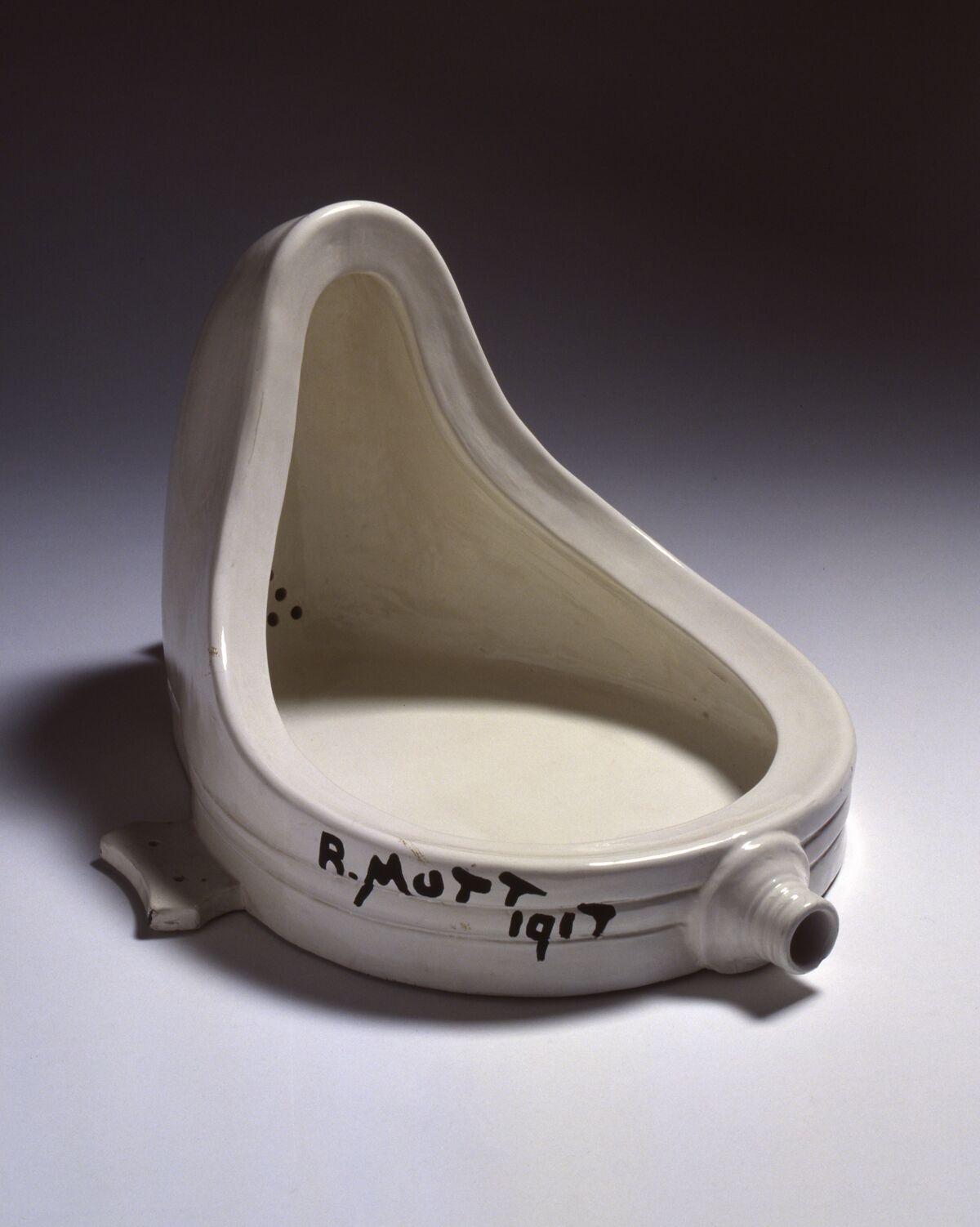 Marcel Duchamp, Fountain, 1917/1964. Photo © Schiavinotto Giuseppe. © Association Marcel Duchamp / ADAGP, Paris / Artists Rights Society (ARS), New York 2018.
Salvador Dalí, Venus de Milo with Drawers (and PomPoms), conceived in 1936; cast in 1964. Worldwide rights © Salvador Dalí Fundació Gala-Salvador Dalí (Artists Rights Society), 2018 / In the USA © Salvador Dalí Museum, Inc. St. Petersburg, FL 2018.
Dalí's handwriting, for example, sprawls on the back of a photographic print related to
Étant donnés
(1946-1966), Duchamp's elaborate, voyeuristic installation (and
final work of art
). Jeffett believes that Dalí may have "helped Duchamp with the fabrication of that, or at the very least knew about it." Even knowing about the piece indicates serious intimacy—Duchamp
built Étant donnés in secret over a 20-year period
, during which time it was believed that he had retired from the art world. Revealed only after his death, the work came as stunning surprise to all but a handful of close confidantes.
And what if Dalí and Duchamp could see the exhibit for themselves? Hine takes a moment to think, chuckling at the comedic potential of such a visit. "They could have a reunion, and it would have been one of the highpoints of their lives," he says. "A terrific reunion of old friends."
Stir Creativity
See how Bombay Sapphire supports artistry.
Sponsored by Bombay Sapphire