Two London-Based Artists Playfully Juxtapose Color and Geometry
Installation view of "Ittenology" at Rook & Raven, London. Courtesy of Rook & Raven and the artists.
London-based artists Marita Fraser and Nancy Milner make prismatic paintings, collages, and sculptures that explore the boundaries of perception. Their current show "Ittenology," on view at Rook & Raven in London, is informed by Johannes Itten's 1963 treatise The Elements of Color and celebrates a mix of the artists' vibrant, riotous works and unusual, convention-bending compositions.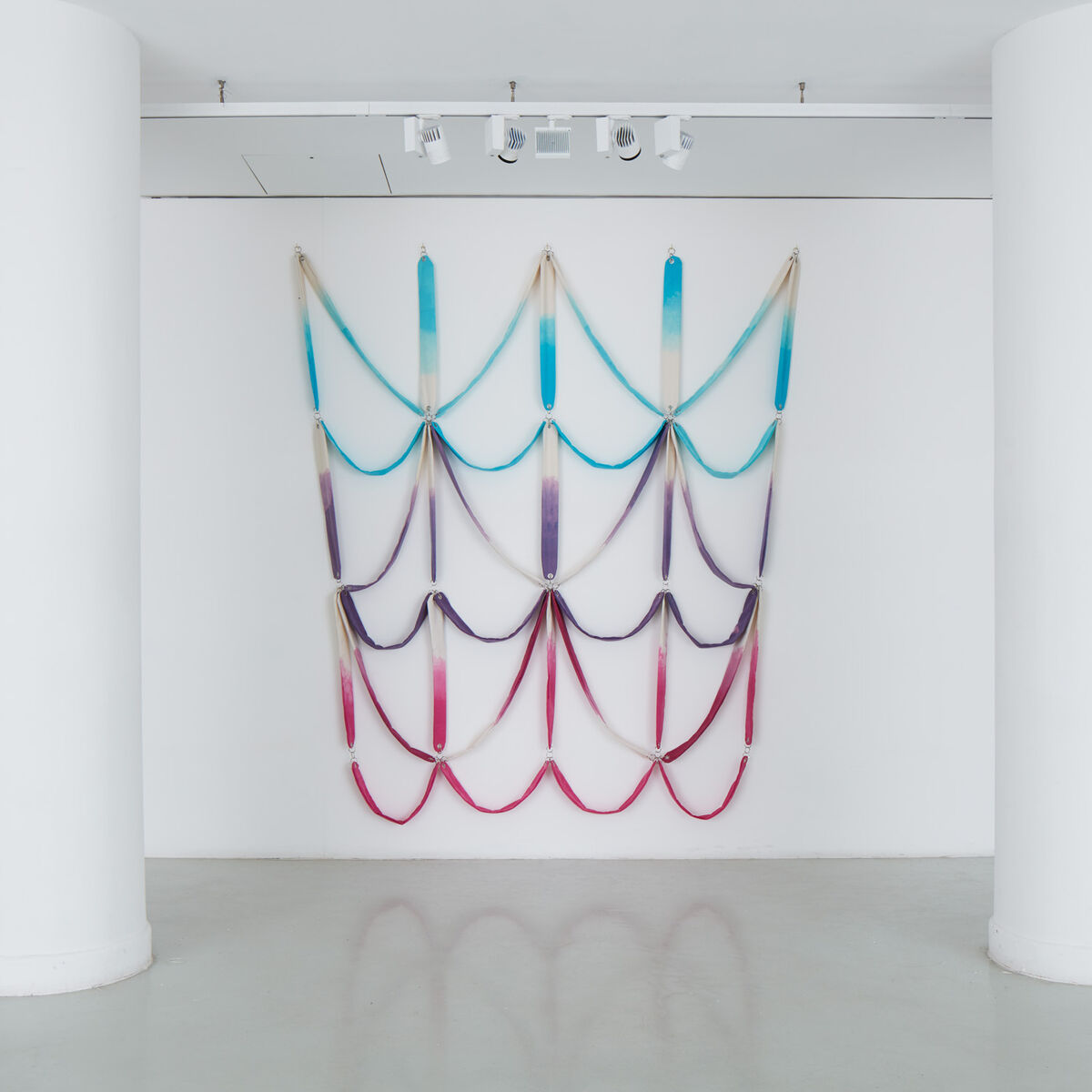 Installation view of "Ittenology" at Rook & Raven, London. Courtesy of Rook & Raven and the artists.
Fraser's oeuvre is expansive; she paints, makes mixed-media collages, and exploits the material potential of textile and metal in installation-based sculptural works. On one wall of the gallery dip-dyed calico ribbons in pastel colors are rigged together and hang uniformly like a net. A somewhat diametrically opposed work, a small, monochromatic collage with the text "An Autumn arrangement of palm and berries," is neatly framed nearby. Non-sequitous text, along with blockish divisions of color and unconventional frames are key devices in her works, used to shift focus, guide the eye, or obfuscate parts of the visual plane from the viewer.
Installation view of "Ittenology" at Rook & Raven, London. Courtesy of Rook & Raven and the artists.
For "Ittenology," Fraser created site-specific metal screens that effectively divide the gallery space into distinct parts and re-frame the works that appear on the walls. The geometric breakdown of each screen echoes rectilinear fragments found in both Fraser and Milner's paintings and serves to embolden them.
Beyond the metal partitions, Milner's paintings feature colors that merge at striking angles and peeter out at the edges of each frame. The artist juxtaposes colors thoughtfully, in a style reminiscent of Josef Albers; she also creates richly colored, powerful visual fields that recall the contemplative style of Mark Rothko. In Untitled (2015), segmented bars of violet, yellow, and pinkish red appear crisp and defined yet meld together at the center axis. In the case of #7 and #8 (both 2015), Milner applies a minimal palette to a simplified composition and resists conforming to any clear, geometric pattern.
Milner's #4 and #5 (both 2015) are especially memorable: in each, a beautiful, violescent blue vibrates against warm orange and off-white sections, generating a bold, optically charged effect. By pairing together complementary colors and setting them with contrasting, rectangular frames, Milner puts forth a strong visual relationship, which resounds throughout the exhibition, and with works by Fraser, results in a fresh enveloping dialogue.


—Anna Furman


"Ittenology" is on view at Rook & Raven, London, Jan. 22-Mar. 5, 2016.

Follow Rook & Raven on Artsy.
Bold Voices
Stefan Sagmeister: What is Happiness
Sponsored by BMW