Two Rare Rubens Portraits Hit the Market during London's Old Masters Week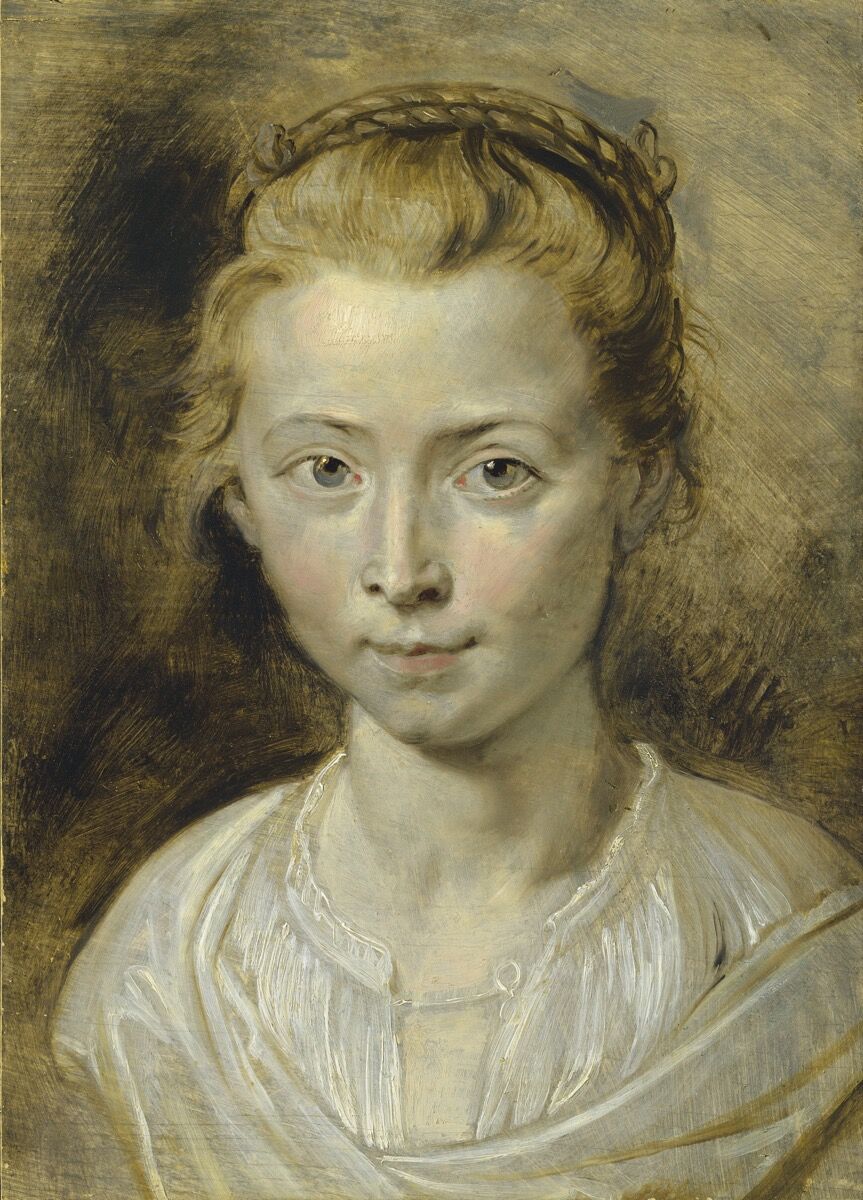 Flemish
Although they do sometimes come to market, it's unusual that two portraits by Rubens are leading both Sotheby's and Christie's auctions during July
"Rubens is in short supply, so it's noticeable when two appear at the same time," said Henry Pettifer, international director and head of the Old Masters and British paintings department at Christie's London. "If there were two
Christie's is offering an intimate oil sketch of
Rubens's daughter Clara Serena
, who died at age 12, for an estimated £3 million to £5 million (roughly $4 million to $6.5 million), while Sotheby's has his
Portrait of a Venetian Nobleman
listed at £3 million to £4 million (roughly $4.1 million to $5.5 million). Although the Christie's portrait is more sketch-like and the Sotheby's painting a more ostensibly finished work, both paintings seem to have been particularly dear to the artist, who had them in his personal collection during his lifetime.
First up, at Sotheby's July 4th evening sale, is Portrait of a Venetian Nobleman, a painting that Rubens very likely painted for himself, rather than a patron. It has been generally presumed by most scholars that the painting is a study of a face, based on a kind of prototype of a Venetian man that was used by other artists (such as
"Leaving the presumed prototype far behind him, Rubens has envisioned his subject so that it is a product of his own immensely creative imagination," reads the Sotheby's catalogue. "This is Rubens' idea of a forceful Italian nobleman, a Renaissance man who is accustomed to leading, and to getting his own way."
George Gordon, co-chairman of the worldwide Old Master paintings and drawings department at Sotheby's, said that it's hard to categorize the work as either a study or a fully finished portrait, because we don't know the circumstances under which it was painted. But, he said, "whether you consider it a portrait or a head study, it's a concentrated, energetic, and very direct picture, and that is relatively rare. This is a very visceral, intense painting in which the brushwork is alive."
Gordon said that Rubens probably "painted it for himself" rather than a patron, although this is still a question that hasn't entirely been resolved. Gordon feels that it was unlikely that an Italian nobleman would have traveled to Antwerp to commission a portrait. It is also telling, he feels, that the work remained in Rubens's personal art collection, most likely one of two paintings described in an inventory after the artist died in 1640.
Rubens's portraits vary substantially in terms of levels of finishedness. Those works he made for patrons appear more fully realized, with the subjects and backgrounds painted in full color. Meanwhile, the works Rubens made of his intimate circle, family and friends, are considerably freer and more experimental, with looser brushwork and often an almost sketch-like quality. A 2015 Rubenshuis exhibition entitled "Rubens in Private" explored how the images Rubens made for his personal trove were often more truthful and tender towards his sitters, while his commissioned portraits tended to present a more idealized image of his patrons.
Koppel died in 1933 at age 79, not long after the Nazis "Aryanized" his business, forcing him to sell everything he had built up at absurdly low prices. His only son and heir, Albert Leopold Koppel, left for Switzerland, and then Toronto and New York, managing to get most of his family's collection out of Germany before the Nazis had a chance to loot it. He sold Venetian Nobleman to the art dealership Rosenberg & Stiebel in New York.
In the 1950s, the Rubens portrait came into the hands of Hans Wetzlar, owner of "unquestionably the greatest collection of Old Masters to be assembled in Holland in the post-war years," according to the Sotheby's catalogue. Although the vast majority of Wetzlar's artworks were sold at auction in 1977 after the death of his widow, the Rubens painting remained in the hands of his daughters, and within their family line, until now.
The Rubens portrait at Christie's, offered in its evening sale on July 5th, may have a somewhat more personal appeal to a potential buyer because of the truly poignant story of personal loss behind it—even though its attribution history is somewhat less secure.
Portrait of Clara Serena, the artist's daughter has only recently been re-attributed to Rubens. Until five years ago, it was in the permanent collection of the Metropolitan Museum of Art in New York, which deaccessioned it in 2013, thinking it was by a follower of Rubens. In a sale from that January, Sotheby's catalogued the painting as Portrait of a Young Girl, possibly Clara Serena Rubens, and also attributed it to a follower of Rubens, reflected in its estimate of $20,000 to $30,000. At least two bidders may have had a different idea—they drove up the price to 30 times its low estimate, and the work sold to its current owner for $626,500, including buyer's premium.
The new owner went to great lengths to study the work: He had it cleaned, removing a thick layer of green paint that had most likely been added in the 19th century to make it look more like a finished portrait, and therefore more sellable, said Pettifer. Dendrochronological panel analysis, conducted by Dr. Peter Klein, an independent German expert in dating panels used for Old Master paintings, confirmed the felling date of the tree from which its wood panel was cut as sometime between 1612 and 1622.
The work has been accepted as an autograph original by leading Rubens scholar Ben van Beneden, director of the Rubenshuis in Antwerp, who dates it from 1620 to 1623, the year Clara Serena died, shortly before her 13th birthday. "If it is by him, he certainly painted it for himself because it is a portrait of a girl that was probably painted on her deathbed and it's a very personal thing," said van Beneden.
It is unclear how or precisely when Clara Serena died. But a 1624 letter of condolence to Rubens from his lifelong friend Nicolas-Claude Fabri de Peiresc references a now-lost letter by Rubens, dated October 25, 1623. In that letter, Rubens reported the news of the death to Peiresc, suggesting that Clara Serena had died in October.
Her portrait has been on loan to both the Rubenshuis for its "Rubens in Private" exhibition in 2015, and at the Liechtenstein Princely Collections,
which owns an undisputed portrait of Clara Serena
that was painted by Rubens when his daughter was 5 years old, around 1616.
"Are we 100 percent certain? No we are not, but we have judged it on what we see," van Beneden said, in an interview. "If I wouldn't believe in it, it wouldn't have been exhibited in our exhibition as Rubens; I consider it as a very strong contender."
Still, van Beneden acknowledges that "some people are reluctant to follow our opinion," and he can understand why. "If you look at the dress, I fully understand that some Rubens scholars have trouble accepting it," he said. "There's not a lot with which you can compare it. It kind of stands on its own, I would say."
Clara Serena
will also be included in a forthcoming volume in the
Corpus Rubenianum Ludwig Burchard
(a catalogue raisonnée of Rubens's accepted works), written by Katlijne van der Stighelen, which is due to be published in 2019 or 2020.
Christie's is presenting the painting as an author work by Rubens. "It's not our attribution, but we're following the way the painting has been exhibited since 2013, and we're very much following the Corpus," said Pettifer.
He said that what makes this work "refreshing" is how uncharacteristic it is of Rubens's overall body of work. "He was immensely talented as a portrait painter, and he had very wealthy elite [patrons] who were commissioning portraits from him, and he produced very grandiose formal portraits," said Pettifer. "This is at the other end of the scale, where you have something absolutely off the cuff, and it's a fantastic counter to those courtly portraits, something so intimate and spontaneous."
Asked if the painting was finished, van Beneden said: "I don't think it is. I think he was working on it while she died and he left it as it was at that very moment."