Uncertainty Dampens Hopes That Kodak's Cryptocurrency Can Help Photographers Get Paid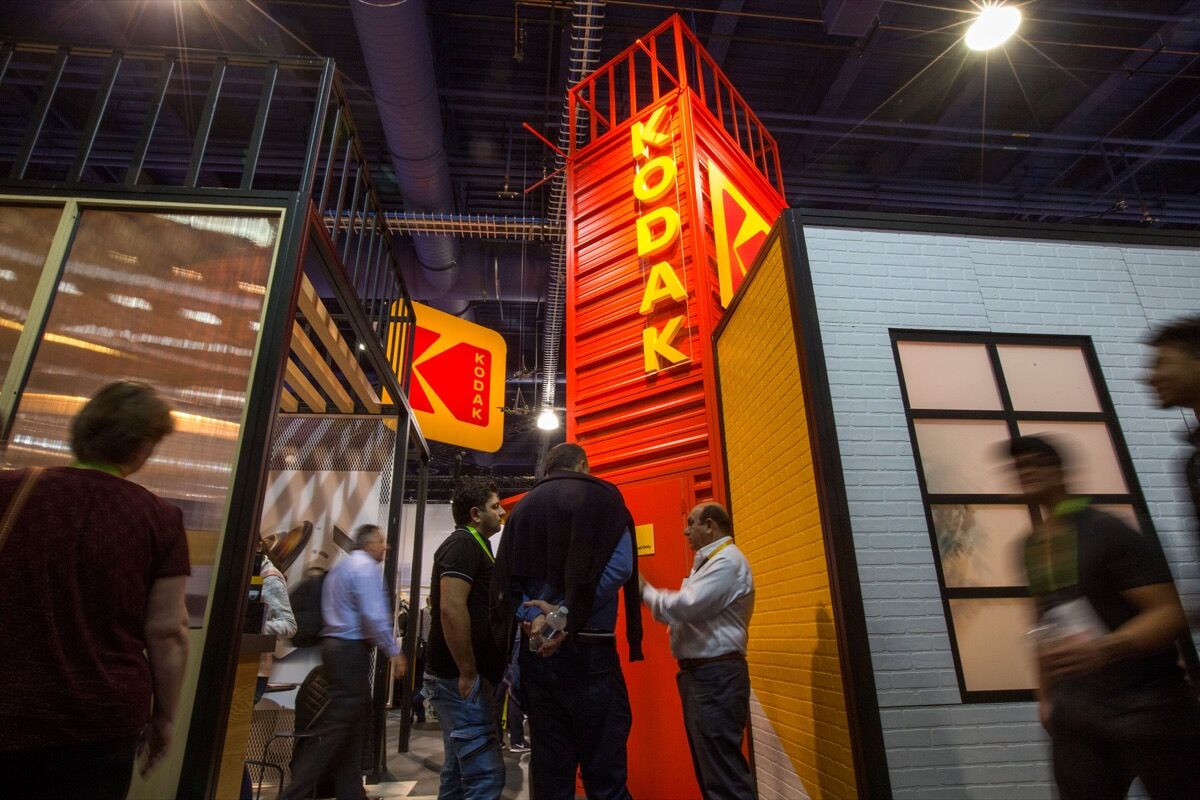 People walk near the Kodak exhibit at CES in Las Vegas, Nevada, January 10, 2018. Photo by David McNew/AFP/Getty Images.
The announcement by legacy photo company Kodak company of a new platform, KodakOne, and a related cryptocurrency, KodakCoin, at the annual Consumer Electronics Show in Las Vegas last Tuesday, sent its share price soaring from just above $3 on Monday to a high above $13 the morning after the announcement.
The KodakOne platform is intended to help photographers manage the digital rights to their images using blockchain technology. Its related token, KodakCoin, will serve as a universal currency for payments on the platform, following an initial coin offering (ICO) scheduled for January 31st.
Unlicensed image use is a problem for photographers, and blockchain technology, which can establish traceable ownership rights through a decentralized ledger, could help photographers and other creators track their works as they pop up online. Theoretically, the token will enable photographers to receive payments from around the world and transact quickly and easily.
"It's great to see any announcement about things that let artists participate in the market for their own work," said Amy Whitaker, a professor at New York University who has written extensively about the potential for blockchain to allow artists to maintain equity or receive royalties as their work trades in the market. But, she acknowledged, "most artists are probably not accredited."
The widespread media coverage and jump in share price "is more indicative of the craze that is currently defined by cryptocurrency and by blockchain in general," said Stan Stalnaker, founder of the digital currency Ven, which launched in 2007. "I think the best thing this has going for it is the name, because obviously Kodak is a highly recognized name."
Stalnaker and other industry observers noted the existing website was short on technical information that typically accompanies such an offering, such as a white paper with details of which protocol, such as Ethereum, the coin will be based on, and other technical details. As of January 15th, the KodakCoin website offered a chance to sign up for a "lite paper."
The disclaimer page on KODAKCoin.com states, "The offering by WENN of KODAKCoin tokens have not been and will not be registered under the United States Securities Act of 1933, or any European Union or United States state blue sky securities laws, or the laws of any other jurisdiction. The interests will be offered and sold under exemptions under the laws of the jurisdictions where the offering will be made. Consequently, investors will not be afforded the protections of those laws."  
A spokesman for Kodak did not return multiple requests for comment.
Marcus Schmitt, CEO of Berlin-based Copytrack, which runs a similar rights management service for a network of around 5,000 photographers and creators, said a cryptocurrency can help speed up transactions between rights-holders and infringers who are located around the world and decrease transfer fees charged by banks.
Copytrack maintains a network of lawyers around the world to pursue compensation, and launched its own related cryptocurrency earlier this month. Currently, an infringer—say, someone running a blog in Japan, might pay $20 or $30 in fees to Copytrack's bank when she pays up for an image she has used, and then Copytrack must pay a similar fee to the photographer when it forwards on the photographer's share of the payment recovered. Copytrack's currency, CPY, is intended to facilitate these transactions at a lower cost, and allow the creator to set her own prices for her work in her preferred currency, which will be translated into the CPY currency. Unlike KodakCoin, this cryptocurrency is open to anyone.
"It's a global issue…this is why the global set-up is really important," said Schmitt.
New York-based freelance photographer Daniel Dorsa (a frequent contributor to Artsy) said he currently tries to manage his own image rights by periodically Googling his name and contacting websites individually to try to negotiate some sort of compensation if his photos have been used without his permission. He also uses an app that can reverse search for the metadata that is embedded in the image.
"It's definitely not the most efficient way of going about it," he acknowledged. "I do see the value in using blockchain technology for checking for infringement."
He was less sure about usefulness of the cryptocurrency, and said it appeared to be part of a pattern of Kodak's recent "history of making things that aren't useful."
Investors, too, have tempered their expectations. Kodak's shares closed on Tuesday at $8.50.
Anna Louie Sussman is Artsy's Art Market Editor.