The Unknown Antiguan Visionary Who Knew He Was "the Most Important Living Artist"
In the mid-1970s, the unknown Antiguan artist
Unsurprisingly, none of those grand ambitions panned out for Walter. But the artist, who died in 2009, is finally getting a serious spotlight in Venice with "The Last Universal Man," his country's debut outing at the Biennale. It's a rich exploration of his paintings—many of them executed on
As Paca explains, Walter suffered from mental illness exacerbated by a move in the 1950s from Antigua to London, where he came face to face with the bitter realities of racism. Walter's ancestry was exceedingly complex; he was the descendent of a German father and a Swiss-Antiguan mother and, Paca notes, had both slaves and slave owners as ancestors. In Antigua he had farmed, successfully, but as a black man in England he found employment options to be limited. (It was "clean the bathroom, or sweep the floor," Paca says.)
Walter later traveled through Germany and Italy before returning to Antigua, where he lived a solitary and remote life (spending 1961–68 on the nearby island of Dominica). Throughout these years he was painting feverishly, amassing a stockpile of some 5,000 works that remained boxed up and unshared. He wrote several versions of an autobiography using a rusty typewriter that is on display in the pavilion, along with an 8,000-page stack of the manuscript itself (typo-free, Paca confirms).
On his town's high street, Walter operated a small shop offering various goods and services: small hand-colored photocopied drawings, custom signs, children's educational toys, and a series of hand-painted wooden placards bearing the red letter 'L' that drivers with learning permits could hang inside their vehicles. Those he sold for around $3 a piece. Meanwhile, countless tiny oil paintings were added to the archives, awaiting that future show at some impossible location, like a high-security military site (another of Walter's dreams).
"Frank was an intellectual, a philosopher, a lecturer, a painter, a poet, an artist who had a vision," says his second cousin, Vaughn Walter, who spent a great deal of time with the artist between the ages of three and 11. "As a child, he'd sit us down under a fruit tree, and while he's typing on one subject matter, he's lecturing us on other matters. He was a very multi-functional gentleman," Walter says.
It's impossible to ignore the undercurrent of eccentricity running through Walter's biography, but that story is mere window dressing for a body of work that is thrillingly realized. The artist wended his way through various styles and concerns over the decades, and examples of all of them are present in "The Last Universal Man."
There are wildly divergent white." The self-portraits are only one of several tangled examinations of race in the exhibition. ("It was quite evident," Walter is quoted as saying in a wall text, "that nature was telling me that I was still the Europoid man awaiting the relative climate to cause nature to make its reverses.")
Other paintings were completed on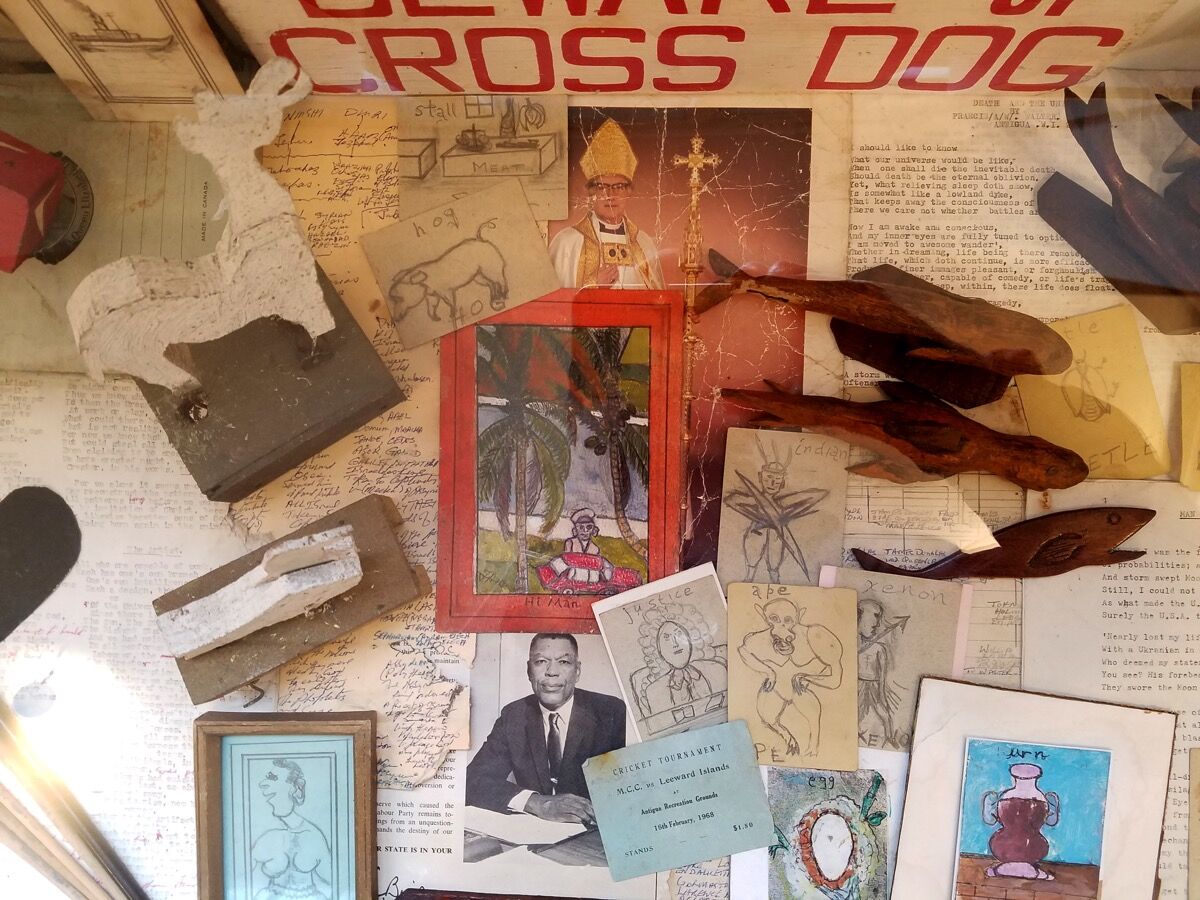 Walter may have died at the age of 83 without ever receiving his due, but he's certainly gotten serious respect posthumously (including from
John Nash
of Antigua." This loving survey at the Venice Biennale might lack the situational drama of a subterranean coal mine or an international cruise ship, but I expect that the late artist would be proud nonetheless.
Scott Indrisek is Artsy's Deputy Editor.