The Unsettling Rituals of Fraternity Life, in Photos
Courtesy of Andrew Moisey.
American masculinity needs a makeover. Within the past year, the #MeToo movement has asked men to rethink the way they interact with women, from sexual encounters to the workplace. Yet contemporary photographers have, for years, examined the rituals and cultural norms that influence how young men grow up and into the world around them. Self Portrait posited a collective narrative about male development through images of boys and men in various stages of undress.
This fall, Daylight Books published Moisey's The American Fraternity: An Illustrated Ritual Manual. Black-and-white pictures, predominantly made from 2000 to 2006, depict the activities at one fraternity house at the University of California, Berkeley (given the fictional name "Psi Rho"). His images range from mundane moments to those marked by tragedy: In one sequence, men carry the casket of a fraternity brother who died in a car crash.
Courtesy of Andrew Moisey.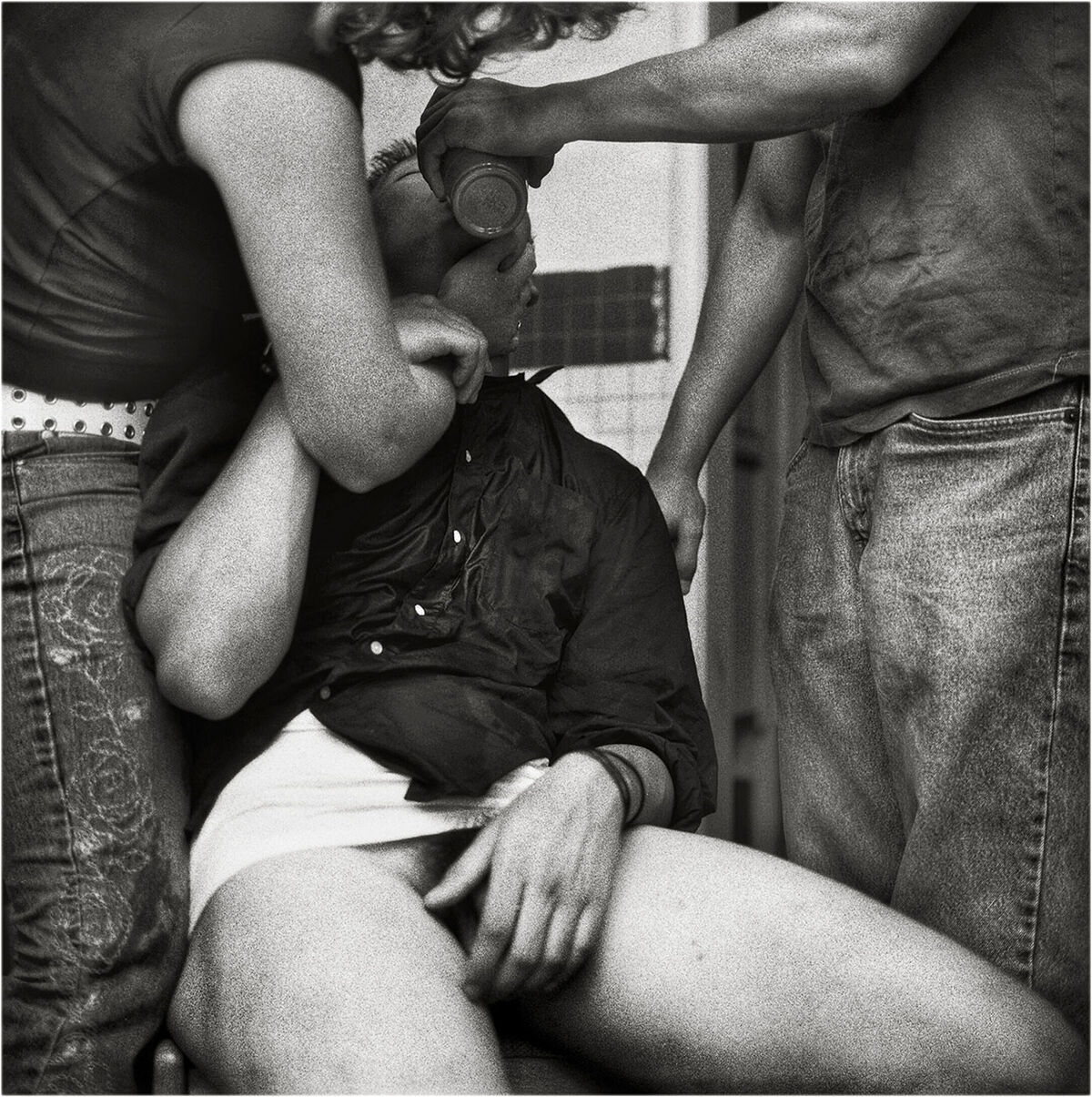 Courtesy of Andrew Moisey.
Moisey didn't set out to create critical documentation—he gained access through his brother, who was a member, and the photographer himself had close ties to some of the men. Yet scenes of debaucherous partying and violence fill the pages—one jarring frame captures the aftermath of a brother smacking a dog—and a steady undercurrent of sex runs through the volume, as well. Moisey photographed a door featuring a stick figure drawing of a "dude" and a "chick" during intercourse. In another picture, a man grips his genitals for the camera. And a particularly disturbing frame features a woman, apparently unconscious, splayed atop a stained, unmade bed. Moisey's book offers a vision that's simultaneously contemporary and outmoded. As a viewer, it's easy to think: How are we still supporting this?
Moisey selected a format that enhances the antiquated aura of his photographs. In 2009, he found the fraternity house abandoned after the university
kicked its members off campus
(Moisey doesn't know why). He wandered in and discovered their ritual manual on the floor. It was bound in a thick black cover and contained the details of the fraternity's "Ritual of Initiation," a chant called "Yo-Ho," and organizational information (who should keep meeting minutes; when to send reports).
Courtesy of Andrew Moisey.
Moisey replicates this format and reproduces the ritual manual text in his book. Additionally, he includes a list of Supreme Court justices, senators, top executives, and United States presidents who have belonged to fraternities. With these choices, he situates his subjects within a larger narrative. "I was photographing a tradition," he told Artsy. "People will feel like [the images] could have been made at any time." Men wear nondescript clothing, and there's little indication of any environment beyond the fraternity house itself, which reinforces their insular bonds. Including the funeral image, there are only a handful of photographs taken outdoors—indeed, an acute sense of claustrophobia pervades the photographs.
The men's house itself is a wreck. Moisey photographs cheap cabinets and a filthy kitchen floor upon which a stolen road sign lies, the "D" in "DUMP" out of frame. Elsewhere, a heap of books fall in messy piles off a cart, window blinds hang unevenly, and solo cups litter the ground. Men puke over trash cans. Rooms are dim. The very structure appears to bolster depravity and chaos.
Roles for women are limited here. In one picture, a stripper lies on a table while the men around her point, laugh, and inspect her genitals—like the drinks on the table, she is only there to be consumed. Another woman in a cable knit sweater rubs a man's shoulder as he vomits—the Madonna counterpart to the whore. Perhaps the only (yet still fraught) moment of female agency is when a young woman flashes Moisey's camera.
Courtesy of Andrew Moisey.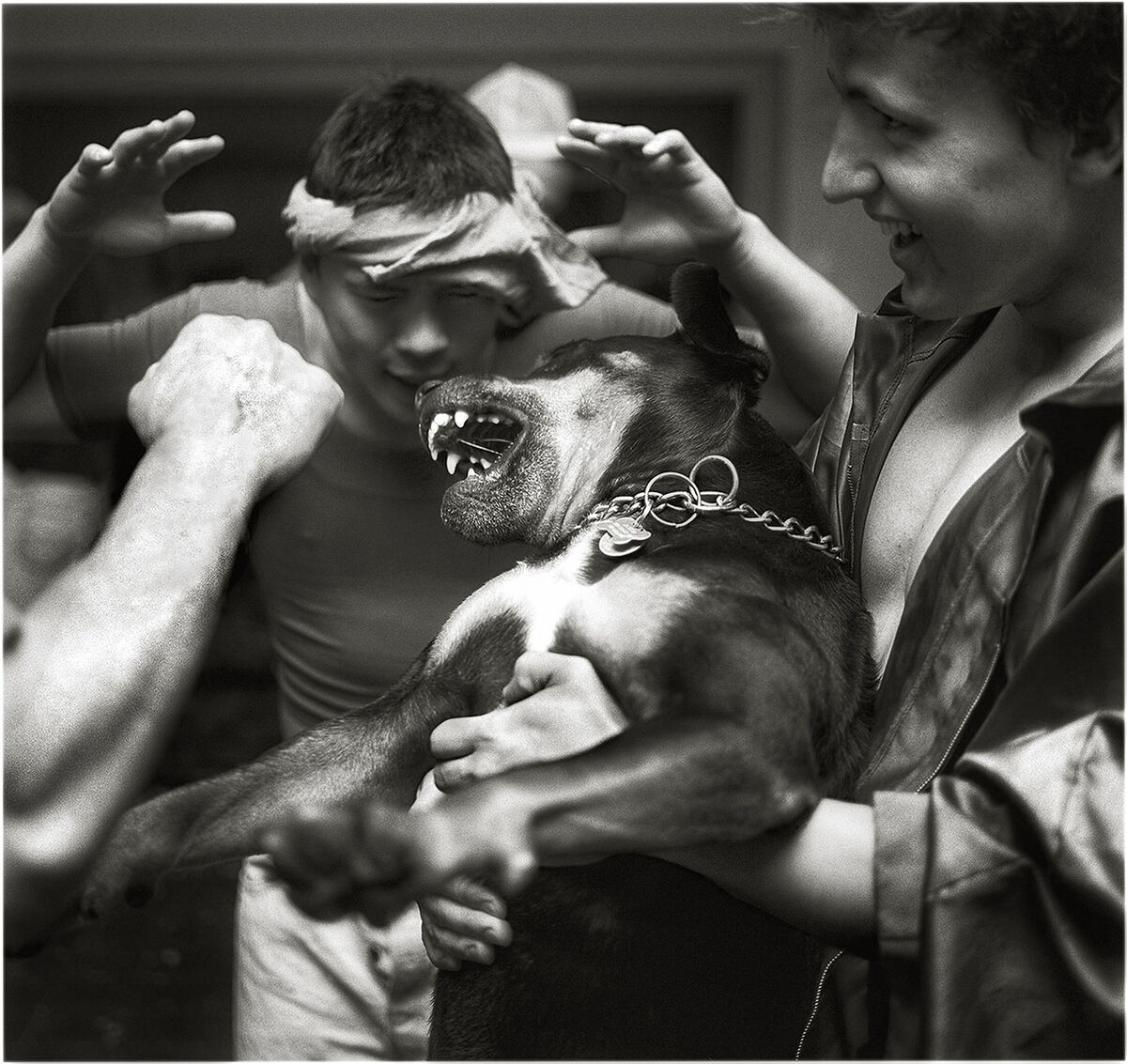 Courtesy of Andrew Moisey.
Though Moisey captured subject matter to which few artists have ever had access, he also wanted to follow a distinct tradition of American documentary photography. "When I started out photographing, I had a few heroes in mind," he said. "
Moisey initially faced rejection with his series, but turning the work into a book gave his project a new and more appealing dimension. The format of the fraternity guide itself offered Moisey's photographs additional conceptual weight. In the book, he said, he found "the most beautiful oaths of honor and chivalry." The fraternity members, of course, failed to live up to such standards. Moisey connected this issue to a larger, national disparity: "It struck me immediately after the Iraq War," Moisey said. "The country has the most beautiful ideals. America does not live up to them." The problem isn't necessarily the fraternity men, then, but the hypocritical country that produces them. (It's a fact that doesn't make the images of a harmed dog or objectified women any easier to take.)
Moisey believes that his subjects' debauched behavior responded, in part, to a society that doesn't elsewhere offer them proper outlets for self-expression. In the afterword, Nicholas L. Syrett writes: "The work of sociologists tells us that American men often have difficulty demonstrating affection for one another; fraternities and other single-sex organizations…provide avenues for men to express what their friendships mean in ways that are strikingly intimate."
And Moisey does, in fact, locate moments of male camaraderie. In one picture, a man in boxers holds up a large tub of something, perhaps mayonnaise, and dances with a man wearing ski goggles and under armor. In the background, other brothers smile and watch. There's no malice or misogyny, just youthful shenanigans. "If the rest of our society were more in touch, men wouldn't have to join," Moisey said. "The wildness was beautiful until it wasn't."
Alina Cohen is a Staff Writer at Artsy.
Stir Creativity
See how Bombay Sapphire supports artistry.
Sponsored by Bombay Sapphire