Up and Coming: In Ethiopian Hotel Rooms, Awol Erizku Puts the Black Figure on a Pedestal
Photo by Megan McIsaac for Artsy.
In 2013, artist 
La Grande Odalisque
 (1814) and 
Olympia
 (1863), but where these late French painters once placed white reclining nudes, Erizku places black bodies spanning all body types and hairstyles. In contrast to pale Olympia, the warmth of their skin tones electrifies the saturated colors of these monochrome hotel rooms, and their expressions of vulnerability bring new life to their 19th-century counterparts.
Photos by Megan McIsaac for Artsy.
"Some of them are wearing their underwear, and it was that part, that last bit of dignity that I couldn't ask for them to give up," the 27-year-old artist explains in the loft that doubles as his studio, tucked into an industrial corner of downtown L.A.'s fashion district. "I think for them, as much as they want to make money, there's also this pride that comes with being African, or Ethiopian, or whatever it is, that these women aren't willing to let go. There was no price on that."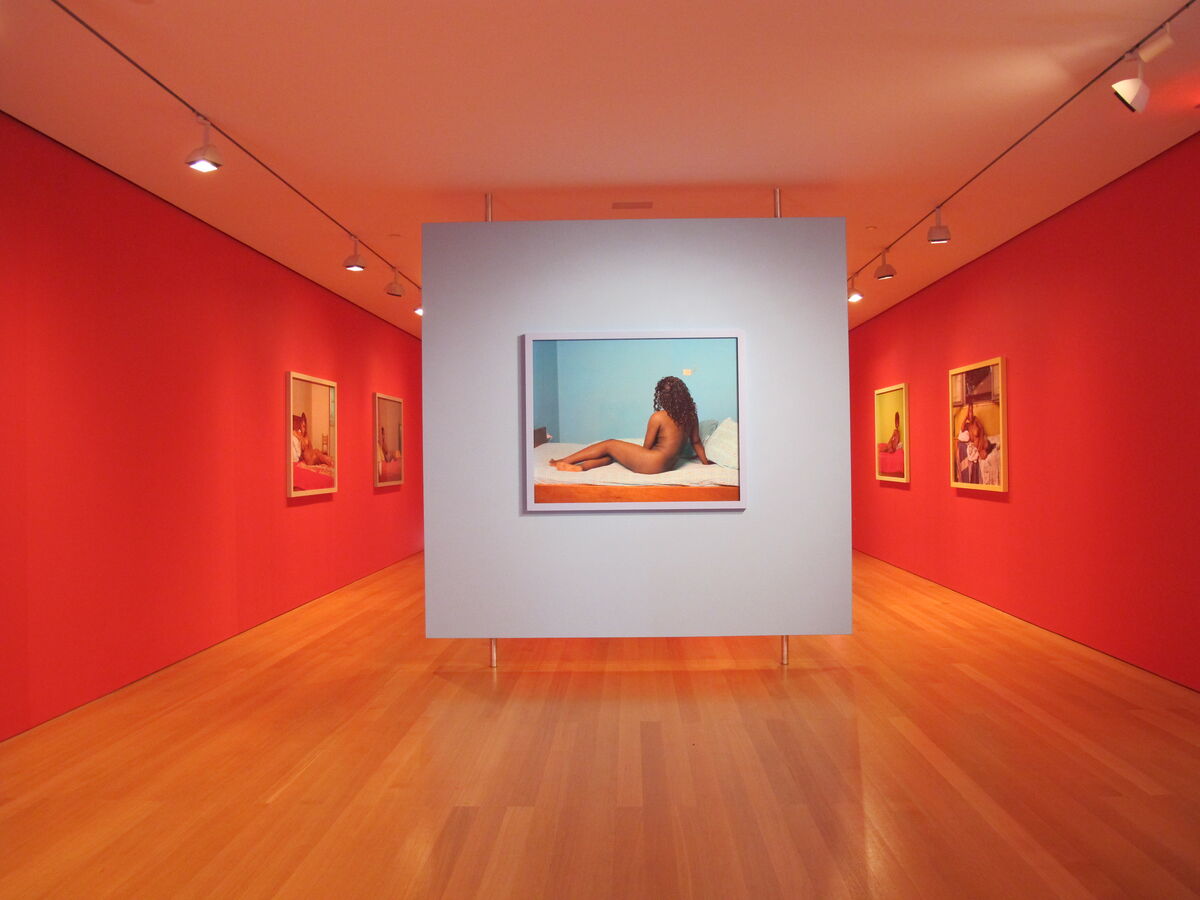 Installation view of "Awol Erizku: New Flower /Images of the Reclining Venus" at The FLAG Art Foundation.
Two years later, these images are on view in "
New Flower | Images of the Reclining Venus
," Erizku's new solo exhibition at New York's 
FLAG Art Foundation
 that challenges art history's overwhelming whiteness and eurocentricity. The insertion of black figures into canonical works by the likes of Ingres, Manet, 
Girl With a Bamboo Earring
—a photograph that replaced the white subject of Vermeer's 
Girl With a Pearl Earring
 (c. 1665) with a black one, and the pearl for a heart-shaped hoop, while striving to retain the cinematic effects of Vermeer's sublime use of light.
"A woman of color as a reclining Venus is something that I haven't seen much," Erizku says. Historically, he says, with rare exceptions like the work of fellow artists 
Photo by Megan McIsaac for Artsy.
Across photography, sculpture, painting, and film, Erizku's transgressions of the traditional boundaries of media and culture reflect the many facets of his own artistic formation. Although he has been based in L.A. for a little under a year, his roots are firmly planted in New York; he was born in the South Bronx and attended Cooper Union for his undergraduate studies. In those early days, he was interning for 
Photos by Megan McIsaac for Artsy.
Two years after graduating, Erizku went on to Yale's MFA program, seeking new directions for his work. It was there, at his final crit, in front of a panel that included 
"The message is so clear," says Erizku. "It's what I'm going through as a young artist."
Photo by Megan McIsaac for Artsy.
In re-contextualizing the iconography of so-called high culture with pop culture, art history with hip hop, he creates work so layered with disparate references that they take on different meanings with each audience. His application of Jay-Z lyrics to an artwork in dialogue with
The Only Way Is Up
" at Hasted Kraeutler in 2014, Erizku debuted
Oh, what a feeling. Aw, fuck it, I want a trillion
, a column of seven basketball hoops with gold-plated chain nets that takes its title from a line out of Jay-Z's "Picasso Baby." "When I made this piece, I was thinking about Donald Judd with the "Stack" series and also
In L.A., Erizku continues to seek new collaborators and sources of inspiration, and to broaden his artistic lexicon in the face of critics too eager to classify his practice. "I love Kehinde and I love his work," he says, referring to early comparisons with his fellow Yale MFA graduate
have created a soundtrack
that includes further Marshall remixes, with Drake, the Weeknd, and Young Thug. The Marshall lecture continues, "When you're not represented there, that is a problem"—one Erizku hopes to rectify.
Photo by Megan McIsaac for Artsy.
Stir Creativity
See how Bombay Sapphire supports artistry.
Sponsored by Bombay Sapphire