Warsaw's Daring Young Art Scene Is Forging Its Own Path
Photo by Kuba Ceres. Courtesy of Warsaw Gallery Weekend.
On Friday evening in Warsaw, a small crowd swelled in an unlit courtyard outside the city's temporarily closed 
Museum of Modern Art
. Young Polish hipsters and foreign arts professionals rubbed elbows as they edged their way towards a door, with the determination of eager club-goers keen to kick off an all-nighter. In actuality the event they were lined up for was a performance by the American artist Cara Benedetto. Inside the museum's foyer, participants were asked to share their name and sexual preference. Two flat screen monitors visualized the data in a glitchy spreadsheet that cascaded off the screen as it updated in real time; a wine glass emoji popped up beside a name once a person had collected a beverage. The enthusiastic swarm, and the experimental nature of the event, was testament to the unexpected and well-attended art scene that was on full view at the sixth edition of 
Warsaw Gallery Weekend
.
Earlier that evening, the 23 participating galleries of Warsaw Gallery Weekend threw open their doors to the art-going public. Visitors hopscotched across the city, traveling from one gallery to the next—housed in apartment buildings in residential neighborhoods, storefronts tucked along communist blocks, former boutiques and corner stores—climbing up aging stairwells or walking along a quaint passage into the city's Old Town. The experience was marked not by big-name artists or vast exhibitions, but rather thoughtful curation and unsuspecting spaces. There were solo shows of young Polish artists like 
Kasia Michalski
, but also strong showings of international artists like the Spanish 
Stereo
.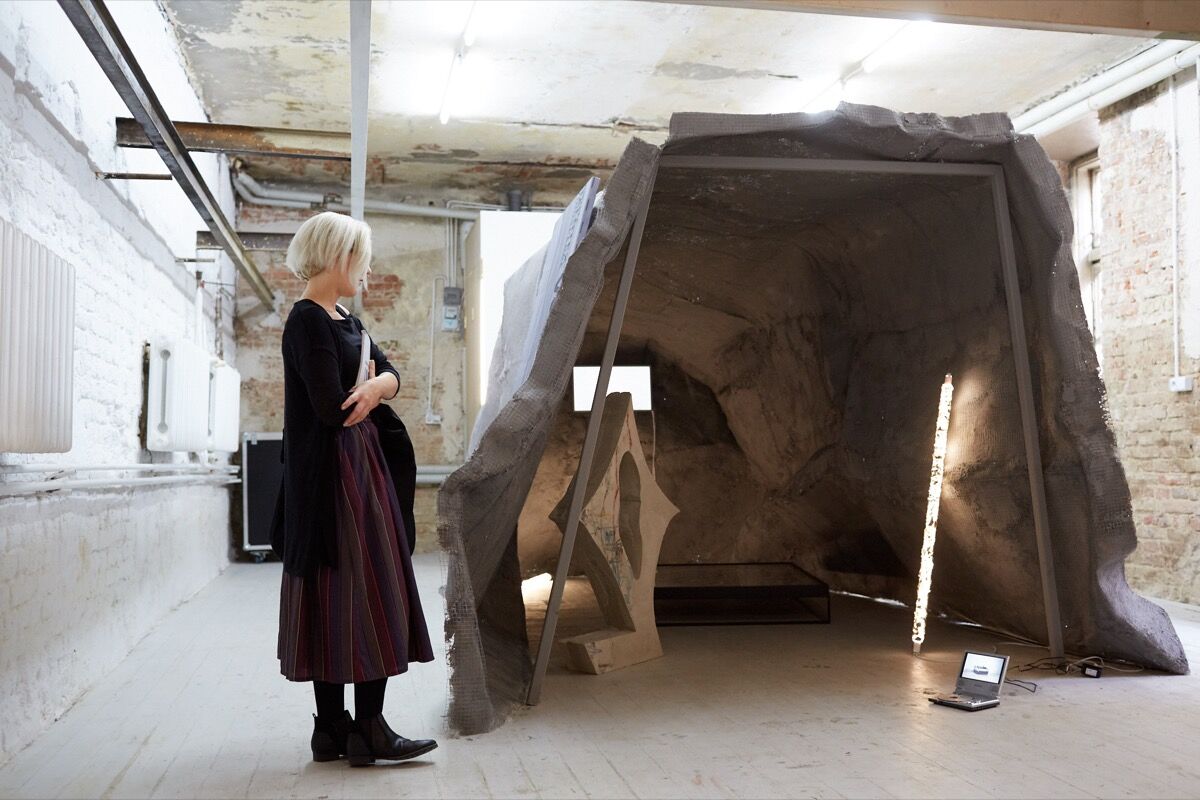 Photo by Kuba Ceres. Courtesy of Warsaw Gallery Weekend.
On opening night, Michał Kaczyński, co-founder of Warsaw Gallery Weekend as well as
Raster Gallery
(which unveiled shows of photography by
For Dawid Radziszewski Gallery, located on the ground floor of an apartment block, this energy manifested in a quirky
group exhibition
, "Artists with Lyme Disease," themed after famous individuals who've had the affliction (Alec Baldwin and Ashley Olsen among them). At the center of the tiny white cube, Polish artist
Island of Happiness
(2016), it is made of plastic, gold, and synthetic diamond," Radziszewski explained with deadpan delivery. (I tapped the artist's nose a second time and the artwork disappeared into its chamber.)
Other exhibitions engaged directly engaged with the city's history, like 
Asymetria
, a group show juxtaposed post-war Polish photography with Italian cinema stills. One of the most powerful presentations was that of Pola Magnetyczne, a two-room gallery attached to a simple second-floor apartment, titled "Destructive Culture." The show brought together the work of late photographers Wiktor Gutt and Waldemar Raniszewski, whose collaborative work contrasted the oppression of Auschwitz prisoners and indigenous tribal peoples. A collector remarked that the city's artists inspired him to start collecting: "Here, contemporary art speaks the language. These are artists who've grown up after the changes in Poland," he said.
At the city's center, tucked along a stretch of halls within the massive Palace of Culture and Science (a  Soviet-style complex built in 1955 
as a "gift" from Stalin
) the first edition of Not Fair, the city's new art fair, was well underway. Fourteen galleries, primarily young, emerging programs from Europe, had hung paintings and mounted installations among the interior's shiny marble surfaces, intricate stone inlay, crown molding, and a dramatic domed space—which mostly served to overwhelm the art within it. Among highlights were a trio of paintings by young Polish artist 
Not Fair. Photo by Casey Lesser.
Late on Friday night, another queue was forming outside the Palace, now for Polish artist Endless (Party), a performance-meets-party that ran through Sunday. Inside, around 10 young male skateboarders lounged along a central runway, texting and snapping selfies before two performers finally commanded the room's attention. One, a voluptuous blonde woman clad in revealing lingerie and Spanx, posed seductively on the floor, while the other, a youthful androgynous figure, faced away from the crowd, singing longingly into a mirror. On this cue, the skateboarders sprang into action and began gliding around the space, gracefully at first but gradually becoming more and more raucous—ultimately smashing their boards on the marble floor and screaming at the crowd. Puś appeared several times, riding in on a dolly with a video camera; he seemed to document the performance, while also assuming the role of a ringmaster.
On Saturday evening, some 500 gallerists, collectors, VIPs, curators, and other arts professionals gathered for a festive dinner in celebration of Warsaw Gallery Weekend. The fête was held in an outdoor tent on the grounds of the Xawery Dunikowski Museum of Sculpture, a Palladian palace on the former site of a 17th-century zoo for hunting rabbits, with a menu by the city's star chef, Aleksander Baron, inspired by 18th-century Warsaw cuisine. (Fittingly, Baron studied sculpture at the Academy of Fine Arts before pursuing a culinary career.) Impressive installations by Czech artist 
Photo by Kuba Ceres. Courtesy of Warsaw Gallery Weekend.
Among a cluster of smokers outside the tent, Lucas Hirsch, a young gallerist from Düsseldorf who was in town for Not Fair, remarked that his experience in the city was largely about making connections with the Polish art scene. "It wasn't about meeting collectors, it was about getting to know Polish galleries and institutions, and writers. It's been amazing," he said. The gallerist also noted that the communal nature of the city's art scene surpassed what he had experienced while in Berlin the weekend before for 
Art Berlin Contemporary
.
As the weekend wound to a close, Siegfried Seewald, a lawyer who collects exclusively Polish art, expressed great respect for the city's thriving galleries. "I really admire these gallerists who really made it somehow, with all the difficulties," he explained, pointing to lack of public funding, little institutional support, the exorbitant cost of participating in art fairs, and the decreasing arts coverage in Polish newspapers. Despite this, the city's young, risk-taking gallerists have managed to persevere, with a small contingent who have begun to make names for themselves abroad. "They are so committed to it and they believe in it, but also, it's not only commercial with them—they are enthusiasts," Seewald added. "They believe in art and they believe in the message."
Casey Lesser is Artsy's Creativity Editor.