The Website Giving Rejected New Yorker Covers a Second Chance
Most illustrators agree: Landing a New Yorker cover is the holy grail in a competitive industry. "It's a mark of being the best," explains Canadian illustrator Peter Ryan. "I don't know if there's a bigger brass ring for us," adds New Jersey artist Chris Gash. And for Brooklyn-based illustrator Jack Dylan? "It's like scaling Everest."
Indeed, it's not easy to secure a place as one of the storied magazine's cover artists. Some might even call it a Sisyphean task; illustrators have been known to submit pitches for years before even receiving a reply. Ryan, Gash, and Dylan are among the regularly rejected—and it recently got them thinking: What happens to all the hopeful cover ideas that no one ever sees?
Last month, the three illustrators launched a website—dubbed
the Not Yorker
—in order to spotlight these noble, but failed, attempts. If Dylan has his way, it will become a "museum of covers that didn't make it," he tells me, from his home in Fort Greene, Brooklyn. "A repository of runner-ups, because there just aren't enough first prizes to go around."
The New Yorker has featured illustrated covers since it first came off the presses in 1925. Over its 92 years, the magazine has become a trusted source of hard-hitting investigative journalism as well as very funny satire, with thoughtfully curated art used to illustrate both. But while the cartoons and spot illustrations inside constitute serious professional laurels, it's the all-important cover that remains the most coveted real estate. The New Yorker is one of the few widely-circulated weeklies that's remained committed to featuring drawn work on its cover, rather than photography. Time and Der Spiegel also publish illustrated covers, but only occasionally.
What's more, The New Yorker's covers observe a certain aesthetic rubric that set it apart from other publications. "It has a really established structure, almost like a type of poem—a haiku—that adheres to certain rules," explains Dylan. "They usually tell a full story, and respond to a world that readers understand."
Often, the covers depict evergreen scenarios and events: the drama of a busy New York street, the start of baseball season, or a national holiday like Halloween or Thanksgiving. Since the 1990s, when Tina Brown edited the magazine, they've also responded to topical socio-political issues—from the Iraq War to the civil-rights battle for gay marriage. A typical cover might be inspirational and moving, but it could just as easily be a laugh-out-loud visual pun. (Take
They've also become weekly catnip for many liberally minded readers; over the past year, in particular, photos of
New Yorker
covers commenting on the Trump presidency and its policies have gone viral across social media. On February 13th, a cover by John W. Tomac nodded incisively to Trump's executive order against immigration, more commonly referred to as the Muslim ban or travel ban. It depicted the Statue of Liberty holding an extinguished torch; on
The New Yorker
's Instagram account,
it received
39,586 likes.
The magazine's famed art editor, Françoise Mouly, is the person who fields the deluge of cover submissions. Mouly is known for assigning commissions to a regular stable of seasoned illustrators, like Spiegelman (her husband), Barry Blitt, Christoph Niemann, and Maira Kalman. (She herself curated a now mostly dormant blog of declined cover art, called Blown Covers, in 2012 to correspond with a book of the same name.)
Dylan, for his part, has been emailing fully-rendered cover ideas to Mouly on and off for the past 10-odd years. But his passion for The New Yorker's cover extends back to the beginning of his career. As an upstart illustrator working in Montreal in the mid-2000s, he modeled posters for noise and indie rock shows on the magazine's aesthetic. When he arrived in New York, he connected with a community of artists, like Ryan and Gash, who had similar aspirations to land a cover spot.
All three are quick to emphasize that, more than anything, their Not Yorker project is a sincere homage to The New Yorker and its importance as a guiding light for the illustration community. "It's not in any way a slight to the covers that make it," elaborates Gash. "It's just that the magazine gets so many submissions, that we thought it would be nice to have a venue for the work that doesn't quite make the cut."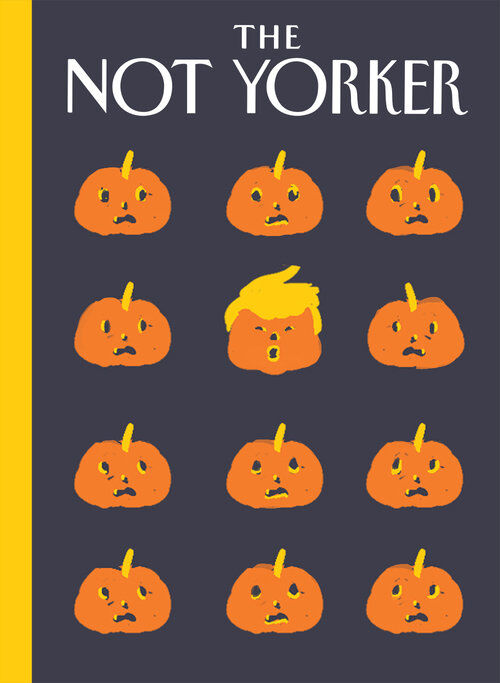 Their website also reveals how much work goes into each pitch. Unlike Mouly's regular roster of cover artists (who can get away with sending rough sketches), less established illustrators feel the need to impress—and often send polished, print-ready drafts. "I figured they're not going to go by a rough illustration from a guy like me," explains Dylan. "So it seemed in my best interest to really give it my all and a submit a final version."
So far, the Not Yorker archives a modest number of rejected covers. One, created by Gash, shows a posse of jack-o-lanterns clearly frightened by one of their members: a pumpkin resembling a pucker-lipped Donald Trump. Another, sent by Tomac (who has had a cover pitch accepted by Mouly), shows a man struggling to shoehorn a Christmas tree into the door of a subway train. All submissions sport inventively tweaked logos—mostly the Not Yorker, although Dylan experimented with the Boo Yorker for a Halloween-centric submission.
Dylan, Ryan, and Gash
hope to solicit
even more declined covers from a wide range of artists, "from young illustrators to someone like Barry Blitt, who's been on the cover countless times," explains Dylan. "There's something great about including both ends of the spectrum," adds Gash. "Blitt has such a high success rate that you'd never think the magazine would reject one of his cover ideas—but it happens."
While the trio is open to posting almost any rejected cover pitches, they want to play nice. "We don't want to make fun of The New Yorker or disrespect it in any way," says Ryan. Just last night, Gash had to make a difficult decision: He declined an already declined cover. "The guy who sent it has a very irreverent sensibility, which I love, but this idea jabbed at The New Yorker itself," he explains. "What we're doing is a love letter, not hate mail."
Alexxa Gotthardt is a contributing writer for Artsy.