What Art Can Teach Us about This Year's Biggest News Stories That a Newspaper Can't
Though news tends to get ascribed to particular events happening on a certain day at a certain time, a look through 2015 reveals that much of what made the headlines was a continuation or culmination of events that have unfolded over a number of years: the Syrian conflict, the march to marriage equality, the debt crisis in Greece, the Black Lives Matter movement. Though not "art news," these and other stories touched the lives of many people, including artists. Here we highlight nine whose work can help parse the year's biggest stories from a perspective not usually found in the columns of a newspaper's front page.
The Refugee Crisis & Syrian Civil War
Tammam Azzam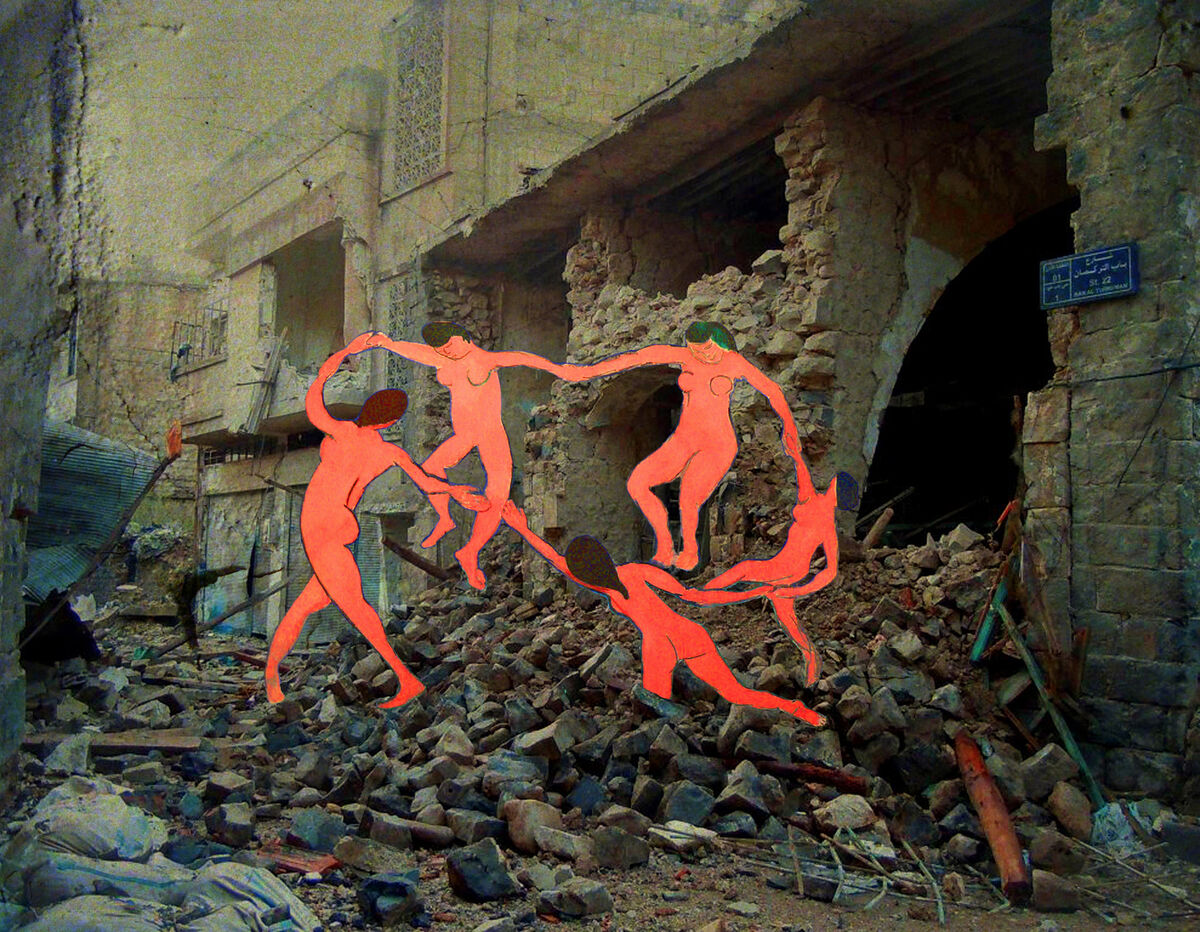 Conflict. War. Revolution. Whatever name you place on what is happening in Syria, the scale of its horrors cannot be underestimated. Since the Arab Spring in 2011, Syria has been torn apart, leading to hundreds of thousands of deaths and the displacement of millions of people. Some of those fleeing the conflict have gone to Europe, in total amounting to the largest influx of refugees the continent has seen since World War II. Still others fill the refugee camps of neighboring Arab countries struggling to cope with increased demands on infrastructure. In the West, the nuances of the conflict's history and dynamics are poorly understood. Rather, it is discussed mainly in terms of how it created the rise of ISIS while the discourse around the refugees is tainted by racism and Islamophobia.
One artist whose work can help shift the way the conflict is perceived in the West is Syrian, Dubai-based Tammam Azzam. A painter at heart, Azzam had to temporarily abandon the medium after leaving Damascus, where his studio was located. He turned to computers, and in his words, was "forced to express myself through digital media." His series "Syrian Museum" superimposes famous works by Western artists like
The Cuba-U.S. Thaw
Tania Bruguera
This July saw a historic moment when the U.S. and Cuba announced the restoration of their diplomatic relations—more than 50 years after the U.S. initially imposed an embargo on the communist country. In addition to the U.S.'s removal of Cuba from its list of state sponsors of terrorism in May, the decision by each country to reopen their embassy marked a positive step towards a normal relationship between the two countries. But work remains to be done on both sides. The U.S. has yet to remove its trade embargo, which Cuban officials estimate to have cost the country $121 billion over the past five decades. Cuba, meanwhile, still restricts such basic rights as freedom of speech, often imposing punishments on protesters, journalists, and other political dissidents.
No artist may speak more to Cuba's continuing civil rights struggles than Cuban performance artist Tatlin's Whisper #6, which would have allowed any individual the opportunity to speak their thoughts into a microphone in Havana's Plaza de la Revolución. Charges were filed against Bruguera and her passport was confiscated, not to be returned for six months. In spite of the government's actions, Bruguera staged another performance in May—a 100-hour reading of Hannah Arendt's The Origins of Totalitarianism. At the final reading, she was once again detained by the Cuban police for daring to open up a space for dissidence against the government. Embracing what she calls "artivism," Bruguera's work asserts that visual art can be used towards concrete political ends. 
The Greek Debt Crisis
Panos Tsagaris
Greece had a tumultuous year. In January, a far-left government swept to power, a defiant finance minister challenged Eurozone-imposed austerity, and, even as negotiations with creditors proved tense, a triumphant referendum provided the mandate of a Greek people as furious with austerity as they were wounded by it. And yet, very little ultimately changed. The government, though critical of the terms, has swallowed yet another round of loans, agreeing to endure further austerity, prompting a general strike in November. Tear gas, molotov cocktails, and riot police filled the streets of Athens yet again.
The images of November's strike are reminiscent of those that appeared in newspapers when Greece was gripped by austerity-induced violence in 2011 and 2012, as riot police confronted demonstrators. It is those photographs that Greek artist Panos Tsagaris painfully asks us to confront. Tsagaris took copies of the New York Times, which covered the events, blanketing the articles in a leafy gold foil, leaving only images of violent clashes between police and demonstrators. The extremely kinetic images are almost comically juxtaposed with the paper's banal masthead: "All the News That's Fit to Print." Gold and glinting, the foil slides its viewers' eyes towards the violence while preventing them from finding erudite solace in articles that would journalistically explain economics with cold detachment. Tsagaris's work reminds us that austerity takes its ultimate toll not on economic markets but on the human body. 
Black Lives Matter
Adam Pendleton
So far this year, 1,080 people have been killed by police in the U.S., 269 (25 percent) of them black, according to
The Guardian
. It is a shockingly disproportionate number, considering that black individuals make up only 12% of the country's total population. Institutional violence against black people isn't new—in fact, thinkers like
Ta-Nehisi Coates
and
Jelani Cobb
weave it seamlessly into American history. The names of some of the recent victims echo in our collective consciousness: Eric Garner, Michael Brown, Freddie Gray.
Other names and other forms of violence go less reported
; Jannie Ligons, for example, is just one of the black women sexually assaulted by the now-convicted Oklahoma City police officer Daniel Holtzclaw. In response to such killings and systematic oppression, a refrain has filled the streets, newspapers, and even galleries: Black Lives Matter. It's a powerful phrase that constantly takes on new meaning in relationship to the manifold spaces in which it is uttered.
"The way in which an idea or a concept like 'Black Lives Matter' exists in the world is obviously complex and incomplete," says artist
Gay Marriage
Juliana Huxtable
The march toward LGBT equality hit a major milestone this year, as the Supreme Court's decision Obergefell v. Hodges brought marriage equality to all 50 states. (Only 11 years ago, Massachusetts was the only state to allow same-sex marriage.) As the country celebrated with rainbow flags (and profile pictures), many were already voicing that we had a long way to go, especially for trans and gender-nonconforming individuals. The same year that saw Caitlyn Jenner grace the cover of Vanity Fair saw 22 trans murder victims—a record high, with those targeted by-and-large trans women of color.
Enter
2015 New Museum Triennial
, Huxtable presented herself as a neon-colored sci-fi being straight out of
The Fifth Element
.
Untitled (Psychosocial Stuntin')
(2015) finds Huxtable gazing confidently into the camera, while
Untitled in the Rage (Nibiru Cataclysm)
(2015) shows Huxtable in a more tender, contemplative moment. Amidst a present that still denigrates those who refuse to abide by traditional notions of gender, Huxtable imagines a future where the fullest breadth of self-expression is met with admiration, not violence. 
Charlie Hebdo
Paul Schimmel
Just one week into 2015, Paris was rocked when 11 members of the satirical magazine
Charlie Hebdo
were gunned down by Islamic extremists following the publication of a controversial depiction of the prophet Mohammed. Though the attack gripped the headlines and the refrain "Je suis Charlie" inundated social media, this act of terrorism proved to be just one of many in 2015. From November's subsequent attack in Paris, to a massive bombing in Beirut, to a hostage taking in Mali, terrorism was international, brutally impacting the lives of millions (who, it is worth noting, were
disproportionately Muslim
).
So how can we parse this violence? Though an art fair isn't normally a place one associates with contemplative solace, this year's FIAC, which is located in Paris, offered some in the form of
Hauser & Wirth
's booth. The gallery's presentation, curated by Paul Schimmel, featured an assemblage mannequin by
Sweet Wall
(1970) performance, and
Kissinger
(1978), a nuanced portrait of the controversial figure who brokered a ceasefire in Vietnam and organized a secret bombing campaign in Cambodia. Though the show was oriented around free expression and
Charlie Hebdo
, the aforementioned works are but a sample of the presentation's range, which proved to be a meditation on power, resistance, and violence—and the underlying human component of the three. With a message that transcended any one single act of terrorism, an element of hope pervaded. The unabashed political engagement of the works is an affirmation of art's role in challenging power, fighting violence, and shifting dialogue.
The 2016 Presidential Race
Diana Walker
It's a testament to our grueling, seemingly endless election process that who we will vote for in 2016 is a major story in 2015. If you're bored of bombastic quotes and pandering hustings, take a deep breath and remember we're still 10 months away from election day. This cycle has been marked by quite a few "narratives," as the press call them: We've seen Donald Trump rise, we've discovered who Lincoln Chafee is (then forgot), and realized "Jeb!" Bush is having a tough time living up to the exclamation mark that graces his campaign ads. A rich, healthy debate is good for a democracy but with some heinous fabrications and frankly racist comments being tossed around as the nation polarizes, this campaign season has been particularly fraught.
While the campaign continues to feel like a late-night quest for ratings, the work of
In the wake of the November terrorist attacks that killed over a hundred people in Paris, numerous government officials (from Marco Rubio to Hillary Clinton) called for an increase in government surveillance abilities—some targeting the encryption services many tech companies build into their products. This was only the latest in ongoing discussions that pit national safety against individual privacy from governmental spying, a debate which perhaps came to the fore in 2013, when Edward Snowden exposed that the NSA had been tracking millions of U.S. citizens.
Speed II. Her most prescient film may be How Not to Be Seen: A Fucking Didactic Educational .MOV File (2013), in which Steyerl elaborates "strategies" for making oneself invisible to government cameras (the suggestions, which range from "pretend you are not there," to making your body smaller than the size of a satellite image's pixel, are purposefully absurdist). Alternately humorous and pointed, Steyerl's videos are a potent reminder that surveillance programs enacted in the name of safety may actually be militarizing our culture and ushering in an era of fear and paranoia. 
The Iran Deal
Nicky Nodjoumi 
In July, a group of six of the world's powers (including the U.K., China, and the U.S.) reached an agreement with Iran that, if honored, would prevent the country from developing nuclear weapons—a significant step, many felt, towards eradicating strife in the Middle East. The country, which in 2002 was revealed to have secretly constructed facilities that could produce low-enriched uranium to a grade suitable for nuclear weapons, agreed to shut down a certain number of these sites while altering others to render them unable to produce nuclear weapons. While the deal was met with praise around the globe, in the U.S. it has encountered significant opposition, with House Republicans seeking to block its implementation. Though they failed and the deal has since been adopted, whether its promises come to fruition remains to be seen.
Underlying any negotiation are complex systems of deal-making, hidden interests, and power structures (a.k.a. politics). Iran-born, New York-based painter
Political Opposition
(2015), for example, is almost mocking, portraying a group of men in fancy business suits engaged in a fistfight.
For Nodjoumi
, no nation is safe from corrupt politics: "The problem is people. When they come into power, no matter what, they do bad things." Not a direct comment on the nuclear deal or the intent of those involved, Nodjoumi's works feel rather like parables or stories that ask us to dig below surface and recognize or imagine new layers of relationships. Indeed, they demonstrate how art can be used to inventively visualize opaque systems of international politics while remaining a site of personal expression.
—Andrew Wagner & Isaac Kaplan