What Sold at Frieze New York
Frieze New York, 2016. Photo by Adam Reich for Artsy.
An hour and a half into the VIP preview of
Frieze New York
last Wednesday the news hit. John Kasich would end his bid to be the Republican nominee for president of the United States, leading Donald Trump, against all predictions, to become the party's presumed candidate for the White House. Trump's promises to "make America great again" have won over a plurality of the country's voters who choose to sport an elephant lapel pin. But for many in the art world, the business world, and the world at large, the prospect of a Trump presidency has, at best, generated unease.
The possibility of President Trump and near certainty among analysts that an economic down cycle is pending has sent jitters across the art market and wider macroeconomy spanning from New York to Hong Kong. Around half as much art, by value, is estimated to sell at New York's major spring auctions this week as this season last year. And at art fairs (among which Frieze New York is no exception), purchases of higher-priced works have been slower and less abundant than in years past. Young galleries sold well at Frieze last week, with works priced at around $15,000 or below. For established galleries, results were more modest than in past years. With much of the market's froth tamped down due to uncertainty, it was a better schooled and pickier upper echelon of collectors who made most of the week's high-priced purchases.
"Collectors right now can spend money and they will, but they want the best work available," said Galerie Thaddaeus Ropac's José Castañal on Friday. The gallery had, by that time, sold three works by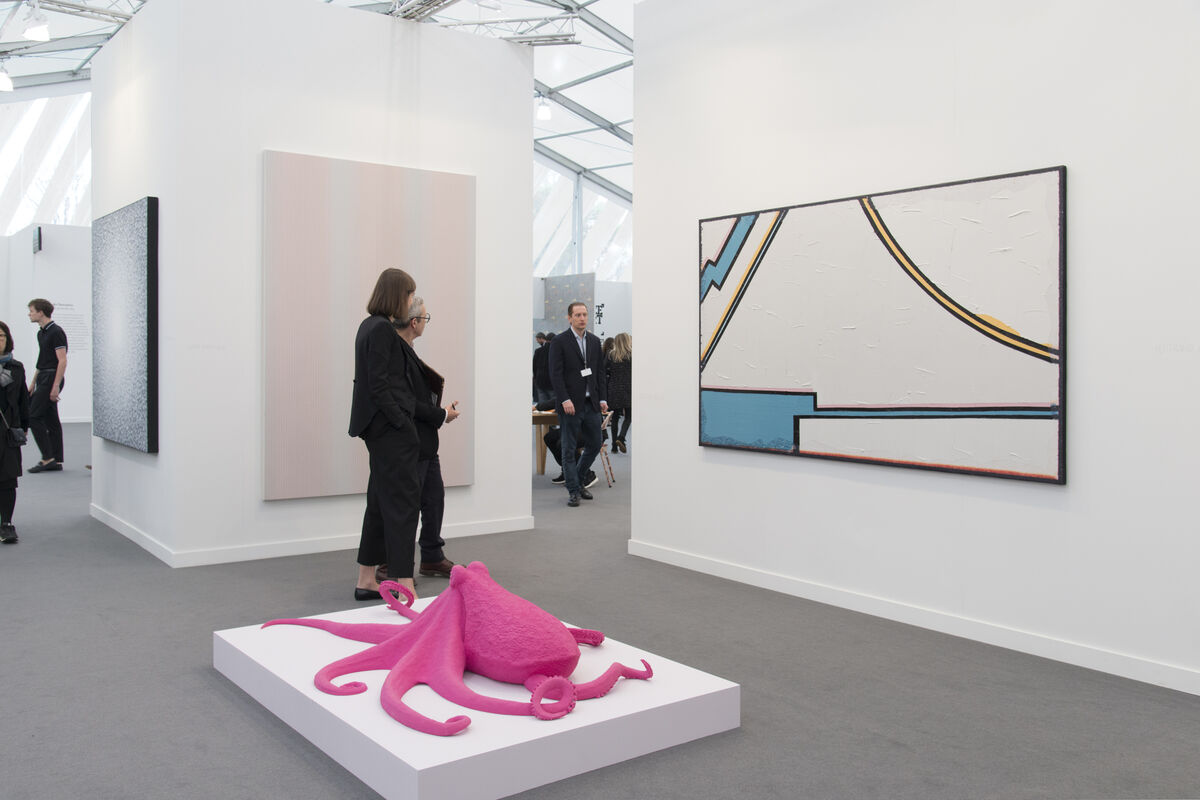 Frieze New York, 2016. Photo by Adam Reich for Artsy.
Over at
Almine Rech
's stand, managing partner Paul de Froment noted a similar trend in the gallery's sales. "For the past two years, it's been a little bit slower, both at Frieze and in the art market in general," said Froment. The gallery's booth at Frieze presented a trio of major artists from the
Peter Halley
,
John M. Armleder
, and
Olivier Mosset
—as well as a pair of works by a younger artist from its program,
Mark Hagen
.
Froment noted on Friday that he had sold works by each of the artists presented (among which several by Mosset), despite the slowdown in the market. And he credited that success to the gallery's consistent focus on quality. "When you see what happened on Wall Street two days ago based on the announcement that Donald Trump would be the Republican nominee, it certainly adds insecurity into the market," said Froment, noting that he was keeping a particular eye on the markets during this period of instability. "But I think if you put good art on the walls, it's not something that you have to worry about too much. That's what we try to focus on, because that's where we have influence."
Hauser & Wirth
 has no doubt taken a similar approach to quality in recent years. Its biggest success at Frieze New York came by way of two works from the 
Philip Guston
 estate, which the gallery began representing last September. Guston's oil 
Black Coast
 (1977) and a drawing from his series of sleeping figures from the same decade both sold for undisclosed prices. "Frieze New York has grown up," said gallery partner and vice president Marc Payot. "The fair has taken its place among the best in the world," he added, with the gallery's sales throughout the week being characterized as "robust." Those included a pair of 
Roni Horn
's cast glass sculptures at $975,000 apiece as well as 
Paul McCarthy
's 
SC Western Red River, Red (2016)
, the first work in a new series entitled "Stagecoach," for $750,000.
Frieze New York, 2016. Photo by Adam Reich for Artsy.
Lower East Side gallerist James Fuentes sold no fewer than 12 works by 
Even more effusive about his positive experience at the fair was 
Sultana
 founder Guillaume Sultana. "It's totally a dream," said the Parisian gallerist of his third outing at Frieze New York. "Things are very busy and I've only been selling to new people." Sultana had sold all of the new works by 
Pia Camil
 featured in the booth for €9,000 to prominent collections from Miami and London. "She's had a great amount of visibility because of her recent 
New Museum
 show, but these ceramic pieces are completely new," he said of the works, which consist of ceramic masks placed on plinths created out of the slatted walls stores use to hang their wares. Also selling well were new paintings by 
Jacin Giordano
, priced between €5000–12,000. The works are based on Native American culture and see the artist carve into many layers of acrylic in a way that recalls woodcutting. (So smitten with his purchase was one collector that he had to stop back by the booth to admire his new work: "I'm looking at it and thinking to myself. Oh my god, what did I buy; it's wonderful. Tell Jacin I love him.")
Sultana said the success at Frieze New York was a welcomed relief. "In Europe, it's a very bad time in the economy," said the gallerist. "We had a very hard time last winter in Paris. Nobody was coming to the gallery." While the election might have some spooked from major acquisitions in the U.S., in his hometown Sultana has felt the continued effects of the November 13th terrorist attacks, which killed 130 individuals. "American collectors don't want to travel to Europe at the moment. It's so sad because terrorism can happen anywhere," noted Sultana, adding that galleries had reported that Americans had shied from traveling to Brussels during 
Art Brussels
 and Independent in April and that some had discussed canceling their plans to attend Art Basel. "I hope it's going to change with time," he said, suggesting that in the meantime, this might be accounting in part for his added success at Frieze, as New York collectors continue to spend closer to home.
Frieze New York, 2016. Photo by Adam Reich for Artsy.
Galerie Max Hetzler's Samia Saouma noted a similar contraction in the number of American visitors to the previous week's Gallery Weekend Berlin, despite record attendance overall. "People are insecure about what the elections will bring, not only in this country but also the Brexit, and the refugee crisis across all of Europe. It's a transition period," explained Saouma. The gallery showed works mainly by three artists,
Sean Kelly Gallery
director Janine Cirincione had a different perspective on how the art world should react to the changing macro-environment. "We know that from now until the election it's going to be dukes up. We don't know what to expect on any given day. We don't know how that will affect world markets," said Cirincione. And while the rest of the world gets nervous about what might transpire, "we just have to fasten our seatbelts a little bit and get ready for a bumpy ride. We all knew the constant trajectory upward wasn't realistic in the long term."
Cirincione equates the current jitters as something of an art world recency bias. Players feel particularly down now because they're biased to compare their performance to the recent several-year-long sprint upward, rather than to economy's consistent cyclical patterns of growth and contraction. Selling
Antony Gormley
's sculpture
Daze II
(2014) for £350,000,
Callum Innes
's painting
Exposed Painting Delft Blue
(2016) for £40,000,
Los Carpinteros
's watercolor
Espuma Cúbica (díptico)
(2016) for $50,000, and
Untitled
(2016) for $37,500, as did Sean Kelly on opening day, isn't a bad day's work, after all. It just reflects the activation of a core base of art lovers without the added bonus of buyers brought on by surging economic indices. "Hedge fund guys will be the first ones out of here when they get nervous," said Cirincione. "But working with people who are buying for the right reasons, for the love of collecting, is something that is very sustainable, even in uncertain times."
Alexander Forbes is Artsy's Executive Editor.