At the Whitney, Eckhaus Latta Blurs the Line between Fashion and Contemporary Art
Mike Eckhaus and Zoe Latta inside their exhibition, "Eckhaus Latta: Possessed," at the Whitney Museum of Art, 2018. Photo by Thomas McCarty. Courtesy of the Whitney Museum of Art.
The newest exhibition at the
Whitney Museum of American Art
blurs the line between exhibition space and gift shop. The products on offer include dresses, sweatshirts, jeans, and other wearable goods made by Mike Eckhaus and Zoe Latta, of eponymous brand
The four descriptive words serve as simple, ironic poetry that generates the show's central questions: Where's the border between art and fashion, or artist and designer? How does consumer culture impact our experience of shops and galleries? What makes any of their contents "special"?
Eckhaus and Latta have been interested in such multidisciplinary crossovers and ideas since they founded their brand in 2011, one year after graduating from the Rhode Island School of Design. In the following years, they attracted support and attention from both art and fashion communities.
MoMA PS1
exhibited their garments in the 2015 show "Greater New York." In 2016, they opened a shop in Los Angeles, and also participated in the
Hammer Museum
's "Made in L.A." biennial. Last summer, the
Museum of Arts and Design
showed newly commissioned Eckhaus Latta pieces.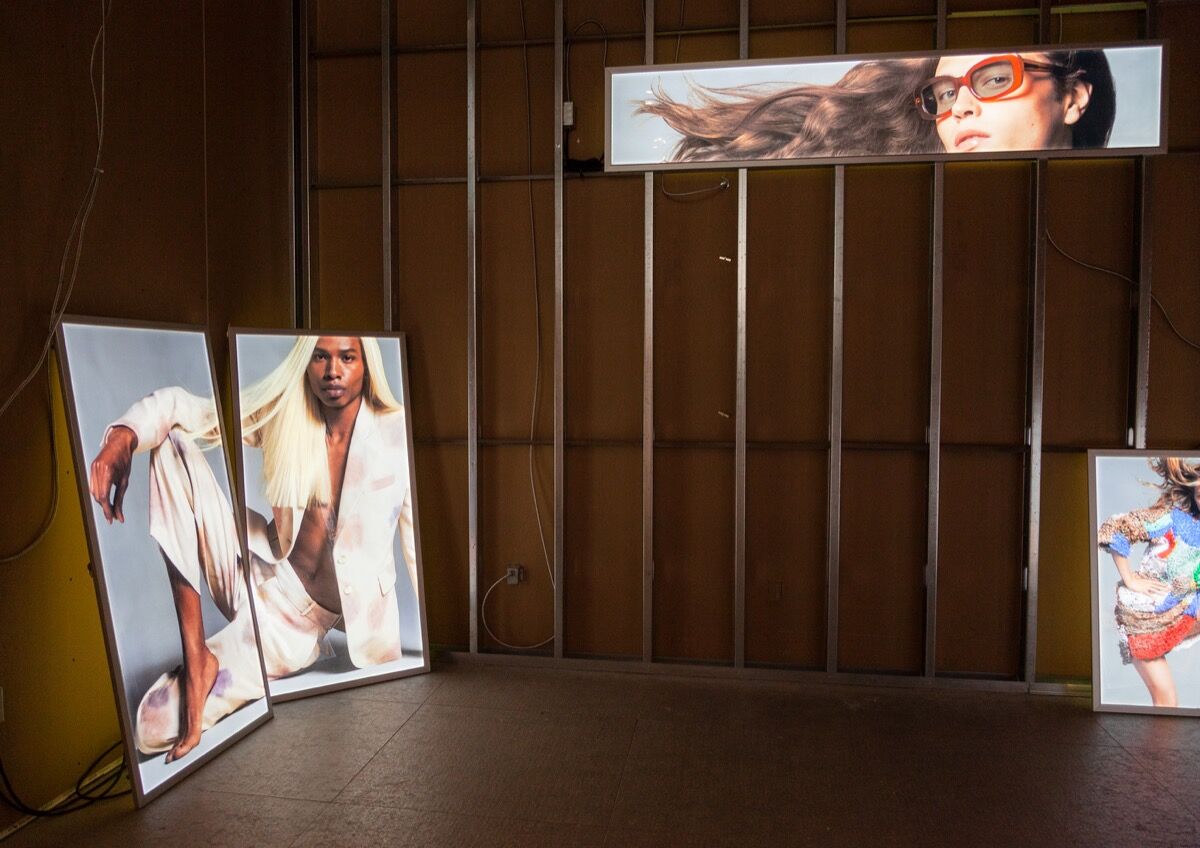 Installation view of "Eckhaus Latta: Possessed" at the Whitney Museum of Art, New York, 2018. Photo by Thomas McCarty. Courtesy of the Whitney Museum of Art.
Their clothing often evinces a kind of loose, patchwork, DIY vibe that's more interested in individuality than fit or beauty. Sometimes it involves postconsumer plastics. Other times, it literally frees the nipple—or a pregnant stomach. In
Women's Wear Daily
, Misty Sidell once defined Eckhaus Latta's aesthetic as melding "utilitarianism, pansexuality, streetwear and thrifted silhouettes into a unique, counterculture aesthetic."
Fashion insiders have celebrated Eckhaus and Latta's diverse runway model casting, which blends professionals and non-professionals, and always includes a brilliant amalgam of body types, skin colors, gender expressions, and ages. Their campaigns have also commanded attention: Advertisements for the brand's spring/summer 2017 collection captured models having sex. Another marketing effort involved a film in which people wearing Eckhaus Latta garments sat in a bathroom and directly addressed the camera, in the style of Real World confessionals.
Whitney curator Christopher Lew began speaking to Eckhaus and Latta about a potential show over four years ago, before he even started working at the museum. He'd heard about them through stylist Avena Gallagher, among other peers. "In recent years, there's a lot of overlap between art and fashion with younger designers, especially in New York," Lew said. Still, he didn't want to stage a traditional clothing exhibition with a parade of mannequins, and opted instead for a more inventive format.
His efforts have paid off. Entering the Whitney's lobby gallery space, visitors walk into a dark passage with exposed metal beams. Lightbox photographs by British photographer Charlotte Wales hang on and lean against the walls, depicting highly stylized, magazine-ready portraits of models wearing Eckhaus Latta designs.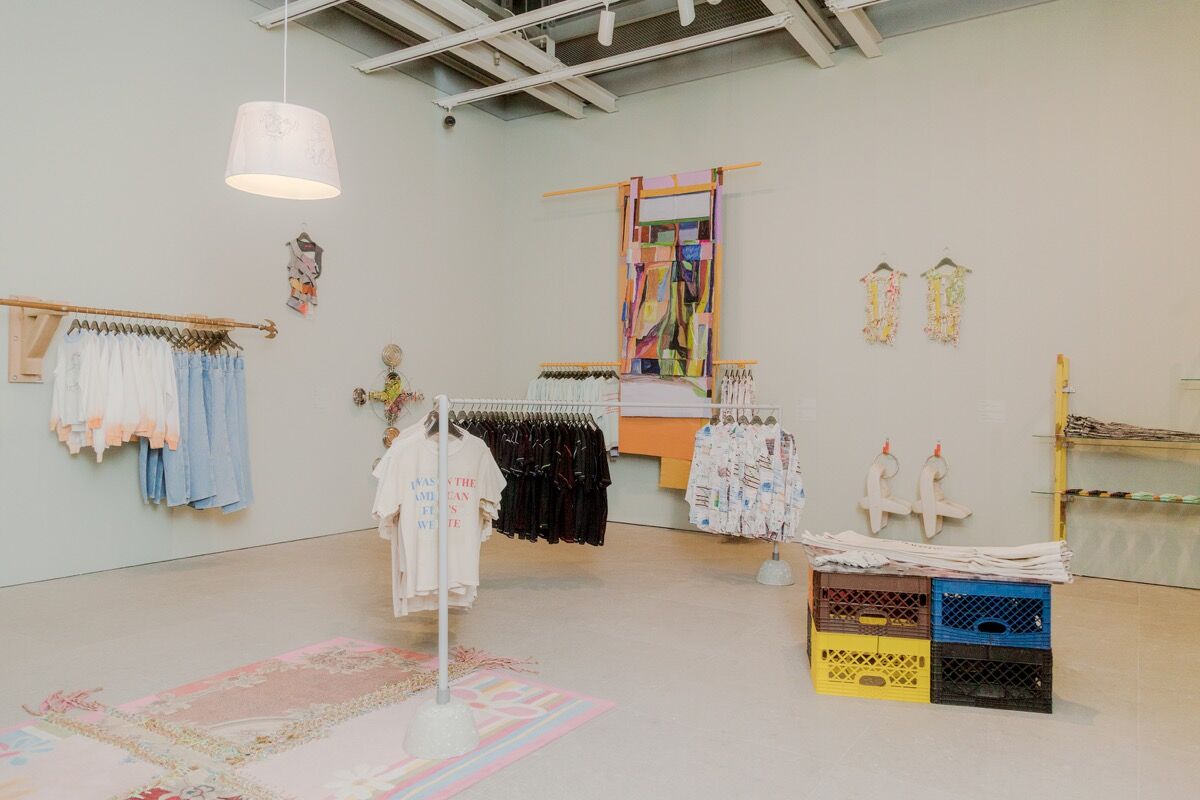 Installation view of "Eckhaus Latta: Possessed" at the Whitney Museum of Art, New York, 2018. Photo by Thomas McCarty. Courtesy of the Whitney Museum of Art.
Lew said the pair was interested in investigating commerce, retail, and how brands disseminate images. The exhibition allows people to handle and try on Eckhaus Latta clothes, getting the full experience—whether they buy or not. (For those looking to possess more than memories of the Whitney show, there's a working cash register; museum employees serve as both salespeople and docents.) Red Bull Arts set one precedent for this model in 2014 with a retail exhibition that displayed products by over 30 artists, from
New Museum
also veered into fashion/art territory when it mounted a
The space at the Whitney, with its rough, tiled floor and exposed ceiling planks, resembles an industrial-chic clothing boutique. A bench in the corner (on which you can indeed sit) is composed of stacked, flattened cardboard boxes. Most of the clothes dangle from hangers, though some sit folded on a rack or on a table made from upturned crates. "The clothes are not art objects," Eckhaus told Artsy. "They're not art fashion."
Included here are some staples from the brand's collections, including "lapped" tees, which are made from stitched-together "deadstock" (leftover, essentially recycled) fabrics of varying patterns. A cinch dress and related button-down shirt are, in a sense, site-specific. Eckhaus and Latta generated their digital prints from to-do lists and spreadsheets they used in preparation for the Whitney exhibition. One might call it process fashion.
Installation view of "Eckhaus Latta: Possessed" at the Whitney Museum of Art, New York, 2018. Photo by Thomas McCarty. Courtesy of the Whitney Museum of Art.
The similarly unfinished, bricolage aesthetic prevails in the other artworks scattered throughout the room made by Eckhaus and Latta's friends, all of whom tend to be multi-hyphenate creatives. A patchwork curtain by artist-designer
Credit for a trashcan goes to I'm a Fan (2018). The list of collaborating artists reads like a who's who of hip, (mostly) young cross-disciplinary creators:
Certain elements clearly distinguish the show from an ordinary retail experience. In the back, visitors enter a separate gallery that turns out to be on the other side of two two-way mirrors. From inside, they can look out on other museumgoers and selfie snappers without being seen themselves. In here, monitors display surveillance footage streaming from within the exhibition itself, as well as from Eckhaus Latta's Los Angeles boutique and other shops that carry the label.
Installation view of "Eckhaus Latta: Possessed" at the Whitney Museum of Art, New York, 2018. Photo by Thomas McCarty. Courtesy of the Whitney Museum of Art.
"Their arrangement suggests a makeshift setup as opposed to a sophisticated security system, underscoring how voyeurism has become an increasingly normalized part of the consumer experience," states a corresponding wall text. From inside this gallery, looking out at roving museumgoers-slash-shoppers, visitors become voyeurs themselves.
Notably, the Whitney used a similar exhibition strategy in its 2016
"They're amazing at hitting this sense of atmosphere in whatever they do," said Lew of Eckhaus and Latta. "Hopefully the installation is a way that people can get at understanding that."
That thoughtful thoroughness extends to the show's soundtrack, for which the duo researched the optimal music for retail spaces. They wanted, said Eckhaus, a "pleasurable and comfortable experience." Melancholy tunes with a certain beat were proven to induce longer visits. As the audience browses, the sounds of Dire Straits and Aphex Twin radiate from speakers housed inside plastic buckets. That aural curation encourages contemplation, feeling, and—ultimately—consumption.
Alina Cohen is a Staff Writer at Artsy.
Stir Creativity
See how Bombay Sapphire supports artistry.
Sponsored by Bombay Sapphire